This year's Curl Maven Gift Guide 2023 features the best hair, beauty + wellness gifts + discount codes for this holiday season. As always, I like to shop in a more mindful and considered way. Buying gifts that are good quality and timeless, not trend-based. So make sure to check out my previous three Gift Guides. As most of the items are still available, discounted and would make amazing gifts this year too.
Curl Maven Gift Guide 2023
This year's Curl Maven Gift Guide 2023 features items that I've picked up throughout the year. I think are worth the money and would make great gifts this Christmas and holiday season. Or any time of the year to be honest!
So you can plan ahead, and hopefully pick up some great deals during Black Friday – which seems to have started already on many websites! Finding some beautiful gifts for yourself, your home, friends, family and loved ones.
Hair Tools
I've heard nothing but great things about the Shark FlexStyle and wanted to include it in this year's Curl Maven Gift Guide. I got the stone/gold version which is 28% off on Amazon. It comes with the dryer nozzle, diffuser, round brush and two auto wrap curler attachments.
I've heard that the results using the curler attachments last longer than the Dyson Airwrap – which is why I got it, not to mention it's significantly cheaper! Read my 2021 Gift Guide for more haircare tools + accessories which are still available + discounted this year.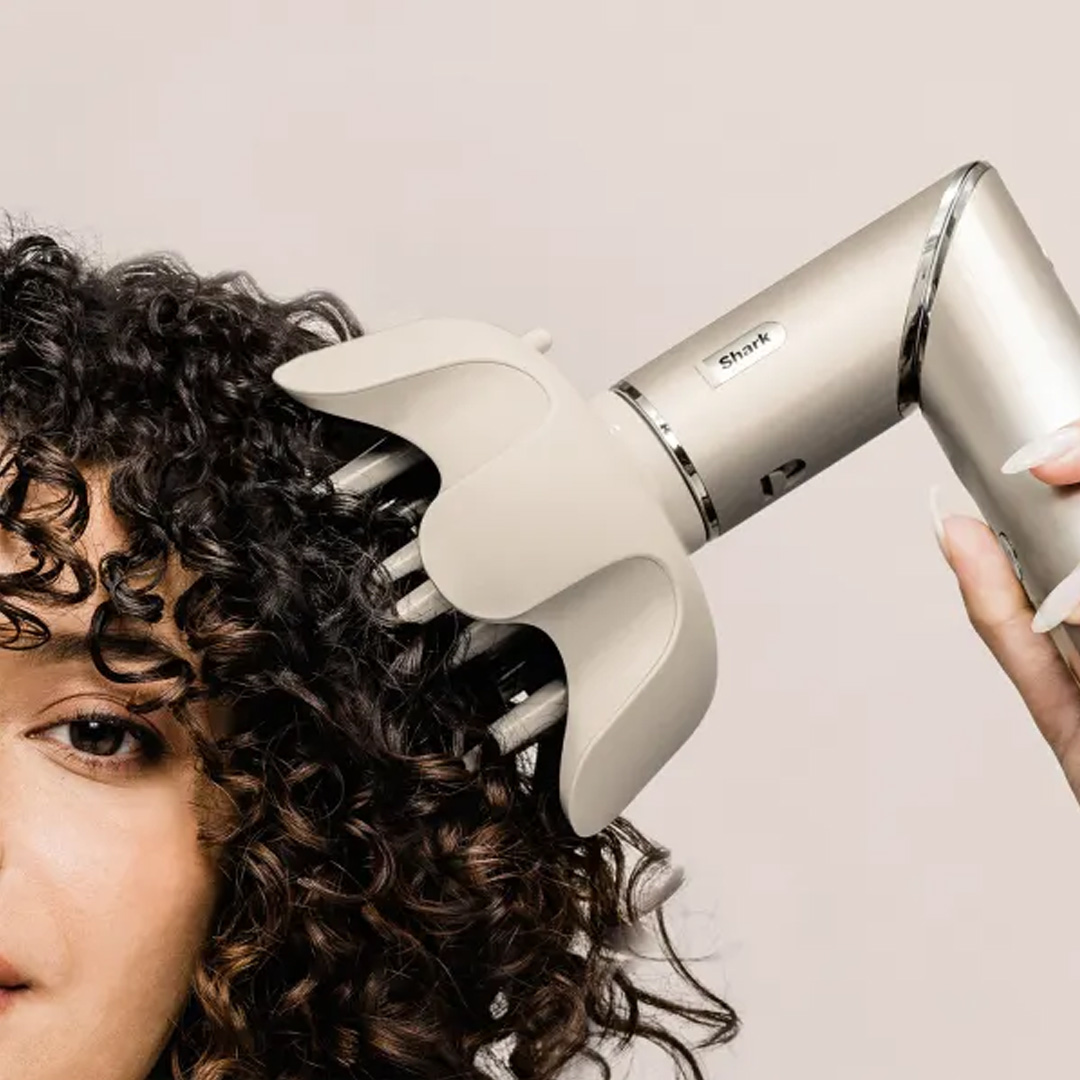 Hair Care
If you want to nourish, soothe and balance your scalp then pick up the Detox Gua Sha System from Act + Acre. Which includes a full size Scalp Detox – a lightweight tonic that balances the microbiome of the scalp and optimizes hair follicle health. Perfect if you have a dry, sensitive or irritated scalp. It also comes with a natural jade Gua Sha Comb. Get 25% off Act + Acre site wide until 1st December on their US website – no code required.
If you want reduce excess hair shedding and promote hair growth, then get their #1 best selling bundle, the Dermaroller Hair System. It includes a Scalp Dermaroller which creates micro-channels on the surface to stimulate and activate the scalp to increase product absorption. And a full size (plant based) Stem Cell Serum that stimulates hair growth and elongates the rate of the hair follicle growth phase. You can get Act + Acre at Cult Beauty if you're outside the USA.
The CurrentBody Hair Regrowth Device harnesses the power of low level LED light therapy treatment to accelerate hair regrowth by stimulating the blood flow of oxygen and essential nutrients to hair follicles. Clinically proven to give up to 126% more growth than topical, laser and supplement treatments alone.
It is definitely a pricey purchase and not in everyone's budget, but it doesn't just help with hair growth. Regular treatments also prevent future hair loss. Use code CURLMAVEN for 20% discount off all CurrentBody Skin LED devices. Click here to shop in the USA + Canada (and worldwide). Click here to shop in the UK, EU + Ireland.
Skincare
The CurrentBody LED Eye Perfector brings eye masks to a whole new level! Specifically designed and clinically proven to treat fine lines and wrinkles. Targeting crow's feet, brow furrows, eye bags and dark circles. Accelerating your body's natural collagen and elastin production to firm and plump the skin around the eyes with 3 minutes of daily use. Use code CURLMAVEN for 20% discount off all CurrentBody Skin LED devices. Click here to shop in the USA + Canada (and worldwide). Click here to shop in the UK, EU + Ireland.
Bodycare
I picked up the NuBODY by NuFACE recently after having a spa treatment using a similar device. NuBODY is an at home micro-current device specifically created for the body. Designed to help firm, tone and smooth the skin, targeting uneven skin texture and sagging skin. Proven to visibly improve skin tone and firmness across the upper arms, thighs, buttocks, abdomen and waist.
Providing instant and cumulative results using low-level electrical currents to mimic your body's natural current. The secret of achieving long-lasting results with all NuFace devices is to use them consistently. And you need to use them almost daily for the first 6-8 weeks. Use code CURLMAVEN for 20% off NuFACE at LOOKFANTASTIC.
If you want to take your relaxing bath to a whole new, detoxifying level. Then let me introduce you to the (Irish + Organic) VOYA Lazy Days Seaweed Bath. Seaweed baths are a tried and tested method to detox the body, rehydrate the skin, combat signs of ageing and reduce the appearance cellulite. Currently 15% off at Millies.
Once you can get past the smell and the texture, it's an incredibly experience! The seaweed comes dried in a net, which you can take out to get the maximum benefits, or leave in if you don't like the texture. You can use it twice, and add the extra salt provided for the second bath. If you try it, please let me know what you think, I absolutely love them! Read last year's Gift Guide for more bath + body care recommendations that are still available + discounted this year.
Wellness
If you're into wellness, then I highly, highly recommend the HigherDOSE Infrared PEMF Go Mat. PEMF stands for pulsed electromagnetic frequency, which mimics the Earth's natural magnetic frequencies. HigherDOSE PEMF mats combine far infrared heat, crystal therapy and negative ions therapy. To help reduce stress, elevate your energy levels, improve circulation, aid restful sleep and encourage quicker recovery and healing in the body.
If you've been wanting to invest in something like this, I've got an incredible discount code for you! HigherDOSE is currently 30% at CurrentBody. You can get a further 10% off the HigherDOSE Sauna Blanket with code CURLMAVENHD for an extra 10% off. Click here to shop HigherDOSE at CurrentBody in the US + CA. Click here to shop HigherDOSE at CurrentBody in the UK + IE. If you'd like to support a small Irish business, you can get 10% off HigherDOSE at The Clean Beauty Edit using code CURLMAVEN.
For something a little different + specifically designed for women, check out The Elevator by newly launched, Irish female-founded brand, Sisterly. The Elevator is a female-focused powdered supplement for energy + metabolism, immunity, hormonal balance, bone health, sugar + cravings and skin, hair + nails.
Designed and developed by doctors, nutritionists, female health experts and award winning scientists. You can purchase a box or a subscription. The packaging is really luxurious, the website is absolutely full of information and the taste is really pleasant! Read my 2020 Gift Guide for more wellness recommendations that are still available this year.
Books
The 12 Week Year by Brian P. Moran and Michael Lennington will change your life, your business and your goals. This little book redefines the cycles we typically work with and plan for, from 12 months (a year) to 12 weeks (a season, or quarter). Helping you gain clarity on what matters most. Create actionable steps to become more focused and productive. So you can achieve goals, measure success and make adjustments much quicker and more effectively.
Fashion
I got the Madewell Transport Camera Bag last year during the Black Friday Sales and (no joke) I've worn it almost every day since! It's the perfect size for your phone, keys, money, AirPods and a few lip products. Available in three colours, the quality is outstanding. The natural leather is such a beautiful tone that goes with everything. It's already discounted but use code LETSGO for extra 40% off site wide. They ship worldwide and prices (thankfully) include taxes + duties.
So that's my Curl Maven Gift Guide for 2023. I hope you found some amazing new brands or products you'd like to try for yourself or gift to someone else this holiday season. But I think any of them would be great gifts for any occasion.
This year a lot of brands and online websites who have started their Black Friday discounts and promotions already. Let me know in the comments if you pick up any of these gifts or maybe have some of the items in this article already.
Make sure you subscribe to the Curl Maven Collective Newsletter for exclusive giveaways and offers, new content, products and services. Follow me on Pinterest, Instagram and subscribe to my YouTube channel for more tips, advice and tutorials.
Gratitude + Support
If you found this article or any of my content helpful and would like to show your Gratitude + Support, you can click here to make a donation. I'm so incredibly thankful and grateful to everyone who supports me, my content and my platform. Thank you!
*This article may contain some gifted items and affiliated links and discount codes. This doesn't effect my opinion or the way in which I write about products featured on this site.