Before the frenzy of discount codes and holiday deals start flooding our inboxes and social media, I wanted to share my Curl Maven Gift Guide. Last year's Gift Guide was so popular, so I'm back with another one. But I'd highly recommend you check out the 2020 Gift Guide. Because almost all the products are still available this year, and they're all amazing products and gifts.
In this year's Curl Maven Gift Guide are some more of my favourite hair care, skincare, bodycare, beauty, fashion, food, home and wellness products that would make a really nice gift for a friend, family member or loved one this Christmas and holiday season.
Curl Maven Gift Guide
I've included some beautiful products from some local, Irish companies again. As well as other brands, products and gift ideas from, or available around the world, just like my readers, followers and audience are. Hopefully with this gift guide, you can plan ahead and save some money when the Black Friday, Small Business Saturday and Cyber Monday discounts and deals come around. You'll have an idea of what you want to spend your hard-earned money on, in a more considered, thoughtful and mindful way.
No Pressure to Purchase
Before we get into this year's Gift Guide. I just wanted to say, please don't feel pressured to purchase anything you can't afford. Remember, it's only a bargain if you can afford it. No product or promotion is worth the stress of not being able to pay your bills and make ends meet. The intention behind this gift guide is to share some of my favourite gifts, support some amazing small businesses. As well as help you plan ahead, and hopefully save some money. I don't want any of my content or recommendations to cause you any financial stress. But I hope you find this Gift Guide helpful.
Don't worry, I'm still doing my annual A-Z Black Friday Guide for Curly Girls, it's always my biggest and most anticipated blog post of the year! Follow me on Instagram, @curlmaven to be notified as soon as that post goes live. I did plan on photographing all the items in this Gift Guide, as I already own, use and love them. But on the day of publication, and shooting the images, something has irritated my sensitive eyes and I can barely see right now. So I hope you don't mind. Okay, let's get started shall we?!
Skincare
Medik8 is a relatively new brand for me. It's the perfect brand if anti-ageing skincare is on your radar, and especially if you want to start using retinol (Vitamin A). This Limited Edition Celebrated Kit contains £85 worth of products, for £60 and has two of favourite products. The Press & Glow is a hydrating acid toner that offers gentle exfoliation to promote smoother, more luminous skin using polyhydroxy acid (PHA) toner. If glycolic or even lactic acid have been too harsh or drying for your skin, this one is much more gentle and hydrating – I really like it! You can get 20% off Medik8 at LOOKFANTASTIC, who ship worldwide using code CURLMAVEN. But not including this limited edition kit.
If you've got acne, scarring and pigmentation or you're in your 30's and want to start including some powerful age-prevention skincare, then you may have heard of retinol aka vitamin A. If not, definitely start doing your research. The Medik8 ones are the most gentle I've come across. All the benefits of vitamin A without any of the not so cute side effects. If you know, you know. Medik8's Crystal Retinal 3™ is formulated with stabilised retinal, a potent derivative of vitamin A. It works to minimise the look of fine lines and wrinkles. And firm and plump the appearance of skin for youthful-looking results.
The Light Boost Salon LED Mask – this is pricey but I got this a year ago, and it has truly transformed my skin like nothing else I've ever used. This multi-award winning LED mask stimulates collagen to plump, lift and smooth fine lines and wrinkles – I've definitely noticed my skin is much more firm and plump. It's clinically-proven to reduce wrinkle depth by 36% in 4 weeks. It also brightens and hydrates, for a more youthful and even-toned appearance – I also agree! And it reduces healing time, soothes inflammation and improves texture – I'm going to talk more about this in a dedicated review because this LED mask saved my brothers face when he was in a horrific oil pan explosion last Christmas.
The Light Boost Salon LED Mask also counteracts the negative effects of the sun and environmental stressors. Increases blood circulation and relaxes the muscles. And helps skin care work more effectively and make-up stay fresher for longer. Simply put, it's the best anti-ageing, age prevention, scarring, pigmentation, acne healing/prevention product I've ever used!
You know those pesky break outs you get where the spot disappears in a few days but the red mark lingers for weeks or even months? The Light Boost Salon LED Mask gets rid of them in one or two uses. It's incredible! If you're in Ireland you can get it at Brown Thomas. If you're in the UK you can get it at Selfridges. And if you're in the USA you can get it at Nordstrom. Rene, aka Gothamista on YouTube made this really helpful video which tells you more about the science behind it and the more technical stuff.
Definitely check out the NuFace Mini, my other favourite anti-ageing skincare device and makes an amazing gift! This NuFACE Mini Hydrate and Contour Kit features the NuFace Mini, which is what I have. And the new Hydrating Aqua Gel, which I much prefer to the Gel Primer. I spoke about it in depth, along with some other great skincare in this blog post on My Top 5 At-Home Facials and Face Masks. Anything off that list would make an amazing Christmas present. You can get 20% off NuFace at LOOKFANTASTIC using code CURLMAVEN.
Bodycare
My sisters and I got all our Dad's Sicilian features, including dark hair – and lots of it. We've all had laser hair removal done, but only in a beauty salon – which is extremely expensive! I recently saw the Braun Silk-expert Pro 5 IPL half price at Boots and decided to give it a go. Claiming to be the safest, fastest and most efficient IPL with visible hair reduction in just 4 weeks. I was skeptical at first, because I'd been led to believe that these home IPL laser hair removal devices don't really work. Certainly not as effective as the in-salon IPL ones. And I completely disagree! I thought the claim of "visible hair reduction in just 4 weeks" was marketing faff, but it's genuinely not. I've been using mine for just over a month now and I've already seen a huge difference and I'm so impressed!
It's really simple and easy to use, it does give a slight tingle with each flash for the first couple of treatments. It's not painful, just a tingle. I got the Silk-expert Pro 5 PL5124 version, which has two heads. One for more precision areas such as the upper lip. It has 10 intensity levels which automatically adapt to ensure the light intensity is right for your skin tone. 3 comfort levels which you can manually adjust if you're sensitive or just starting out. And over 400,000 flashes – which means the device lasts a long time.
It's a really ergonomic design, and so quick and easy to use. I can't recommend it highly enough! Let me know if you'd like me to do a full review on it with before and after pictures. It's available at half price on LOOKFANTASTIC here, who ship worldwide. And use my 20% discount code CURLMAVEN at checkout. It's also still half price at Boots in the UK & Ireland, you can pick it up here and collect those Boots points. Or it's half price on Amazon UK here. Or you can get it half price on Amazon in the USA here.
Hair Care
A hair dryer is always such a great gift! The Dyson Supersonic Hair Dryer is a great choice if you can afford it, and you're in the USA or Canada. For reasons I outline in this post on The Best Dryers & Diffusers for Curly Hair. You can get it at Boots in the UK and Ireland. But if you're in Ireland, the UK or Sweden, then the Lanai BLO Hair Dryer is my top choice for this year's Curl Maven Gift Guide. It's a powerful, but lightweight hair dryer – so perfect for diffusing! You can get it personalised for a small extra cost, and it comes in loads of different colours.
Just a friendly FYI: Lanai BLO is only available in the countries mentioned above. And although the link looks like it's my shop, and I sell them – I don't. It's an affiliate link so I have no knowledge or control over stock levels, availability, shipping or delivery times.
I'm always going to include the Silke London Hair Turban in my Curl Maven Gift Guide. Not just for curly hair, Silke London Turbans are a great gift for anyone who wants to protect their hair from damage, dryness, frizz and breakage at night. As well as preserving curl pattern, or a sleek, bouncy blow out. Get 20% off Silke London at LOOKFANTASTIC using code CURLMAVEN.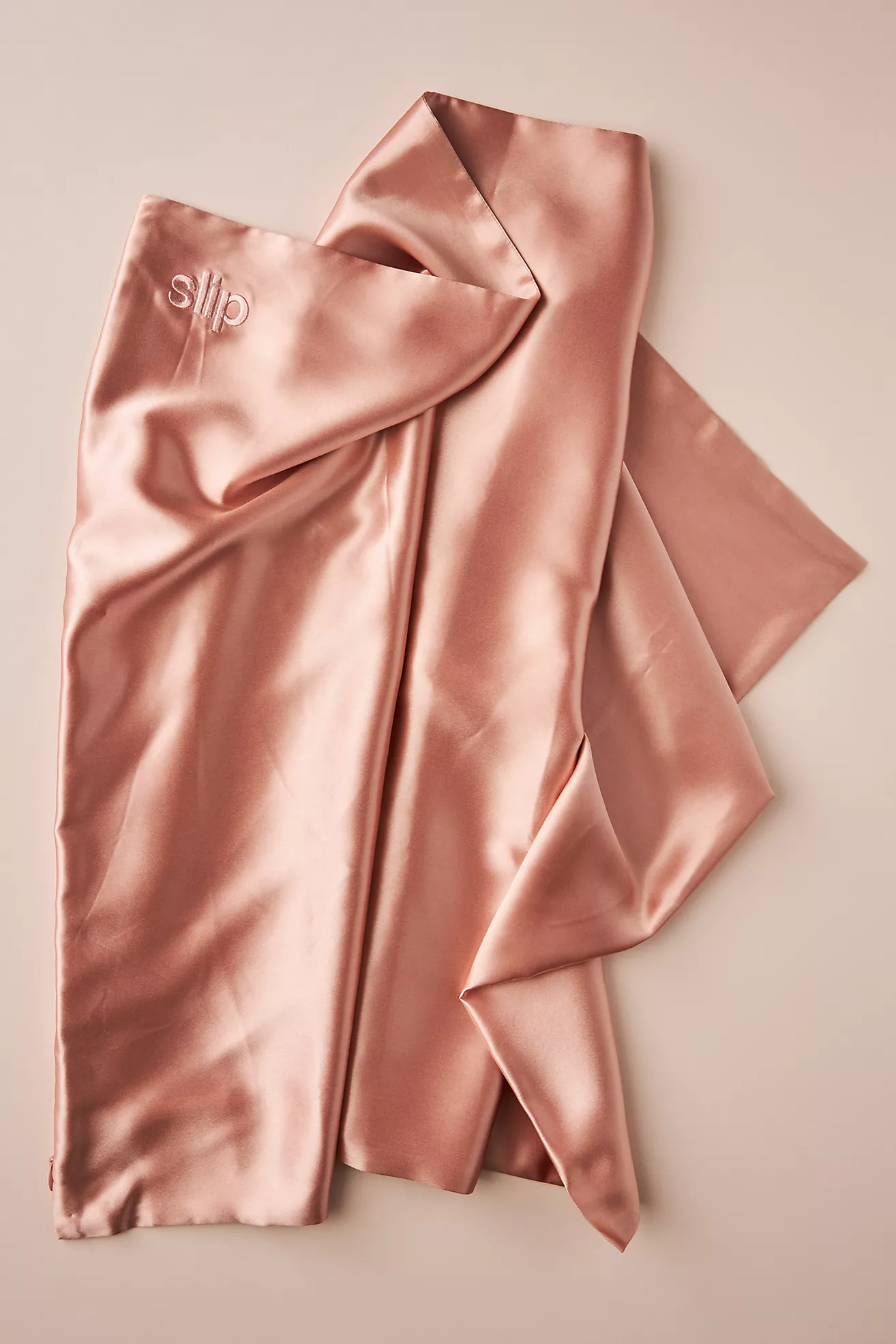 But this year I wanted to include the Slip Silk Pillowcases. Silk Pillowcases are one of those things that you don't realise how good they are, until you get one. Or until you stop using one. They are expensive. However, it's something you're going to use every night, and will protect both your hair, and your skin. But here's a little tip on how to save money. If you get the Slip Silk Pillowcase Duo, and use my 20% discount code CURLMAVEN on LOOKFANTASTIC. You essentially pay full price for the first pillowcase, and get the second one for an extra £10! So you can give the gift of silk this holiday season, and save some money!
Makeup
There hasn't been any makeup sets or products that have caught my eye this year. I've still continued to use the Hourglass Mini Ambient Lighting Edit – Sculpture Unlocked which featured in last year's Gift Guide, every single day. I even bought back ups I loved it so much! But I just picked up this Bobbi Brown Luxury Brush Collection, and it's the perfect full size brush set. Amazing quality as expected with Bobbi Brown. And the case is really handy too, perfect for weekends away, travel or throwing in your handbag. Although my discount code won't work on this brush set, you can get 20% off Bobbi Brown at LOOKFANTASTIC using code CURLMAVEN, they're lip products are my favourite!
If you want to splash out on some beautiful luxury makeup, Tom Ford Beauty is my favourite. I love their eyeshadows in particular the Tom Ford Cream Colour for Eyes in Spice, and Tom Ford Cream and Powder Colour Duo Pots as well as the Eyeshadow Quads. If it's not already discounted, you can get 20% off Tom Ford, including fragrances! at LOOKFANTASTIC using code CURLMAVEN.
And every single time I wear any of these Hourglass Scattered Light Eyeshadows I get a tonne of compliments and DM's on Instagram asking what I'm wearing on my eyes! It's these, it's always these. They are the perfect glitter topper, my favourite shades are Ray and Blaze. Also available at LOOKFANTASTIC.
Fashion
Just like last year's Gift Guide, I've got another beautiful belted midi rib dress from & Other Stories. I still get so much wear out of the one I got last year. This midi rib belted dress is low on stock, but it's timeless, classic and suit everyone of all shapes and sizes – even if you're short like me and especially if you have curves! The ribbed midi dresses from & Other Stories are really flattering and perfect for the holidays. You can dress them up or down, it's all about what you wear with it, and how you accessorize it. I always get so many compliments whenever I wear any of mine.
And where would I be without my beloved Sézane knitwear! Every time I wear any of their pieces on Instagram, I always get so many compliments and questions asking what I'm wearing. Sézane is known for their iconic knitwear, every season I pick up a few pieces. And so long as you look after them, and wash them correctly, they last so well! For reference, I'm a UK size 8-10, EU size 36-38 and US size 6-8 and I'm almost 5ft 2. I almost always get a size Small in knitwear, sometimes Medium if I want a more over-sized fit.
Some of my favourites this year are the Lyra Jumper – currently available in all sizes. And the Manon jumper, which is only available in a few sizes. And check out their iconic, more basic knitwear here where each design comes in lots of colours – Leon is my favourite. Final shout out to one of my favourite tops from them ever, the gorgeous Franceska blouse -which is what I'm wearing in the picture below.
A quick mention for the softest, most luxurious pyjamas I've ever worn! Chelsea Peers pyjamas and loungewear are so incredibly soft and cosy. Without making you feel hot and sweaty, if that makes sense. Lightweight, warm and cosy, but still breathable. They're on sale right now on Asos – who ship worldwide. Click here to shop the Chelsea Peers collection, most of the designs are also available in plus size. The Summer Safari set is my favourite!
Footwear
I still wear the lace up boots I got in last year's Gift Guide and have got so much wear out of them. They're from & Other Stories who have amazing footwear and loads of styles to choose from if you're looking for winter boots. But for this year's Curl Maven Gift Guide, I wanted to show you these gorgeous leather Espadrille Sandal Wedges. They're so beautiful, so well made, go with so many outfits and styles and sooo comfy. I even wore them for a full day's training in a hair salon! Get 10% off & Other Stories using code WELCOME.
I feel like this should be a public service announcement for all the people who have wide feet and have been trying to squeeze into Converse all these years. Veja Nova cotton canvas runners/trainers/sneakers are almost the exact same style shoe, but are a wider fit. They're also super comfortable and don't cut up the back of your heels or need any "breaking in". I just purchased this pair of Vejas from & Other Stories, with that 10% discount. Sweet!
Home
Who doesn't love a candle, especially during the holidays?! You can't move in my house for crystals, plants and candles! So let me reintroduce you to an amazing Irish company, who ship worldwide, Clean Slate. Based in Dublin, and hand poured with love and care by founder, Nicole. Clean Slate candles are made with 100% soy wax, are paraben free, vegan and eco-friendly. The quality is amazing, and her winter scents are the most sophisticated I've ever come across!
I included it in last year's Gift Guide, but it's just too good not to share again. And honestly, there's no other candle I like as much for the holidays than the best-selling, Gather – a soothing scent of warm orange clove and myrrh, it's like a Christmas cuddle. Last year I got the 180ml single wick one, burned it for a few hours every day and it lasted me the whole month of December. It's the most gorgeous, sophisticated scent!
Wellness
Last year I included The Head Plan Productivity & Wellness Planner – which so many of you loved! So if you missed that, definitely check out last year's Gift Guide here. But this year I'm including The Head Plan Gratitude Journal. It focuses purely on gratitude and affirmations, and I love it even more than the Planner! It's a little smaller in size, and the perfect size to keep beside your bed, in your handbag. Or like me, beside the coffee machine where I write in it every morning as the coffee machine heats up. I guarantee you, practicing daily gratitude will transform your life!
And The Head Plan is another amazing, small Irish business! They've also got Nourish, a weekly food and nourishment planner. Gorgeous Daily Drench water bottles with beautiful, positive notes to encourage you to drink your daily water intake for a healthy mind and body – I love mine! And they've just released their first collaboration, a beautiful self-love 12 week journal with Roxie Nafousi! You can shop all the products available at The Head Plan on their website and they ship worldwide. If you're in Ireland, they have a pop up store in Arnotts and Dundrum. You can shop The Head Plan on Amazon in the USA here. And Amazon UK here.
Food
I'm including Oliviers & Co. Olive Oils & Herbs in my Curl Maven Gift Guide again, because they're just that good! If you like to cook, or you know someone who does, this is the best gift for the holidays, or any time of year really! I've been using this brand for over a decade and don't cook with anything else! Based in France, but shipping world wide, Oliviers & Co's aromatic oils are my favourite. As well as their salt and herb mixes for meat, salads and fish. I feel a duty to tell you though, once you cook and taste these, you won't want to use anything else, ever again! This year they've got even more beautiful gift sets, which you can check out here.
Cards & Books
I almost forgot to include these two items! But if you get nothing else from this post, please check out Lisa Lister's new book, Presence. It's the best book I've read in 2021 and honestly, I feel it should be on the curriculum in every school. I want all my friends to read it, including you. Here's an excerpt from the book below – check that second paragraph on the left! I can't recommend this book enough, or say enough good things about it. Just get it, read it, soak it all in. You can get it on Amazon in the UK here. And Amazon in the US here.
And finally, I wanted to share my favourite affirmation cards. The Inquire Within Deck from Worthwhile Paper, available on Etsy. It's a self-published card deck made in small batches, by Kristen Drozdowski in Michigan, USA but she ships worldwide. These beautiful 53 hand illustrated cards are designed to inspire inner wisdom, growth & comfort, guidance and connection with yourself. The quality is amazing, with gorgeous gold foil edging.
So that completes my Curl Maven Gift Guide of 2021! I hope you found some amazing gifts you wouldn't have thought of. I've got lots of amazing deals and promotions over Cyber Weekend coming up, including my hugely popular A-Z Black Friday Guide for Curly Girls.
Make sure you subscribe to the Curl Maven Collective Newsletter for exclusive giveaways and offers, new content, products and services. Follow me on Pinterest, Instagram and subscribe to my YouTube channel for more tips, advice and tutorials.
Gratitude + Support
If you found this article or any of my content helpful and would like to show your Gratitude + Support, you can click here to make a donation. I'm so incredibly thankful and grateful to everyone who supports me, my content and my platform. Thank you!
*This article may contain some gifted items and affiliated links and discount codes. This doesn't effect my opinion or the way in which I write about products featured on this site.