Here are my 10 Winter Haircare tips, advice and recommendations for wavy and curly hair, as well as straight. To keep your hair looking healthy, hydrated, frizz-free and defined throughout the cold, wet and windy winter months.
It can be frustrating when you get into a good routine, find products that work for your hair and give you consistent results. Then all of a sudden, those same products and routine no longer seem to work or give you the same results.
So if that sounds like you, and you're about to go on a spending spree buying all new hair care products to try and bring your hair, waves and curls back to life – then these 10 Winter Haircare Tips are for you!
Seasonal Changes
As the seasons change, our hair can take a week or two to adjust to the new environment, such as cold, wet windy and sometimes humid weather outside. And the dry heat from central heating, open fires, wood burning stoves and dehumidifiers.
Not to mention things like hats, scarves, big coats and hoods! Which can all rub against the hair causing frizz, dryness, damage and breakage. So I've put together these 10 tips you can incorporate into your winter haircare routine, so you can have healthy waves and curls throughout the colder months.
10 Winter Haircare Tips
Here are my top 10 winter haircare tips to show you that with a few tweaks to your routine, and a couple of product swaps during the winter months. You'll be able to keep your wavy and curly hair looking healthy, hydrated, frizz-free and defined. If I could sum this post up in two words it would be: Moisture + Protect. But let's get into these 10 Winter Haircare Tips:
1. Regular Scalp Treatments
Everything, including my winter haircare tips, starts with the scalp when it comes to healthy hair, and hair growth. During the winter, whether you're indoors a lot with central heating, dry heat and fires. Or outside in the cold, wet, windy weather and wearing a hat a lot. This can often lead to a dry, itchy, flaky or irritated scalp.
I highly recommend using a regular scalp treatment once a week. Apply to the scalp and massage 30 mins before washday, or the night before. A scalp massager is also a great addition to your winter haircare routine, especially if you're using a co-wash. Here are some of my favourites, specifically for scalp health, not hair growth – there's a difference.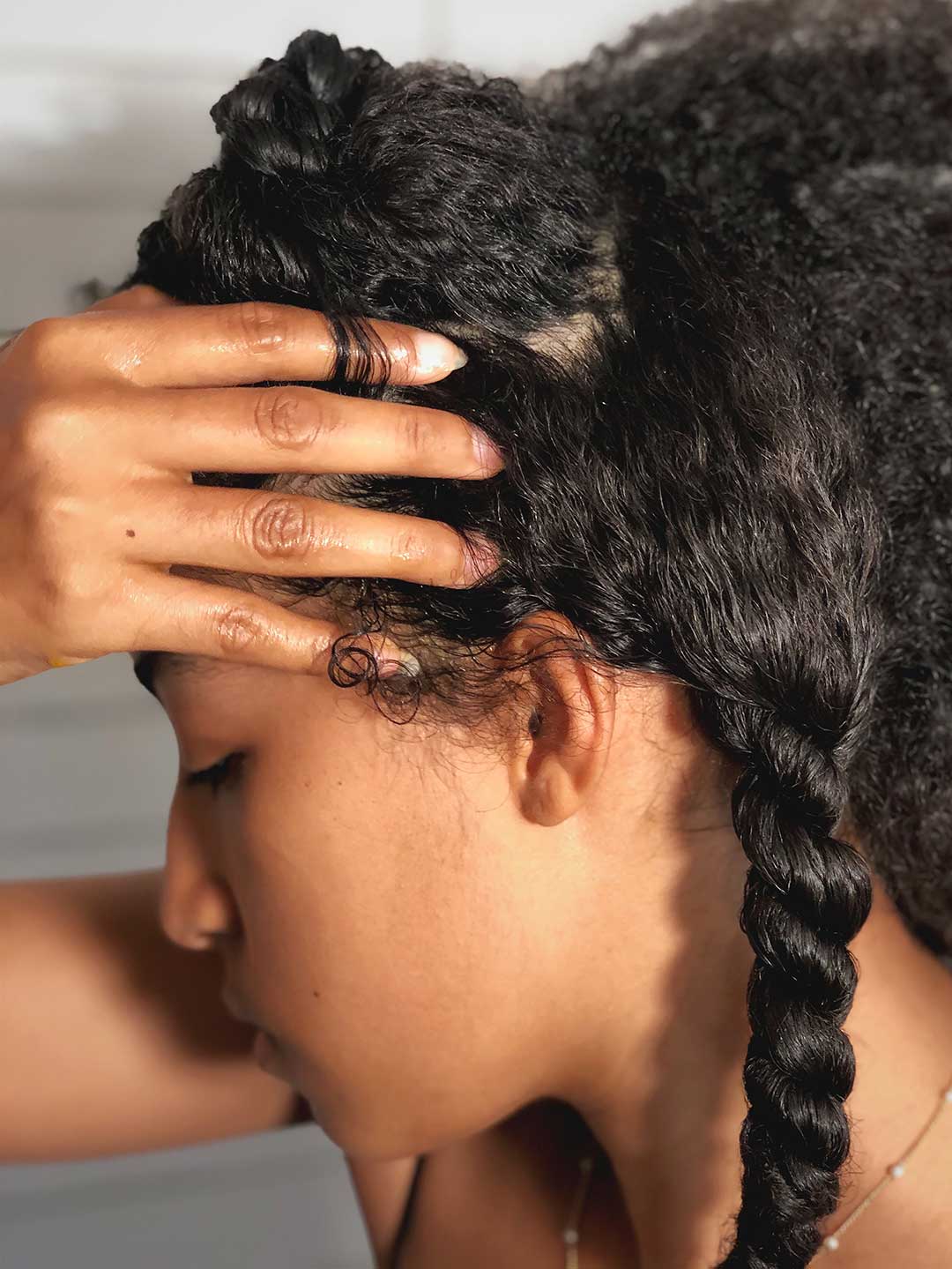 Top Tip: don't use scalp scrubs as they create tiny, microscopic lesions on the scalp which only dry it out further and cause more dry, flaky, itchy and irritated scalps!
If you have afro, coily hair or very coarse textured hair that's really dry/damaged. My top winter haircare tip is to incorporate pre-pooing into your hair routine during the winter months. My beautiful friend Lal, wrote this post for the blog.
It has all the tips, advice, product recommendations and application techniques you need to know for this pre-shampoo method to preserve moisture and protect the hair from breakage. However, if you've got fine hair, wavy or curly or hair that gets easily over-moisturized, just keep reading, that post isn't for you or your hair type.
2. Focus on Moisture
If you read my post on Summer Haircare Tips, you'll know that you need to focus more on protein during the Summer, as the sun breaks down the protein in our hair. And focus more on moisture during the Winter, as the harsh weather and indoor heating can really dry out the hair. This can lead to hair becoming dry, lacking shine and definition, and lead to damaged brittle hair.
You can do this a few different ways. But if your hair gets easily weighed down and over-moisturized, then be mindful and intentional with increasing moisture in your routine. I'm going to go into more depth on this in another post later this month. But in the meantime, here are a few different options to focus on moisture in your wavy and curly winter haircare routine:
Swap either your shampoo and/or your conditioner for more moisturizing ones
Incorporate co-washing into your winter haircare routine. But be careful, as this can easily lead to over moisturised hair if you have fine, wavy or curly hair that gets easily weighed down or over moisturized. Co-washing is not for everyone, but it is a great way of boosting the moisture levels in your hair during the winter months, if your hair needs it.
Swap your conditioner for a deep conditioner or hair mask, then use it the exact same way you would if you were just regularly conditioning.
Alternatively, you can just use your conditioner, like you would a deep conditioner or hair mask. So leave it in for longer, or apply heat such as a thermal heat cap.
Simply add a leave in conditioner to your winter haircare routine. Here are some of my favourites:
3. Deep Condition Weekly
Now this is winter haircare tip is different to the tip above. Where I suggested swapping your conditioner for a deep conditioner. You can deep condition with your regular conditioner, a deep conditioner or hair mask. It's not the product, as much as the length of time you leave it in your hair to "deeply condition."
You should deep condition every time you clarify. But a really important winter haircare tip is to deep condition more regularly. Find out what works best for your hair, that could be once every other week, or once/week. Here are some of my favourite deep conditioners, which are a little more moisturizing for the winter:
If you have fine hair that gets easily weighed down or over-moisturized, simply leave your regular conditioner that you always use, in your hair for longer. Approx 10-15 mins, but no longer than 20-30 mins max.
If you have thicker, or dryer hair that needs a little more moisture and TLC. You can use a deep conditioner or hair mask, and leave it in for longer. At least 20-30 mins, but no longer than an hour.
Application Tip: do not apply your conditioner, deep conditioner and hair mask from the mid-lengths down. This leads to halo frizz, lack of root lift and volume, and dry ends. Instead, apply it onto wet hair, from the ends upwards, until you're about an inch away from your roots.
4. Use heat!
Top winter haircare tip, when it's cold: use heat! Heat is a game changer for dry, low porosity, brittle, bleached, colour-treated or damaged hair – especially in Winter! And when I say use heat, I don't mean use heat styling tools.
I mean, use heat when deep conditioning to maximise the benefits of your chosen conditioner, deep conditioner or hair mask. This will keep your hair looking healthy, hydrated, shiny, frizz-free and defined. Reducing frizz, damage, breakage and dryness.
Without the use of heat, the hair cuticle is typically closed, especially in low porosity hair. When deep conditioners, treatments or masks are applied, they will just sit on the surface of the hair – limiting the benefits to your hair.
By using heat to open up the cuticle of the hair, this allows the deep conditioner, treatment or mask to penetrate the hair shaft, nourishing and conditioning your hair from the inside out.
You can purchase my Thermal Heat Caps, handmade in Ireland and shipped worldwide – which is my preferred method. Or you can use steam, either from a hot shower (just remember not to wash your hair in water that's too hot). Or a facial steaming device, like the Pro Hydration Steamer from My Skincare, another Irish brand – CURLMAVEN for 20% off.
Top Tip: when using a thermal heat cap, always remember to remove it for the last 5 mins to allow the hair to cool down and the cuticle to close. Then rinse with luke warm-cool water to seal the cuticle, and all the benefits of your deep conditioner or hair mask inside.
5. Use oils sparingly, but correctly!
A hugely popular winter hair care tip, is to apply oils to seal and protect the hair. However, to ensure you're sealing hydration and water into the hair instead of out, only apply an oil to wet hair – never dry. Not all oils are the same, so make sure you're using a sealing oil instead of a penetrating one.
Grapeseed and Jojoba oils are the most popular sealing oils, and very lightweight. So they won't weight the hair down. Just remember, you don't need loads, a few drops will do – you're sealing, not saturating!
Many conditioners, deep conditioners and hair masks contain oils in their formulas already, and some are more oil-rich than others. But you can apply a sealing oil sparingly after your moisturizing products such as a leave-in/conditioner, lotion, or curl cream.
Or you can add a few drops to your conditioner, deep conditioner or hair mask for added benefits. Here are some of my favourite oils and oil-rich deep conditioners:
PSA: Don't use oils on dry hair. You cannot "seal" moisture into the hair if your hair is dry! You don't need an oil to scrunch out the crunch or break the gel cast. Use your hands or a silk scarf – not oil.
6. Clarify regularly
I don't think I'm ever going to write about a haircare routine, without mentioning clarifying. It's so incredibly important, to all hair types. And often is the reason why products aren't working, or giving the same results they usually do, or used to. But it's especially important to clarify regularly during the winter months because of the extra focus on moisture.
Those rich emollients, oils and butters in conditioners, deep conditioners and hair masks can build up on the hair and are often heavy too. Causing it to become dry, brittle, lacking lustre, shine and definition.
So to make sure you get all the benefits of the extra moisture in your winter haircare routine, you need to clarify once/month. Read this post for more info, tips, advice and product recommendations on clarifying.
7. Diffuse your hair until it's fully dry
Diffusing will always give you the best shape, definition and volume. No matter your hair type, length, curl pattern or density. But one of the best winter haircare tips I can give you is to dry/diffuse your hair until it's fully dry, every single washday!
Regardless of whether your hair is straight, wavy or curly. This benefits not just your hair, but also your health, especially if you have thick or high porosity hair. Here's a few reasons why:
Hair is at its weakest when it's wet. So if it stays wet for longer during the colder winter months, it's going to take longer to dry. Not to mention various scalp issues that also come with having wet hair for too long.
Then there's also freezing temperatures to contend with. If the water in or on your wet or damp hair freezes, the hair can easily snap and break.
8. Don't scrunch out the crunch
This is going to sound strange, but hear me out, okay?! So when you apply a gel, mousse or custard to your wet wavy and curly hair. As it dries, it will form a hard, wet-looking, crunchy gel cast. THIS IS A GOOD THING! That hard, crunchy cast is protecting the curls from frizz, dryness…and often, humidity.
Once your hair is fully dry, all you have to do to break that gel cast is gently "scrunch out the crunch." And that crunchy, crispy, wet-look will be gone. Revealing soft, shiny, juicy waves and curls.
BUT, if it's particularly wet, windy or humid outside, and you want your waves and curls to last longer in the winter. DON'T SCRUNCH OUT THE CRUNCH! Let the winter weather and humidity do that for you, gradually.
Now, depending on the weather and environment, you may need to avoid humectants in your styling products during winter to avoid undefined waves and curls. If that's you, check out these humectant-free styling gels.
9. Protect your hair during the day
Protect your hair, waves and curls during the day by wearing it in protective styles such as braids, buns, pineapples and ponytails. A crown braid is one of the best protective hair styles, no matter what hair type, texture or pattern you have. But in more harsher, wet and windy weather, my top winter haircare tip is to wear a silk turban underneath your favourite hat!
Hats and hoods are the best way to protect your hair from the elements during winter. But depending on the materials and weave of the hat, it can cause dryness, breakage and frizz to the hair.
There are lots of silk or satin lined hats on the market now. But I've yet to find one I like, or that stays on my head. So I simply wear my Silke London Turban – CURLMAVEN for 20% off, underneath my favourite hats.
Alternatively, find a hat with a double lining, and the inside lining is a much finer, softer weave and material. But most of all, go out and have fun!
Throw the snowball, let your hair get wet in the wind and rain. Don't miss out on winter fun and making memories just because you don't want to ruin your hair. And with these tips, you can ensure it stays healthy.
Top Tip: Silke London Hair Turbans come in lots of colours. Pick one that matches your hair colour, or the colour of your hat for invisible curl protection.
10. Protect your hair at night
The best thing to minimise frizz, retain moisture, maintain curl definition, and ensure your wash day results last longer throughout the week, is to protect your hair at night.
Again, this is especially important during the winter as dryness from central heating, open fires and dehumidifiers in the home can cause dry, brittle, frizzy waves and curls which lack shine, moisture and definition.
So at the very least tie it up in a pineapple if it's long enough. Use either a silk turban or bonnet. And stay away from cotton or linen pillowcases and instead sleep on a silk or satin pillowcase.
---
So there you go, 10 winter haircare tips you can incorporate into your routine this winter. I hope you found them helpful and informative.
Make sure you subscribe to the Curl Maven Collective Newsletter for exclusive giveaways and offers, new content, products and services. Follow me on Pinterest, Instagram and subscribe to my YouTube channel for more tips, advice and tutorials.
feeling overwhelmed + don't know where to start?
Book a Curl Clinic Consultation
Gratitude + Support
If you found this article or any of my content helpful and would like to show your Gratitude + Support, you can click here to make a donation. I'm so incredibly thankful and grateful to everyone who supports me, my content and my platform. Thank you!
*This article may contain some gifted items and affiliated links and discount codes. This doesn't effect my opinion or the way in which I write about products featured on this site.