Here's how to build a self care routine, with rituals that promote holistic health and wellness. Because incorporating these self care practices into my routine have positively impacted and transformed all areas of my life. As we head into the busiest time of the year for many of us at work, at home and with family. Having a self care routine can really keep us grounded and balanced.
Especially if you struggle with low mood and depression due to the colder, darker months in Winter. Or experience tension and difficult emotions around family members and celebrations during the holidays. These tips, rituals and self care practices will help you feel grounded, be more present and deepen your connection to your mind and body.
How to Build a Self Care Routine
I first learned of this method – or format – on how to build a self care routine on an episode from Jay Shetty's On Purpose podcast. The idea is that you build a self care routine of daily, weekly and monthly practices. But a routine can often be something that you do almost mindlessly, with no thought or intention behind it.
A ritual is the opposite of that. It has meaning, purpose and intention. I wanted to build a self care routine of sacred rituals to nourish my mental health and physical wellbeing with mindful practices that promote holistic wellness. I've been following this self care routine for a few years now, here's what I do.
Daily Self Care Practices
This is where I developed my DREAM Morning Method. A wellness ritual of daily self care practices and habit stacking to reduce stress, manage my mental health, move my body, still my mind and set myself up for a successful day ahead.
D is for drink. R is for reading. E is for exercise. A is for affirmations and M is for meditation. I highly recommend reading the full article as I expand more on each element of the DREAM Morning Method. Along with tips and advice on how to give it meaning, make it beautiful and invest in yourself. Which is what self care is all about.
But if you do nothing else in your daily self care practice, let it be meditation. It's the most powerful, transformative thing you can do for yourself! There are so many incredible, science-backed, health and wellness benefits to meditation. This is a great article on the benefits, effects and impact of meditating regularly.
My all-time favourite guided meditations are from yoga and meditation teacher and creator, Kelly Smith called Mindful in Minutes, available on Spotify and Apple Podcasts. I discovered Kelly and Mindful in Minutes in 2020, and have been listening to her meditations almost daily ever since!
Over the last few months, I've boosted the benefits of my daily self care practice, by using a Infrared PEMF Mat when I meditate. PEMF stands for pulsed electromagnetic frequency, which mimics the Earth's natural magnetic frequencies. I'll talk about it more in another post, but in short it combines far infrared heat, crystal therapy and negative ions therapy. To help reduce stress, elevate your energy levels, improve circulation, aid restful sleep and encourage quicker recovery and healing in the body.
It's pricey, and definitely a costly investment into any self care practice. But there's science backed research behind the benefits of both Infrared and PEMF technology. And I can certainly feel the benefits after using it consistently for the last 2-3 months. Use code CURLMAVEN to get 10% off the HigherDose Infrared PEMF Go Mat. Or any of the HigherDose products, at The Clean Beauty Edit – who ship HigherDose to Ireland, UK and mainland EU. If you're in the USA or Canada, you can get HigherDose at CurrentBody.
Weekly Self Care Routine
Building on your daily self care practices, next develop a weekly self care routine. It can be date night with your partner. A weekly yoga class or meeting up with a friend for a coffee. You get the idea, something that you can look forward to and commit to once/week. Whether it's something physical, social or creative. Even a candle lit bath with bath salts (these ones from ESPA are my favourite) after dry body brushing – which is so great for the body! I've tried a few body brushes and this one from ESPA is the best! Use code CURLMAVEN for 20% off ESPA at LOOKFANTASTIC.
It doesn't have to be just one of those things. You can do all of them (or more) as part of your weekly self care routine. I started this during lockdown, when I was single, and you couldn't go anywhere or do anything like attend a yoga class. But I had my coffee date every Friday with one of my best friends who lived within a 2km radius.
It felt sacred, and the only thing I had to look forward to each week during a time of such loneliness and isolation. Since then, I've slowly built up from one thing a week to three. Wednesday is date night with my partner, Thursday is yoga and Friday is still my coffee date and walk in the park with my best friend.
Monthly Self Care Ritual
This can be whatever you want it to be. But my monthly self care ritual is to get a full body massage. There's so much science-backed research behind this self care practice. I have a partner now, but for many years I was single. A single mum with two kids, and a variety of mental health struggles but without much physical touch.
Physical touch is a basic human need with emotional, mental, and physical benefits. It lowers blood pressure as well as cortisol, which is our stress hormone. It calms our nervous centre and slows down our heartbeat. Physical touch also triggers the release of oxytocin, and increases levels of dopamine and serotonin. Which are two neurotransmitters that help regulate our mood and relieve stress and anxiety.
Research shows that one of the most effective ways to benefit from the therapeutic benefits of touch is through massage. Massage therapy has been shown to ease depression, increase attentiveness and enhance immune function. Because even our immune response seems to be impacted by touch, those who are deprived of human touch are more likely to suffer from immune system diseases.
Even though I'm no longer single and have an amazing partner who's love language is physical touch (which I really appreciate). My full body tranquility massage is still part of my monthly self care ritual. It's something I do, just for me. Something I really look forward to every month.
I also appreciate that something like this can be beyond the budget for a lot of people. But find something you can incorporate into your own monthly self care ritual. Something that nourishes your body and soothes your mind. Maybe it's just a head massage (highly recommend!). Inviting your friends over for dinner or journalling on the full moon to reflect on and celebrate all that you've learned, achieved and accomplished over the last month.
Annual Self Care Retreat
The final part of my self care routine and one of my favourite self care practices is my annual self care retreat. Let me start by saying, I know this is a luxury! I couldn't afford or even dream of doing something like this for the first 30+ years of my life. But I've really come to love, look forward to and appreciate my solo retreat every year. Not to mention, I work really hard for it too!
I was diagnosed with S.A.D. years go and my doctor told me to do two things. Firstly, buy a Lumie Dawn Simulator Bodyclock – which I had to save up for at the time. It's made such a huge difference to my daily life, mood and energy levels that I've since got one for each of my kids too.
And secondly, to go away for a week in the sun, every Winter. She even told me the best time to go, half way between when the kids go back to school in September and Christmas. She told me to make it a priority and not to think of it as a holiday, but part of managing my S.A.D and mental health. It was several years after that diagnosis before I could afford to do it.
I now visit the Canary Islands every year during half term break. Spending my days on the beach with a good book and not doing much else other than soaking up the sunshine and swimming in the sea. I'd love to do a wellness yoga retreat in Ibiza, Greece or Bali! So if you have any great recommendations please let me know in the comments.
An annual self care retreat can be anything you want it to be. It could be a festival, a weekend away with friends (which is what I did for years) or visiting family. Whatever you need for your holistic health and wellbeing. It doesn't have to be the same thing every year. But it's a self care practice that becomes sacred and gives you something to look forward to and work towards each year.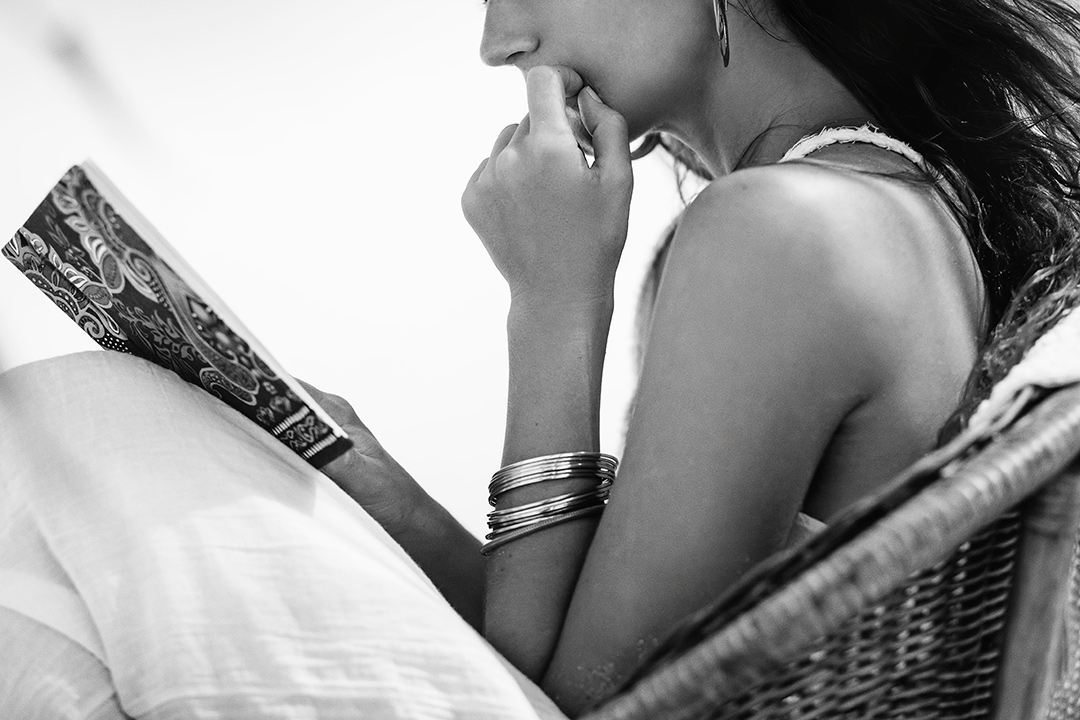 Do whatever you need to do – and can afford – to make these self care practices, routines and rituals beautiful and meaningful. It doesn't have to cost money or be expensive, and you can save up if you need to. See it as a gift or investment in yourself, your self care, your success.
Let me know if you enjoyed this wellness post. From my daily DREAM and weekly walks to my monthly massage and annual retreat. I'd love to know what self care practices you have, and any alternative suggestions, ideas or wellness retreat recommendations too. Just pop them in the comments below.
Make sure you subscribe to the Curl Maven Collective Newsletter for exclusive giveaways and offers, new content, products and services. Follow me on Pinterest, Instagram and subscribe to my YouTube channel for more tips, advice and tutorials.
Gratitude + Support
If you found this article or any of my content helpful and would like to show your Gratitude + Support, you can click here to make a donation. I'm so incredibly thankful and grateful to everyone who supports me, my content and my platform. Thank you!
*This article may contain some gifted items and affiliated links and discount codes. This doesn't effect my opinion or the way in which I write about products featured on this site.