Before the frenzy of discount codes and holiday deals start flooding our inboxes and social media, I wanted to share my Curl Maven Gift Guide 2020.
These are some of my favourite haircare, skincare and makeup products. As well as some home, food and wellness gifts that would make a really nice gift for a friend, family member or loved one this Christmas and holiday season.
With countries going back into lockdown, and the global postal system already under pressure due to Covid-19 and social distancing restrictions. I'm getting my Christmas shopping done early, and trying to support local, small businesses wherever, and whenever I can. And I'd encourage you to do the same.
As a small, one-woman business owner myself, I can tell you that every single order means the world! We do a little happy dance every time an order comes in. And put so much love into what we do, especially if it's handmade!
Curly Maven Gift Guide
I've included some beautiful products from some local, Irish companies in this year's Curl Maven Gift Guide. As well as other brands, products and gift ideas from, or available, around the world, just like my readers, followers and audience are.
Hopefully with this gift guide, you can plan ahead and save some money when the Black Friday, Small Business Saturday and Cyber Monday discounts and deals come around. You'll have an idea of what you want to spend your hard-earned money on, in a more considered, thoughtful and mindful way.
Don't worry, I'm still doing my annual A-Z Black Friday Guide for Curly Girls, it's always my biggest and most anticipated blog post of the year! Follow me on Instagram, @curlmaven to be notified as soon as that post goes live. Click the pictures throughout this post to shop, as well as all the links included.
Skincare
Okay, first up on my Curl Maven Gift Guide is Aurelia Probiotic Skincare, a relatively new brand for me, but I have fallen in love! My skin was quite stressed out a few weeks ago, which often happens when the seasons change. Especially as we come into winter and my sensitive skin needs some extra T.L.C. I started using Aurelia consistently, and almost exclusively, and have seen a huge change in my skin!
Aurelia are the ultimate CG beauty brand, clean and green. They have a few beautiful limited edition Christmas collections available at LOOKFANTASTIC. The packaging is almost too beautiful to cover in wrapping paper!
Use code CURLMAVEN for 20% off individual items, but it's not valid on the limited edition gift boxes. If you're on a budget though, these are a great way to make a huge saving, and then divide the items up as individual gifts.
If you'd like to support an award-winning, female, black-owned, independent, British business, then definitely check out The Afro Hair & Skin Company. I own pretty much their entire line! You can get this mini discovery set here, my personal favourites are the Flow Facial Oil and Rebirth Clay Mask. I've also been adding the Bloom Omega Healthy Hair Oil into my deep conditioning masks lately, and loving the results.
Tools
No, not those tools! Skincare tools! But oh how I'd love to casually drop a few drill and screw gun recommendations into my Curl Maven Gift Guide! If you see any amazing discount deals and want to treat yourself or someone else to some really great skincare tools. I spoke about both of these tools in depth in this blog post on My Top 5 At-Home Facials and Face Masks. Anything off that list would make an amazing Christmas present.
But definitely check out this NuFace Mini Fix Limited Edition Anniversary Set below. The NuFace is a great anti-aging, micro current toning device. Already a great saving, discounted price, but you can get a further 20% off using code CURLMAVEN at LOOKFANTASTIC.
Or go for the Foreo UFO2, the latest technology in at-home facial treatments. It's got all the bells and whistles any skincare junkie could want, with all kinds of cutting-edge, innovative technology.
The Foreo UFO2 smart device encourages the absorption of nutrients and active ingredients into the skin using small, Korean-inspired sheet masks. Leaving skin feeling soft, supple, smooth, hydrated and radiant, in less than two minutes!
I don't have a discount code for it right now, but it's worth keeping an eye out for any deals on Black Friday – Cyber Monday. It's available here at LOOKFANTASTIC, who ship worldwide.
Hair Care
A Curl Maven Gift Guide wouldn't be complete with out including my beloved Silke London Hair Turban! A great British brand with Caribbean heritage, founded by mother and daughter duo, Maria and Christine. This was my product of the year in 2019. Why not give the gift of silk this holiday season. They are one size, come in a variety of colours and gorgeous packaging, almost too good to wrap!
Not just for curly hair, Silke London Turbans are a great gift for anyone who wants to protect their hair from damage, dryness, frizz and breakage at night. As well as preserving curl pattern, or a sleek, bouncy blow out. They also do matching silk scrunchies, which are great quality. Get 20% off at LOOKFANTASTIC, who ship world wide, using code CURLMAVEN.
Without going into too much detail in this post, I'll save my favourites for my annual Favourite Products of the Year post. But if you wanted to treat yourself to a few things from some of my favourite brands. Bounce Curl have the best cleansers on the market, and I love their hairspray. Use code CURLMAVEN for 10% off Bounce Curl, and you can read my full review here.
Get 10% off Bounce Curl using code CURLMAVEN at all of the following distributors/online retailers:
Innersense Organic Beauty are my go-to for conditioners, and their I Create Volume is literally Diana Ross in a bottle! It's a lightweight serum that gives incredible volume and I've not come across a product like it.
Use code CURLMAVEN for 10% off Innersense at The Clean Beauty Edit, who ship worldwide. If you're in the USA, you can shop Innersense here, and get 15% off your first order by signing up to their newsletter. You can read my full review here.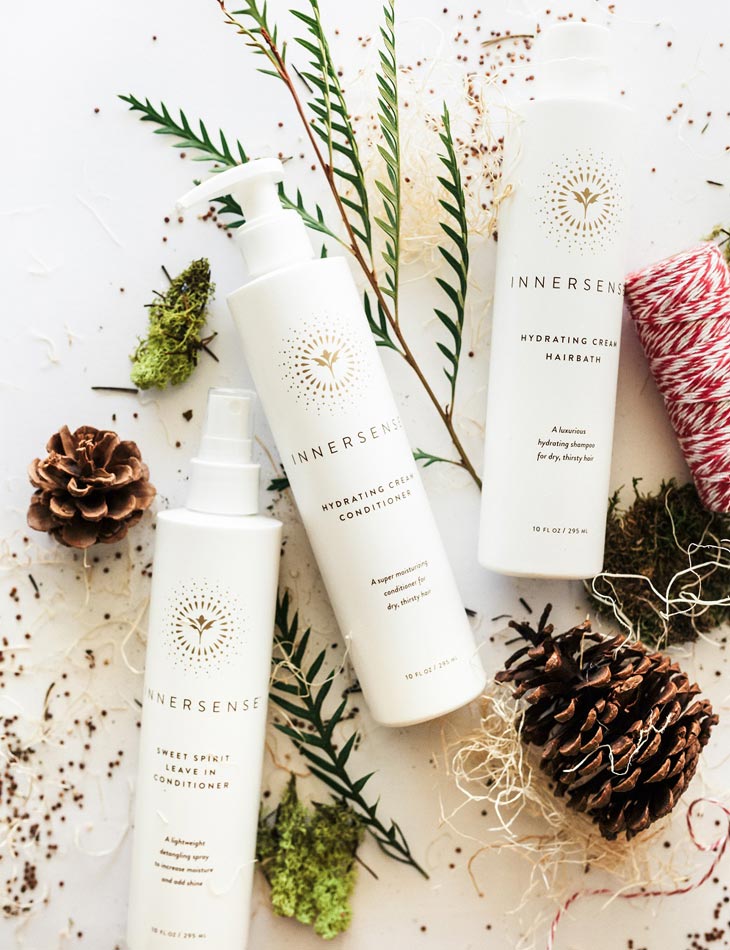 And finally, for styling products, check out TréLuxe. Their Reflex Curl Defining Serum is ringlets in a bottle, and their Hi! Definition Gel is – I'm going to say it – my favourite gel! You can get 15% off TréLuxe using code CURLMAVEN on their website in the USA.
Or use code CURLMAVEN to get 10% off Curl Warehouse in Canada or Kiyo Beauty in the UK. You can also get TréLuxe at Sari Curls or Le Curl Shop in the EU. Naturalistic Products in the UK or The Curl Store in Australia.
Makeup
I've put two items in this section, both from Hourglass. The first is the mini Ambient Lighting Edit – Sculpture Unlocked. Hourglass always bring out the most gorgeous limited edition sets each year.
This year was the first year I was able to pick one up before they sold out, and they're still in stock. I've used the Mini Edit every single day since I bought it! I didn't know powders could be so fine, buttery and smooth!
I've also included the Hourglass Scattered Light Eyeshadows. I bought a limited edition mini set last year and I've worn them at least once or twice a week, every week, all year!
They are the perfect glitter topper, and every time I wear them, I get a tonne of compliments and DM's on Instagram asking what I'm wearing on my eyes! It's these, it's always these. My favourite shades are Ray and Blaze.
I'm very basic when it comes to my eyeshadow, it's always a cream shadow underneath, either Tom Ford Emotionproof Eyeshadow in Abyssinan or Charlotte Tilbury Eyes to Mesmerise in Star Gold. And then one of the Hourglass Scattered Light Eyeshadows on top if I want a sparkly, glittery eye look. Not just for night time or parties, I wear these during the day all the time! Just a light sweep and wash of glitter – beautiful!
Fashion
I thought I'd include some petite and curvy friendly fashion in this year's Curl Maven Gift Guide. I purchased two things from & Other Stories the last few months, and I know I'm going to get so much wear out of both of them. Each of these pieces are timeless, classic and would suit everyone, I think.
First up is this beautiful, belted midi rib dress. It's really flattering and would be perfect for the holidays. It's one of those pieces that you can dress up or down, it's all about what you wear with it, and how you accessorize it. I always get so many compliments whenever I wear it.
And secondly, you can't go wrong with a good pair of leather boots for the winter. I got these Lace Up Leather Boots from & Other Stories as well, and they are so comfortable! I wasn't sure at first, they seemed a little stiff. But a few people I know who have them said they are one of the most comfortable pair of shoes they own, and they wear them all the time!
So I decided to keep them, and I'm so glad I did. They go really well with the belted rib dress as well. They're a classic boot that will go with so many different outfits and styles. They're 100% leather too, amazing quality and will last many seasons once they're looked after. You can buy them here.
Home
Who doesn't love a candle, especially during the holidays?! You can't move in my house for crystals, plants and candles! So let me introduce you to an amazing Irish company, who ship worldwide, Clean Slate.
Based in Dublin, and hand poured with love and care by founder, Nicole. Clean Slate candles are made with 100% soy wax, are paraben free, vegan and eco-friendly. The quality is amazing, and her winter scents are the most sophisticated I've ever come across!
My winter picks for the holiday season are Winter Fig – a fresh woodland scent, infused with Cedarwood essential oil and sweetened with fig that you can burn all winter long. And my favourite, the best-selling, Gather – a soothing scent of warm orange clove and myrrh, it's like a Christmas cuddle.
I think the name, Gather, is really special and poignant too. During this time, where many countries are back in lockdown, people are unable to gather around homes, fires, loved ones, family and friends. This would be such a lovely gift to give this Christmas, with the promise to Gather soon.
Food
Oliviers & Co. Olive Oils & Herbs. I'm paying it forward with this one, as someone gave them to me one Christmas. I fell in love, and have continued to repurchase ever since – and that was a decade ago! I literally don't cook with any other oils or herbs! Based in France, but shipping world wide, Oliviers & Co's aromatic oils are my favourite. As well as their salt and herb mixes for meat, salads and fish.
I feel a duty to tell you though, once you cook and taste these, you won't want to use anything else, ever again! But oh my word, they are worth it and are sooo good! I recently picked up these little gift sets of the aromatic, flavoured oils. See below.
Wellness
Who doesn't love a good journal or planner?! Especially to start a new year with all the goals and intentions we set. Filled with hope and determination for the year ahead. The Head Plan is unlike any journal I've ever seen or used before. It's so much more than a journal or planner, it's a beautiful guided journal with wellness at it's core.
Thoughtfully designed by Denise and Ciarán to help you achieve your goals, reflect on your direction in life, gain self-awareness, and master your habits. You can also get initials embossed onto it, as an extra special touch. If you get this, for yourself or for someone else, and stick to it every day, I guarantee you it will change your life, from the inside out!
And The Head Plan is another amazing, small Irish business! They've also just launched Nourish, a weekly food and nourishment planner. And gorgeous Daily Drench water bottles with beautiful, positive notes to encourage you to drink your daily water intake for a healthy mind and body.
The Head Plan ship to the UK & Ireland, but they've just been stocked and will be available online in the coming days at Brown Thomas, and are available now at Arnotts, who ship worldwide.
So that completes my first Curly Maven Gift Guide! Let me know in the comments if you'd like me to do this every year. And please feel free to share any amazing gift ideas or what's on your wish list this year.
I hope you found my gift guide helpful. Maybe you found some amazing products you wouldn't have thought of. Or I've introduced you to some great brands and small businesses from around the world that you'd love to support.
---
Before I go, I want to say that I know and understand that 2020 has been rough! So many people have lost jobs, homes, friends, family and loved ones this year. Please don't feel pressured to purchase anything you can't afford this year, everyone will understand.
We may all be in the same storm, but we're not all in the same boat. The intention behind this gift guide was to support businesses, as well as help you plan ahead, and hopefully save some money in the upcoming Black Friday, Small Business Saturday and Cyber Monday deals and discount codes. I hope it helps!
Make sure you subscribe to the Curl Maven Collective Newsletter for exclusive giveaways and offers, new content, products and services. Follow me on Pinterest, Instagram and subscribe to my YouTube channel for more tips, advice and tutorials.
Gratitude + Support
If you found this article or any of my content helpful and would like to show your Gratitude + Support, you can click here to make a donation. I'm so incredibly thankful and grateful to everyone who supports me, my content and my platform. Thank you!
*This article may contain some gifted items and affiliated links and discount codes. This doesn't effect my opinion or the way in which I write about products featured on this site.