If you've been curious about this brand, here's my Bounce Curl review and recommendations on what to buy. And of course, a discount code and a giveaway! I've been using Bounce Curl products for over 2 years. Some of their products are cult-favourites in the curl community. And I truly believe they have some of the best cleansers on the market, that don't get as much attention and hype as they deserve!
AD | This article is sponsored by Bounce Curl. However, this hasn't influenced my opinion or the way I've written about the brands or products featured in this article. Use code CURLMAVEN for 10% off at Bounce Curl in the US, Curl Warehouse in Canada, The Clean Beauty Edit in Ireland/EU and Kiyo Beauty in the UK.
Overview
Bounce Curl have nailed the protein moisture balance throughout their product line. In order to get that balance, you have to pair, or layer, protein with moisture. Most of their cleansers and styling products contain protein, but their conditioners and styling cream don't. Bounce Curl also contains a lot of oils, which is great if you want all the benefits of oils in your hair care, without applying oils directly to your hair.
Their formulations are very concentrated, so you only need a small amount. Making the product, and your money, go much further! They are colour-safe, vegan, cruelty free and CG friendly. Based on natural, plant-derived ingredients. No parabens, sulfates, silicones, PEG's, synthetic fragrance or harsh chemicals. I always get incredible shine and hydration, without weighing down my curls, when I use Bounce Curl. Merian, the founder, also has some great tips and techniques on the Bounce Curl YouTube channel and Instagram.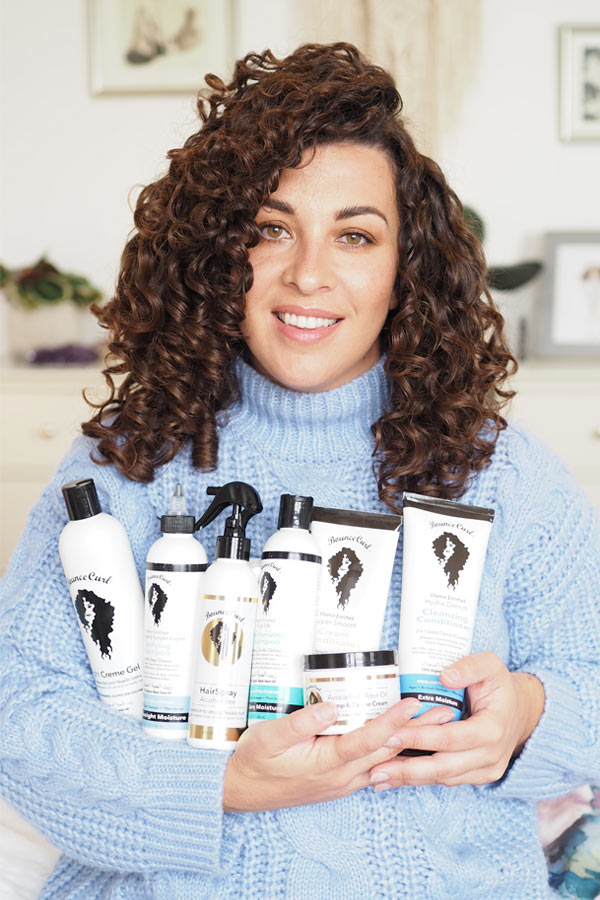 Who are Bounce Curl?
Bounce Curl was founded by beauty, skincare and haircare formulator, Merian aka Mismmo on Instagram. I think this is part of what sets Bounce Curl apart from many other brands on the market. Because of the person behind the formulations.
Not only does Merian have curly hair herself, and a rich Middle Eastern culture and knowledge, using natural ingredients in haircare. But she also has the chemistry and formulating background that allows her to develop unique products and formulas, from scratch, in the lab.
In 2015, Bounce Curl released their Light Creme Gel. Two years later, they launched their cleansers and conditioner. Since then, they've added vitamins, tea and more styling products. So here are my favourite products, what I recommend to buy from Bounce Curl, along with reviews of each product mentioned. And of course, an amazing giveaway!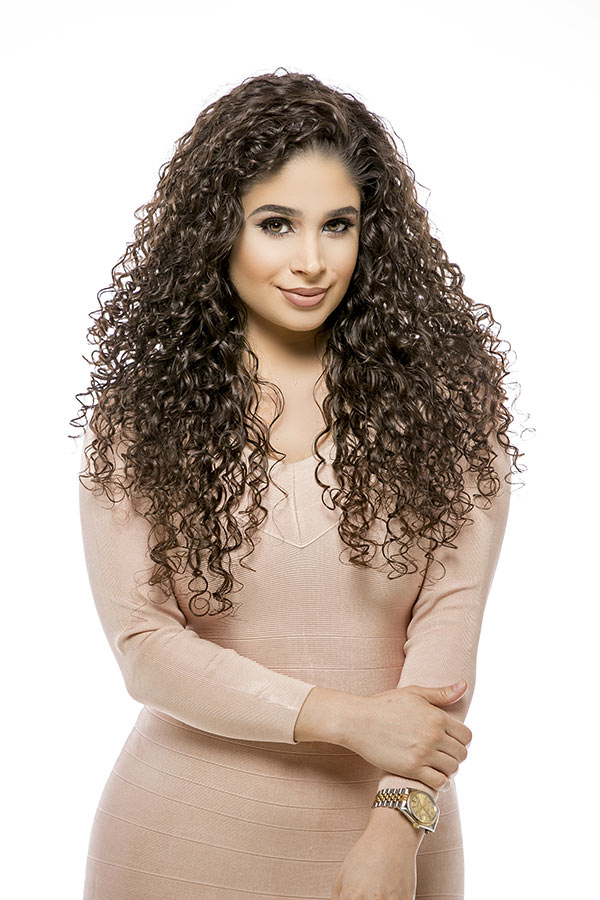 A little pricey, but very concentrated!
Before we get started on the products. I wanted to take a quick minute to talk about the price. Although they may seem more expensive than other brands, you're actually getting more bang for your buck. Because the quality of the ingredients in these products is so high, and the formulations are so concentrated. One bottle lasts much longer because you actually need less product, only the smallest amount. I'm only on my second bottle of clarifying shampoo and moisturizing shampoo in two years!
My Holy Grail Cleansers!!!
For many people, the first Bounce Curl product they fell in love with was the Light Creme Gel. But for me, it was their cleansers. If you've been following my blog for a while, you'll know that I've been using, loving and recommending the Clarifying Shampoo and Moisturizing Shampoo for a long, long time! I've been following the curly girl method for almost three years, and I've tried so many different brands and products. I truly believe Bounce Curl have the best cleansers on the market! They deserve so much more attention and hype than they get.
Bounce Curl Cleansers
The cleansers are divided into light, medium and extra moisture. The protein and moisture levels change from cleanser to cleanser. For example, the light moisture, Clarifying Shampoo has the most protein and least amount of moisture. The extra moisture Cleansing Conditioner has no protein at all, and the most moisture. The light and medium moisture shampoos are so well formulated!
They are the only lo poos I've tried that don't dry out my hair, at all. This is why I think they're the best on the market, why I continue to use and recommend them. Because they are so hydrating and moisturising – in a good way. They're the perfect balance of protein and moisture! And because they're formulated so well, with a balance of concentrated ingredients, you don't need a lot of product. If in doubt, add more water, not more product!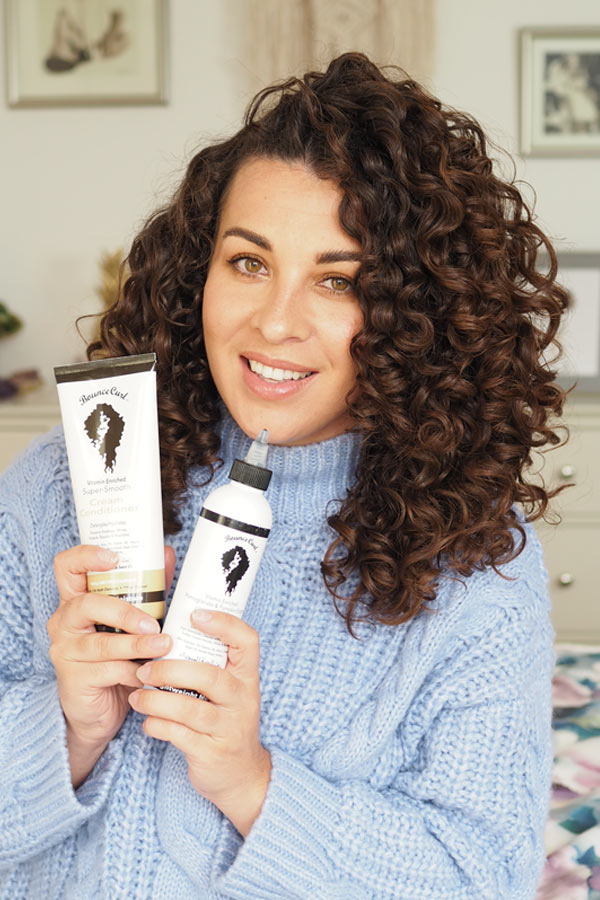 Clarifying Shampoo
I use the Clarifying Shampoo the most. It's gentle enough for regular use, perfect for wavy or fine hair, or if you've got an oily, itchy or flaky scalp. It lightly moisturizes the hair without weighing it down. Despite lathering up, which can turn a lot of CG followers off, as well as the protein, it's not drying at all! It's also great as a gentle clarifying shampoo, if you don't have hard water or swim in the sea or pool – read this post for info on clarifying. If I could only use one cleanser for the rest of my life, this would be it!
Top Tip: Bounce Curl's Clarifying Shampoo is the best product I've found to clean my (many) makeup brushes! There's not many makeup brush cleansers I haven't tried! BeautyBlender, Cinema Secrets, MAC, Real Techniques, various soaps, even my trusty Bumble & Bumble Sunday Shampoo! But for the past year or so, I've been using the Clarifying Shampoo, and it is the ONLY brush cleanser that gets 100% of the dirt, grime, oils, pigment and makeup out of my brushes! A curl friend of mine uses the Moisturizing Shampoo to clean her silk pillowcase!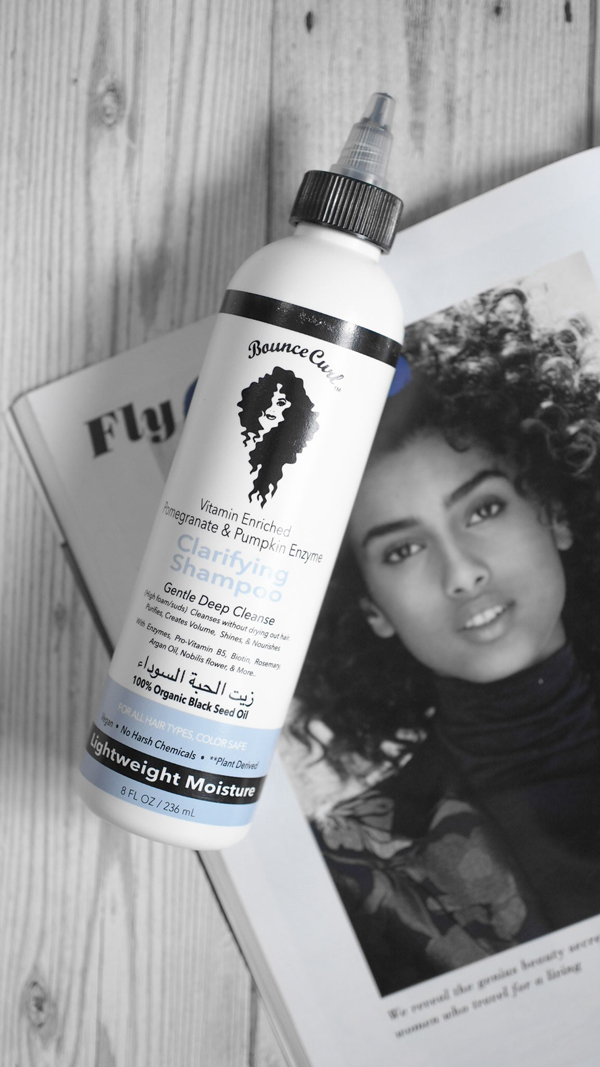 Moisturizing Shampoo
For me and my fine hair strands, the medium moisture, Moisturizing Shampoo is like a beautifully balanced, light-weight co-wash. I have a lot of hair! But my actual hair strands are pretty fine, I just have a lot of them, which is why my hair looks so thick. So for me, the Moisturizing Shampoo is the perfect co-wash, the perfect in-between. Not too much protein, not too much moisture, not too much lather. I prefer to use this one on my daughter's hair, as her hair is more dry and frizzy than mine. It lathers up a bit, but not as much as the Clarifying Shampoo. Again, less is more, you don't need a lot!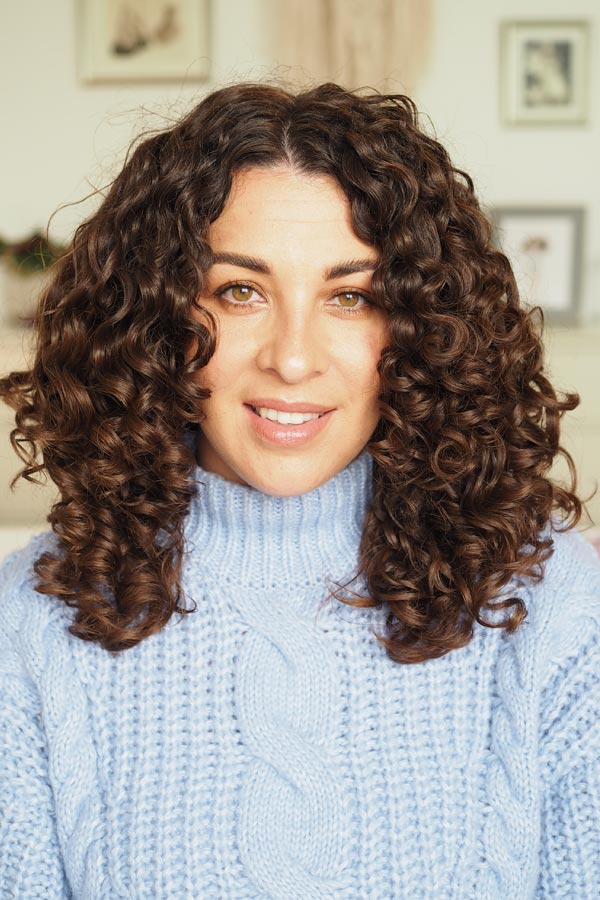 Cleansing Conditioner
If your hair is a little denser, thicker, dryer or coarse. Or if you're trying to recover from protein overload, then the Cleansing Conditioner and more traditional "co-wash" is the one for you. It's the only cleanser that's protein-free, and its super moisturizing. Unlike the other lo poo's, this cleanser doesn't foam or lather. Resist the temptation to apply palmfuls of product to your hair, the formula does all the hard work for you, so less is more with this product, otherwise you'll end up weighing down your curls.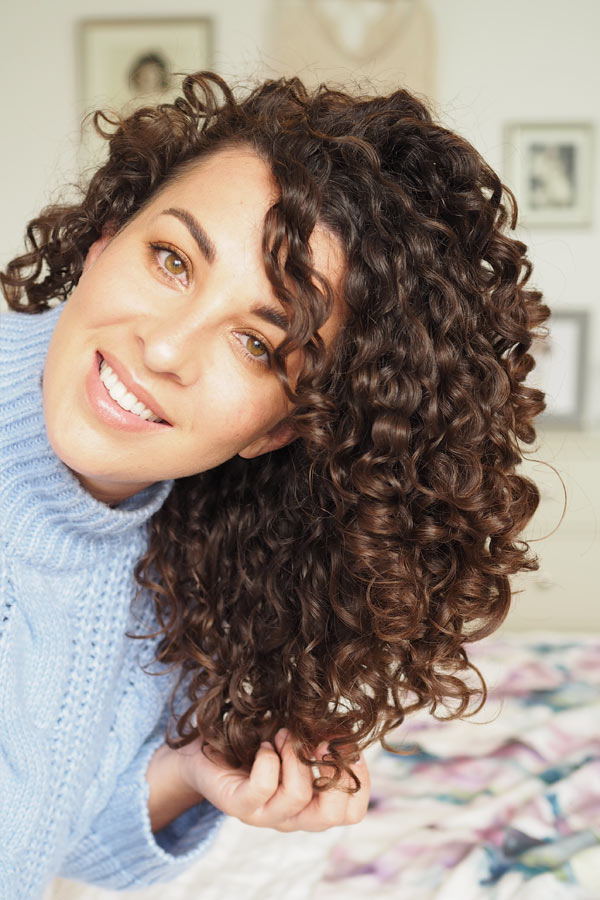 Conditioner
The only stand-alone conditioner from Bounce Curl. Labelled as "Required Moisture", their extra moisture, Cream Conditioner is an amazing protein-free, de-tangling conditioner. It's very moisturizing, with a lot of natural oils and extracts. I can't stress enough how little you need of this product! It works best when I've used really warm water to wash my hair, so the residual heat helps break down the natural oils in the conditioner.
I warm it up in my hands and work it through the ends of my hair, gradually working upwards as I de-tangle. It's also great as a deep conditioner, and paired with a Curl Maven Thermal Heat Cap. If you use too much of this conditioner, your hair will feel weighed down and heavy and your curls may appear limp. So if you've tried this conditioner before and it hasn't worked, try again using those tips and less product.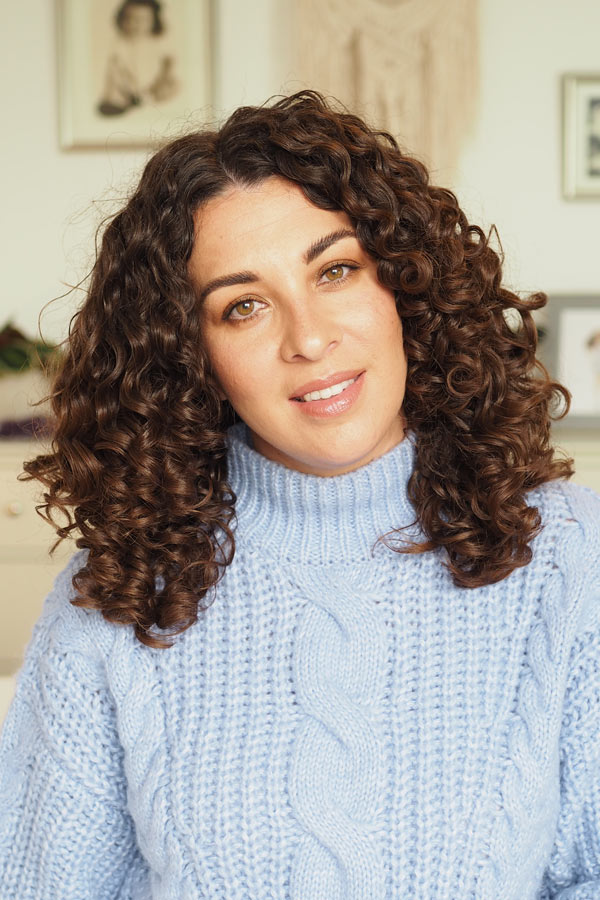 Leave In Conditioner
The Moisture Balance Leave In Conditioner is one of the most recent additions to the Bounce Curl lineup. Again it's protein free, and very moisturizing, so you can probably guess what I'm going to say next. You only need the tiniest amount. And when I say tiny, I mean like a pea-sized amount, for all of your hair, no matter how long or thick it is! On the website, it's listed as ultra-concentrated, using words like powerful, deep nourishment, extreme moisture. When those kind of words are used to describe a product, you know it's very potent stuff!
So if your hair doesn't need that much moisture, or gets easily moisturized like mine. Then either use extreme caution, or spend your money elsewhere. Otherwise your hair may become over-moisturized from such a highly-concentrated, potent moisturizing product.
I'm not saying this is a bad product, not at all! If your hair is dry, thirsty, coarse, high porosity, struggling with protein overload or very textured, kinky or coily, then this would be a great product for you! My hair just isn't any of those things, so this product isn't for me. Hey, this post may be sponsored, but I'm still going to be honest, authentic and genuine!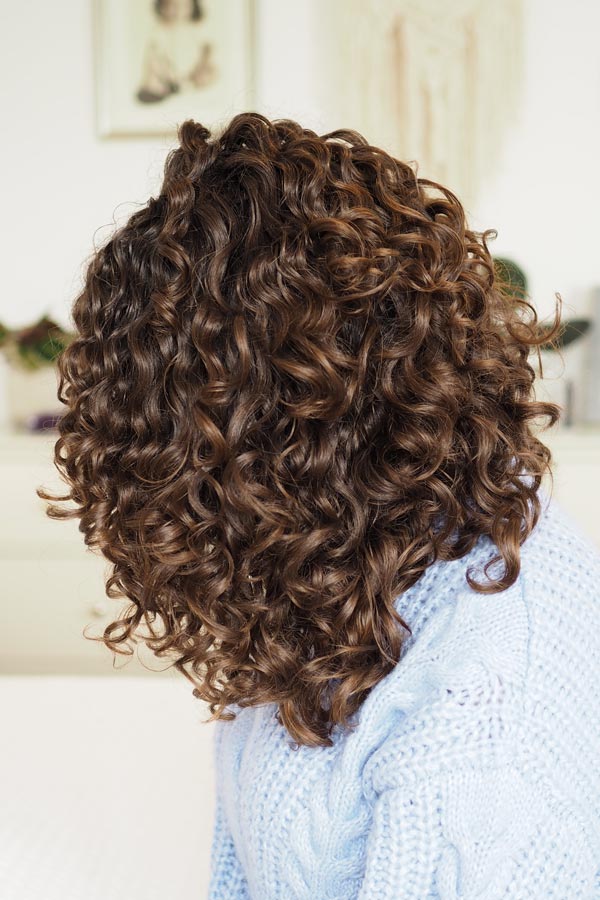 Light Creme Gel – Holy Grail?
Light Creme Gel can be another tricky product. Some people seem to love it, swear by it, it's their all time favourite, holy grail gel! While others can't seem to make it work for them at all. I was like that for a long time, but I think I know why, and I've figured out how to make it work for me.
So if you purchased it a while ago and it's still sitting on your shelf, maybe this will help you figure out how to make it work for you too. This light weight gel has a lot of protein in it. It can also cause flash-drying, where as soon as you apply it to wet hair, even if it's soaking wet, your hair immediately feels dry.
This is down to the protein, and possibly the aloe too – both are high up on the ingredients list. It's a weird thing to try and explain unless you've experienced it. Most people banish it to the shelves at this point, never to be used again, confused as to why so many people love it. I know I did!
That's because you need to pair it with moisture. Light Creme Gel works best with a protein-free curl cream or leave-in conditioner underneath, to almost "balance out" the protein. Kinky Curly Knot Today was probably the most popular pairing with this gel. Until recently, when Bounce Curl released their Clump & Define Cream. Which brings me to my next recommendation…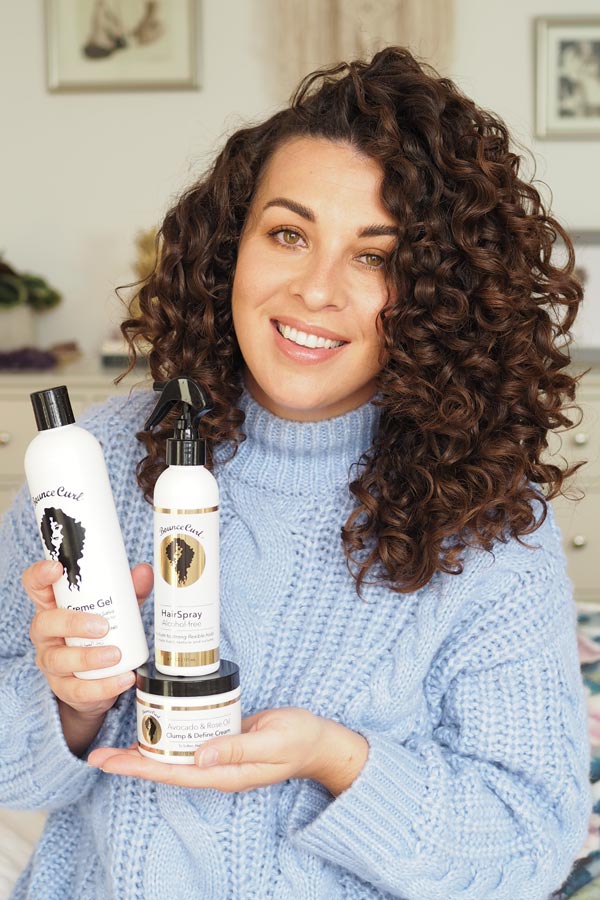 Clump + Define Cream
One of Bounce Curl's most recent launches, and already generating a lot of love on Instagram. The Avocado & Rose Oil Clump & Define Cream is another super-concentrated product, a multi-purpose leave-in cream that contains 10 different oils. So again, I'm gonna say you only need the smallest, pea-sized amount. Like, a petit pois sized pea!!! no matter how long or thick your hair is. Less is more!
I take the tiniest amount on the tip of my finger, then warm it up in my hands and you can quickly see how much product that really is. Then I glaze my hands over my hair and rake the product in, working from the ends of my hair upwards. Pairing it with the Light Creme Gel is how I've managed to get success using the gel. I also use it on my daughter's hair as a one-and-done styling product. The definition and soft hold is perfect for what her hair needs.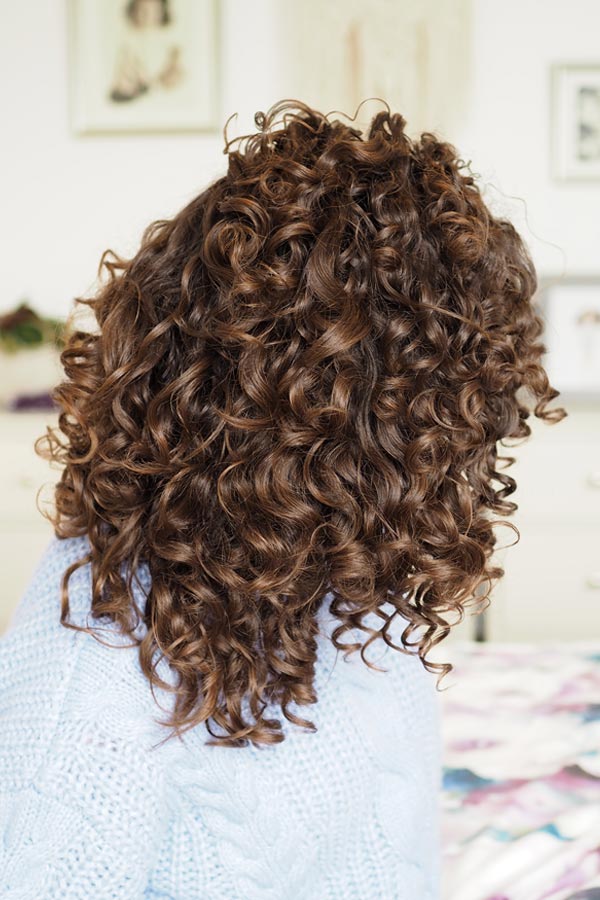 Hairspray
Finally, a CG friendly, alcohol-free hairspray! I find it's a great curl enhancer, tightening my curls up, as well as giving them extra hold. It also contains protein, but doesn't flash dry. I've found a few different ways to use it:
Sprayed on soaking wet hair, after I've applied all my styling products, before I start diffusing.
Probably my favourite way, I apply it mid-way through diffusing, similar to the Smasters technique, only instead of applying gel, I use this hairspray.
On rare refresh days, instead of mixing water and gel in my hands, I mix water and a few sprays of the hairspray to my hands and then work it into my hair, finishing with a quick spritz.
Spray it onto a wide tooth comb or hair pick and fluff up my roots for volume and hold! A great tip from Merian.
I spray it on my hair shortly before putting it up in a pineapple for bed. Another one of Merian's tip. See this post for how I protect my curls at night.
For each application, I spray four sprays: one each side and one at the back, then I flip my head over and spray one underneath, holding my arm as far away as I can. It feels sticky when I first apply it, but once my hair is completely dry, it doesn't leave any kind of residue or sticky feeling.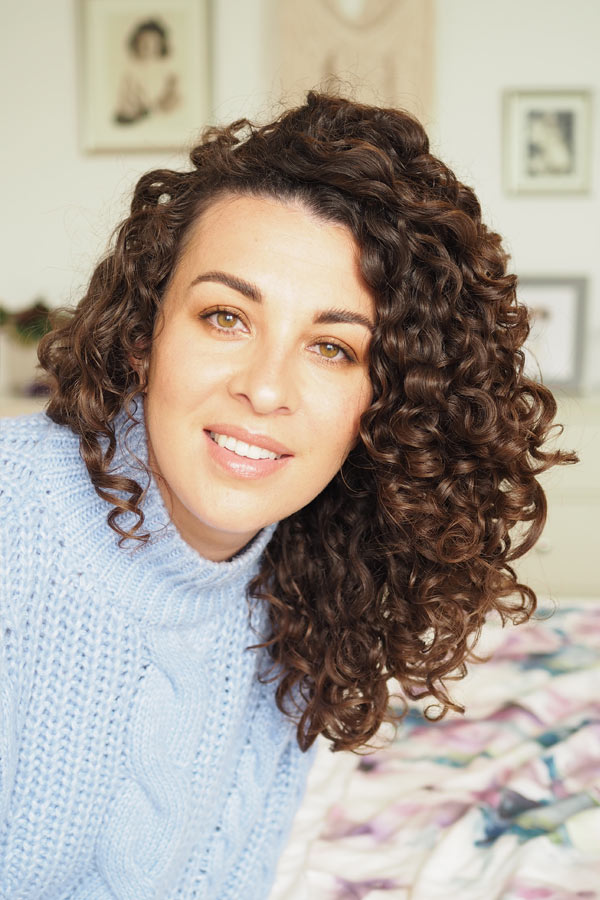 My Bounce Curl Routine!
Finally, I wanted to share with you my Bounce Curl routine, and you can also win this lineup of products! Which happens to be the same product line up Merian uses too! It's what I've got in my hair for all the images in this post. I use the Clarifying Shampoo, Cream Conditioner, Clump & Define Cream and Light Creme Gel. Then I apply some Pantene Defined Curls Mousse, after the gel. Usually I follow the LMG Method – which you can read about here. But after lots of experimenting with the Light Creme Gel, I find this way works best for my hair.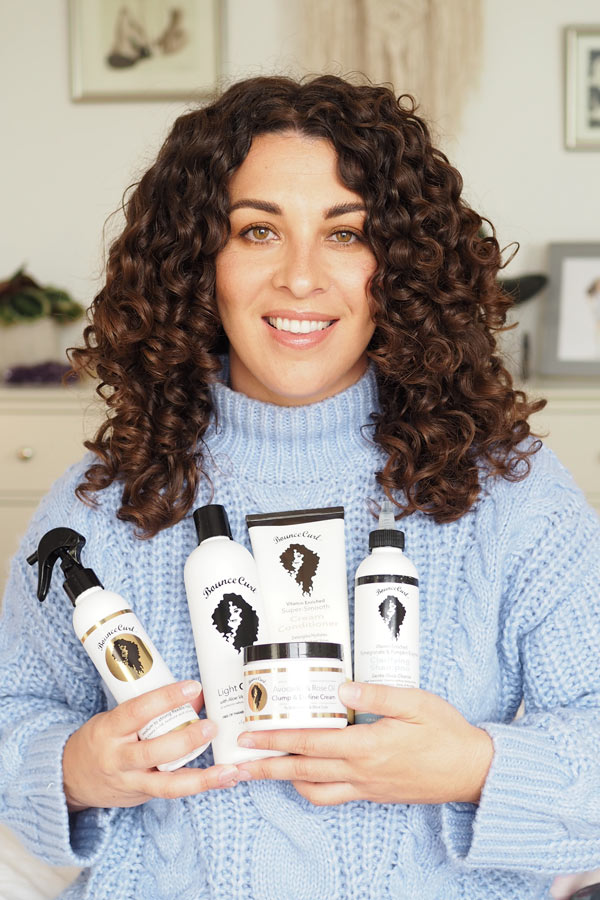 I'd love to know your Bounce Curl routines, other combinations you've found with their styling products. Especially the Light Creme Gel, and their new Clump & Define Cream. Also, what do you want to see next from Bounce Curl? You'll probably guess that I'd love a mousse or a foam, surprise surprise! But I'd also love to see re-fillable mini's – perfect for travelling, or to try out before splashing out on the full size products.
Thank you so much for taking the time to read this review, if you have any questions, drop them in the comments below and I'll get back to you. And thank you to Bounce Curl for sponsoring this post! Don't forget you can get 10% off using CURLMAVEN at checkout, across all the products on the Bounce Curl website.
Get 10% off Bounce Curl using code CURLMAVEN at all of the following distributors/online retailers:
Make sure you subscribe to the Curl Maven Collective Newsletter for exclusive giveaways and offers, new content, products and services. Follow me on Pinterest, Instagram and subscribe to my YouTube channel for more tips, advice and tutorials.
feeling overwhelmed + don't know where to start?
Book a Curl Clinic Consultation
Gratitude + Support
If you found this article or any of my content helpful and would like to show your Gratitude + Support, you can click here to make a donation. I'm so incredibly thankful and grateful to everyone who supports me, my content and my platform. Thank you!
Thank you for supporting this sponsored article which enables me to continue providing FREE, organic content and a website FREE from Google Ads and annoying pop ups.
*This article may contain some gifted items and affiliated links and discount codes. This doesn't effect my opinion or the way in which I write about products featured on this site.