After years of focusing on achieving healthy hair, and getting my curls back. A few weeks ago, I decided to break all the curly girl rules and get some highlights.
Here's how to maintain healthy, curly hair when colouring. Professional tips and advice, and the products I've used to maintain healthy hair, with minimum damage to my curl pattern. As well as what to ask for in the salon, and how to prevent colour-fading.
AD | This post is sponsored by LOOKFANTASTIC, who I work with on an ongoing basis. They offer FREE worldwide shipping, and you can get 20% off using code CURLMAVEN. Sponsored posts enable me to continue providing free content, create organic content and keep my blog free from Google Ads. However, this hasn't influenced the way I've written about the brand or the products featured in this post.
After my first wash, I was truly blown away at how my curls bounced back, with little to no damage. Even through the damaging process of colouring, highlighting and heat-styling my natural, dark brown hair.
I actually did the whole process two days in a row. Because I loved the results after the first go, but then I wanted more! I really put my hair through it, but the results are a testament to how healthy my hair was. And that all the tips, advice, products and techniques I promote and discuss on this blog, really do work!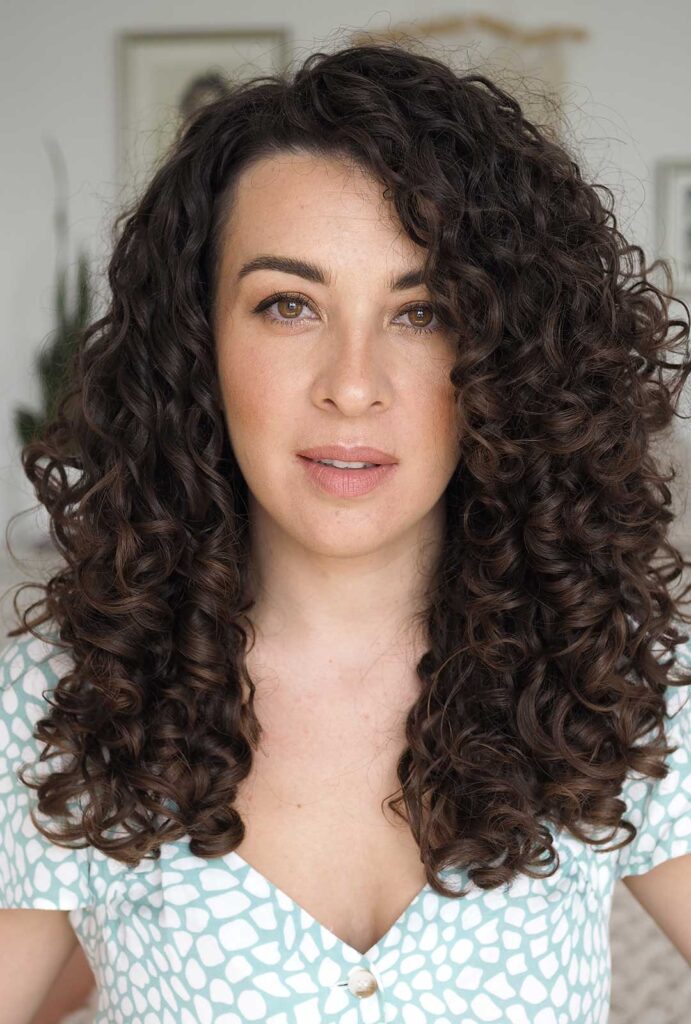 My Healthy, Curly Hair Journey
I've built a career from my healthy hair journey, and my curls. If I lose that, if I damage my hair and curl pattern, if my hair looks like crap, it's immediately obvious. There's no hiding it, you can't hide damage. Whether that's from colour, heat or poor quality products and bad ingredients.
Therefore, the advice and recommendations I give or promote, will be brought into question. Here's a picture of my natural, virgin, dark brown hair. Throughout the rest of the post, is my hair after the first colour, the second colour and then when it's back curly again.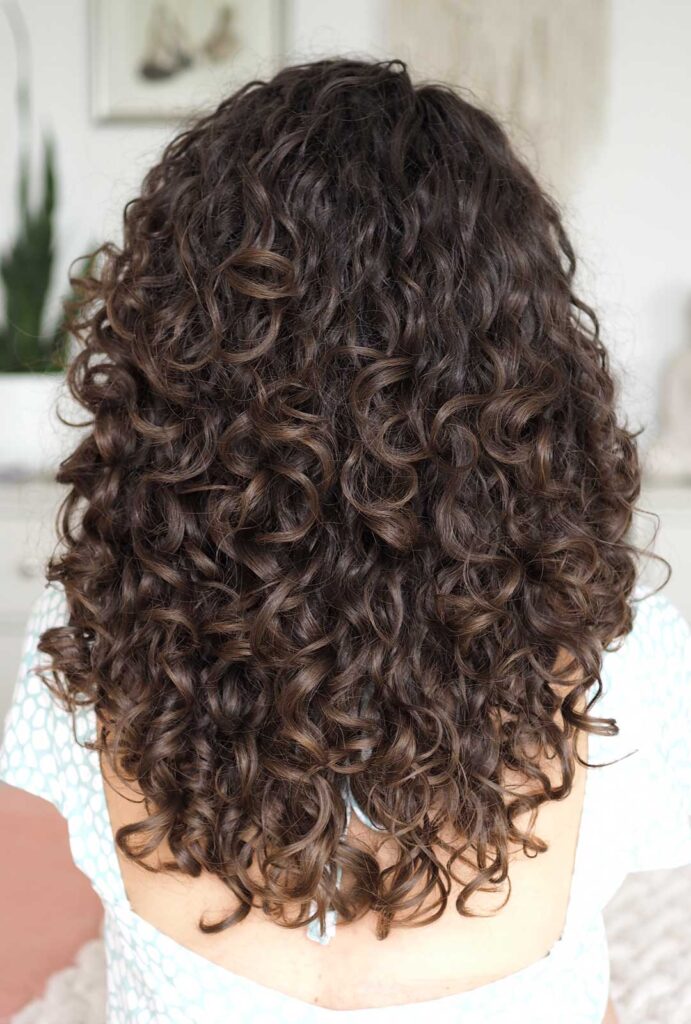 This is why it was so important for me to protect and maintain my healthy hair and curl pattern. Whilst also going on this journey of highlighting and colouring my hair. My hair, and my career, literally depend on it!
So you can imagine the relief I felt after that first wash day. And every wash day since. It's okay, I did it, I managed to have it all. I didn't have to sacrifice curl pattern for colour. You can have healthy, curly hair and colour!
It's a long post, but here's how I did it. How to maintain healthy hair when colouring, all the professional tips, advice and product recommendations in one place, in one post. So hopefully you find it helpful. Here's another post on The Best Haircut for Curly Hair. And I've also got a YouTube video:
Start with healthy hair
I cannot begin this post without stressing the importance of having healthy hair to begin with. My hairdresser at the time, Laura, said she wouldn't have been able to do such a big colour transformation on my hair, if it wasn't so healthy.
I've been focused on achieving healthy hair for years now. Growing out previous balayage, and numerous other colour disasters, to having a full head of virgin hair again. Embracing both my naturally dark brown colour, free from greys, and my curls. I've followed all my own advice, the essentials are probably best summed up in this post on the Golden Triangle of Healthy Hair.
This has involved regularly and properly clarifying my hair every month, which you can read more about here. Clarifying before colour, which I'll explain in more detail later in this post. Deep conditioning regularly, a minimum of once a month after clarifying, and a maximum of once a week when my hair has needed it.
Using good quality products, made with good quality ingredients. Maintaining a good protein moisture balance, which you can read about here. And taking hair growth vitamins – which absolutely do work and a post on that is coming soon!
I recommend either Bounce Curl or Hair369 (who ship worldwide), both of which you can get 10% off using code CURLMAVEN. If you're outside the USA, get 10% off Bounce Curl Hair Growth Vitamins at The Clean Beauty Edit (who ship worldwide) using code CURLMAVEN.
Get 10% off Bounce Curl using code CURLMAVEN at all of the following distributors/online retailers:
Why Colour Causes Damage
Colouring and especially lightening, bleaching and highlighting hair does and always will cause damage. No matter what, the chemical processes involved change the structure of the hair. Even adding toners to the hair causes damage, because they still contain a low percentage of peroxide.
There's a common misconception that bleach is what causes the most damage to the hair. However, it's actually the developer, aka the peroxide, which activates the bleach, that causes the most damage. Especially if it's done too often, using too much peroxide, and developed too quickly. Which is why it's so important to start out with healthy hair.
Adding pigments to the hair, those fun wash-out colours that fade within a few washes, aren't damaging to the hair. They're a fun way to play around with colour and tone, without causing damage.
Colouring grey hair is not nearly as damaging as highlighting dark hair! – post coming soon
Olaplex is a MUST!
This is a non-negotiable when it comes to colouring your hair, but especially if you're using bleach and peroxide to lighten your natural hair colour. We all know the saying, "prevention is better than cure." That's what Olaplex is, damage prevention. Enabling you to minimise the amount of damage caused during the colouring process.
You won't realise how much damage it's preventing, until you don't use it, or stop using it. If you want to maintain healthy hair whilst lightening the colour, then Olaplex is a must! Olaplex is a bond-building treatment that repairs the damage to the bonds and structure of the hair during colouring, highlighting, chemical processing and excessive heat styling.
I know there's been a bit of buzz in the past about using Olaplex on curly hair, even if it's not coloured. I've tried Olaplex No. 1, No. 2 and No. 3 on my hair when it was 100% virgin, natural colour and I saw absolutely no difference or improvement!
So save your money if your hair isn't coloured, highlighted or chemically processed. For example, if you've had a perm, keratin treatment, or Brazilian blow out. Then Olaplex is also a must for you, even if your hair isn't coloured or highlighted.
Olaplex is not a deep conditioning treatment!
Olaplex No. 1 and 2 are in-salon treatments only. No. 1 is added to the colour, which is then applied to the hair. No. 2 is applied after colour. Olaplex No. 3 is the less potent, home-version of No. 2. This bond-building and repairing treatment helps to prevent and repair damage, and minimise breakage and split ends.
Olaplex is pricey, but it's worth it. And you can get 20% off Olaplex at LOOKFANTASTIC using my code, CURLMAVEN. This small bottle should last 6-8 treatments, depending on the length and thickness of your hair.
Both Olaplex No. 0 and No. 3 are curly girl friendly.
Olaplex No. 0 is an intensive bond building hair treatment that acts as a primer, or booster, for No. 3. Amplifying the effects and results of both treatments to rebuild the bonds in the hair, repair damage, prevent breakage and split ends, strengthen and protect the hair. Don't forget to use code CURLMAVEN for 20% off at LOOKFANTASTIC. And they also do FREE worldwide shipping!
How to use Olaplex at home
Apply a small amount of Olaplex No. 0 to cleansed, wet hair and leave in for 10 mins. Then apply a small amount of Olaplex No. 3 directly on top of the No. 0 and leave on for a further 20-60 mins. Rinse out fully, then condition and style as normal. Laura recommended I do this every wash day, which is twice a week for me, for the first month after colouring. Then reduce it to once a week after that.
Joico K-PAK Rejuvenating System
Alongside Olaplex, I also got the Joico K-PAK 4 Step Rejuvenating System applied in the salon. Together, these are the reason I have hardly any damage to my hair, texture and curl pattern. Not all of the products are curly girl friendly.
But for me, it's a compromise I'm willing to make to maintain healthy hair, and retain my natural curl pattern. You can get three of the four products at LOOKFANTASTIC to use at home. I've used it once already and will continue to use it once a month, when I clarify. Then I'll continue to use the Olaplex No. 0 and No. 3 once a week.
Clarifying the hair before colouring is absolutely vital!
Step 1 of the Joico K-PAK Rejuvenating System is the clarifying shampoo, available here at LOOKFANTASTIC – CURLMAVEN for 20% off. You must always clarify the hair before colour! Not only does it thoroughly cleanse the hair, removing impurities, build up from products, natural oils and sebums. But also hard water, limescale, mineral and metal deposits.
Clarifying also helps the colour apply and adhere to the hair better, resulting in a smoother, cleaner colour application and result. It also makes the colour more vibrant, and last longer.
Laura likened clarifying before colour to exfoliating before applying fake tan. Same principles, results and effects apply. Bumble & Bumble Sunday Shampoo is my favourite clarifying, chelating shampoo, which is completely silicone free.
Apart from the sulfates, which are necessary in this case, it's curly-girl friendly. So you can use that instead of the Joico Clarifying Shampoo, if you already have it/prefer.
Step 2, which is only available in-salon, is the all-important Cuticle Sealer. Bleach, peroxide and chemical processing blows out the cuticle, causing damage and altering the structure and porosity of the hair. This is the magic product that seals the cuticle back down after colouring. Especially important for high porosity and/or curly hair.
The Joico K-PAK Cuticle Sealer smooths and tightens the cuticle to lock in curl and colour. It's full of peptides and protein, vital to maintaining healthy hair. And from what I can tell looking at the ingredients, it's curly-girl friendly.
Unfortunately, I can't find an at-home alternative to this product. But I definitely think it's worth going into a salon to get this treatment done every few months.
Step 3 is the Joico K-PAK Deep Penetrating Reconstructor. Similar to a protein-rich deep conditioning treatment. This is full of amino acids and protein, essential and beneficial to the hair structure.
However, it's not curly girl friendly. But again, healthy hair is the priority here. And if you look after your hair and focus on the health of it, the curls will come. Apply after clarifying and leave on for 5-10 mins.
To maximise the benefits, you can use a Curl Maven Thermal Heat Cap! You don't need to leave it on for as long as you would a normal hair mask, because it's a professional grade product. And you're going to be applying another one afterwards in the next step.
Step 4 is the Intense Hydrator. Where the Reconstructor focused on amino acids and protein to give the hair strength. The Intense Hydrator focuses on moisture and intense hydration, as well as sealing the cuticle and adding shine.
So if you can't get into a salon for the Cuticle Sealing treatment, then make sure you pick this up. It's currently discounted on LOOKFANTASTIC, but if not, use code CURLMAVEN for 20% off. It's not curly girl friendly, but has a good balance of protein and moisture. Intensely hydrating without heavy oils, butters and emollients, so perfect for curly hair.
Leave in for 5-10 mins before rinsing out and styling as normal. If you wanted to add any colour-toning drops or pigments, then add them to this product, at this stage.
Are you willing to invest?
All of these products and treatments are an investment of both time and money. An investment I have to make until I either grow out my highlights, or cut my hair short enough that only my natural, virgin hair remains. Because even if I were to put a dark colour in my hair to cover the highlights. The bleached, highlighted hair is still underneath. That damage can't be undone. It can only be grown out, or cut out.
Something to bear in mind if you're considering getting your hair coloured, highlighted or chemically processed. And you want to maintain healthy hair and minimise the damage as much as possible. It's an investment and a commitment, not just to the colour, but to the maintenance that comes with it. I highly recommend purchasing a Curl Maven Thermal Heat Cap to maximise the benefits if your hair mask and deep conditioning routine.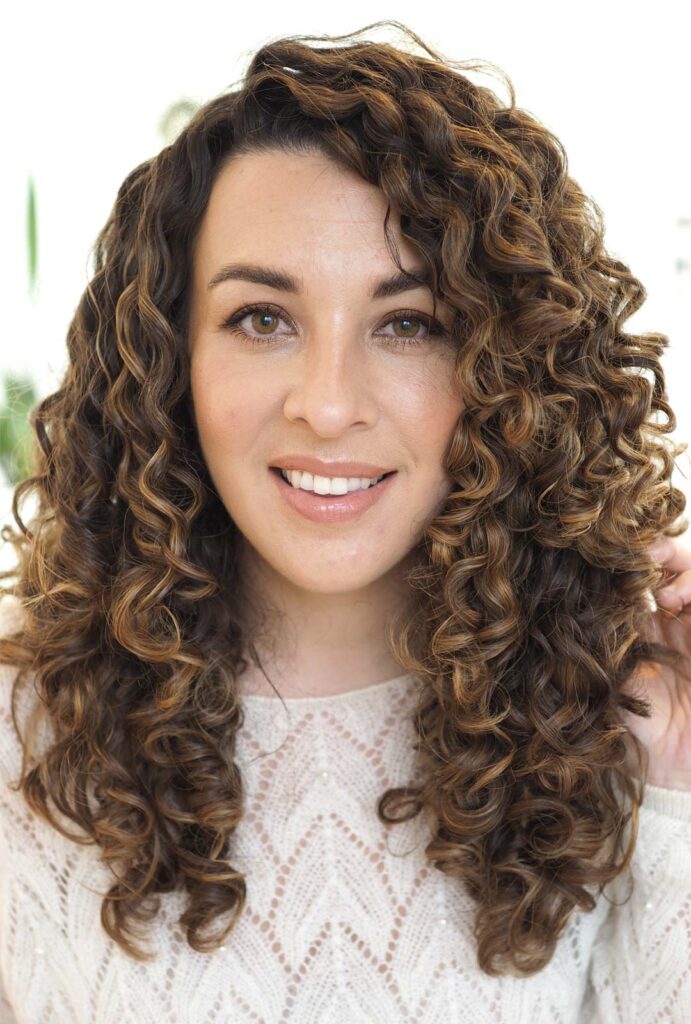 Dark Hair vs Light Hair
Dark hair, whether natural or coloured, will always look and feel more shiny and hydrated than light hair. However, light hair will often show off texture and curl definition much better than dark hair. Simply because it highlights the curl pattern.
Dark hair, especially dark curly hair, is so hard to photograph! Whether you've got natural light, studio lights or the best filters and editing apps in the world. It's really important to regularly deep condition when you've lightened your hair. For health, softness, definition and shine.
What to ask for
As always, try to provide pictures to your hairdresser of the cut, colour, shape and highlights you want. They will be able to tell you what's achievable based on your natural/current hair, health, curl pattern and texture.
Sophia Vergara was my colour inspiration, as well as the length, shape and cut. I know when I blow out my hair, or use heat styling tools, my hair can look like that. See this YouTube video for how I achieve that look:
Let a qualified, experienced hairdresser and colourist decide what techniques will be best to achieve the look and colour you want. For me, there was lots of face-framing highlights, some baby lights – which are smaller weaves of hair strands.
Free hand painting and some balayage, taking larger weaves of hair strands. As well as some root smudging for a natural blend of my natural colour into the highlights. And of course, toners were applied after lifting the colour, to get the toffee, caramel, honey, sunkissed-colour just right.
Laura recommends going low and slow when it come to lightening high porosity and/or curly hair. Using a low developer (peroxide) over a longer period of time. She also recommends using paper wraps instead of the foils you often see hairdressers use when colouring. Foils generate more heat, meaning faster developing. Papers are more gentle, generating less heat and allowing for slower developing.
Make sure you ask for Olaplex when lightening the hair, and the Joico K-PAK 4 Step Treatment when toning the hair, or adding a darker colour.
How to reduce colour fading
One of the biggest causes of colour fading is sulfates. So make sure you're using a sulfate-free cleanser. However, even if you use a sulfate-free shampoo, toners will fade gradually over time. Revealing the bright, bleached hair underneath.
Toners fade quicker if you have high porosity hair, but it depends on the hair, the colour and how often your wash your hair. But you can go back to the salon to get a toner applied every couple of months. Just remember to ask for the Joico K-PAK 4-step treatment during your visit.
However, if you don't like how the toner is fading, and feel the revealing colour is too bright. You can add coloured pigments once every 4-6 washes, which will give a similar effect, depending on what colour you choose.
Alternatively, you can use colour toning drops, such as these ones from Bouclème, which are 98.7% natural. Get 20% off using code CURLMAVEN. Or a blue, purple/violet shampoo which will help the toner last longer. You can use it every 2-3 washes, or every couple of weeks. Blue will tone down warm, copper and orange tones. Purple or violet will tone down cool, brassy, green and yellow tones.
I've also got a blog post on how I've been maintaining my colour at home, using Ultra Concentrated Pure Pigments. Suitable for all hair types and fully customisable. A Curl Maven, curly girl friendly product that doesn't cause any damage to the hair! See the picture below to see the difference in colour from the pigments compared to the original highlights and toner.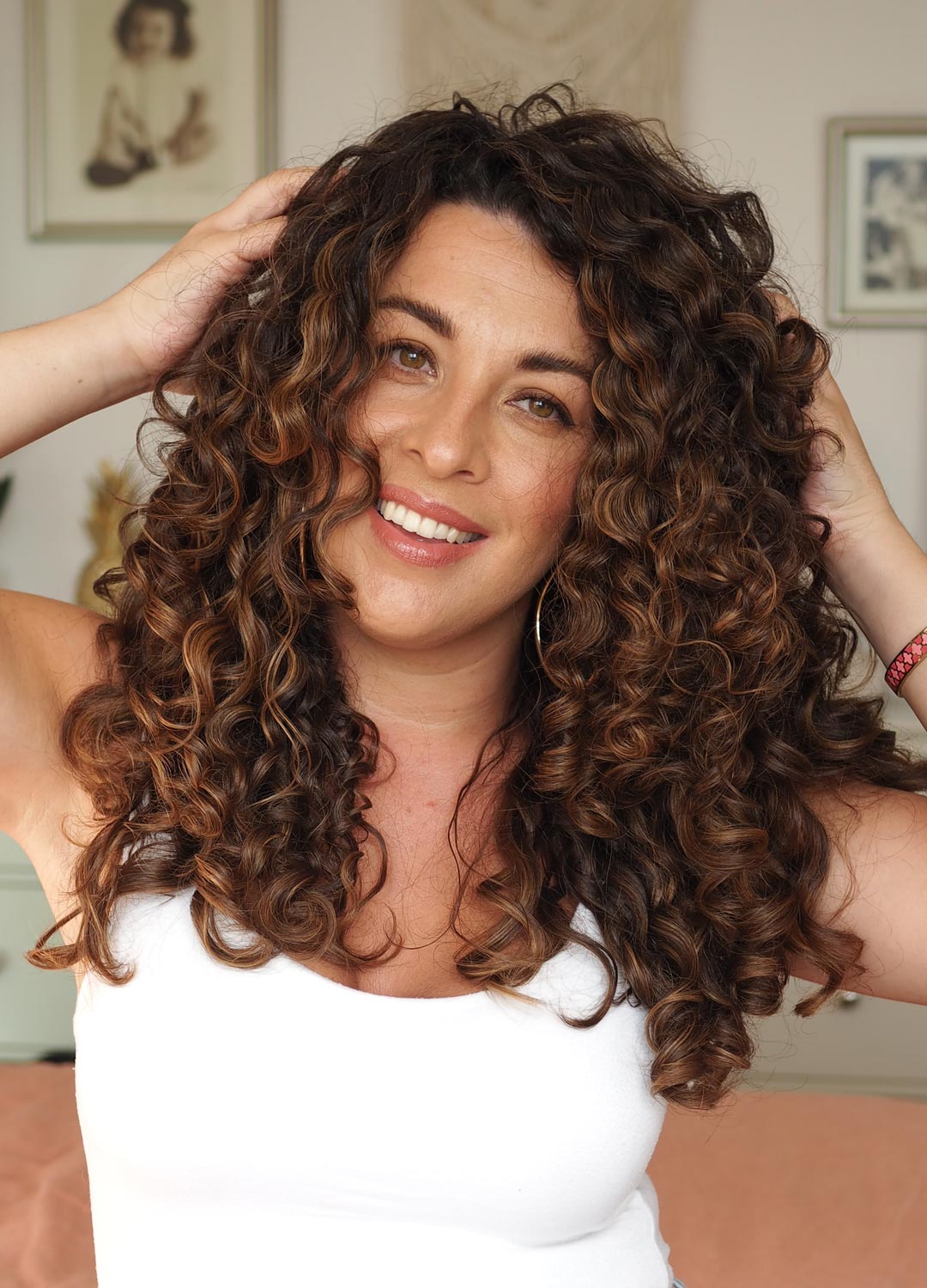 You should still clarify your hair once a month, even if your hair is coloured or highlighted. This will prevent the hair from looking dull, and feeling dry. As well as removing the build up from mineral and metal deposits in the hair.
This is what gives the hair brassy, green, coppery, orange and yellow hues and tones to the hair. In between monthly clarifying, you can apply the curly girl friendly Colour WOW Dream Filter Treatment – CURLMAVEN for 20% off – to the hair before each wash. Which is a much more gentle way to do this, and preserve the colour and brightness.
Other tips to prevent colour fading are: don't wash your hair for the first few days after colouring. Let the colour settle, and the hair fully absorb the colour. Avoid washing your hair too often, twice a week is sufficient. Turn the temperature and the pressure down on your shower. Wash your hair upside down if possible.
Don't skip on the deep conditioning, you may need to switch to more hydrating and moisturizing hair masks. Especially after bleach, lightening and highlights. And finally, don't overuse the toning drops, or blue or purple shampoos, as they can build up and stain the hair.
---
I know this has been a really long post, full of a lot of information and product recommendations. But I wanted to be thorough, and share exactly what I asked for, what I've been using, how to prevent and minimize the damage, without losing natural curl pattern. Ultimately, how to maintain healthy hair when colouring.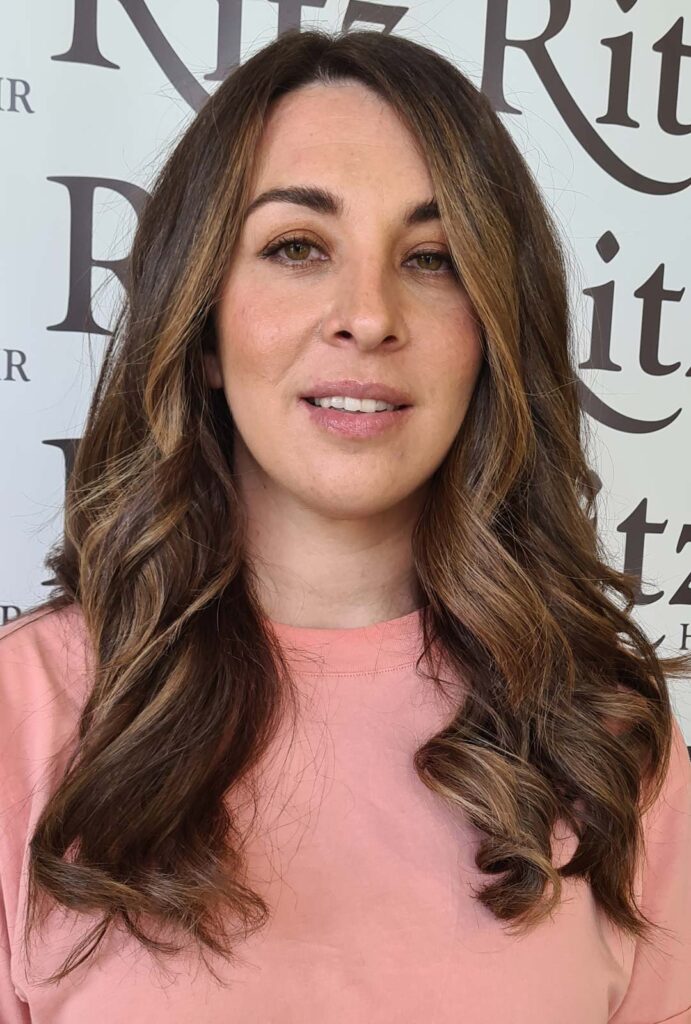 I hope you enjoyed this post! If you have any questions pop them in the comments below. Make sure to subscribe to my Curl Maven Collective Newsletter, for new content and exclusive giveaways for subscribers only. Subscribers are also the first to know about new events and masterclasses. Check me out on Pinterest and subscribe to my YouTube channel.
Feeling overwhelmed?
But if you're still feeling overwhelmed, or you just want me to put everything together for you in one routine. Designed to suit your hair type, lifestyle, budget or healthy hair goals. Where I tell you what to use, where to buy it and when and how to use it.
Then I highly recommend you book in for a Curl Clinic, which is a 1:1 consultation where I do just that! You can find out more info here, or read lots of reviews and book here.
Also available as a Gift Voucher if you'd like to give the gift of curls to someone else, or drop a hint to a friend, family member or loved one.
Gratitude & Support
I work hard to ensure this site is free from annoying pop ups and Google Ads ruining your experience. If you found this post or any of my content helpful, and would like to show your Gratitude & Support, you can click here to make a donation.
I'm so incredibly thankful and grateful to everyone who supports me, my content and my platform. Thank you so much! Gabriella x
*This post may contain some gifted items and affiliate links. Which means I get paid (a very small) commission on any products you purchase through my links. This in no way affects you, the price you pay or the way in which I write about products featured on this site. My content and opinion is not influenced by advertisers, sponsorships, affiliate partnerships, brands or PRs.