If you've been following me for a while, or read my recent TréLuxe review, you'll know I've fallen in love with the products from this brand. So in today's post I'm sharing some mini reviews and where to buy TréLuxe from wherever you are in the world. As well as a styling routine video using my favourite TréLuxe products!
AD | This article is sponsored by TréLuxe. Use code CURLMAVEN for 15% off at TréLuxe on their website in the USA.
Brand Overview
TréLuxe has a curated line of five products formulated with natural ingredients and active botanical blends to cleanse, moisturize, strengthen and define wavy, curly and coily hair. You can read my full review here for more about the founders, brand philosophy and origins. The packaging is easy to use and instantly recognizable. I love the simplicity of them, it's not a complicated line: cleanse, condition and style. All formulated with a good balance of protein and moisture – which you can read more about here.
Curly Girl Friendly
Curly girl friendly, they're free from sulfates, silicones, parabens, waxes, harsh chemicals and drying alcohols. As well as being gluten-free and cruelty free. If I could use one word to sum up their line, it would be weightless. I've been using their styling products since the Spring/Summer of this year and they've quickly become my favourite products for curls, clumps, ringlets, definition, shine and hold! I mean, what more could you ask for?!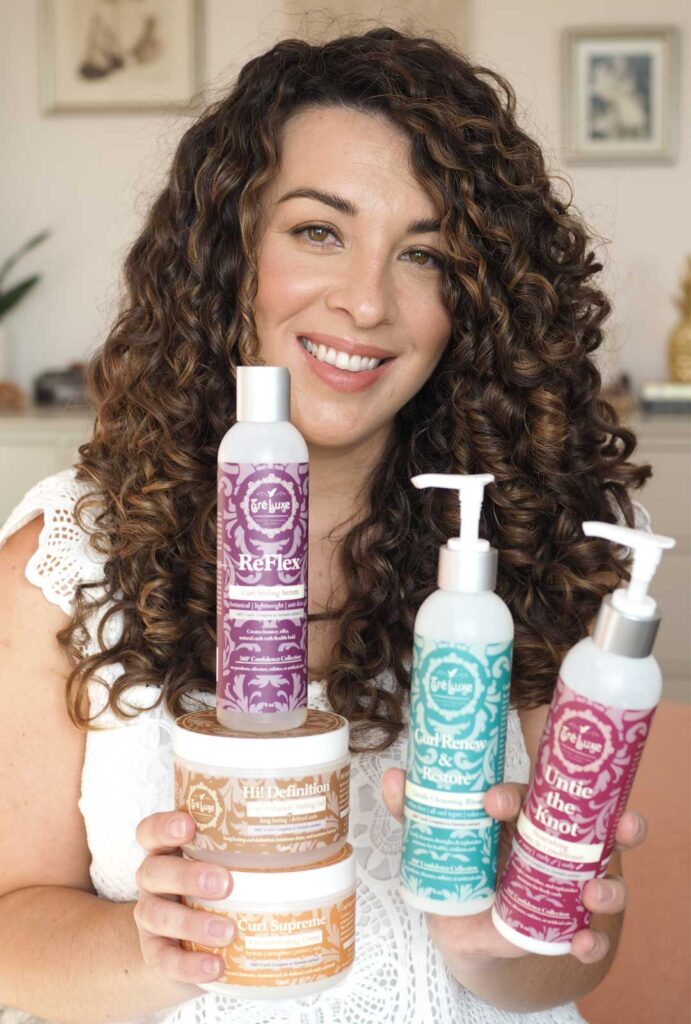 Where to buy TréLuxe
Here's where to buy TréLuxe, followed by some mini reviews and my TréLuxe Styling Routine on YouTube using TréLuxe Reflex Styling Serum and Hi! Definition Gel. Photos shared throughout this post are from the same wash day that I filmed the video. Use code CURLMAVEN for 15% off at TréLuxe on their website in the USA or if you're outside the USA, here's where to buy TréLuxe:
Mini Reviews
Curl Renew + Restore Gentle Cleansing Rinse
A sulfate-free, low-lathering cleanser, Curl Renew + Restore is the most light-weight cleanser I've yet to try. For fine hair that gets easily weighed down, this would be perfect! It also contains protein, great for providing strength and structure to the hair.
Untie the Knot Nourishing Leave In Conditioner
The only conditioner from TréLuxe, Untie the Knot is great at smoothing and detangling. Providing the hair with moisture, hydration and slip. Nourishing, but still really light weight. A good balance of protein and lightweight moisture, and glycerin-free.
Curl Supreme 4 in 1 Hydrating Cream
For those of you who like to use a styling cream, Curl Supreme moisturizes, protects, and fortifies hair strands. While also providing a soft, supple hold. Providing hydration and moisture to your curls, coils, and protective styles. Thick, rich and smooth – you only need the smallest amount applied to wet hair. A little goes a long way!
Reflex Curl Styling Serum
Reflex Serum, or as I like to say, ringlets in a bottle! Designed to smooth, elongate, and define curls and waves. A lightweight formula that won't weigh the hair down. Glycerin free, with a good balance of protein and moisture. You don't need a lot, and it plays well with other products too. It's a bold statement to make, but no other product gives my hair spirals and ringlets anything like this! It's definitely a game-changer in my styling routine.
Hi! Definition Curl Enhancer Styling Gel
My favourite gel of all time, TréLuxe Hi! Definition Gel! The consistency is somewhere between a gel, a custard, a jelly and a purée. Great at enhancing curls and creating clumps. Providing long-lasting curl definition, as well as shine. Enough protein to define, enhance and tighten natural curl patterns. Combined with enough moisture to give hydrated, frizz-free, juicy ringlets and curl clumps, and lots of shine! This gel is also glycerin free, perfect if you live in an environment with lots of humidity.
My Styling Routine Video!
Finally! If you've been listening to me banging on about my love for the TréLuxe Reflex Serum and Hi! Definition Gel, but wonder HOW I apply my styling products. Then you'll definitely want to check out this video. My curly hair styling routine using TréLuxe! There's some slick slo-mo's, so you can really see the techniques I use to enhance the ringlets and curl definition I get from using these two TréLuxe styling products. I hope you find it helpful, enjoy!
Make sure you subscribe to the Curl Maven Collective Newsletter for exclusive giveaways and offers, new content, products and services. Follow me on Pinterest, Instagram and subscribe to my YouTube channel for more tips, advice and tutorials.
feeling overwhelmed + don't know where to start?
Book a Curl Clinic Consultation
Gratitude + Support
If you found this article or any of my content helpful and would like to show your Gratitude + Support, you can click here to make a donation. I'm so incredibly thankful and grateful to everyone who supports me, my content and my platform. Thank you!
Thank you for supporting this sponsored article which enables me to continue providing FREE, organic content and a website FREE from Google Ads and annoying pop ups.
*This article may contain some gifted items and affiliated links and discount codes. This doesn't effect my opinion or the way in which I write about products featured on this site.