I've touched briefly on clarifying and chelating shampoos in previous posts before. But this is a detailed post on what clarifying means, why you should do it, and when. It can be a pretty hot topic when it comes to the curly community. Some people will straight up dismiss clarifying shampoo because they often contain sulfates! However, I've learned from experience with my own curly hair, that clarifying is an important part of my regime.
20 signs you need to clarify your hair
You may be surprised at just how many signs there are! Many people are aware of these symptoms, but reach for protein treatments to try and fix it. When most of the time they just need to clarify. Curls are often stuck under layers of dirt, oil, product and mineral build up, rather than lacking protein or moisture.
You swim. Either in the pool with chlorine or salt, or in the ocean
Your products are no longer working – you're not getting the same results you used to, using the same products.
Hair feels weighed down
You have fine or low density hair
Hair is no longer absorbing your products, especially conditioning or moisturising products
Dry, itchy, flaky scalp and/or dandruff
Frizz – even if you're following all my tips for beating halo frizz. People assume frizz is due to a lack of moisture. But it can also be a sign of product build up.
Oily, greasy roots even after using a co-wash or low poo
You're loosing more hair than usual. Product build up can clog the hair follicles, preventing growth and causing hair loss.
A dull, film-like residue on your scalp and hair. Sometimes tiny white flakes all the way down the hair strand.
Your hair is breaking more easily and regularly than usual
Limp, lifeless curls lacking bounce and definition
Your hair is getting progressively drier, sometimes even straw-like
You live in a hard water area – key signs are your kettle, taps and shower head are full of limescale, and your skin feels really dry and parched when you get out the shower/bath.
Hair looks dull, whether it's coloured or not.
You only co-wash
Hair still feels dirty, greasy, oily or full of product after you've washed it
You've got low porosity hair. This hair type suffers from product build up more than other porosity hair types. Clarifying is essential for low porosity curlies!
You use oils, or products that contain oils and butters. Especially products from Shea Moisture or Cantu.
You use dry shampoo or products which contain wax – neither of which are CG.
What is a Clarifying Shampoo and What will it do?
Think of a clarifying shampoo like a reset or refresh button for your hair. It's a way to wipe the slate clean, and start over with a clean canvas. Look out for words like "clarifying," "purifying" or "deep cleansing" and formulas are often clear. Clarifying shampoos deeply cleanse the hair and scalp by removing stubborn dirt, oil and product build up. However, because they strip your hair of it's natural oils, they have a bad reputation for drying out the hair. Many of them contain sulfates and don't have many emollients or moisturising ingredients. Because of this, you should always follow up with a deep conditioning treatment to restore the loss of moisture. Not all clarifying shampoos are chelating – which means they remove mineral build up such as chlorine and limescale/hard water.
Clarifying Shampoos:
Get 10% off Bounce Curl using code CURLMAVEN at all of the following distributors/online retailers: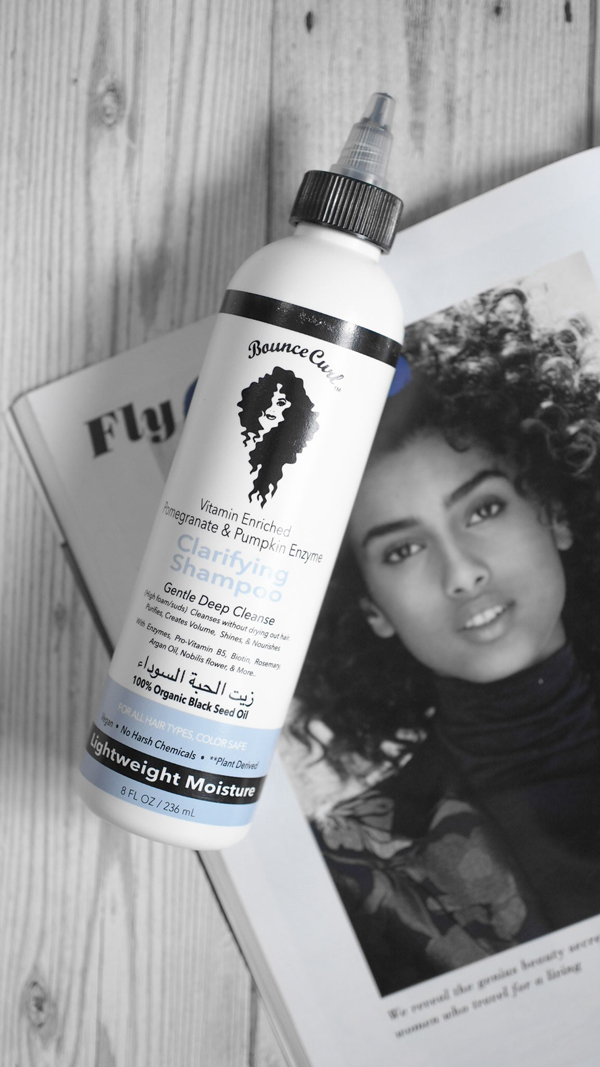 Clarifying v Chelating
Clarifying shampoo is like regular shampoo on steroids. Chelating shampoo is like a turbo-boost shampoo on steroids! Unlike normal clarifying shampoos, chelating shampoos are much stronger and are the only thing that will remove chlorine and mineral deposits (such as limescale) from the scalp and hair. Chelating shampoos are essential if you swim or live in a hard water area. I discussed this in my post on How I Get Root Volume. Due to the strong cleansing agents, chelating shampoos are not colour safe and will cause fading. They will brighten highlighted hair, but fade darker coloured, dyed hair. If you've got highlights and they're turning brassy, you need a purple shampoo. But if it's just dull, you need to clarify. A chelating shampoo can be a clarifying shampoo, but a clarifying shampoo isn't always chelating. Often called "swimmers shampoo," look out for the ingredients listed below when purchasing a chelating shampoo. Many contain silicones though, so make sure you check the ingredients list properly.
Disodium EDTA
Tetrasodium EDTA
Sodium Citrate / Trisodium Citrate
Top Tip: A chelating shampoo can also be used for your final wash before switching to curly girl approved products.
I live in a hard water area, and use Bumble & Bumble Sunday Shampoo. Which is a chelating, clarifying shampoo that doesn't contain any silicones.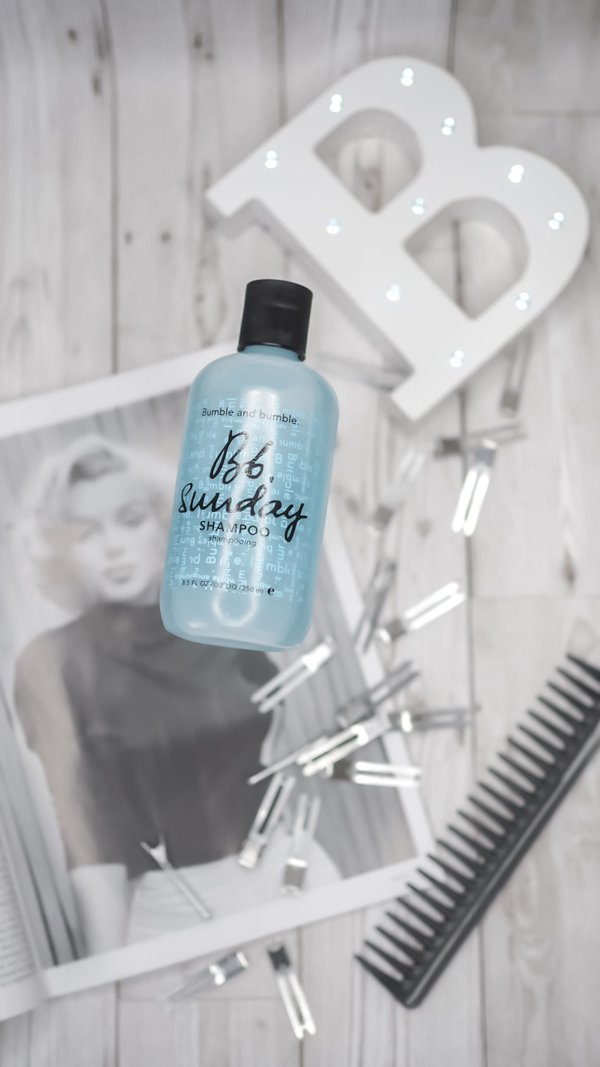 Natural Alternatives
Phytic acid, ACV (apple cider vinegar), bentonite clay and baking soda are all natural chelating ingredients. These natural alternatives are much less drying on the hair than chelating shampoos, and generally safe for colour-treated hair. I personally avoid baking soda. I had a really bad experience with it a few years ago, and had to have about eight inches of my hair cut off to get rid of the damage.
Natural Chelating Shampoos:
When & How Often?
This depends on what kind of clarifying you need for your hair – do you need a clarifying shampoo or a chelating one? If you need a chelating shampoo to clarify, I recommend every four to six weeks. No more than once a month, even when using the natural alternatives to the harsher EDTA chelating ingredients. Research, and my personal experience, suggests that natural chelating agents aren't as effective at removing mineral deposit build up as EDTA ingredients. I find the Kinky Curly Come Clean slightly less drying, but not as effective, as Bumble & Bumble Sunday Shampoo.
If you don't swim in the pool or the ocean, or live in a hard water area, then a regular clarifying shampoo is sufficient. The general consensus on clarifying is not to do it more than once a month. And you may need to do it more than once to fully clarify and detox your hair from product and mineral build up. Especially if you haven't done it in a while. Personally, I don't find the Bounce Curl Clarifying Shampoo dries out my hair. I can use it once a week, followed by a good conditioner, with no problems. I alternate it with As I Am Coconut Co-Wash or Bounce Curl Moisturising Shampoo, use CURLMAVEN at checkout for 10% off. However, because I live in a hard water area, I still need to use a chelating shampoo every four to six weeks.
Have you clarified your hair before? Share your favourite clarifying or chelating shampoo in the comments below.
Check out this post on How I Get Root Volume in my curly hair
And this post on My Favourite Curly Girl Products, where to find them and discount codes!
If you've clarified your hair but you're still experiencing frizz, check out this post of frizz-causing factors you may not have even considered!
Feeling overwhelmed?
If you're feeling overwhelmed by all the tips, advice and product recommendations. Click here for more information on my Curl Clinics™. A completely bespoke curl consultation service tailored to suit you and your hair. Designed to help get your waves and curls back and achieve your healthy hair goals. Or book in here!
Don't forget to subscribe to this blog so you don't miss a post or announcement. You can follow me on Instagram @curlmaven for more bitesize content, tips and advice in my stories, highlights, reels and videos. Or Check out my YouTube channel for more washdays and tutorials. Follow me on Pinterest or check out my Facebook page. Book a ticket for my next Monthly Curl Clinic, or watch any of my previous Monthly Curl Clinics, available on my Shop.
Gratitude & Support
If you found this post or any of my content helpful, and would like to show your Gratitude & Support, you. can click here to make a donation. I'm so incredibly thankful and grateful to everyone who supports me, my content and my platform. Your support enables me to continue providing FREE, organic content, and keep my blog FREE from Google Ads. And build Curl Maven as a brand and all I've got planned. Thank you so much! Gabriella x
*This post may contain some gifted items and affiliate links. Which means I get paid commission on any products you purchase through my links or codes. This in no way affects you, the price you pay or the way in which I write about products featured on this site. My content and opinion is not influenced by advertisers, sponsorships, affiliate partnerships, brands or PRs.