It's an award-winning, cult-favourite deep conditioning mask in the curly hair community. A must-have if you've got dry, damaged or chemically-treated hair, or you're looking for a good protein mask. I've recommended it on my blog countless times. But in this post I'll explain why I'm no longer using Briogeo Don't Despair, Repair!
I bought my first tub a few months into my curly journey, back in 2017. I'd seen loads of people in various curly girl Facebook groups rave about it. Some of favourite YouTubers, even well-respected professional hairdressers who specialise in curly hair use and recommend it! I did my research, watched several videos, read numerous reviews. But there was one simple, quick and easy thing I didn't do. I didn't check the ingredients!
I don't know if you'll read this post and think "yah girl, we know! Everyone knows. Duh!" or it'll blow your mind. Here's why I'm no longer using Briogeo Don't Despair, Repair! – it's not curly girl friendly! I had a conversation with someone recently who explained she's new to the curly girl method and checks the ingredients of everything before she buys or tries. And Briogeo Don't Despair, Repair! wasn't curly girl friendly.
Wax
I was shocked, I feel pretty confident knowing my ingredients at this stage. I still use the apps when I'm unsure. But I mean, this is a cult-favourite deep conditioning mask in the curly girl community! Surely if it wasn't CG it wouldn't be so well-loved, by so many curlies. So I checked, and sure enough, it contains a wax: Isododecane.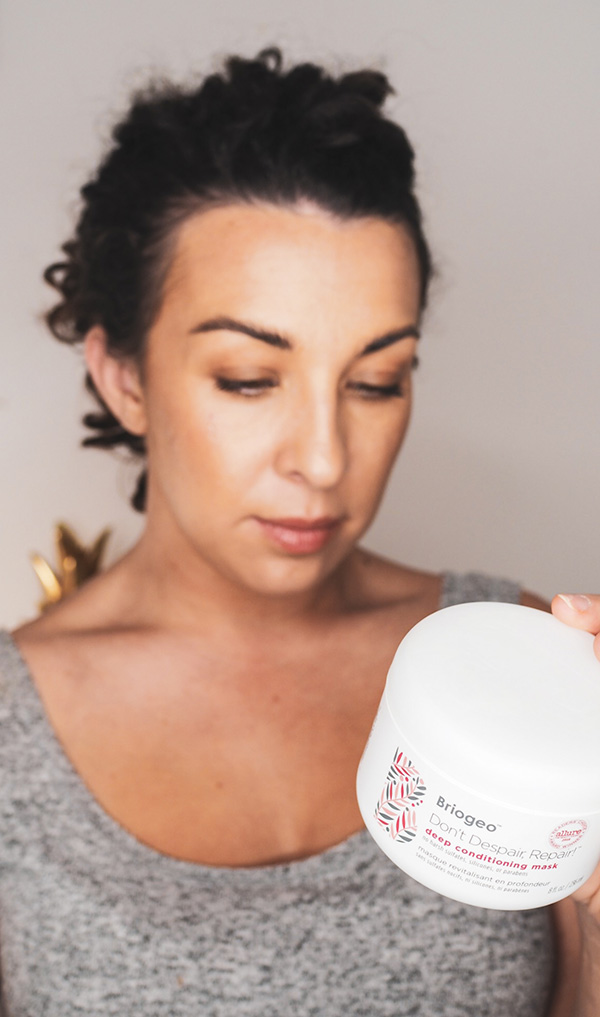 If you follow the curly girl method from Lorraine Massey's book, The Curly Girl Handbook. You'll know silicones and sulfates are a definite no-no. But so are waxes and drying alcohols. Which brings me onto the next ingredient: Benzyl Alcohol. This came up as "not CG friendly" on the Is It CG? website, listed as a drying alcohol. But it didn't come up on CurlsBot – another website to check if products and ingredients are curly girl friendly.
Alcohol
I'm still not 100% clear on benzyl alcohol. Naturally Curly says it's "used as a preservative in products and shouldn't impact the texture or feel of the hair." Tightly Curly says "If it's low on the ingredient list, it's probably diluted enough that it wouldn't be a problem." Both the wax and the alcohol are in the last 5 ingredients, so the quantities are small. But still.
Hygral Fatigue?
Earlier today, as I was going through and editing previous posts where I had mentioned or recommended Briogeo Don't Despair, Repair! I came across a photo of my hair during my first year following the curly girl method. I had hygral fatigue. I'd been using Not Your Mother's Nature pink line shampoo and conditioner at that time. But the thing that really tipped my hair over the edge, was leaving Briogeo Don't Despair, Repair! on my damp hair, overnight. You can read that post here and see the effects of hygral fatigue.
I used it again recently, for the first time in a while. It felt very heavy, weighing my hair down. I thought it was due to the oils – as there are a lot of them, high up the ingredients list. But I didn't realise it's probably the wax too. I don't mind the drying alcohol as much, because my hair holds onto moisture really well, almost too well. But I don't compromise when it comes to wax.
This is why the curl community is so important. Why I never pretend to know it all. After over 2 years following the curly girl method, and almost 2 million hits on my blog talking about it. I still don't know it all, I still make mistakes. And this was a silly, rookie error I made at the start of my journey, and never thought to question since. Despite what my hair was telling me.
Always check the ingredients
Even if you see your favourite curl friends, influencers or professionals raving about and recommending a product, always check the ingredients first! I hope this post has been helpful, whether you're a CG newbie, or you've been following the curly girl method for months, or even years. I know I've certainly learned from it, and will now be double checking the ingredients of all my favourite products.
---
If you're struggling with over-moisturised hair, or you're looking for a good protein mask or treatment, check out this game-changing post on Protein Moisture Balance.
If you've used a product containing non-CG friendly ingredients, read this post all about when, why and how you should clarify your hair.
If you found this post or any of my content helpful, and would like to show your Gratitude & Support, you can click here to make a donation. I'm so incredibly thankful and grateful to everyone who supports me, my content and my platform. Your support enables me to continue providing FREE, organic content, and keep my blog FREE from Google Ads. Not only that, it's also helping build towards my dreams and goals for Curl Maven as a brand and all I've got planned. Thank you so much! Gabriella x
*This post may contain some gifted items and affiliate links. Which means I get paid (a very small) commission on any products you purchase through my links. This in no way affects you, the price you pay or the way in which I write about products featured on this site. My content and opinion is not influenced by advertisers, sponsorships, affiliate partnerships, brands or PRs.