In May 2017, I started following the Curly Girl Method. And yes, it really is life changing! I'm a member of quite a few curly girl groups on Facebook and one question I see pop up daily, and one we all started with is, "What is the Curly Girl Method?" This post covers the basics. Most of all it's a journey and a lifestyle rather than a quick fix. "Quick" isn't a word in the curly girl dictionary.
Original Curly Girl
Lorraine Massey is the author of the best-selling book, Curly Girl: The Handbook. This is where most women (and men!) start their curly hair journey. I bought the book, read it in a couple of hours and ordered my first curly girl-approved products that same day.
Have I looked back since? Absolutely! There's a saying that the only time you should look back, is to see how far you've come. I have taken so many pictures of my hair and selfies since I started. They are the best motivation to keep going when I feel like giving up.
"Frizz is just a curl waiting to happen." – Lorraine Massey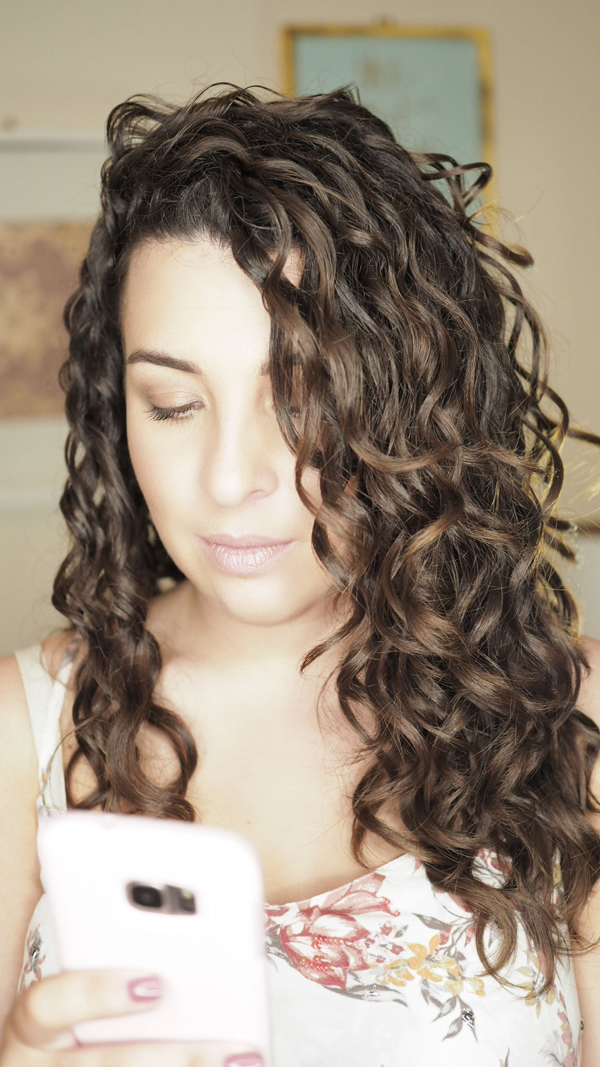 Afro v Curly
When I started Googling curly girl product reviews, DIY hair masks, YouTube videos etc. Most of what I found was from curly girls with afro hair. I found it surprising that my hair type didn't seem that well represented and was desperate to learn and find out more for my hair type. I'm half Irish, half Italian with thick, curly hair. (Although if we get technical, my actual hair strands are fine, I've just got loads of them!)
Afro hair is very different in texture to curly hair, but the techniques and method are much the same. Many of the products that are best for curly hair and are curly girl-approved, can only be found in ethnic shops or online – certainly in Ireland!
When I was little, I remember being taken to an Afro-Caribbean shop in London and given products for afro hair because they were the only ones that tamed my wild curls. I literally looked like the love child of Macy Gray and Worsel Gommage – if you can imagine such a thing!
Curly Girl Method
The curly girl method is a set of do's, don'ts and ingredients to avoid and embrace. This will enhance and encourage the natural curl pattern in your hair. Many people who have wavy hair, start their curly hair journey only to discover they actually have really curly hair!
My hair isn't as curly as it used to be, before I damaged it so much with heat and colouring. But it's the healthiest and curliest it's been in years, and it's getting curlier with every wash. The pictures in this post were taken when I was five months into my curly hair journey.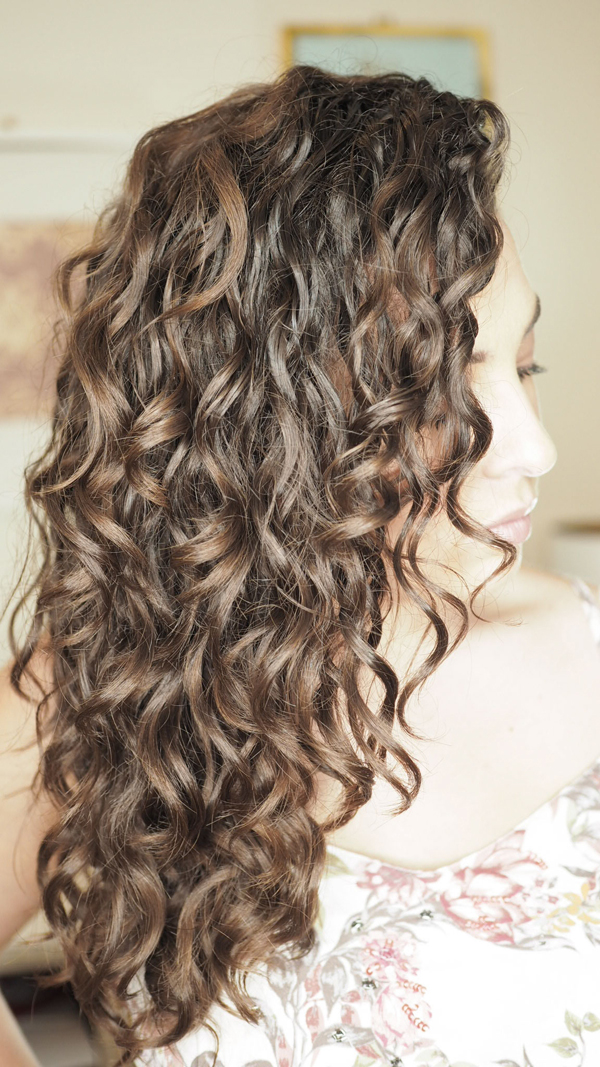 Don't
Don't wash your hair too much – aim for two or three times a week.
Don't use anything containing sulfates, usually found in shampoo.
Don't use non-soluble silicones, usually found in conditioners and styling products.
Don't use heat, it severely damages the hair. The higher the heat, the greater the damage.
Don't brush or comb your hair as this pulls out the hair's natural curl pattern. Now, many curly girls use some kind of large tooth comb or modified Denman brush to work the conditioner through their hair in the shower. I personally use the Denman paddle brush – CURLMAVEN for 20% off, on my hair, and my daughters.
Don't use towels, they rough up the hair cuticle and cause lots of frizz – no matter how gentle you are.
Don't use drying alcohols, they dry out the hair, but not all alcohols are drying.
Don't colour your hair. Natural is best for your hair, and it's the whole ethos behind the curly girl method. Colouring your hair often involves using ingredients that are on the "avoid" list, so it's not advised. But many people do it and still maintain healthy curls.
Do
Co-wash. This is a cleansing conditioner, or you can use a CG-approved conditioner instead of shampoo, to wash your hair. Personally I use an actual co-wash (aka cleansing conditioner) which is lighter than a regular conditioner. It has all the cleansing benefits of a shampoo, without all the harsh, drying, stripping ingredients; and all the benefits of a conditioner without being too heavy. The one I use and recommend all the time is the cult-favourite As I Am Coconut Co-Wash.
If you think a co-wash may be too heavy for your hair, use a CG-approved shampoo, or "low poo" instead. Whatever you choose, make sure they don't have any of the ingredients listed above in the "Don't" section.
Use your fingers or a shampoo/scalp brush to gently scrub your scalp to lift any build up, oils or residue. I use a Tangle Teezer – CURLMAVEN for 20% off, which I already had.
Use natural emollients such as coconut oil and shea (especially for afro hair), and lighter oils such as jojoba, olive and grapeseed (especially for curly hair).
Use proteins such as egg and avocado, silk, wheat and soy proteins.
Humectants such as honey and glycerin. Read this post for all you need to know about glycerin and humectants.
Moisturisers such as aloe vera and flax seed.
Scrunch products into your hair to encourage curl pattern rather than brushing products through your hair which will pull the curl out. Read this post for more techniques to reduce frizz and enhance curl pattern.
Use an Aquis microfibre towel, a cotton towel like this one from Bouclème – CURLMAVEN for 20% off, or a cotton t-shirt instead.
Curl Type
Finding out what curl type you are is huge, if not vital, when it comes to finding the best products for your hair. Curl types are explained in the Curly Girl: The Handbook. Generally Type 2 (a, b and c) is wavy. Many European, Caucasian people have this hair type if they have any curl to their hair at all. I recently read that only 15% of Europeans have naturally curly hair!
Type 3 (a, b and c) is what most people understand as curly. My hair type is 2c/3a Botticelli curls. Type 4 (a, b and c) is coily, textured curls or afro hair. Read this post to learn more about the different curl pattern types, and why they don't matter. And read this post for all you need to know about hair porosity, and why it's so important.

My Top Tips
The most important thing to remember is that this method takes time and patience. And I don't mean weeks, but months and sometimes years to get your hair to it's best and fullest curly potential. I remember when straightening my hair just once would damage my curl pattern so much, it took an entire two weeks to recover.
So imagine what years of straightening, blow drying, curling tongs and wands does to your hair! And that's just the heat damage, never mind colouring and ingredients that are bad for your hair.
It's all about the application rather than the products! Read this post for curly girl techniques to help reduce frizz and enhance curl definItion. How you apply products to your hair can often make a bigger difference to your hair, how your curls form and settle, than the product itself. In the makeup world, they say blend your eye shadow until your hand falls off.
In curly girl land, you've gotta scrunch until your hands fall off! I wash my hair and apply all my products with my hair upside down. I find this helps reduce frizz and encourages curl definition on the top layers of my hair, and especially at the roots. Check out this post on how I get root volume in my curly hair.
Finally, take regular selfies. Take pictures of your hair wet with product in it, and dry when you've scrunched out the crunch (SOTC). Remember to keep note of what products/techniques you use.
When you're having a bad hair day and feel like giving up on the curly girl method, getting a blow dry or straightening your hair; look back through your photos. See how far you've come on your curly hair journey. See how much your hair has grown, how shiny it is, how much more curly it is, and healthy it looks, and feels!
You'll soon realise what you're doing is working. The recovery time my hair would have to go through and how much my curls would suffer, deters me from going anywhere near my hair straighteners, InStyler, curling tongs or wand. It's just not worth it.
Make sure you subscribe to the Curl Maven Collective Newsletter for exclusive giveaways and offers, new content, products and services. Follow me on Pinterest, Instagram and subscribe to my YouTube channel for more tips, advice and tutorials.
feeling overwhelmed + don't know where to start?
Book a Curl Clinic Consultation
Gratitude + Support
If you found this article or any of my content helpful and would like to show your Gratitude + Support, you can click here to make a donation. I'm so incredibly thankful and grateful to everyone who supports me, my content and my platform. Thank you!
*This article may contain some gifted items and affiliated links and discount codes. This doesn't effect my opinion or the way in which I write about products featured on this site.