I first came up with the analogy of The Golden Triangle of Healthy Hair in 2020. The golden triangle analogy cuts through all the complicated do's and don'ts of healthy hair care. Instead making healthy hair simple and easy to both achieve and maintain, by incorporating the principles of the golden triangle into your products and routine. So whether you're at the start of your curly, healthy hair journey. Or you've been on the healthy hair struggle bus for a while, this post is for you!
AD | This post is sponsored by Look Fantastic
Use the code CURLMAVEN at checkout for 20% off at LOOKFANTASTIC.
What is the Golden Triangle of Healthy Hair?
As I've spoken about a lot on this blog and my social media platforms, having a healthy protein moisture balance is key to achieving healthy hair. And the hydration, shine, bounce, hold, definition, and frizz-free curls that comes with it. This protein moisture balance forms the base of The Golden Triangle for Healthy Hair. Built on a foundation of regular deep conditioning, and good quality cleansing and conditioning products. Using well thought-out, balanced formulations, using good quality ingredients. With clarifying at the top of the triangle, essential for healthy hair.
Not a lot of brands achieve this within their line of products, so you may have to mix and match to suit your hair's specific needs, and that's okay. Some of the brands that have nailed the protein moisture balance throughout their line is Innersense Organic Beauty – see my full review here. Use code CURLMAVEN to get 10% off Innersense at The Clean Beauty Edit in Ireland/EU and 10% off Innersense at Kiyo Beauty in the UK. Bounce Curl – see my full review here.
2 Questions I Always Ask
When people reach out to me with issues they're experiencing with their hair, the first two questions I always ask are: 1. When was the last time you clarified? and 2: When was the last time you deep conditioned? Then I'll ask what products they use and how regularly they clarify and deep condition. The reason, and answer, to their problems is almost always in the answers to those first two questions. They're either not clarifying enough, properly, or ever! Or they have a protein moisture imbalance, and are using the wrong products for their hair's needs, usually over-doing it on the moisture. I'll try to explain why I think this is happening, so that you can avoid it.
Sponsored posts enable me to continue providing FREE content, create organic content and keep my blog FREE from Google Ads. However, this hasn't influenced the way I've written about the brand or the products featured in this post.
Moisture Overload: Rookie Error
When most of us begin our curly journey back to healthy hair, and hopefully rediscover our natural curl pattern in the process. We pick up Lorraine Massey's The Curly Girl Handbook, where there's a strong emphasis on moisture, moisture, moisture! After all, "frizz is just a curl waiting to happen", right?! We're taught that curly hair is drier than other hair types, and it needs a lot of hydration and moisture! In addition to that, we're also told to banish sulfates and shampoos, completely! And instead use a co-wash, a cleansing conditioner or just a regular conditioner to wash our hair.
Now, that is a whole other topic that I'm going to delve into another time. Because I've got some strong feelings and view points about co-washing. So much so, I'm going to dedicate a full blog post to it. So make sure you're subscribed, because that's one post not to be missed!
Co-Washing
Armed with this new information, we do a final wash before ditching our shampoos and sulfates for good, and switching to a co-wash instead. My favourite is the As I Am Coconut Cleansing Conditioner. It's already super affordable, but you can get 20% off when you purchase it at Look Fantastic using code CURLMAVEN. We co-wash and deep condition, focusing on getting as much moisture into our hair as possible! Which at the beginning, works well. Our hair slowly becomes more and more hydrated. Frizz-free defined waves and curls begin to emerge where there was once only a dry, tangled, frizzy mess!
But before long, all too often, we start to experience itchy scalps, greasy roots, build up of oils, butters and heavy emollient, moisturising ingredients. Not to mention limp, lifeless curls that no longer seem to hold up past a few hours on wash day! And this is because the focus has only been on one aspect of that golden triangle: the moisture part. We've completely neglected the other two sides of The Golden Triangle for Healthy Hair: Clarifying and Protein.
But it worked well at first?!
The reason why all the co-washing and deep conditioning worked so well at first, was because the moisture levels in our hair were very low. Once those moisture levels have come up to where they need to be, we need to switch our tactics, to pivot. Our goal is still the same, we're just approaching it from a different direction, using different products. Now that we've got the moisture levels up, we need to focus on maintaining a balance of both moisture and protein. Which you can read about in more detail in this post.
Step 1: Ditch the Co-Wash
Once your hair has reached optimum moisture levels, you'll notice your hair looks and feels more hydrated, it's no longer dry and frizzy, and you can see some waves, curls, ringlets and/or clumps! Yay! It may still get knotty and tangled. But it's nothing a wash day, some good conditioner, a Denman Paddle Brush and a little patience can't fix. The Denman Paddle Brush is the only and best brush I recommend, use code CURLMAVEN for 20% off. I've tried so many others, but this one really is the best, most gentle and best de-tangling brush for curly hair. Not to mention it's great for creating clumps!
Once your hair is hydrated, generally frizz-free and able to hold a curl longer than a day or two. I suggest switching from a co-wash, to a "low poo" cleanser – which is essentially a low-lathering, sulfate-free shampoo. This is where we pivot. We switch our cleanser from one that focuses on moisture (co-wash) to one that focuses on cleansing (low poo). Make sense? You can still use a CG-friendly, low lathering cleanser, that doesn't contain sulfates. In fact, I highly recommend it! I haven't co-washed since January 2019 and my hair is thriving, growing and healthy! Here are some of my favourites that I regularly use and recommend:
*if you're outside America, you can get 10% off Innersense and Bounce Curl at The Clean Beauty Edit in Ireland/EU and 10% off Innersense and Jessicurl at Kiyo Beauty in the UK.
Get 10% off Bounce Curl using code CURLMAVEN at all of the following distributors/online retailers:
Step 2: Clarify, regularly!
The top of the golden triangle, and also key to achieving and maintaining healthy hair is clarifying, regularly. It's essential to scalp health, hair growth and healthy hair. I cannot stress enough how important it is to clarify your hair, regularly! Ideally once a month. Think of it as wiping the slate clean and beginning the month with a fresh, clean, clarified slate. It's also essential for hair growth! A healthy scalp is one of the most important factors for encouraging hair growth. Clarifying is one of the most effective ways of maintaining a healthy scalp. Not to mention all the other reasons why it's a good healthy hair care practice in this post.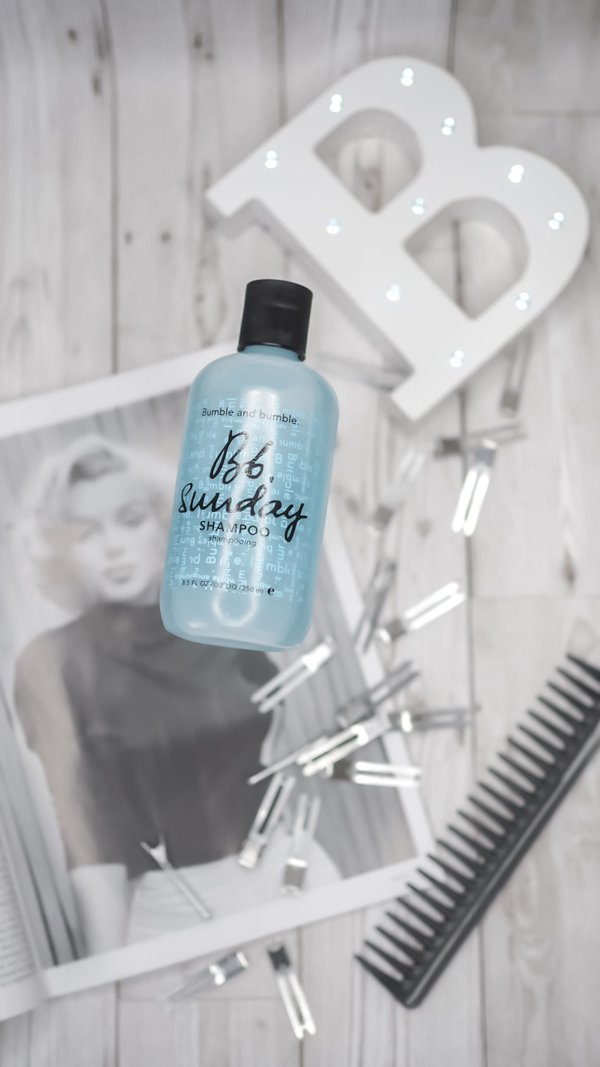 Clarifying vs Chelating
Whether you need to clarify with a clarifying or chelating shampoo depends on whether you live in a hard water area and/or swim in the pool or ocean. If you're unsure about your water, check your kettle, taps/faucets and shower head. If they have a build up of crusty white-grey limescale, then you need to use Bumble & Bumble Sunday Shampoo, which is chelating, once a month to clean the same residues off your hair.
A chelating shampoo is perfect for a final wash before starting the curly girl method. And it's also what you should use when you clarify your hair, once a month if you have hard water or swim in the pool or ocean. I use and recommend Bumble & Bumble Sunday Shampoo – also available at Beauty Bay here, who ship worldwide. It's a simple, clean and effective formula. The Sally's Ion Hard Water Shampoo is a great budget alternative.
Personally I don't think ACV rinses are as effective, and you can easily cause damage with the wrong ratio. If you don't swim or have hard water, using clarifying shampoo's such as Bounce Curl Clarifying Shampoo or Kinky Curly Come Clean or MopTop Detox Shampoo. The Bounce Curl Clarifying Shampoo is gentle enough for regular use, I use it twice a week. Use code CURLMAVEN for 10% off Bounce Curl (also at The Clean Beauty Edit and Kiyo Beauty) and MopTop. But I wouldn't recommend using the Kinky Curly or MopTop ones that regularly, as they can be more drying on the hair.
The key ingredient for getting limescale and mineral deposits off the hair, as well as general product build up, is Disodium (or Tetrasodium) EDTA. Bumble & Bumble Sunday Shampoo as with other chelating shampoos, do contain sulfates, so technically they're not CG-friendly. But I'd actually argue that they are CG friendly! There is a need, a requirement and a benefit to using sulfates in a clean, uncomplicated formula in order to maintain healthy hair, and a healthy scalp, that's free of build up. All of which are essential to curly hair, which is why I say it actually is friendly. Even though "technically" it's not.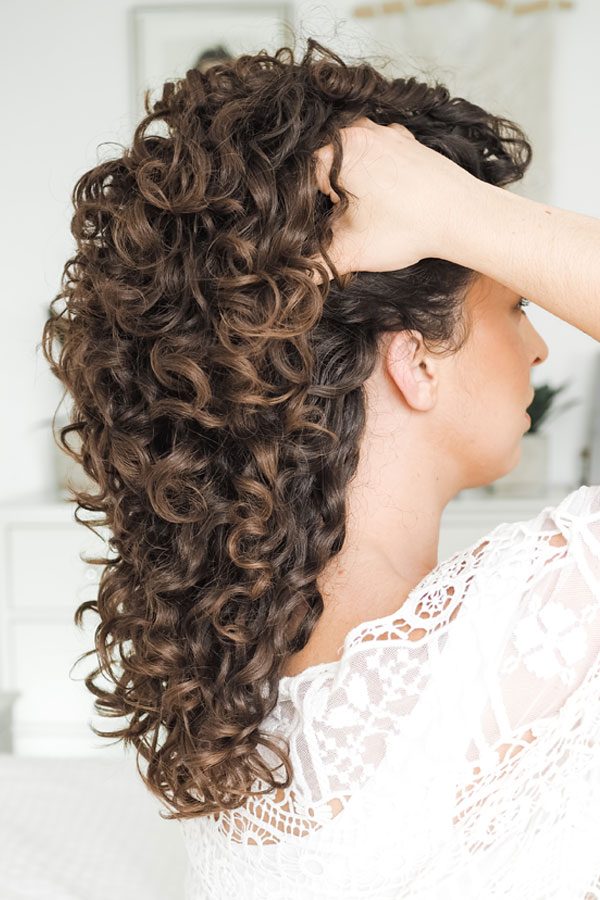 Troubleshooting: Clarify!
If you're suffering from limp, lifeless curls that won't hold a curl longer than a few hours on wash day. If you've got an itchy scalp, greasy roots or white flakes on your hair. If the products you used to get great results with, are no longer working. If you're unsure of your hair porosity or protein moisture balance because your hair has got conflicting symptoms. The answer to all of these things is to clarify your hair, the top of the golden triangle, the first, the most important.
Clarifying your hair can often be the fix to most of the issues described above. Your hair is simply exhausted, overwhelmed and suffering from build up, unable to breathe. Weighed down so much, it can't hold anything together: frizz, curl pattern, life in general! Clarifying your hair enables you to get a better idea of what's really going on with your hair. What it's trying to tell you now that it's not suffocating under build up. Then you can move on to trouble shooting other causes of issues, which are almost always due to protein moisture balance. Or failing that, not using the right products, or enough product.
Protein Moisture Balance
Now you've got a regular clarifying routine in place, and your hair and scalp are able to breath and stay healthy. You can concentrate on the foundation of The Golden Triangle for Healthy Hair. Which is the protein moisture balance. I've got a dedicated blog post (and YouTube video) on that. So please take the time to check them out. This post is about putting it all together in a simple, clear and concise way – which hopefully makes sense and is helpful!
How to fix protein moisture balance issues
The best way to fix and balance protein and moisture in your hair, with long-lasting results, is with your cleanse and conditioning products. Styling products that are moisture or protein heavy are just quick-fix band aids. They won't actually solve the problem or address the balance. Neither will one deep conditioning treatment! If you're iron deficient, taking one iron tablet doesn't suddenly rocket your iron levels back up to where they need to be. The same applies to protein and moisture in your hair. The best way to fix the balance is through regular (weekly) deep conditioning. It may take a few weeks of regular, weekly deep conditioning treatments to get your protein moisture levels balanced again. The best way to maintain that balance is with good cleansers and conditioners, that have a good balance of protein and moisture in the ingredients. Such as:
Step 3: Deep Condition
If you need moisture, my favourite product that I use and recommend is the Matrix Biolage Hydrasource Conditioner/Conditioning Balm. Use code CURLMAVEN for 20% off. I get the 1000ml tub, which is such great value for money, especially with the discount code! It's potent stuff though, so only use a little! If you're in America, Sally's GVP Conditioning Balm is the generic, cheaper version. If you need more protein, my favourite deep conditioners are Hairfinity Strengthening Amino Masque, and Curl Junkie's Repair Me! (only available in America) or Act + Acre Restorative Hair Mask. I prefer to use them with my Modified Rice Water Treatment. I'll also add a tablespoon (or two if I really need it!) of the Aphogee Two Step Protein Treatment, Step 1 to it as well. If your hair is pretty balanced and you just want a good deep conditioner that has a good balance of both protein and moisture, then I use and recommend the Phyto Joba Moisturizing Mask – use code CURLMAVEN for 20% off. Innersense Hydrating Hair Masque – if you live outside America, using code CURLMAVEN for 10% off at The Clean Beauty Edit and Kiyo Beauty.
Putting it all together
Putting all that information together, in order to have healthy hair, growth, shine, hydration, hold, definition, bounce and frizz-free curls. You need to apply The Golden Triangle of Healthy Hair to both your products and routine. Clarify regulary, once a month. Using a clarifying or chelating shampoo, whichever one suits your needs, location and lifestyle. Regularly deep condition, however often you need to for your hair. Maximum once a week if you wash your hair twice a week, but at least once a month.
I clarify my hair with a chelating shampoo, followed by a modified rice water treatment once a month. At the start of every month, so I don't forget. If I feel like my hair is frizzier than usual, or doesn't have as much definition or long-lasting hold as usual. I'll deep condition once a week, or a fortnight – whatever I feel my hair needs. Generally in the summer, I do my modified rice water treatment once a week. It's about working out what works best, when works best, how often works best for your hair. But the principles of The Golden Triangle of Healthy Hair: Clarifying, Protein and Moisture, are the same.
---
I really hope this post was helpful and makes sense. So you can understand the principles and then incorporate them into your routine, and adapt them to suit your hair's needs. As always, if you have any questions, leave a comment below and I'll do my best to answer them.
Feeling overwhelmed?
If you're feeling overwhelmed by all the tips, advice and product recommendations. Click here for more information on my Curl Clinics™. A completely bespoke curl consultation service tailored to suit you and your hair. Designed to help get your waves and curls back and achieve your healthy hair goals.
If you found this post or any of my content helpful, and would like to show your Gratitude & Support, you can click here to make a donation. I'm so incredibly thankful and grateful to everyone who supports me, my content and my platform. Your support enables me to continue providing FREE, organic content, and keep my blog FREE from Google Ads. Not only that, it's also helping build towards my dreams and goals for Curl Maven as a brand and all I've got planned. Thank you so much! Gabriella x
*This post may contain some gifted items and affiliate links. Which means I get paid (a very small) commission on any products you purchase through my links. This in no way affects you, the price you pay or the way in which I write about products featured on this site. My content and opinion is not influenced by advertisers, sponsorships, affiliate partnerships, brands or PRs.