This is the third post in my recent series on how to care for fine wavy and curly hair. The first post focused on the 10 Things You Shouldn't Do If You Have Fine Hair. And the second post was all about the 10 Things You Should Do If You Have Fine Hair.
The first two posts focused more on tips, advice and techniques best suited to fine wavy and curly hair. This post features The Best Products for Fine Wavy + Curly Hair, all in one place, in one post with products that are available worldwide and some really great discount codes.
AD | This article is sponsored by LOOKFANTASTIC. However, this hasn't influenced my opinion or the way I've written about the brands or products featured in this article. Use code CURLMAVEN for 20% off at LOOKFANTASTIC.
The Best Products for Fine Wavy + Curly Hair
Okay a quick heads up, because this post is going to be very product heavy. However, it's not an exhaustive list of all the products best suited to fine wavy and curly hair. But they are the best ones I've found that give long-lasting, consistent results and suit the majority of fine hair.
Almost all of the best products for fine wavy and curly hair mentioned in this post are available worldwide. I've also included a Budget, Affordable and Best option for each product category where possible.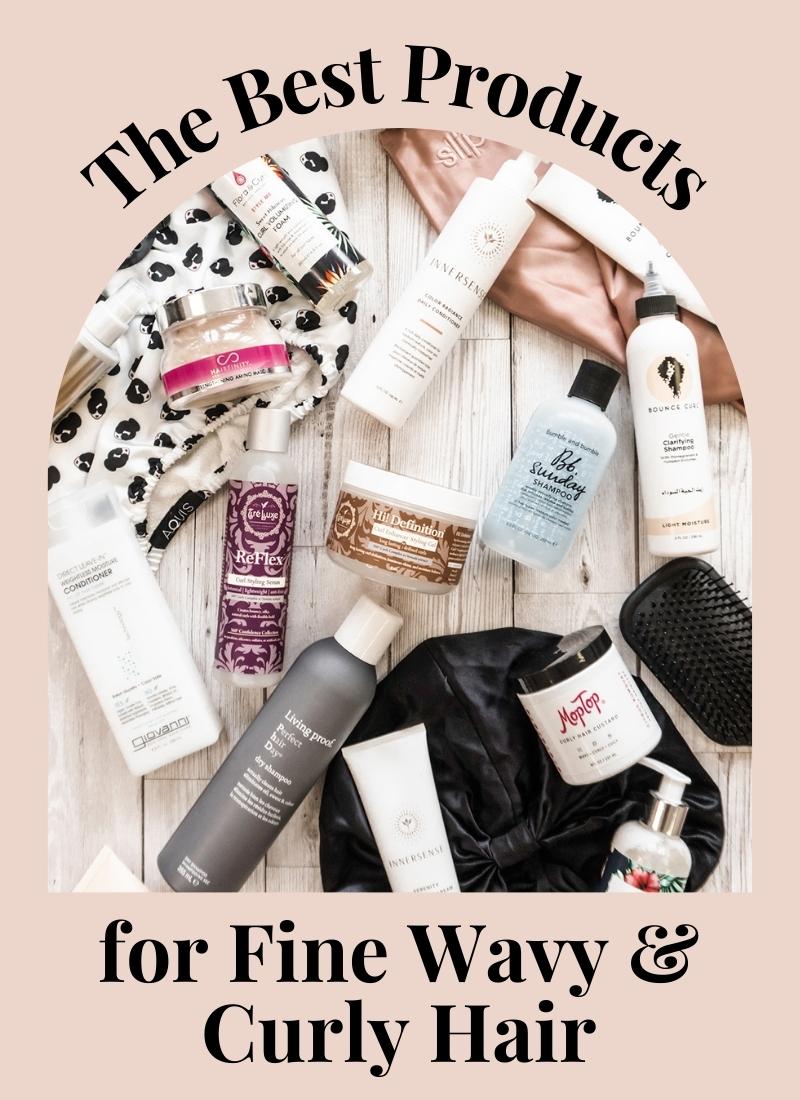 Quick Reminder: "Fine hair" relates to the thickness of the hair strand, not the density – or amount – of hair you have.
Scalp Treatment:
Kicking off the list of The Best Products for Fine Wavy + Curly Hair are scalp treatments. If you have a dry, flaky or itchy scalp. Sensitive or irritated, greasy or oily scalp, I highly recommend Act + Acre Scalp Detox. It's a super lightweight oil – perfect for fine hair types. It calms, soothes and re-balances the scalp. It's much more like a tonic than an oil, and fast-absorbing, making it perfect for fine hair.
Apply a small amount to the scalp once a week. Pretty much the same amount as you'd apply when using a facial oil. Warm up on the tips of your fingers and massage into the scalp 20-30 mins before shampoo. This scalp treatment is also great for helping to promote hair growth – both in length and density too!
Clarifying Shampoo:
Clarifying is absolutely essential if you have fine hair! Use a good chelating, clarifying shampoo once/month for fine wavy and curly hair. Although you may need to do it every 3 weeks. Clarifying removes build up and prevents all fine hair types from getting weighed down, over-moisturized, lack of root lift, volume and definition.
The Bumble + Bumble Sunday Shampoo is my personal favourite, but the Ouai Detox Shampoo is very similar. CURLMAVEN for 20% off. I've got a few blog posts you can read if you want to know more about clarifying. And if you need to be incorporating it into your routine. Spoiler alert: you do – especially if you colour/highlight your hair! I'll link them below for you: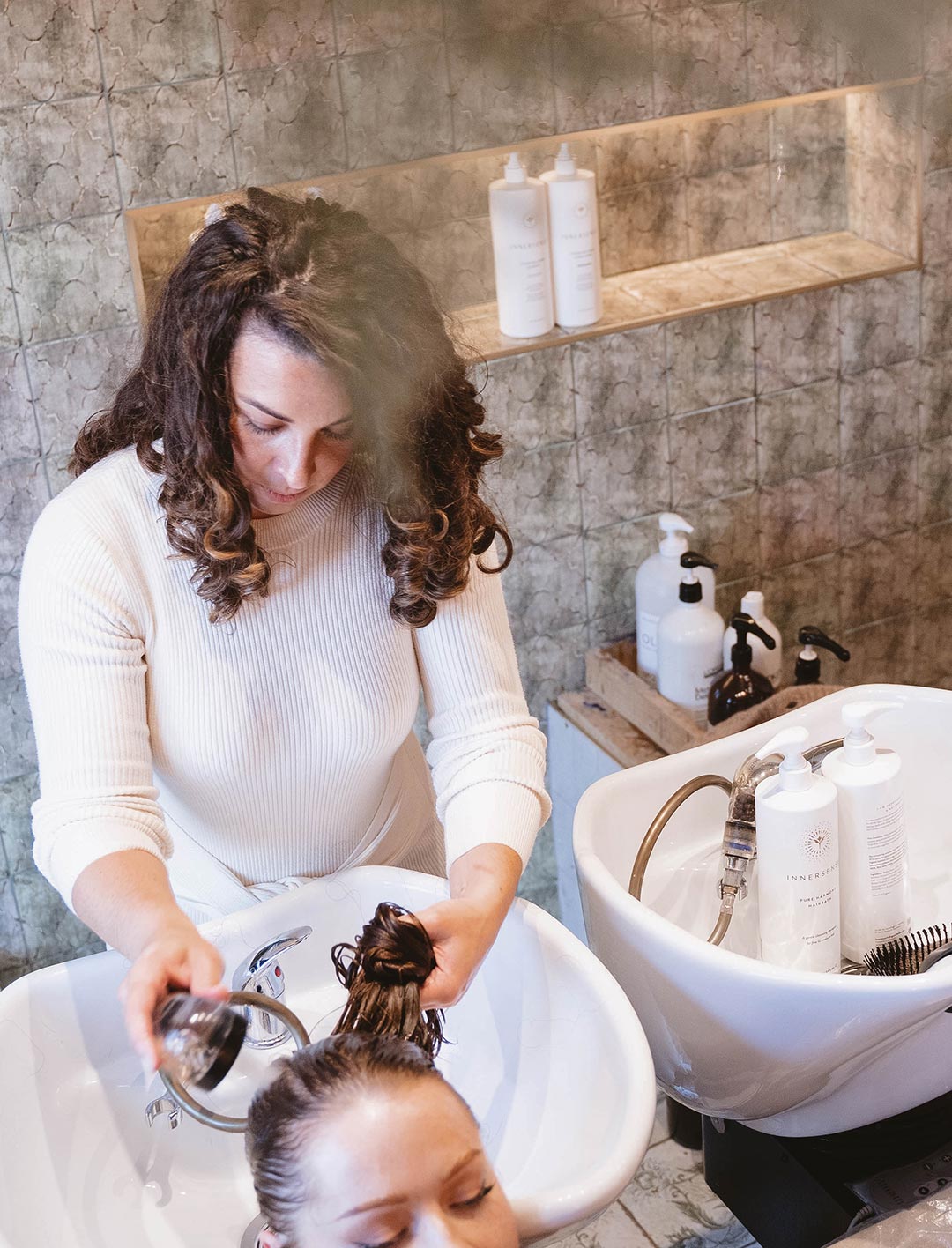 Dry Shampoo
Don't be afraid to use a dry shampoo for extra root lift and volume. Especially if you have fine hair, but even more so if you've got a looser wave or curl pattern. If you want something that not only absorbs grease, oil and sebum, but also cleans and deodorizes your hair. With a little grit to give you some body and texture, then get the Living Proof Perfect hair Day Dry Shampoo. It's not that it's the *best* but it's more pricey than the Klorane dry shampoos, which are more affordable.
If you want something more lightweight and volumizing with no residue or that dry shampoo feeling. Then get the Klorane Volumizing Dry Shampoo, or any of their dry shampoos are great to be honest! There's a reason why they're the number one dry shampoo in Europe. It just depends which one works best for your hair. See the full range of Klorane Dry Shampoos here and get 20% off at LOOKFANTASTIC using code CURLMAVEN.
Shampoo:
In my opinion, the best shampoo for fine wavy and curly hair is the Bounce Curl Clarifying Shampoo. It's a lightweight, low-lathering, sulfate-free, colour-safe shampoo. Or "lo-poo" if you follow the curly girl method. It leaves the hair and scalp feeling clean, without feeling stripped.
However, if even that feels too heavy, hydrating or moisturizing for your fine hair. Then I'd recommend the Innersense Pure Harmony Hairbath. Both are really concentrated, so you only need a small amount, applied to soaking wet hair. If you feel you need more product, or more lather, try adding more water.
But if both of those shampoos feel too lightweight or drying on the hair, then you may be better off with the Flora + Curl Organic Rose + Honey Cream Shampoo which is more creamy and hydrating. See my full Flora + Curl Review for more info.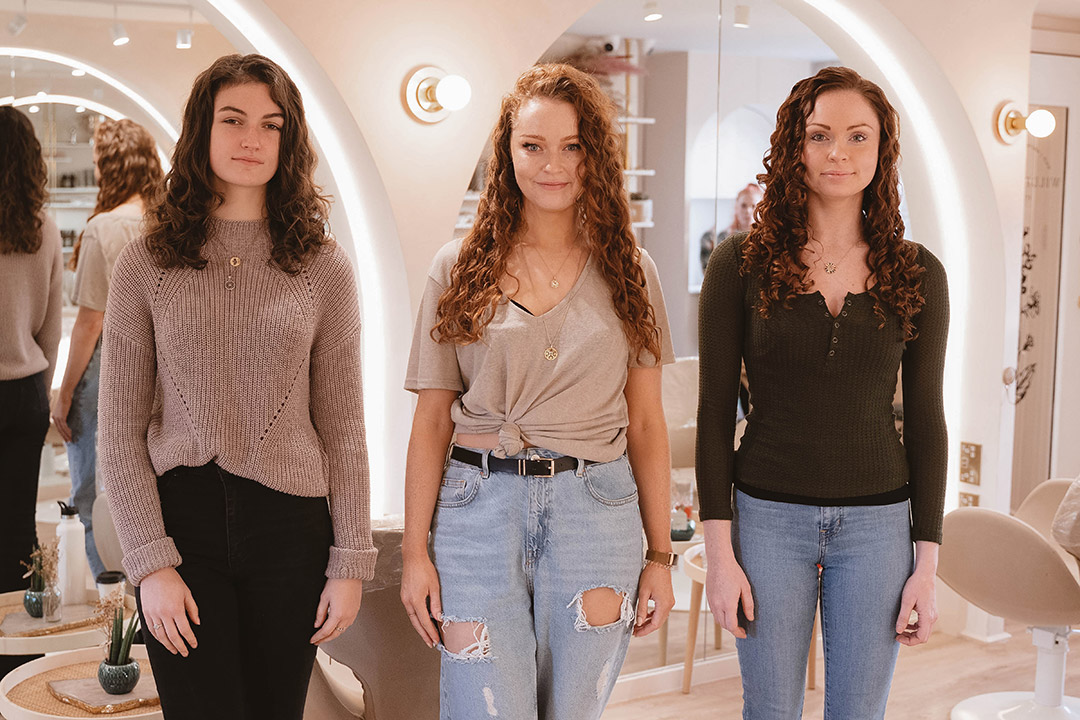 Conditioner:
If you've got fine, low density, loose wavy or curly hair that gets easily weighed down. Then the best conditioner is the Innersense Pure Inspiration Conditioner. But if you have dry, highlighted or high density hair – so fine hair but a lot of it.
Or you just find the Pure Inspiration isn't hydrating, moisturizing or detangling enough. Then you may be better off with the Innersense Colour Radiance Conditioner. It's a little richer, a little more hydrating and contains a little more protein than the Pure Inspiration.
Flora + Curl Shampoo + Conditioner are protein-free. So you might need to use a regular protein treatment to balance out your routine.
Flora + Curl is a great affordable option, and often available in one litre bottles at TK Maxx. But Giovanni is the only budget range I've found that has good quality ingredients, and contains protein. It's almost impossible to find that combination for a budget price. One litre bottles of the Giovanni Shampoo + Conditioner are often in TK Maxx as well.
Application Tip: Apply a small amount of conditioner to soaking wet hair, from the ends up to about an inch away from the roots. If you think you need more product or slip, add more water.
Leave In Conditioner
Okay so there's not really a *best* in this category of the best products for fine wavy and curly hair. All of these leave in conditioners are amazing. It just depends on budget and personal preference. The Innersense Sweet Spirit Leave In Spray contains protein and is the most lightweight.
Any spray leave-in conditioner is going to. be great for fine hair. The Flora + Curl Leave In Detangler is also incredibly lightweight, smells amazing and has the best slip and shine. The Giovanni Direct Leave In is protein free and cannot be beaten for price!
Deep Conditioner:
Deep conditioning isn't something you need to focus on massively if you have fine hair. As it can become so easily over-moisturized and weighed down. However, if you feel like your hair needs a little TLC after clarifying or colour. And/or leaving your regular conditioner for a little longer than usual just isn't cutting it. Then I recommend deep conditioning for a minimum of 10 mins, but no longer than 20-30 mins if you've got fine wavy or curly hair.
For ultra lightweight hydration, choose the protein-free Bounce Curl Ayurvedic Deep Conditioner. For a lightweight, protein-rich deep conditioner choose the Curl Junkie Repair Me!, only available in the USA. A good alternative is my beloved Hairfinity Strengthening Amino Mask, which is also protein-rich, but a little more moisturizing than the Curl Junkie Repair Me! Also very hard to find outside the USA.
And finally, if you have fine hair that is limp and lifeless. Lacking volume, definition and not holding a wave or a curl. Then you absolutely need to incorporate protein into your routine! I highly recommend reading this post on my product of the year in 2021, the Joico Deep Penetrating Reconstructor. But the Joico Liquid Reconstructor was specifically designed for fine hair. CURLMAVEN for 20% off both at LOOKFANTASTIC.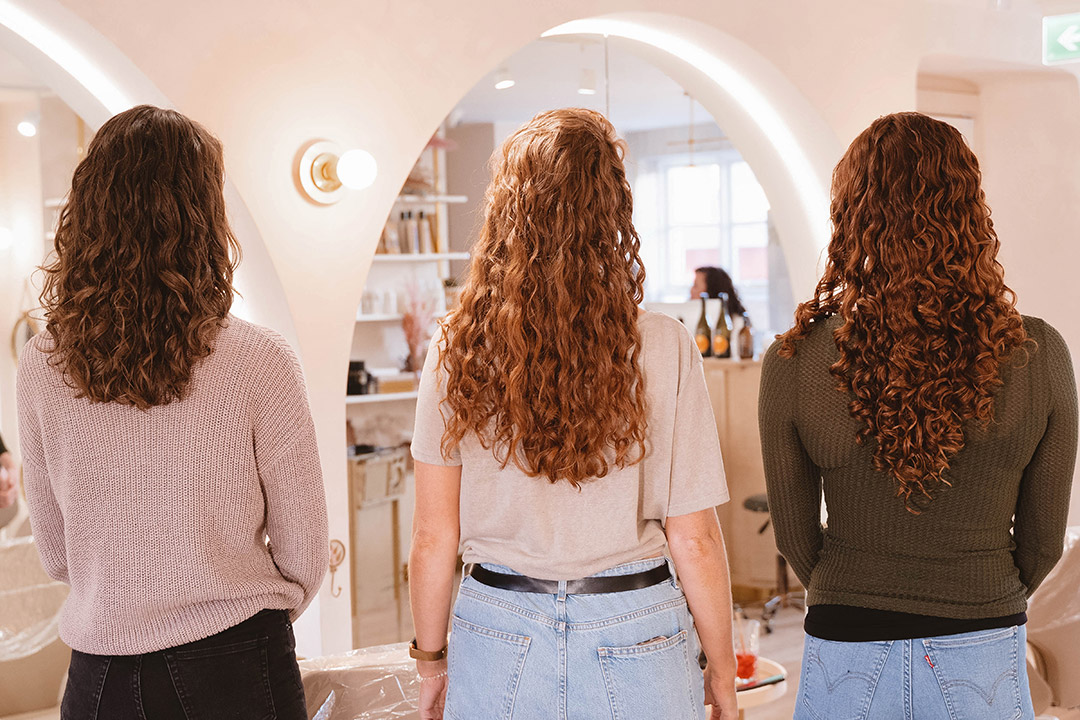 Mousse + Foam:
If you want more definition, shine, hydration and hold go for a mousse. Pantene Defined Curls Mousse or Herbal Essence Totally Twisted Mousse are the only two mousses I recommend. Both formulas are extremely similar and give the same results.
They are both lightweight, curl enhancers and definers that give shine, definition and hold with a little hydration and volume too. They both work well with loads of other styling products. Or just as good as a one and done styler if you have fine wavy or curly hair!
When it comes to mousse, more is more. You can as much as you like to give you the definition and hold that you want. There's nothing in them that will weigh the hair down, or dry it out.
If you want more volume, body, texture movement and softer curl definition, then go for a foam. Although more lightweight than a mousse, they tend to be a little more drying and volumizing. Which can be great if your fine hair lacks volume and body, and tends to lean be a little over-moisturized.
If you want volume without having to sacrifice definition, or you're going for a more lived-in, less perfectly-defined look – then a foam would be perfect for you!
Top Tip: if a foam is too drying for your hair, use a leave in conditioner before applying the foam.
You really need to experiment to find the right foam to suit your hair. As some can cause flash drying due to high amounts of protein. And other foams can just be too drying in general.
For example, the Flora + Curl Curl Volumizing Foam contains quite a lot of protein, but is the most hydrating foam I've ever tried.
The Curlsmith Bouncy Strength Volume Foam is a great alternative to the Flora + Curl Foam, and doesn't cause flash drying on my hair, but not as hydrating. The Giovanni Hair Styling Foam is a great budget option, and contains protein, but can get a little drying for some. CURLMAVEN for 20% off all of those foams at LOOKFANTASTIC.
Serum:
Serums are more hydrating than mousses and foams, and give thicker, juicier curl clumps with some light – medium hold. If you have fine hair that gets easily weighed down and you want want texture and Diana Ross x Tina Turner level volume, then Innersense I Create Volume is for you!
Use it like a dimmer switch to turn the volume up. Best applied to wet hair – but not soaking, dripping wet. Although it will help with definition, shine and hold, this is definitely a volumizing serum.
If you want more definition, then the TréLuxe Reflex Serum is literally ringlets in a bottle! A lightweight curl enhancing and defining formula that won't weigh fine hair down.
You don't need a lot, and it plays really well with lots of other products too. No other product gives my hair thick, juicy curl clumps and ringlets like this! It also adds hydration, shine and hold.
Gel:
Gels are so important for fine hair. You've just got to use the right ones, and find the gel that works best for your hair. I'm not talking about those thick, sticky gels – or even creamy custard gels. But lightweight gels that are almost like a serum or liquid.
You need something to enhance and define the curl (such as a mousse, foam or serum), and something to hold it – such as a gel.
You don't need to spend a tonne of money, or use a lot of product. Just find the consistency, texture and hold you like. If you don't get the hold you want, use more product. A gel is just to seal everything in, lock in shine and hold it all together for frizz-free defined waves and curls.
Hair Spray:
Think of these less like the traditional hairsprays you may be used to. And more like super lightweight liquid gels, or something to add a little more body, texture and a little grit to fine, wavy or curly hair. You don't NEED to use any or all of these products.
You can add them to your routine if you're looking for a little more of what they offer, as outlined above. All work great applied to wet or damp hair on washdays, or on the days between to revive looser, fine wavy hair. Adding back in some volume, body and texture.
How to dry your hair
After applying your chosen styling products, how you dry it matters. Especially if you've got fine wavy and curly hair. Do NOT plop, ever! See this post for a list of other things you shouldn't do if you have fine hair.
For the best shape, volume and definition, I always recommend diffusing your hair as soon as possible, for as long as possible. On a medium heat, and medium speed. If you're in a hurry, up the speed not the heat. You're trying to dry your hair faster, not hotter. My favourite hair dryer is the Lanai BLO, with the Diva Professional XXL Universal Diffuser.
If time is really up against you, and you don't have time to diffuse it until it's fully dry. Then diffuse as soon as possible for however long you've got, then either root clip and let it air dry the rest of the way. Or use a cotton t-shirt, cotton towel like this one from Bouclème, or Aquis hair towel to scrunch dry.
But only do this AFTER you've diffused. Otherwise that dry towel or t-shirt will soak up your styling products, way quicker than your wet hair will! CURLMAVEN for 20% off both of those hair towels at LOOKFANTASTIC.
How to put it all together
Once you've got your products, I highly recommend reading this post: How to Build a Curly Hair Routine. It's how to put it all together, to build a routine that suits your hair and lifestyle. If budget is an issue or you just want to know where to invest your money in products, and where to save, read The High Low Routine.
Then once you've got your products and routine, read my Washday Workbook for all my best tips, tricks and techniques to get the best results from your products on washday. It features many of the tips and advice I give in my Curl Clinics.
And if you haven't read the previous blog posts on this series on fine wavy and curly hair, I highly recommend you do. Here's 10 Things You Shouldn't Do If You Have Fine Hair, and here's the 10 Things You Should Do If You Have Fine Hair.
Important!
Although this post is aimed to help you find the best hair products for fine wavy and curly hair. It all about trial and error; patience, persistence and consistency.
You need to try a product for at least 2-3 weeks to know if it's making a difference or working for your hair. And that's just to see any signs of improvement! It takes 4-6 weeks or sometimes more, to see more long-lasting improvement. Depending on how healthy/damaged your hair is. You simply cannot tell from one wash day!
But most importantly, if you want consistent results, you have to have a consistent routine! You cannot keep switching up your products and somehow expect your hair to look amazing every time.
Did you like this product recommendations post?
So that completes The Best Products for Fine Wavy + Curly Hair product recommendations post, and third in the fine hair series. What did you think? Have I introduced you to any new products that you want to try? Are there any products or brands I haven't mentioned, but you have found work really well for your fine wavy and curly hair? Or have I listed some products that just don't work for you? Let me know in the comments below.
Make sure you subscribe to the Curl Maven Collective Newsletter for exclusive giveaways and offers, new content, products and services. Follow me on Pinterest, Instagram and subscribe to my YouTube channel for more tips, advice and tutorials.
feeling overwhelmed + don't know where to start?
Book a Curl Clinic Consultation
Gratitude + Support
If you found this article or any of my content helpful and would like to show your Gratitude + Support, you can click here to make a donation. I'm so incredibly thankful and grateful to everyone who supports me, my content and my platform. Thank you!
Thank you for supporting this sponsored article which enables me to continue providing FREE, organic content and a website FREE from Google Ads and annoying pop ups.
*This article may contain some gifted items and affiliated links and discount codes. This doesn't effect my opinion or the way in which I write about products featured on this site.