35 signs you need to clarify your hair, no matter what hair type, pattern, porosity, texture, colour or density you have. It's essential to your hair routine for healthy hair and scalp, hair growth and shine.
People are often aware of or familiar with many of the symptoms listed throughout this post. But don't realise the problem is build up, and the solution is clarifying. Especially if you've experienced a product that seemed to stop working for you, this is the post for you!
35 Signs You Need to Clarify Your Hair
As you read through the 35 signs you need to clarify your hair, keep a tally of how many signs you notice you're experiencing in your own hair and let me know in the comments.
Then when you clarify your hair please come back to this post and let me know in the comments what difference or improvement you noticed.
The most common mistake I come across is people reaching for deep conditioners, hair masks or styling products to fix issues that are actually caused by build up.
And not clarifying often enough, regularly enough or using the correct chelating, clarifying shampoo – which I explain in more detail in Why & When You Should Clarify Your Hair, along with product recommendations.
Deep conditioning and styling products simply do not and cannot fix an issue that's caused by build up! Whether that's build up of limescale, metal and mineral deposits.
Or products and ingredients such as oils, waxes, butters and rich emollient, moisturising ingredients. So, here's 35 signs you need to clarify your hair: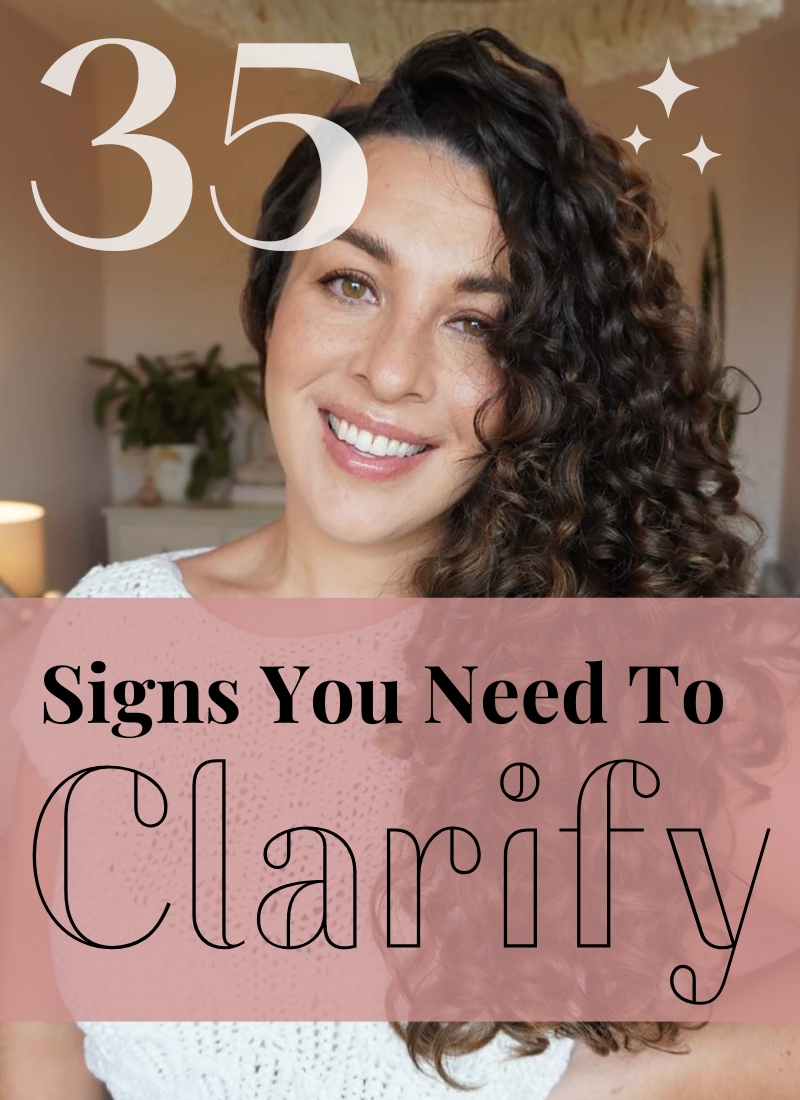 Products + Routine
Lets start with products and routine. There's a common. misconception that products can simply just stop working for your hair. This isn't true at all, it's just a sign of product build up (among other things), and you need to clarify.
Clarifying is like hitting the reset button, wiping the slate clean and starting again. Here's eleven signs you need to clarify your hair due to your products and routine:
You only or regularly co-wash
You regularly use dry shampoo
You use hair oils, or products that contain a lot of oils and butters in the ingredients list
You've been using conditioners, hair masks and curl creams that are quite heavy, rich and moisturizing
You have recently used or regularly use products that contain waxes and/or silicones
You've been using products that contain a lot of polyquats – although curly girl friendly, polyquats can often cause build up on the hair, acting similarly to silicones
You're starting a new routine or new hair products
Products are no longer working – you're not getting the same results you used to, even though you're using the same products and technique that have always worked for you
It's been a month or more since you last clarified your hair – I recommend clarifying once/month for most hair types. Maximum once every 3 weeks, and minimum of once every 6 weeks.
You're about to start the curly girl method
You follow the curly girl method and find it's just not working for you
The curly girl method doesn't actually suit most people long term, especially fine, and/or wavy and curly hair types. That's how and why I created the Curl Maven Method, and the biggest difference between the two methods is clarifying!
Recommended Reading: How to Build a Curly Hair Routine and The High Low Hair Routine
Dry, Brittle Hair
This may trip some people up, because chelating, clarifying shampoos contain sulfates and are known to be quite drying on the hair. But build up, from things like oils – which reject and repel water (aka hydration), which is the one thing dry hair needs.
Limescale and hard water, as well as butters and emollients can all build up a non-permeable barrier on the hair that prevents the hair from being able to properly absorb hydration (from water) and moisture (from products such as conditioners and hair masks).
It's this prevention of absorption (caused by build up) which causes the hair to become dry and brittle. Here's six signs you need to clarify your hair and why it's so important, even if your hair is weak, dry, brittle, snapping and breaking:
Your hair looks and feels dry, no matter what products you use, how much you use, how long you leave them in your hair or how little you rinse them out
Hair doesn't seem to be absorbing products, especially conditioners and hair masks, they seem to just sit on top of the hair
Your hair is breaking more often and more easily than usual
Hair looks dull, whether it's coloured or not, there's just no shine
Your hair is getting progressively drier, sometimes even straw-like, snapping and breaking
You have lots of split ends
If you have really dry, brittle hair I highly recommend you get the Sallys Ion Hard Water Shampoo. It's the least drying out of all the chelating, clarifying shampoos I've tried.
And use my Curl Maven Thermal Heat Cap with your preferred conditioner, deep conditioner or hair mask. It will boost the benefits of your chosen product, giving you salon-quality results, shine and hydration at home.
Hard Water, Swimming + Vacation
If you live in a hard water area – which is almost everyone in the USA, UK and EU. You need to clarify your hair, even if you have a water softener or filter. A filter will do exactly that, filter – it doesn't block or remove.
So although you might reduce the hardness of the water. Or filter out some of the metal and mineral deposits from the hair, you won't completely eliminate everything.
You swim – regularly or just on vacation. In rivers, lakes, the sea, ocean or pool. With chlorine, salt, mineral and metal deposits
You live in a hard water area. Key signs are your kettle, coffee machine, taps (faucets) and shower head are full of a white powdery substance which is limescale. Or your skin feels really dry and parched when you get out the shower/bath
Recommended Reading: Summer Haircare Tips and Why & When You Should Clarify Your Hair
Hair Types
There are hair types that are more susceptible to build up. Or sometimes it just feels like your hair is full of product, or doesn't feel properly clean. Here's another six signs you need to clarify your hair:
You have fine hair
Hair feels weighed down or just full of product
Hair still feels dirty, greasy, oily or full of product even after you've washed it
You have low density hair (which means you don't have a lot of hair)
You have low porosity hair – this hair type suffers from build up more than other porosities. If you're not sure what hair porosity you have, read this post.
You have high porosity hair – this hair type holds onto as much moisture as possible, so tends to lean a little on the over-moisturised side and needs regular clarifying to reduce the moisture in the hair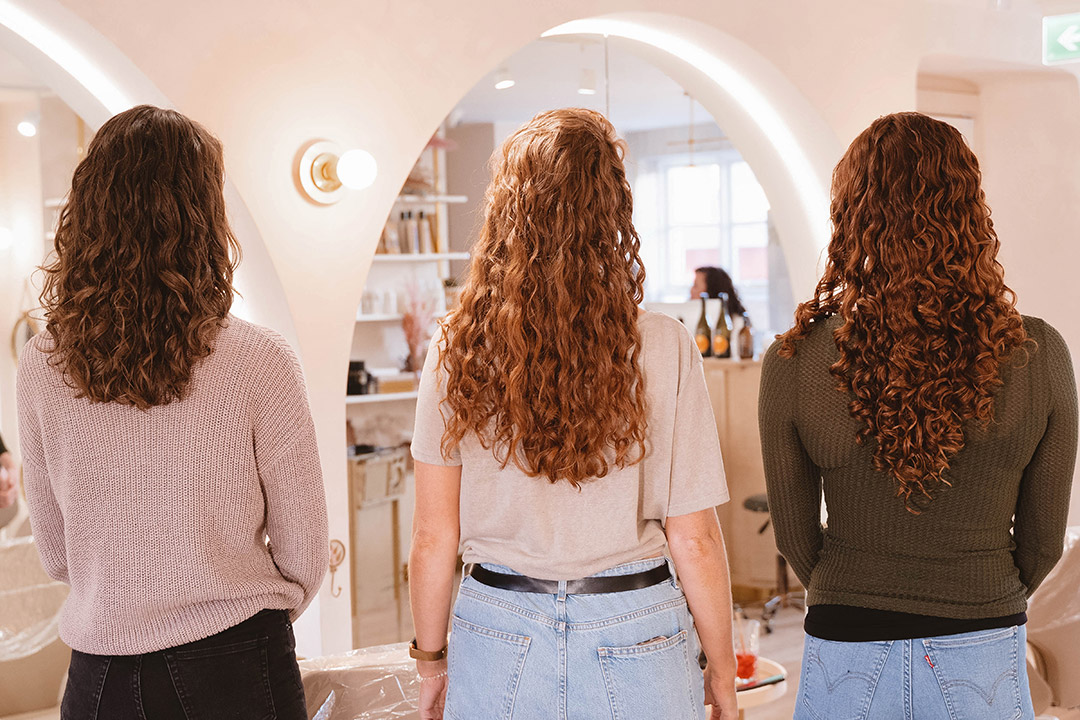 Recommended Reading: 10 Things You Shouldn't Do If You Have Fine Hair, 10 Things You Should Do If You Have Fine Hair and The Best Products for Fine Wavy & Curly Hair
Grey, Coloured or Highlighted Hair
Okay this is where there's often a lot of confusion when it comes to how often or even if you should clarify your hair. Mostly because chelating, clarifying shampoos say "not suitable for colour treated hair." But this doesn't apply to how I recommend you clarify your hair. Or the tips and advice I share in this post or on this site.
I talk more about this, and the (mis)use and/or overuse of blue and purple shampoos, and toners on grey, blonde and highlighted hair in Understanding Hair Products + Application Techniques. But in short, here's three signs you need to clarify your hair if it's grey, blonde, highlighted or coloured:
You're about to get your hair coloured, highlighted, root touch up or gloss – always clarify your hair on the washday before your colour appointment
Grey, blonde or highlighted hair looks yellow, green, orange or copper
You've been using blue or purple shampoos, and may even have a blue or purple hue/residue on your hair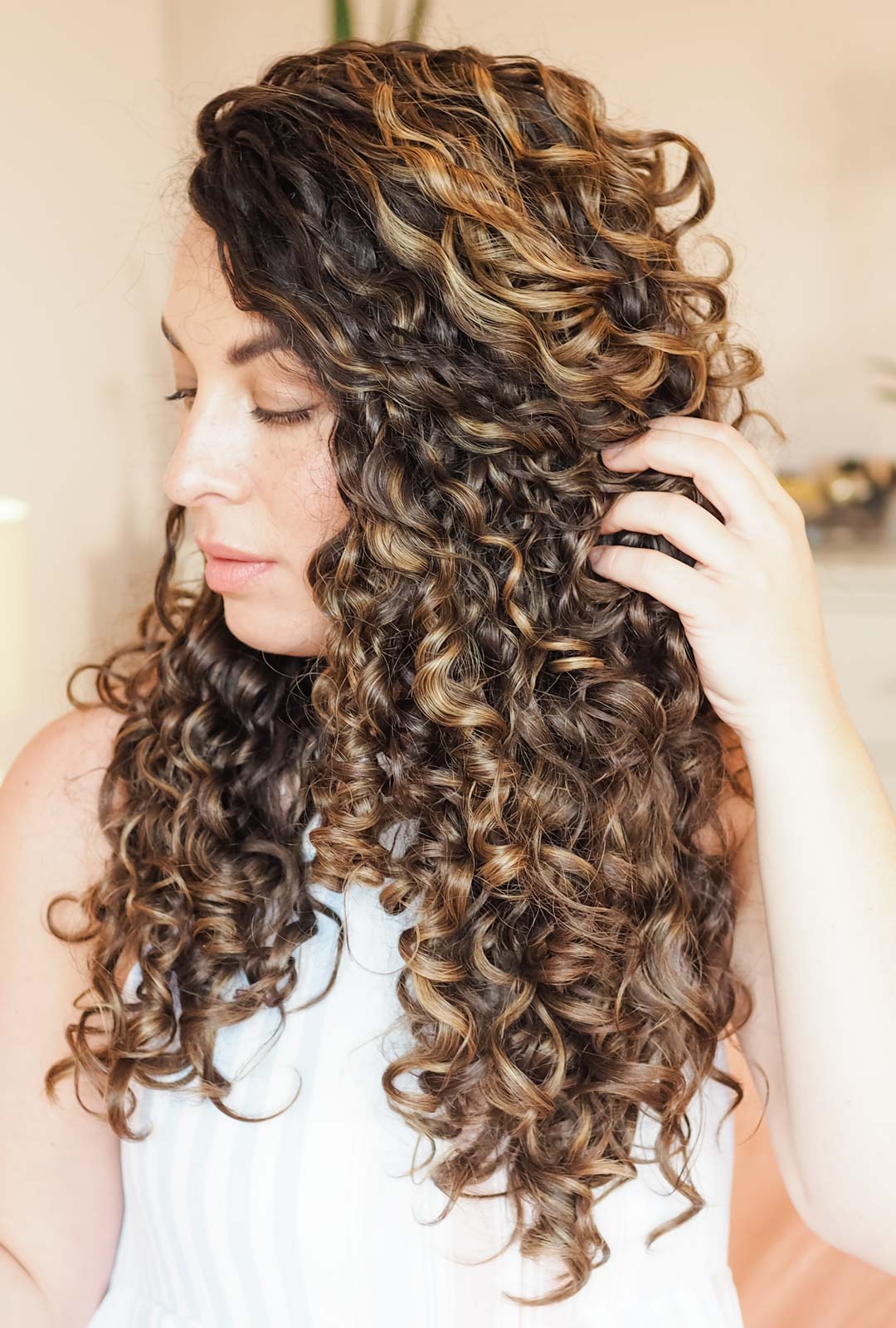 Recommended Reading: How to Maintain Healthy Hair when Colouring
Scalp Issues + Hair Loss
Build up, of various kinds discussed throughout this post, doesn't just cause issues to our hair. But also our scalp, and scalp health. Often resulting in hair loss, excess shedding and thinning. If you're experiencing any of those issues, here's four signs you need to clarify:
You have oily, greasy roots
Scalp feels dry, itchy or irritated and/or you have dandruff or a flaky scalp
You're loosing more hair than usual – build up can clog the hair follicles, preventing growth and causing excess hair loss and shedding
A dull, white film-like residue on your scalp and hair, especially if you scratch your scalp with your nails, and/or sometimes tiny white flakes all the way down the hair strand
You don't want to clarify too often, so if you find you're experiencing these scalp issues more often. I highly recommend Act + Acre's Scalp Detox which can be used once/week before washday.
It helps combat all of the symptoms listed above and is suitable for all hair types. You can get 20% off your first order on the US Act + Acre website, or available at Cult Beauty who ship worldwide.
Volume, Frizz + Definition
When trying to problem solve the cause of frizz, it can always be a little tricky. Because yes, "frizz is just a curl waiting to happen", but the solution isn't always moisture. Frizz can mean too much moisture – which means you actually need protein or not enough moisture.
Other times it can be not enough water/hydration and nothing to do with protein or moisture at all. Lack of volume could be too much product, and lack of definition could be not enough product – or the right product.
But frizz, along with lack of volume and definition can also be a sign of build up and that you need to clarify your hair. Which is a much quicker, and easier fix than a Protein Moisture Balance issue. So here's the final 3 of the 35 signs you need to clarify your hair:
Lack of root lift and volume
Limp, lifeless waves and curls lacking volume, bounce and definition
Frizz – whether its dry, wiry frizz or soft and fluffy frizz
So as you can see from these 35 signs you need to clarify your hair, everyone should be doing it! Read this post on Why & When You Should Clarify Your Hair for more information, tips and advice about clarifying as well as product recommendations for the different and best chelating and clarifying shampoos.
Was this post helpful? Were you aware of clarifying and how important it is to all hair types? Comment below what signs were your "ah-ha" moments.
Make sure you subscribe to the Curl Maven Collective Newsletter for exclusive giveaways and offers, new content, products and services. Follow me on Pinterest, Instagram and subscribe to my YouTube channel for more tips, advice and tutorials.
feeling overwhelmed + don't know where to start?
Book a Curl Clinic Consultation
Gratitude + Support
If you found this article or any of my content helpful and would like to show your Gratitude + Support, you can click here to make a donation. I'm so incredibly thankful and grateful to everyone who supports me, my content and my platform. Thank you!
*This article may contain some gifted items and affiliated links and discount codes. This doesn't effect my opinion or the way in which I write about products featured on this site.