Here's my review of the best Pattern Beauty products for wavy and curly hair. I don't think there's been so much hype, excitement and anticipation about a new brand launch in the curl community and natural hair community as there was when Tracee Ellis Ross launched Pattern Beauty. I mean, an iconic woman, with iconic hair, launching a brand of products with instantly recognisable, iconic packaging.
AD | This article is sponsored by LOOKFANTASTIC. However, this hasn't influenced my opinion or the way I've written about the brands or products featured in this article. Use code CURLMAVEN for an exclusive 20% off Pattern Beauty at LOOKFANTASTIC.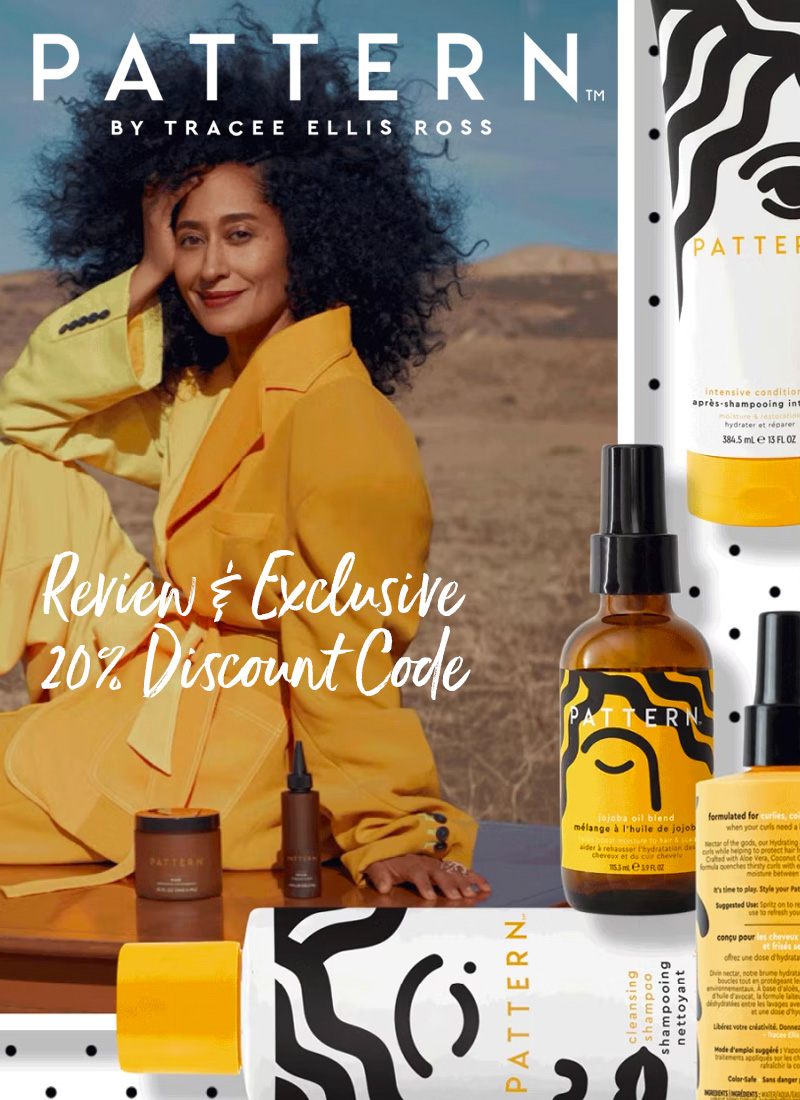 Pattern Beauty Review & Discount Code
Tracee Ellis Ross came out with intention, purpose and inclusivity for all curly hair types when she created Pattern Beauty. Which has gone on to win multiple awards since it's launch in the USA in 2019.
And is now available in the UK, EU and worldwide at LOOKFANTASTIC. With an exclusive 20% discount code across all Pattern Beauty products, tools and accessories using code CURLMAVEN at checkout.
So often in the wavy and curly community, we try products that were simply not meant, made or formulated for our finer hair texture. But that's not the case with Pattern Beauty. Waves, curls, coils and afro and tight textures have all been thoughtfully considered.
"Natural hair products done right. Pattern Beauty has everything you need for juicy, joyful, and healthy hair. By Black hair for Black hair."
And I agree, but Pattern Beauty have created a line of products that has something for every curl type. Within a wide variety of products, ranging from £7-25. Making this multi-award winning, much loved and highly reviewed range incredibly affordable, especially with my 20% discount code CURLMAVEN at LOOKFANTASTIC!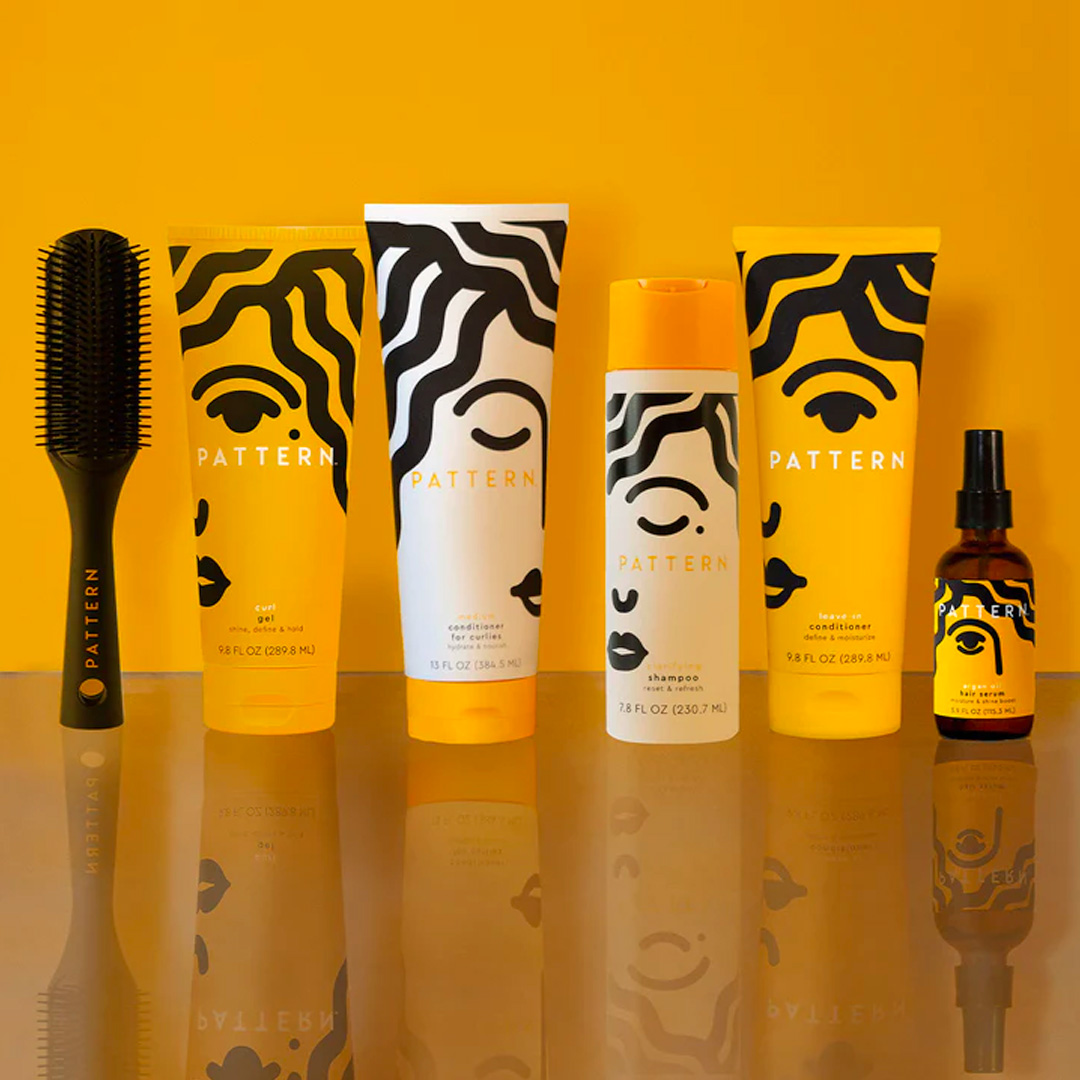 Products & Iconic Packaging
The first thing that anyone notices about the Pattern Beauty Products is the iconic packaging, which is all recyclable btw! I love the colour combination of yellow and white with bold, black graphic designs of faces and waves.
But my favourite thing about Pattern Beauty products is their holistic approach to the lines of shampoo and conditioner, in particular.
Pattern Beauty have thoughtfully designed and carefully formulated a wide variety of hair care products, tools and accessories. Promising to "nourish your hair with affordable and effective products and cherish your health with safe ingredients."
Pattern Beauty is vegan, cruelty-free and some (but not all) of the products are curly girl friendly. I was so excited when they became available on LOOKFANTASTIC and my exclusive 20% discount code works across all the Pattern Beauty products and accessories when you use my code CURLMAVEN at checkout.
All products are also available in the cutest travel sizes, except for the Jojoba Oil Blend Serum and Argan Oil Blend Serum.
Pattern Cleansing Shampoo
Pattern Beauty understand that fine hair gets easily weighed down, and that thicker, coarser hair types are often more dry and need more moisture. And so they've formulated their shampoos and conditioners into categories. All my favourite curly hair brands do this!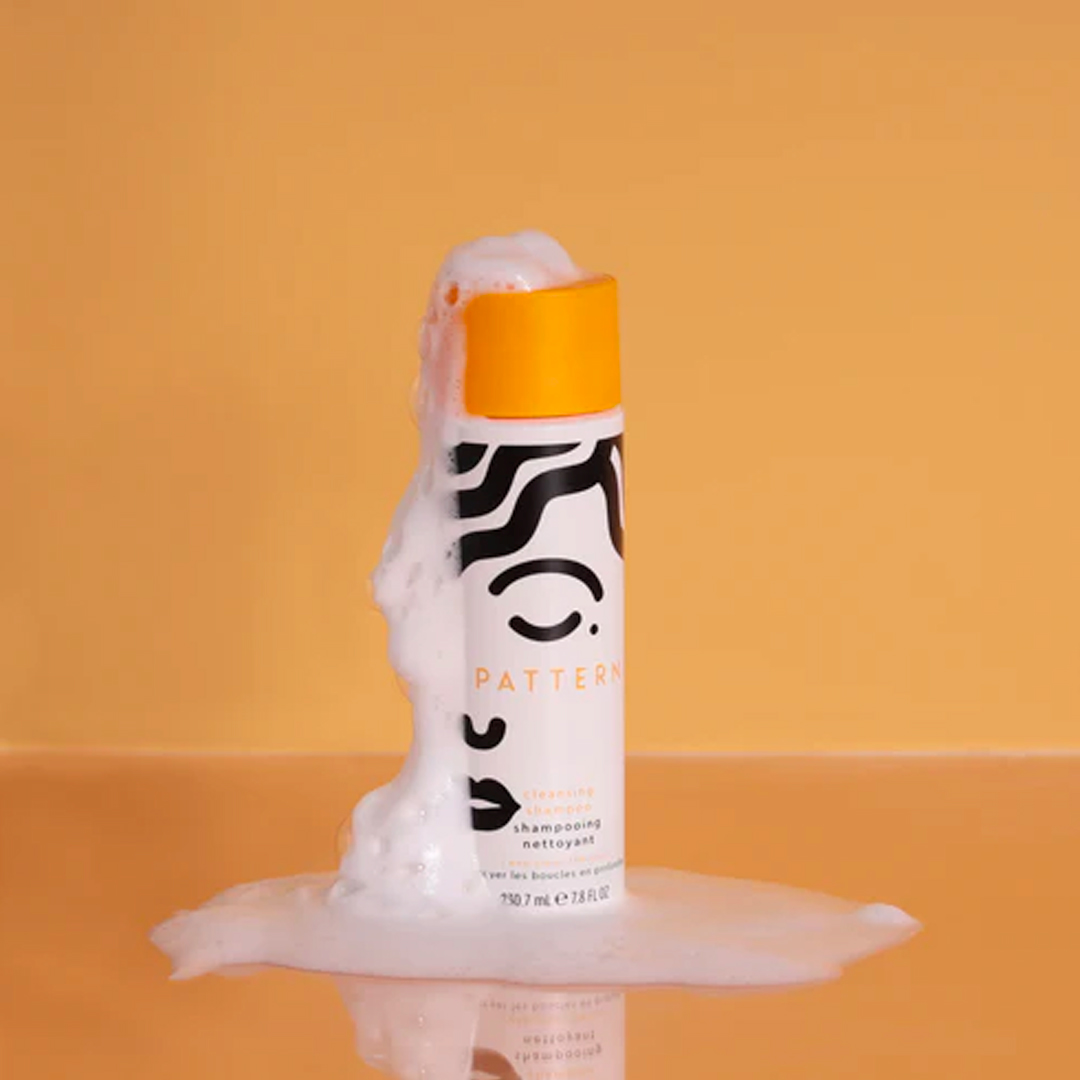 My favourite is the Pattern Cleansing Shampoo, which is a low-lathering shampoo perfect for all hair types, but especially for wavy and curly hair. I adore this shampoo! It doesn't strip or dry out my hair, it's hydrating but not heavy, gives a gorgeous lather and a little goes a long way.
Best applied to soaking wet hair. Massage into the roots and scalp, cleanse all the way down the lengths of the hair, then rinse fully. It's gentle enough to use 2-3 times a week without drying it out.
Pattern Beauty Conditioners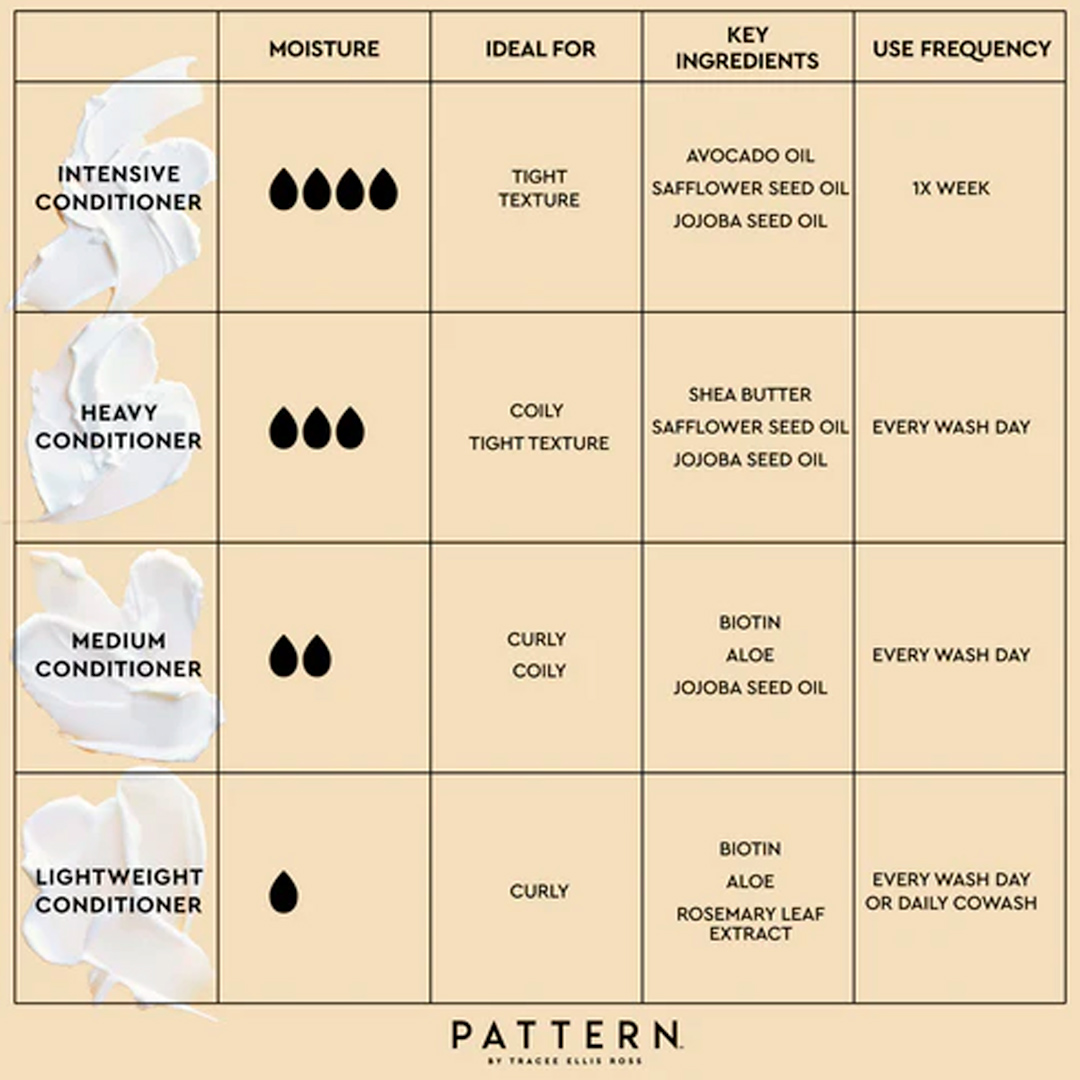 Pattern Lightweight Conditioner
I tried out the Pattern Lightweight Conditioner, which can also be used as a co-wash for type 4 coily hair types. Or as a conditioner for fine, wavy and curly hair. If you're looking for a lightweight conditioner that's great for detangling, this is a really great one! It's also curly girl friendly, if you follow that method.
Pattern Medium Conditioner
I also tried the Pattern Medium Conditioner which is a thicker, richer texture and consistency. It contains a lot more oils than the Pattern Lightweight Conditoner. Formulated to hydrate and nourish, it's more suited to dry, damaged, curl, coily or afro, tight textured hair.
It isn't curly girl friendly, but it does contain a small amount of protein. It has great slip, but I found the Pattern Lightweight Conditioner better for detangling. Use sparingly, applied to soaking wet hair. Use less than you think you need, and add more water if you think you need more product or slip to detangle. And/or use the Pattern Shower Brush or my beloved Denman Paddle Brush.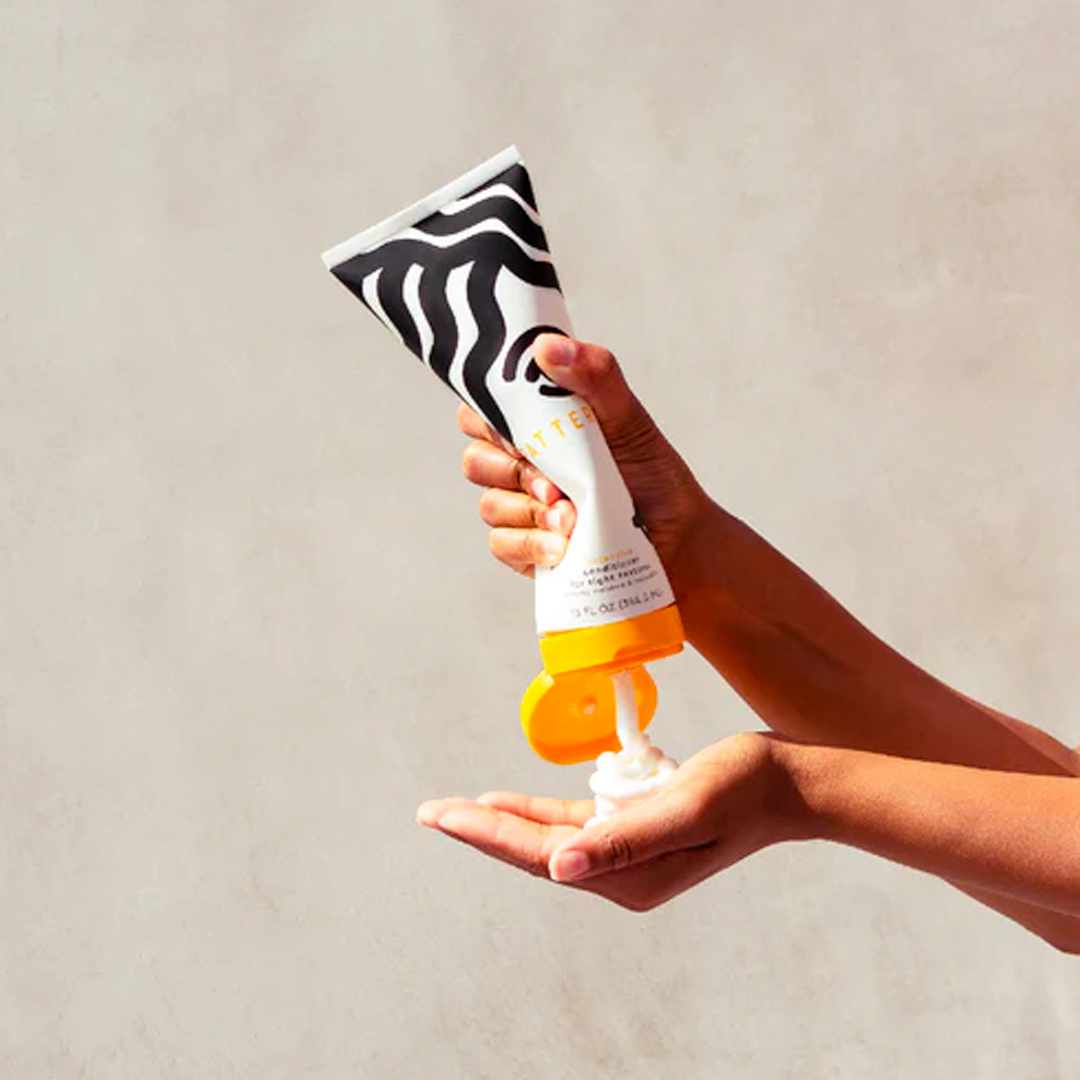 Pattern Heavy + Intensive Conditioner
I didn't try either of these, as they weren't designed or formulated for my hair type, texture and pattern. But there's also the Pattern Heavy Conditioner, designed to deeply condition and nourish. It's suited to more dry, damaged and thicker, coarser hair or afro, coily hair types.
And the Pattern Intensive Conditioner, which is the richest Pattern conditioner, designed more as a treatment mask or deep conditioner for dry, damaged, brittle curls and coils.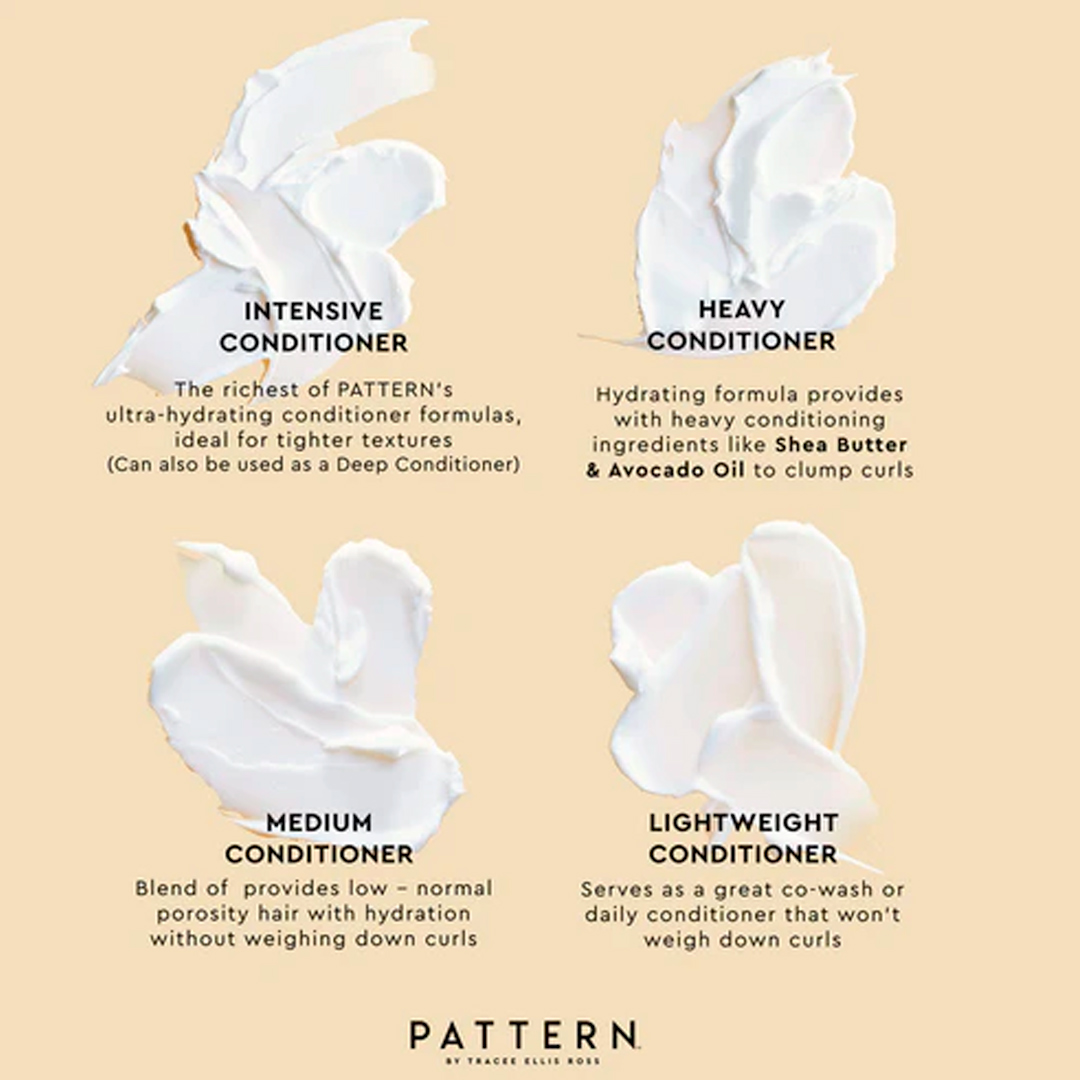 Pattern Beauty Styling Products
I haven't got to try out all the Pattern Beauty styling products yet. They recently launched a mousse (foam) and a custard. I can't wait to try them both, because as you know if you've read any of my content before – I love mousses, foams and custards!
They are the best products to use if you want big fat juicy curl clumps and definition. So I'll just include the products I have used and tried in this Pattern Beauty Review, and then I'll let you know as soon as they're available on LOOKFANTASTIC, don't worry!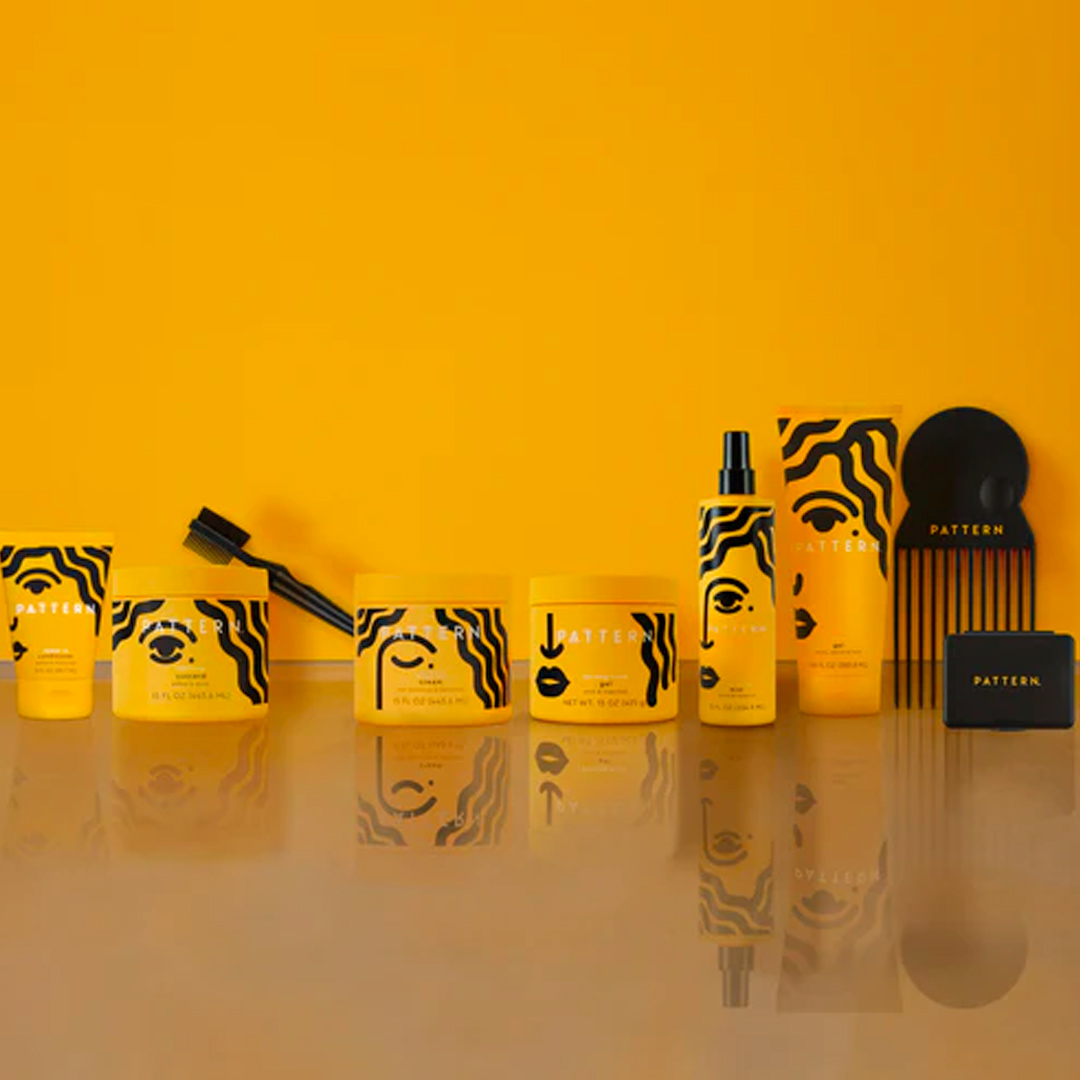 Pattern Leave In Conditioner
I've tried some of the other styling products, with some pleasant and unexpected surprises. Let's start with the Pattern Leave In Conditioner, which was a pleasant surprise. For some reason I was expecting it to be heavy, but it isn't at all!
It gives lightweight moisture, great slip and shine, hydration without being heavy. It's suitable for all hair types, even fine hair that gets easily weighed down. But it's not curly girl friendly, if you follow that method.
Pattern Curl Gel
The Pattern Curl Gel is the most unexpected surprise in this Pattern Beauty Review. I was expecting a traditional gel texture, but instead it's a gorgeous smooth, creamy formula, which I actually really like! If you want defined, bouncy and juicy curls with medium hold and touchable softness. Then look no further, the Pattern Curl Gel is the gel for you!
It's curly girl friendly, and contains some protein – which helps to define, strengthen and hold a curl. It would be a really great one-and-done styler if you want hydration, definition, curl clumps and medium hold. It's kind of like a smoother, creamier version of a curl custard. It plays really well with other defining styling products such as mousses and foams.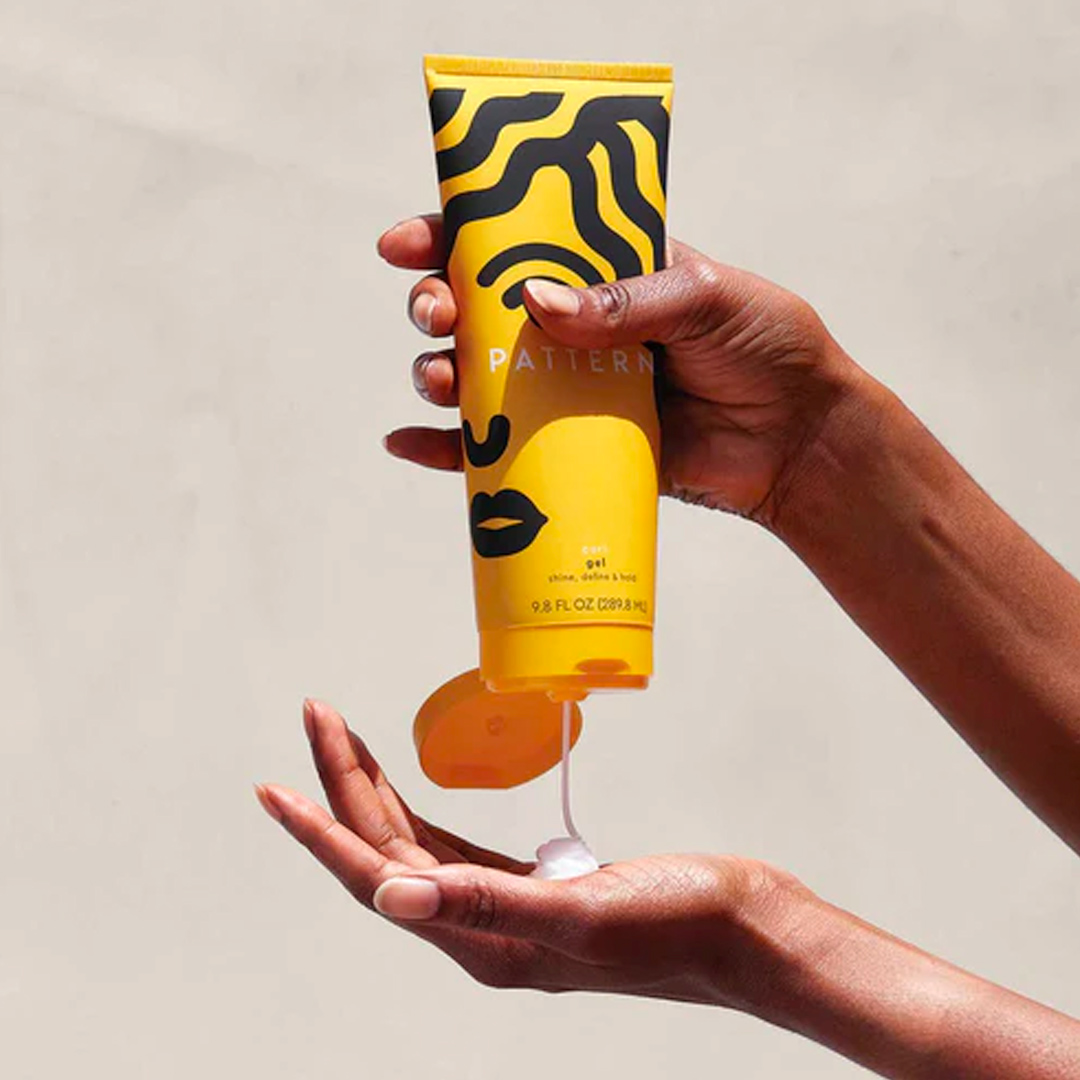 Pattern Strong Hold Gel
The only surprise here was just how strong the hold was. Pattern Strong Hold Gel is not playing around! The texture is very thick and quite sticky, providing long-lasting strong hold, for daaayyyyzzz!!!
To get the best results from this curly girl friendly gel, you need to apply it to wet hair, using wet hands. Smooth it down using praying hands method and then use a brush to distribute, detangle and define before gently scrunching to enhance definition.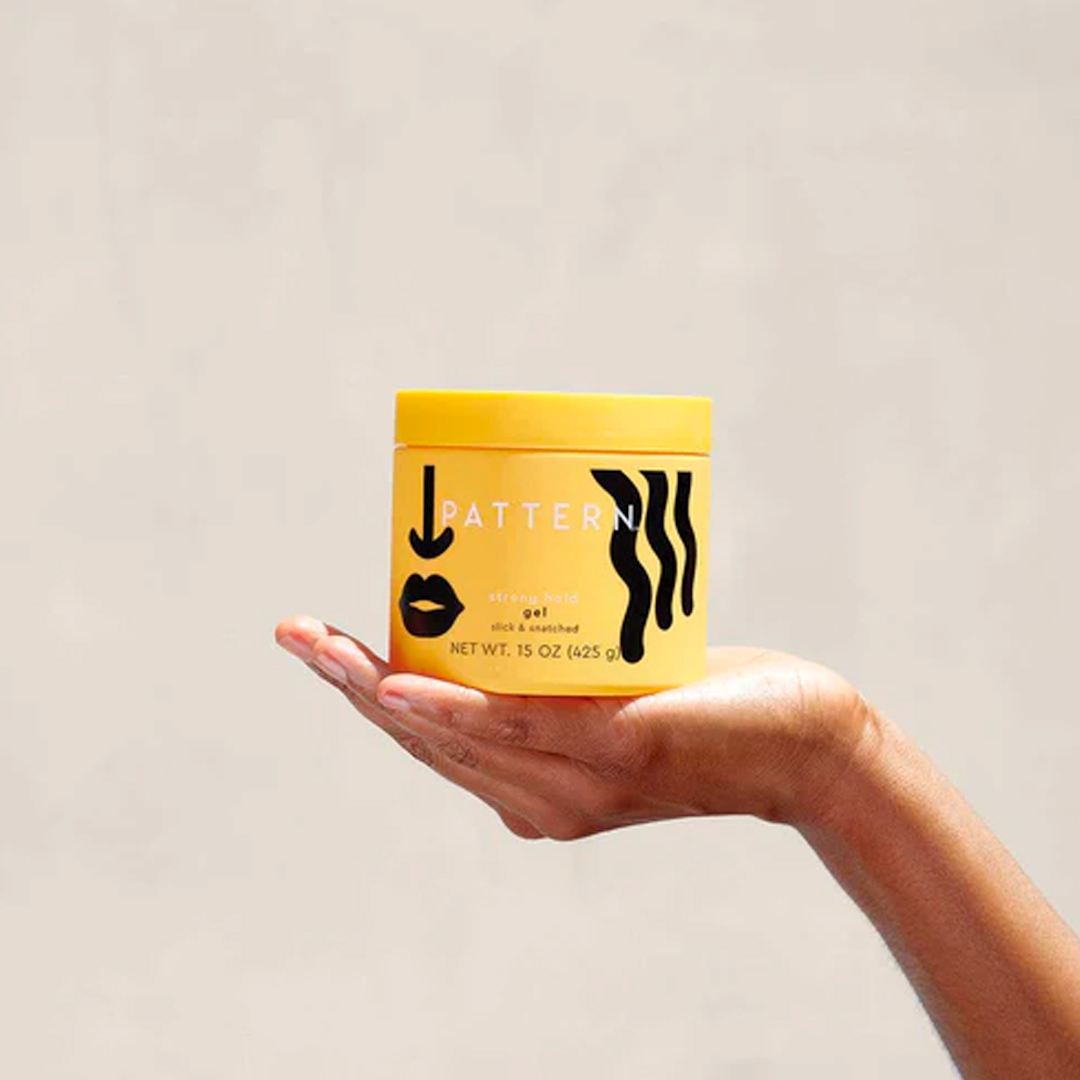 Pattern Hydrating Mist
Pattern Hydrating Mist is a milky formula designed to refresh and reactivate curls in between washdays. Particularly if you have dry, frizzy, knotty or tangled hair. I especially love to use and recommend products like these for kids hair of all patterns, even straight! It makes hair styles and getting ready for school so much quicker, easier and less stress, knots and tangles.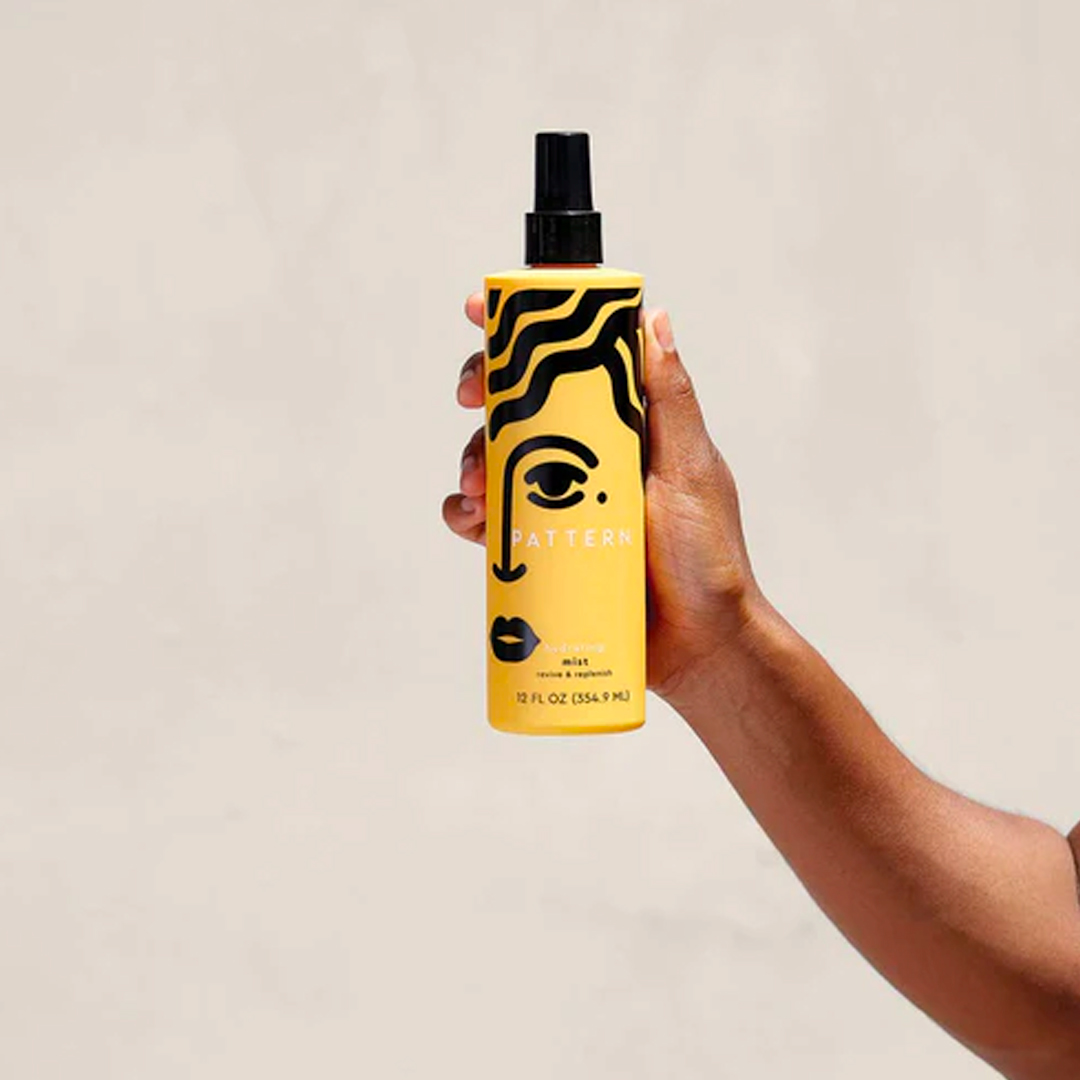 Pattern Accessories
Pattern Beauty also have a range of accessories, such as a Hair Clip, Shower Brush and Edge Tool. But my favourite is the Pattern Microfiber Hair Towel. This is very similar to the Aquis Lisse Luxe Towels that I love, but much more affordable! It's not quite as big, but definitely big enough to plop or scrunch dry. There's also a gorgeous Hair Pick, which is great for fluffing the roots to create some root lift and volume!
---
I hope you enjoyed this Pattern Beauty review, and found it helpful! Let me know in the comments if you have any questions. Remember to use my exclusive discount code CURLMAVEN to get 20% off Pattern Beauty at LOOKFANTASTIC.
Make sure you subscribe to the Curl Maven Collective Newsletter for exclusive giveaways and offers, new content, products and services. Follow me on Pinterest, Instagram and subscribe to my YouTube channel for more tips, advice and tutorials.
feeling overwhelmed + don't know where to start?
Book a Curl Clinic Consultation
Gratitude + Support
If you found this article or any of my content helpful and would like to show your Gratitude + Support, you can click here to make a donation. I'm so incredibly thankful and grateful to everyone who supports me, my content and my platform. Thank you!
Thank you for supporting this sponsored article which enables me to continue providing FREE, organic content and a website FREE from Google Ads and annoying pop ups.
*This article may contain some gifted items and affiliated links and discount codes. This doesn't effect my opinion or the way in which I write about products featured on this site.