It's been just over a year since I wrote the first post on curly girl products from LOOKFANTASTIC. Since then, they've added more, so I'm featuring 10 new curly girl brands at LOOKFANTASTIC in this post. Some are well known, much loved and cult favourite brands. Others are newer brands who have recently launched in the curl community.
There's a common misconception that it's really difficult to get curly girl friendly products outside of the USA. And while that used to be mostly true, particularly if you were looking to shop on the high street. It's not the case anymore, especially if you shop online. Here are 10 New Curly Girl Brands available at LOOKFANTASTIC. And you can get 20% discount using my code CURLMAVEN.
AD | This post is sponsored by LOOKFANTASTIC, who I work with on an ongoing basis. They offer FREE worldwide shipping, and you can get 20% off using code CURLMAVEN Sponsored posts enable me to continue providing FREE content, create organic content and keep my blog FREE from Google Ads. However, this hasn't influenced the way I've written about the brand or the products featured in this post.
New Curly Girl Brands at LOOKFANTASTIC
Some of the new curly girl brands in this post have been on LOOKFANTASTIC for a few months. Others have just launched in the last few days! I'm so excited because my discount code works on all of them! However, there are a couple of brands that aren't available on LOOKFANTASTIC in the USA or Canada.
As always, I'll give a little brand introduction. Or a mini review of some of my favourite products from the brands featured in this post. Most of them are 100% vegan and organic and/or Black-owned businesses, which is great! If you'd like to see what other curly girl friendly brands are available at LOOKFANTASTIC, check out the first post I wrote here.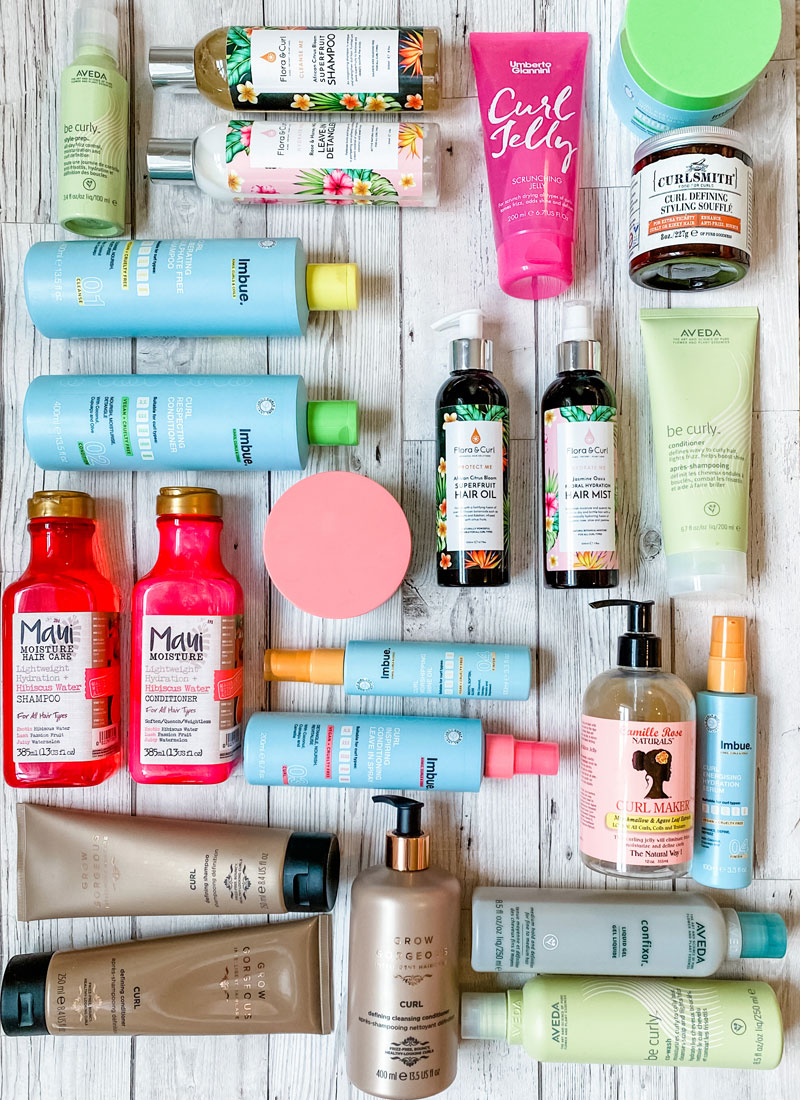 Book a Curl Clinic with me!
If you're feeling overwhelmed with all the information and product recommendations, and just want to know what products and techniques will suit YOUR hair. Then book a Curl Clinic with me for a completely bespoke service specifically tailored to suit you and your hair. They're a 30 minute video consultation, where we discuss your hair, current routine, products, techniques and what issues you're struggling with. I then put together a routine of recommended products and techniques to help you achieve your healthy hair goals. Click here for more information.
Aveda
Aveda, an iconic name in hair care, and a brand that needs no introduction. LOOKFANTASTIC stock pretty much every Aveda product there is! The Be Curly range is a CG friendly line of products that's great if you've got dry, frizzy curls that need lots of moisture. But I believe there's quite a few different lines which are CG.
Although it's not curly girl friendly, as it contains a drying alcohol and a water soluble silicone. My sister swears by Aveda Confixor Liquid Gel for her looser waves. I have thicker, curlier hair than her, but I love it too. Especially when my hair is a little on the over-moisturized side and I don't mind the drying alcohol. Check out the full Aveda line here, and get 20% off using code CURLMAVEN. *Not available on the US/Canada site.
Camille Rose
Camille Rose is a vegan, curly girl friendly brand that launched on LOOKFANTASTIC last year. A Black-owned business, specifically designed for curly and afro textured, kinky-coily hair. Lightweight products and botanical blends that feature herbs, plant extracts and oils. Popular products among curlies are the Coconut Water Leave In Treatment and Curl Maker Curling Jelly. Check out Camille Rose here, and get 20% off using code CURLMAVEN.
Curlsmith
This is huge! Curlsmith is now available at LOOKFANTASTIC! AND you can get 20% off Curlsmith using my discount code CURLMAVEN. It's one of LOOKFANTASTIC's newest launches in 2021. Curlsmith is an instantly recognisable brand in the curl community, and one I get asked about a lot! I'm really excited to try their Moisture Memory Reactivator and Hold Me Softly Style Balm, which even comes in a travel size! LOOKFANTASTIC stock the full Moisture line, including the popular Curl Defining Styling Soufflé.
The Scalp line is also available at LOOKFANTASTIC, including the Scalp Stimulating Booster and Full Lengths Density Elixir. Both of which I want to try! I really hope LOOKFANTASTIC stock the new Curlsmith Strength Line, which is more focused on protein and has a styling foam. Right up my street! Check out Curlsmith here, and get 20% off using code CURLMAVEN. Don't forget they ship worldwide!
Flora & Curl
Plant powered curl care at its finest, and another recent launch. Flora & Curl is now available at LOOKFANTASTIC, and it sells out quickly! A British, Black-owned business, specifically designed to nourish, hydrate, soothe and protect all curl types. Featuring lots of natural plant extracts and oils, the signature Flora & Curl scent is amazing! Kind of spicy floral…
The Leave In Detangler is my second favourite leave in conditioner of all time. This is a curly girl brand I've been wanting to try more from, especially their Organic Rose & Honey Cream Shampoo and Conditioner. Check out Flora & Curl at LOOKFANTASTIC here, and get 20% off using code CURLMAVEN. *Not available on the US/Canada site.
Grow Gorgeous
Grow Gorgeous is a brand I've seen a lot lately, and now available at LOOKFANTASTIC. I tried their Curl Collection recently, and apart from the scent, I was pleasantly surprised! I love the simple, easily recognisable and identifiable packaging. They have several lines including Curl, Volume, Detox, Repair and Intense, as well as hair growth serums. LOOKFANTASTIC also have really great Grow Gorgeous bundles, I got the Curl Collection. Worth £83 pounds, but just £60 with my 20% discount code CURLMAVEN.
It includes the Curl Defining Shampoo and Conditioner – which you can also get in duo bundle here for just £21. And their Curl Defining Cleansing Conditioner – a cleansing co-wash essentially, and the Curl Defining Leave In Butter. Also included in the Curl Collection Bundle, but everything is available individually. Check out the full Grow Gorgeous range at LOOKFANTASTIC here, and get 20% off using code CURLMAVEN.
Imbue
Imbue is new to the curly hair community in 2020 and another British, Black-owned business. I first spotted this brand when I recognised the face of the brand, my good friend Lal. Lal has also written a few posts on this blog if you'd like to check them out. Imbue was founded by celebrity stylist, Michelle Sultan who has styled Mel B, Jennifer Hudson and Alesha Dixon's hair. Imbue is a new vegan hair care brand designed specifically for curly and coily hair.
Despite the claims on their website, not all of their products are 100% CG friendly. Their conditioner contains a water soluble silicone. So bear that in mind if you're a strict follower of the curly girl method. But the rest of the line is curly girl friendly, simple and easy to use. It also gives really amazing shine! So if that's something you struggle with, and you don't mind a water soluble silicone in your conditioner. This brand could be for you! Check out Imbue at LOOKFANTASTIC here, and get 20% off using code CURLMAVEN.
Maui Moisture
Maui Moisture is another recent launch at LOOKFANTASTIC, and a really great affordable one too! The clue is in the name here folks: Maui MOISTURE! My hair tends to always lean a little on the over moisturized side, so I haven't tried many products from this brand.
Maui Moisture have fifteen different lines of affordable, vegan hair care products. Each range includes a shampoo, conditioner, and a hair mask or styling product. They sell out quite quickly, but stock is replenished regularly. Check out Maui Moisture at LOOKFANTASTIC here, and get 20% off using code CURLMAVEN.
Mielle
Another popular American brand of products specifically designed for curly hair. Mielle is now available at LOOKFANTASTIC. A Black-owned business, affordable, organic, vegan and made with natural ingredients. Check out the range of Mielle products at LOOKFANTASTIC here, and get 20% off using code CURLMAVEN.
Phyto
Phyto has been around since the 60's! Founded by celebrity stylist, Patrick Alès – who also invented the iconic "blow-dry." Although they weren't designed specifically for curly hair, most Phyto products are CG friendly. Made using natural, botanical ingredients, plant extracts and oils. I feel like they're often unknown, over-looked and under-rated. I absolutely love the Phyto Joba Moisturizing Mask! It's out of stock at the time of writing, but I'll link it here just in case.
Their 7 Daily Hydrating Cream first launched in 1968, and is great for taking on vacation to protect your hair from the sun, ocean and pool. If your hair is very dry, check out the 9 Daily Ultra Nourishing Cream instead. Or if you have coloured or highlighted hair, check out the Phytocolour Care Mask. Check out Phyto at LOOKFANTASTIC here, and get 20% off using code CURLMAVEN.
Umberto Giannini
Umberto Giannini Curl Jelly is one of my favourite curly girl friendly budget gels! Unfortunately, nothing else from the brand is CG friendly, but it's such a great gel. I had to include the brand in this list of new curly girl brands at LOOKFANTASTIC.
It's iconic, instantly recognisable and I always have a bottle on my shelf. Not too thick or sticky, it gives great curl definition with long-lasting, medium to strong hold. It plays well with other styling products, perfect for my LMG Method. Already super affordable, get 20% off Umberto Giannini Curl Jelly using code CURLMAVEN.
---
I don't know about you, but there's some really exciting new launches in hair care at LOOKFANTASTIC! It's great to see big brands that offer things like free worldwide shipping and discount codes cater to the curl community. It's been a long time coming, but I'm so happy to be a part of it!
I hope you found this post, and my mini reviews and brand introductions helpful. If you have any questions, pop them in the comments below. What other curly girl friendly brands would you like to see on LOOKFANTASTIC? I'd love AG Hair and TréLuxe. Comment below to let me, and LOOKFANTASTIC know!
Make sure to subscribe to my Curl Maven Collective Newsletter, for new content and exclusive giveaways for subscribers only. Subscribers are also the first to know about new events and masterclasses.
Check me out on Pinterest and subscribe to my YouTube channel. As I'm going to be doing lots more on there this year, which I'm so excited about!
Feeling overwhelmed?
But if you're still feeling overwhelmed, or you just want me to put everything together for you in one routine. Designed to suit your hair type, lifestyle, budget or healthy hair goals. Where I tell you what to use, where to buy it and when and how to use it.
Then I highly recommend you book in for a Curl Clinic, which is a 1:1 consultation where I do just that! You can find out more info here, or read lots of reviews and book here.
Also available as a Gift Voucher if you'd like to give the gift of curls to someone else, or drop a hint to a friend, family member or loved one.
Gratitude & Support
I work hard to ensure this site is free from annoying pop ups and Google Ads ruining your experience. If you found this post or any of my content helpful, and would like to show your Gratitude & Support, you can click here to make a donation.
I'm so incredibly thankful and grateful to everyone who supports me, my content and my platform. Thank you so much! Gabriella x
*This post may contain some gifted items and affiliate links. Which means I get paid (a very small) commission on any products you purchase through my links. This in no way affects you, the price you pay or the way in which I write about products featured on this site. My content and opinion is not influenced by advertisers, sponsorships, affiliate partnerships, brands or PRs.