I've been doing this rice water for hair treatment for years now and this is what I've found has worked best for my hair. It's soft, yet strong. I've got hydrated curls, and frizz-free definition that lasts day after day. Instead of my curls dropping and falling limp and lifeless within hours of my washday.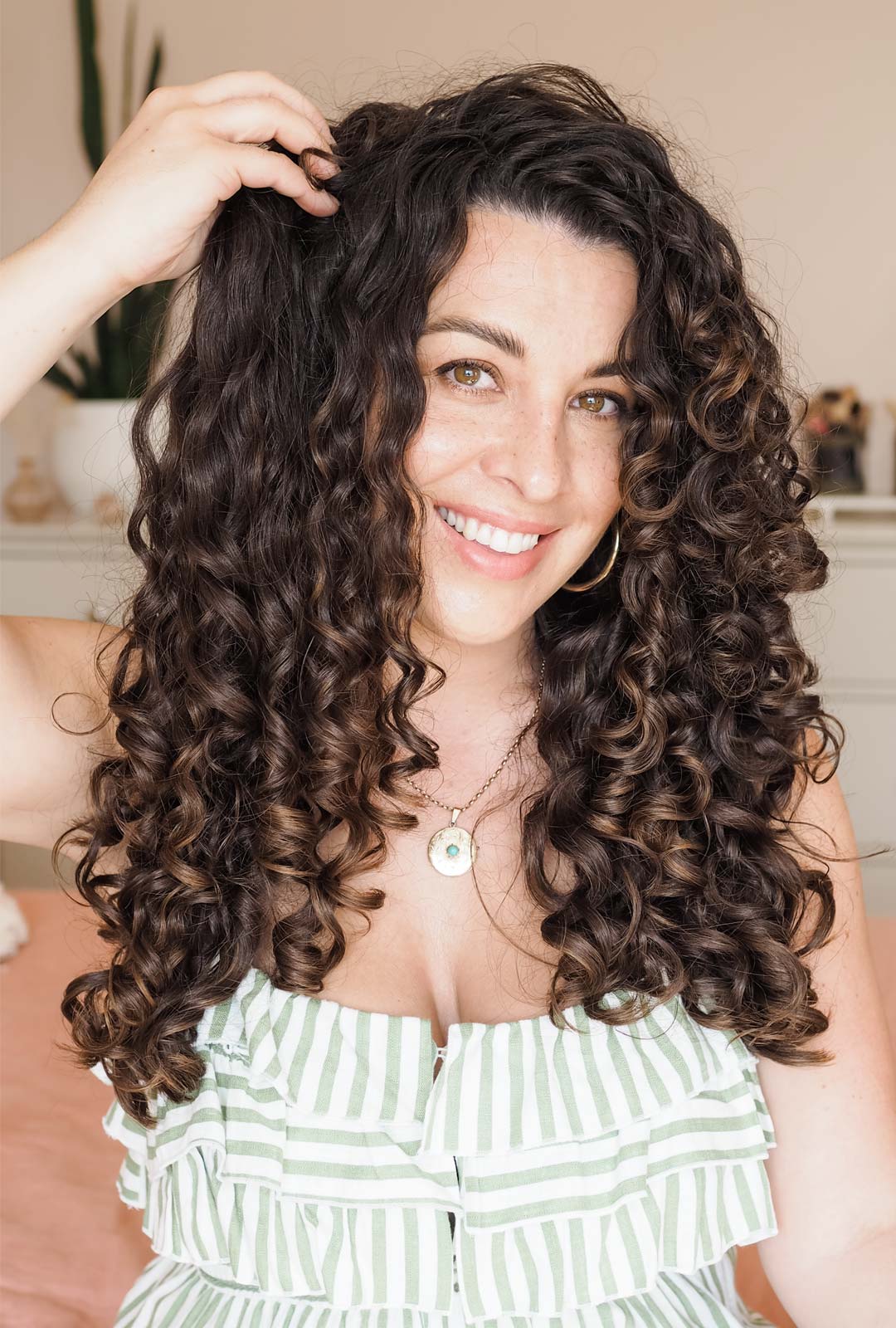 Rice Water Rinse
Most people do a rice water rinse, using the creamy, cloudy rice water to repeatedly rinse through the hair. Often using fermented rice water, which is more potent, and two bowls. One to pour the rice water on your hair, the other to catch the rice water so you can repeat as necessary. If you choose to do it this way, make sure to follow up with a good conditioner.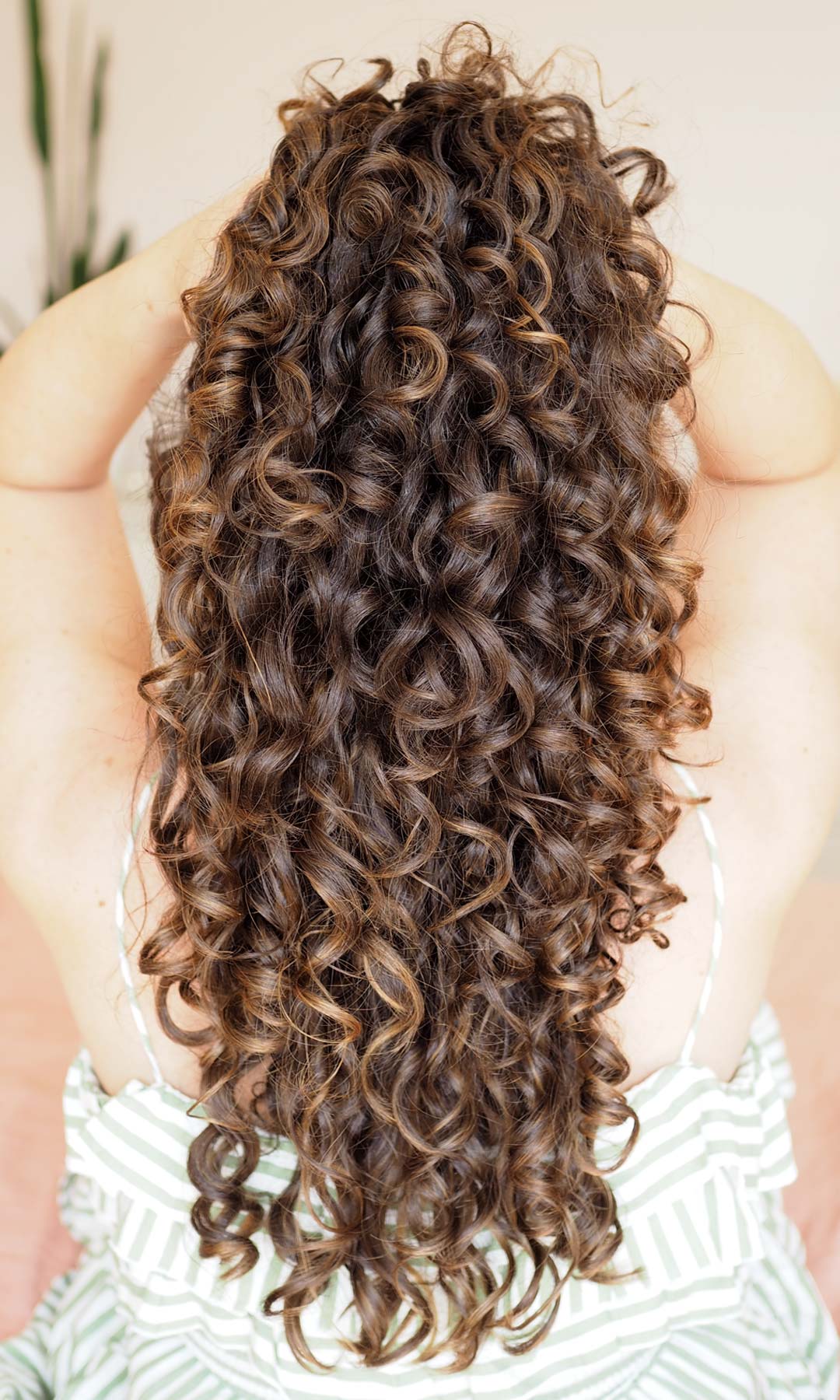 If you leave the rinse in your hair for any period of time, longer than just rinsing it through, you need to follow up with a deep conditioner for at least 20-30 minutes. There are 3 ways: boil, soak and ferment, I boil my rice. There are potential side effects if you ferment due to potential bacteria. But it's meant to be the most potent of the three method, and gives the most dramatic, or noticeable, results. If you choose to ferment your rice, I wouldn't recommend adding it to any deep conditioner.
My Modified Rice Water Rinse
For my modified rice water treatment, I do things a little differently. The first time I did my my modified rice water treatment instead of a traditional rice water rinse, I left it on my hair for 30 minutes. I didn't deep condition for long enough afterwards, and my hair felt quite dry. Now I add a dollop of one of my favourite deep conditioners, Hairfinity's Strengthening Amino Mask, which is what makes it my modified rice water treatment. I leave the modified rice water treatment on my hair for 45 minutes – 1 hour with my Curl Maven Heat Cap.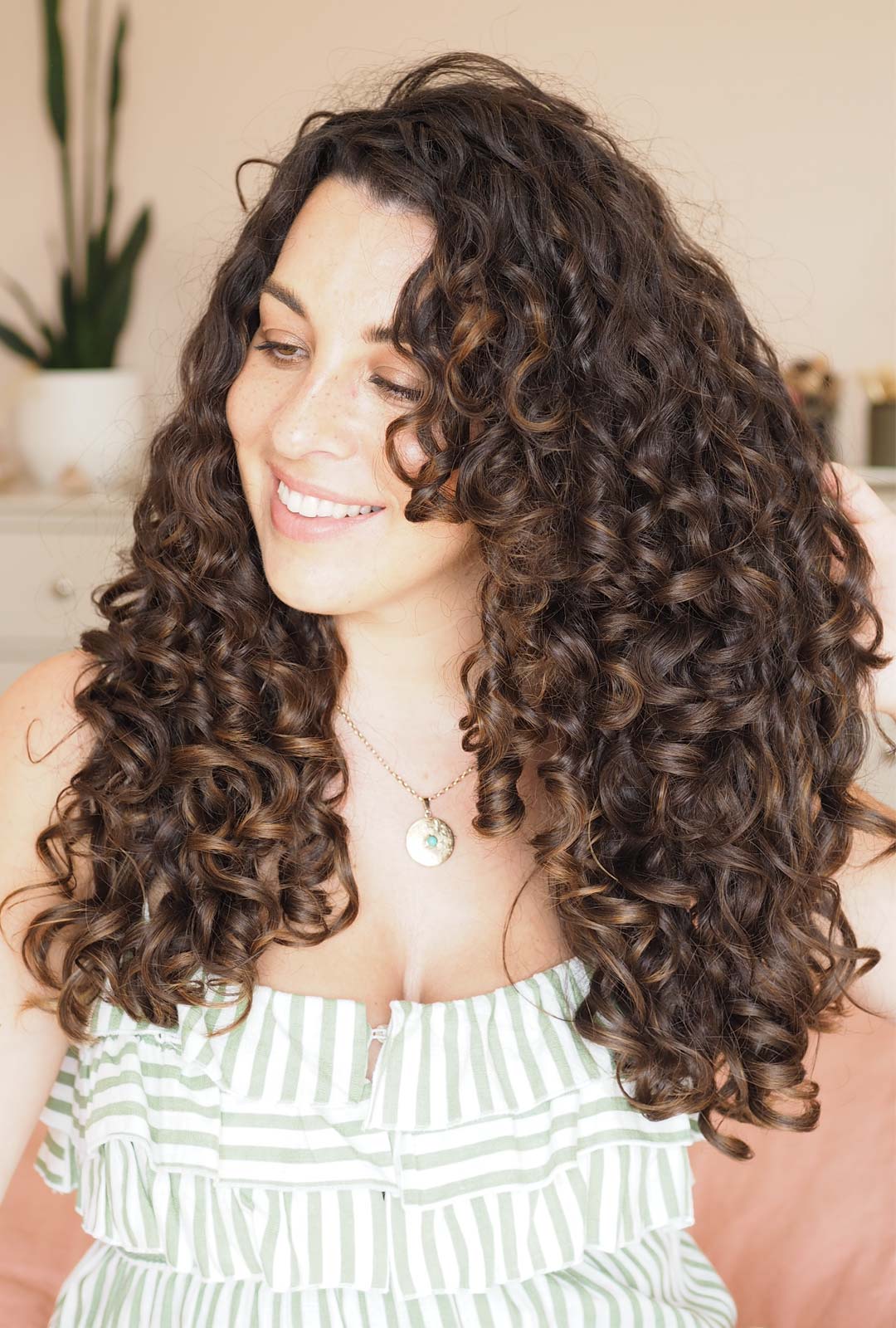 Top Tip: This DIY protein, strengthening and repairing treatment is perfect if you are suffering from over-moisturized hair. Hair is limp, lifeless and unable to hold a curl for very long past washday. Or hygral fatigue, hair feels quite soft and mushy or gummy, and you may experience excess hair shedding.
My modified rice water treatment works best when you mix it with any conditioner or deep conditioner that already contains protein. Hairfinity is becoming increasingly difficult to find, so stock up when you can. But I've listed some of my other favourite conditioners and masks that work well with my modified rice water treatment below.
Deep Conditioner Recommendations: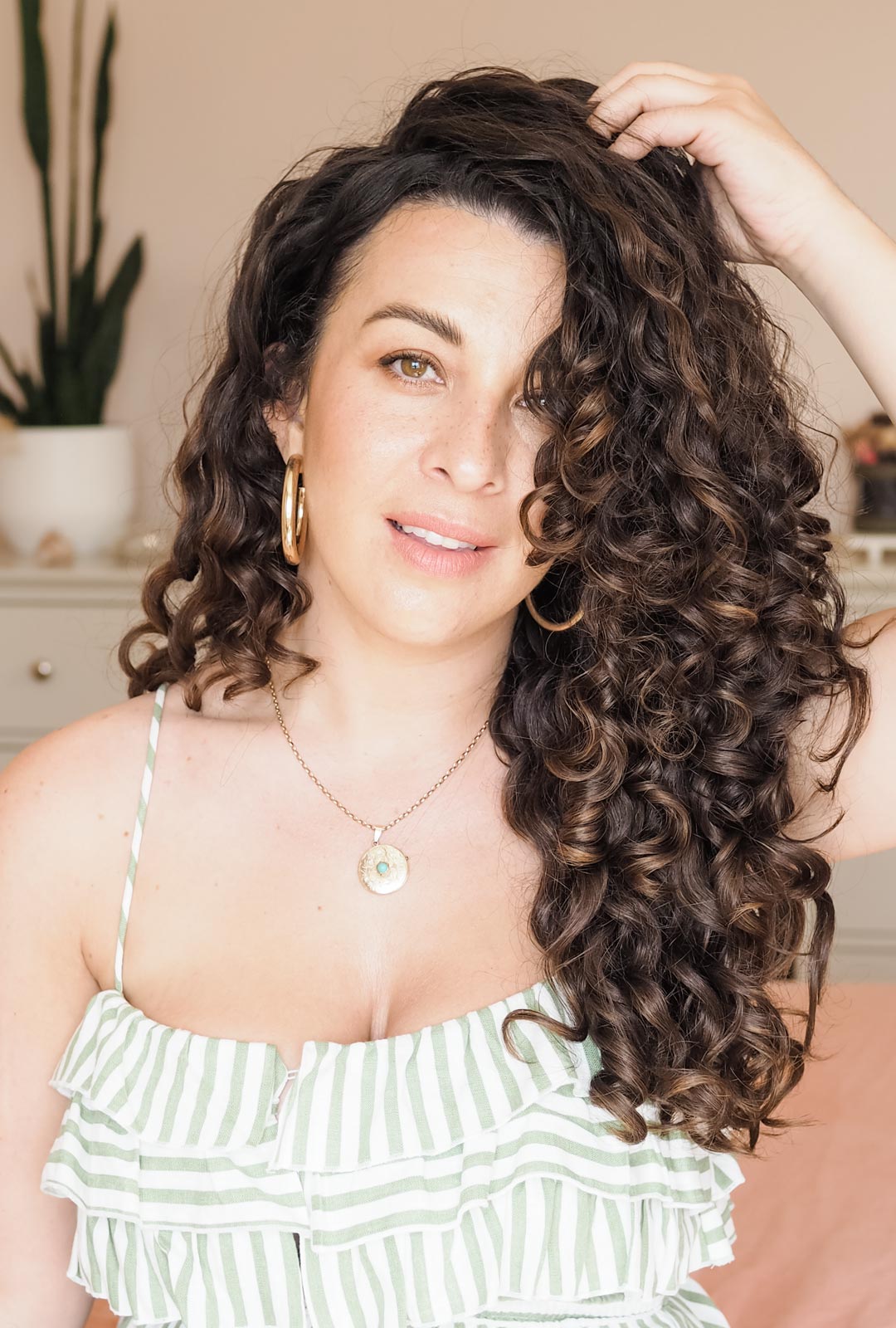 How to save and store your rice water
The following ratio will give you enough for one large modified rice water treatment, suitable for thick or long hair. Or two treatments for short-medium length or fine hair. You can store it in the fridge in an air-tight container for up to one week, either with or without the deep conditioner mixed in.
Alternatively, you can cook up a big batch and freeze it in an ice cube tray. Then simply pop out two cubes the night before, and mix with your chosen deep conditioner once they've defrosted! Genius time-saving method for anyone who's really busy but wants all the benefits of rice water for hair growth, length, strength, shine and scalp issues!
Ingredients
Using a measuring jug, use half a pint of rice (organic, jasmine or basmati…) and rinse – however, I think the starch from the rice gives some added benefits to the hair.
Put the rinsed rice in a saucepan and add 2 pints of water
Add some essential oils if you like, such as rosemary which is great for hair growth.
Add some of the Act + Acre Cold Pressed Stem Cell Serum too if you like. The anti-aging complex helps to support the reduction of hair thinning, dryness, and fallout.
All the conditioners, deep conditioners and hair masks I use for this modified rice water treatment already contain protein/amino acids. They're just not very high up the ingredients list, so they're not considered a strong or potent protein treatment. When I add the thick rice water gloop, I get much more noticeable improvements and results. I advise doing your own test with both the rice water rinse on its own. And your usual deep conditioner on its own before you try mixing the two.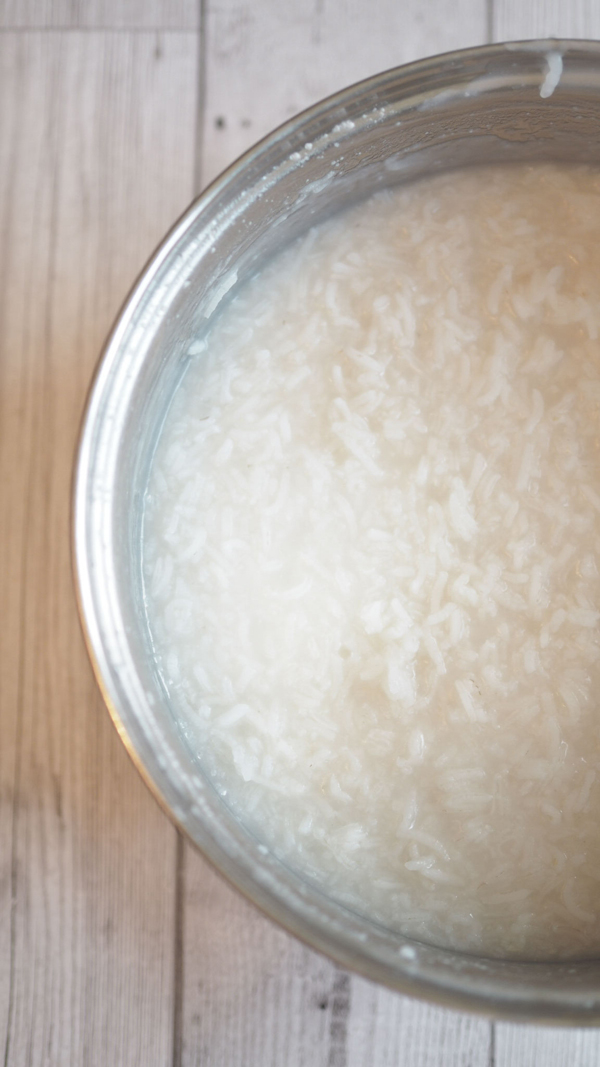 Method
If you're just doing a rice water rinse, don't let the rice go stodgy or the consistency will be too thick. This method is for my modified rice water treatment.
Bring the rice to the boil, stirring until you get a cloudy, creamy, thick consistency of water. This takes approximately 20 mins on a medium-high heat. You want the rice to almost absorb all the water.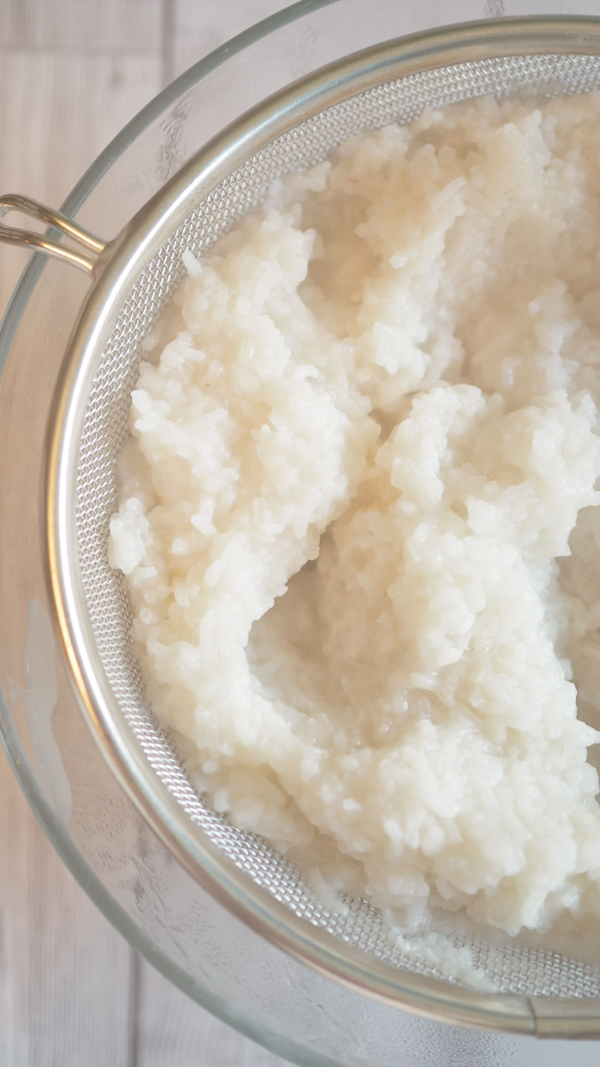 Once the rice has absorbed most of the water and appears almost stodgy. Remove from the saucepan and gently press into a sieve to get the thick, creamy, gloopy water out. NB: You only want the thick, creamy, watery gloop to go through the sieve – NOT the rice!!! Otherwise you'll have rice bits in your hair. I usually have to scrape the rice water 'gloop' off the bottom of the sieve, into a bowl underneath.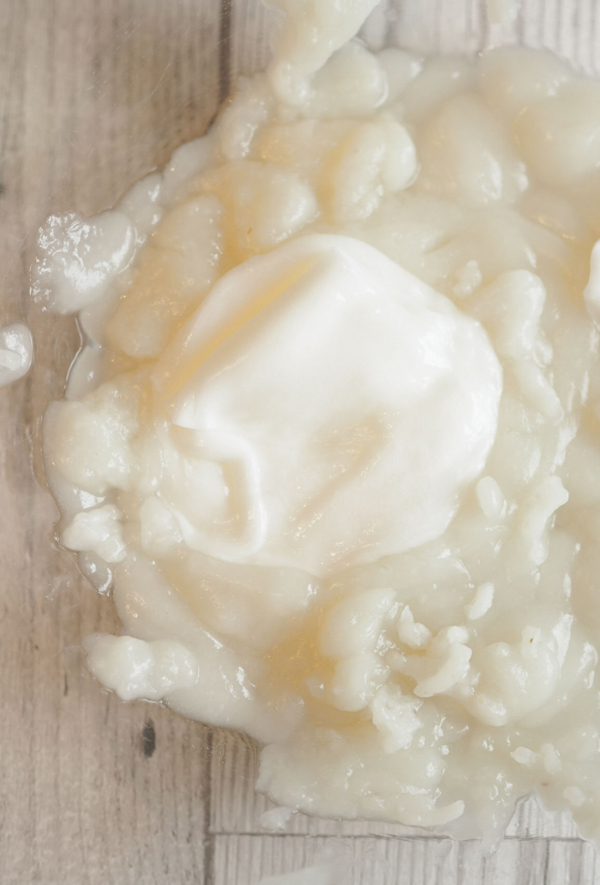 Add either a teaspoon or tablespoon of your favourite conditioner or deep conditioner, and mix to create a creamy hair mask consistency that you can apply to the hair.
The ratio of rice water gloop to deep conditioner depends on how strong you want the rice water treatment.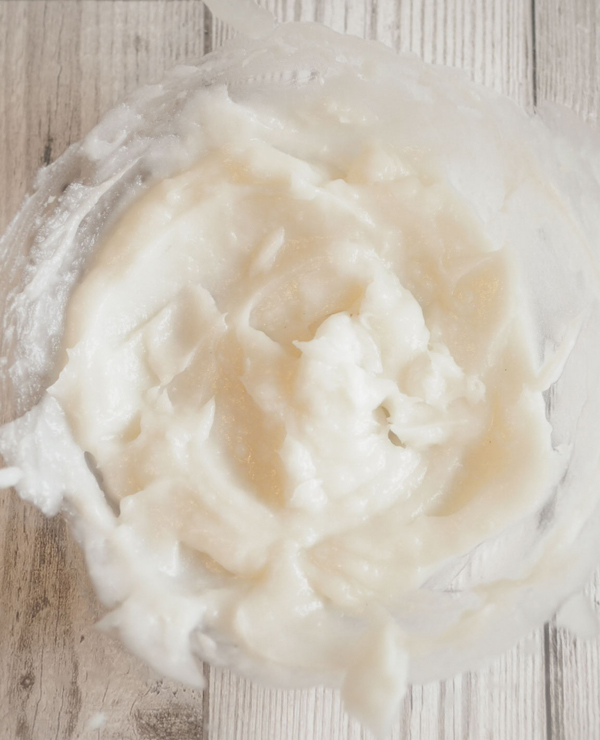 Cleanse or clarify your hair as normal, and apply your modified rice water rinse mask to your hair, from the ends upwards. Bring it all the way up and massage into the scalp if you're wanting to encourage hair growth and/or have any scalp issues. Such as a dry, itchy, flaky, irritated, sensitive, greasy or oily scalp.
If you're new to protein treatments or hesitant, start off by leaving it in for 10-15 mins. Gradually building up to leave it in for 20-30 minutes, but never any longer than one hour.
Use a Curl Maven Thermal Heat Cap for best results.
If your hair is particularly dry or damaged, then don't rinse the treatment out fully.
Rinse with luke-warm water, until a milky coloured water runs out the ends of your hair, then style as normal.
I'm a single mum of two kids, I don't have time for a full wash day, including multiple rice water rinses, a deep condition and then my usual styling routine! So by doing this modified rice water treatment, I'm saving time and getting the maximum results of so many benefits from both the rice water and the deep conditioner.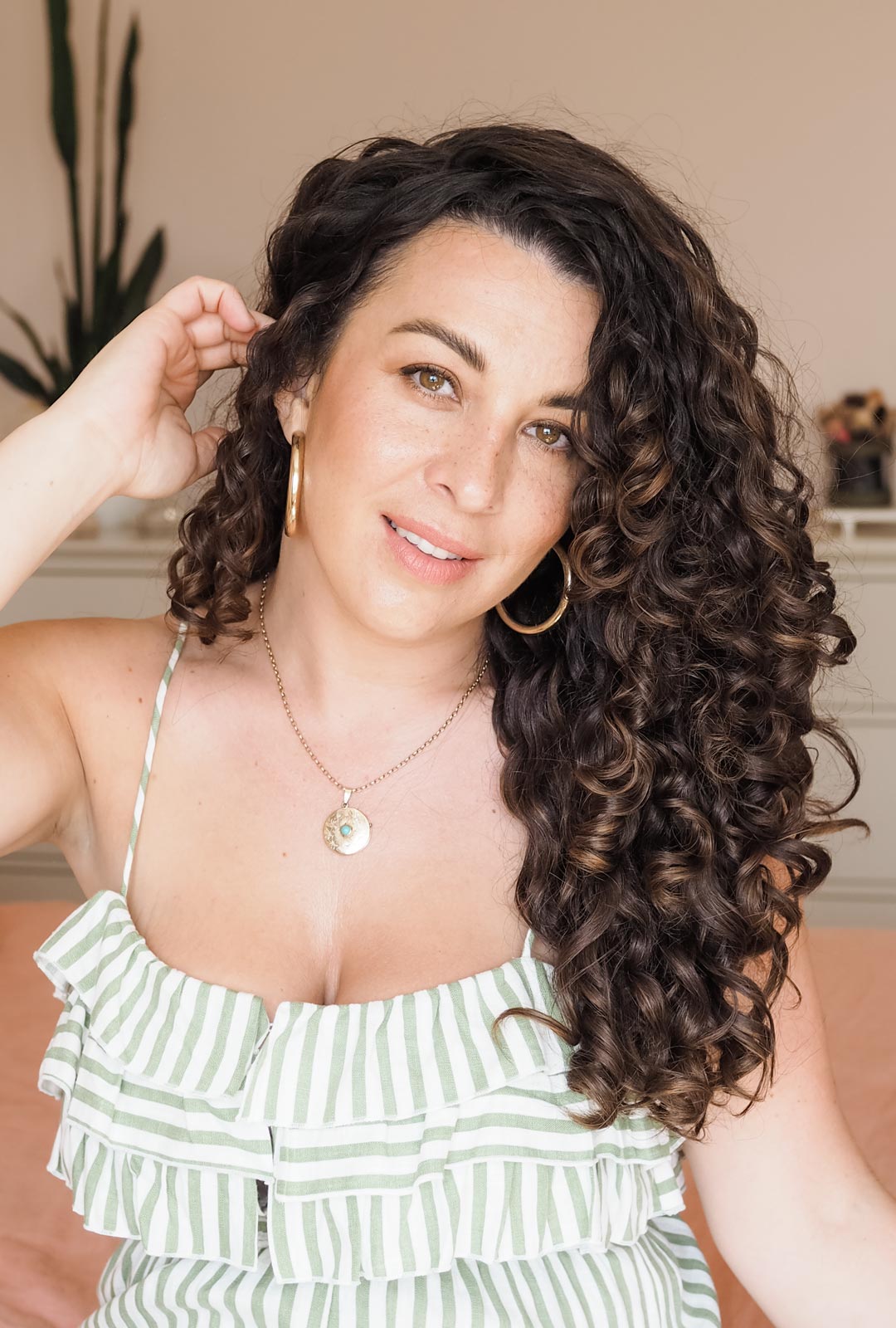 Extra Potent Protein Boost!
If your hair is extremely over-moisturized, maybe you have hygral fatigue. Where your hair feels so soft and fluffy, it almost feels gummy or mushy, kinda like candy floss. You may be experiencing excess hair shedding and your curls are barely lasting a few hours past washday.
Then give the modified rice water treatment an extra potent protein boost, by adding some Aphogee Two Step Protein Treatment Step 1. Start off by adding a teaspoon into the modified rice water treatment. Gradually increasing it to one tablespoon, if required. If you're in the UK or EU, shop Aphogee Two Step Protein Treatment Step 1 here. You'll need to do this for weeks, if not 2-3 months to get the balance right of protein and moisture in your hair again.
So there you have it, my modified rice water rinse routine. Thank you so much for taking the time to read this, I know it was a really long post but hopefully you found it helpful! Comment below if you've tried the rice water rinse and what your results were. Or if you're going to try my modified rice water treatment after reading this post. And let me know your results!
Make sure you subscribe to the Curl Maven Collective Newsletter for exclusive giveaways and offers, new content, products and services. Follow me on Pinterest, Instagram and subscribe to my YouTube channel for more tips, advice and tutorials.
feeling overwhelmed + don't know where to start?
Book a Curl Clinic Consultation
Gratitude + Support
If you found this article or any of my content helpful and would like to show your Gratitude + Support, you can click here to make a donation. I'm so incredibly thankful and grateful to everyone who supports me, my content and my platform. Thank you!
*This article may contain some gifted items and affiliated links and discount codes. This doesn't effect my opinion or the way in which I write about products featured on this site.