This post was originally posted as a Black Friday in 2017. Check out this post for my 2018 Favourite Curly Girl Products and discount codes. Almost all of the products mentioned are available world-wide, and many are available at Look Fantastic where I buy most of my curly girl approved products. Use code CURLMAVEN for 20% off! They also offer FREE SHIPPING to UK, Ireland, Australia, Canada and USA.
What is an affiliate link?
First of all, I want to be completely transparent because there can be some confusion between sponsored content/posts and affiliate links. This post, and many others on this site, contain affiliate links. This means I get paid (a very small) commission on products you purchase through my links. This in no way affects you, the price you pay or the way in which I write about products featured on Curl Maven. My content and opinion is not influenced by these affiliate partnerships. I have purchased, used and loved all the products mentioned in this post. And if you're a member of some of the curly girl Facebook groups, you'll know I regularly recommend them.
Co-Wash
The As I Am Coconut Co-Wash is hands down my favourite product I've found since I started the curly girl method. I've tried others, but keep coming back to this and have bought countless tubs. Between me and my two kids, we go through one tub every 6-8 weeks, on average. It's not a heavy co-wash, but light and leaves your scalp, roots and hair feeling really clean without feeling stripped. It's also got black castor oil which is great for hair growth! Full review coming soon.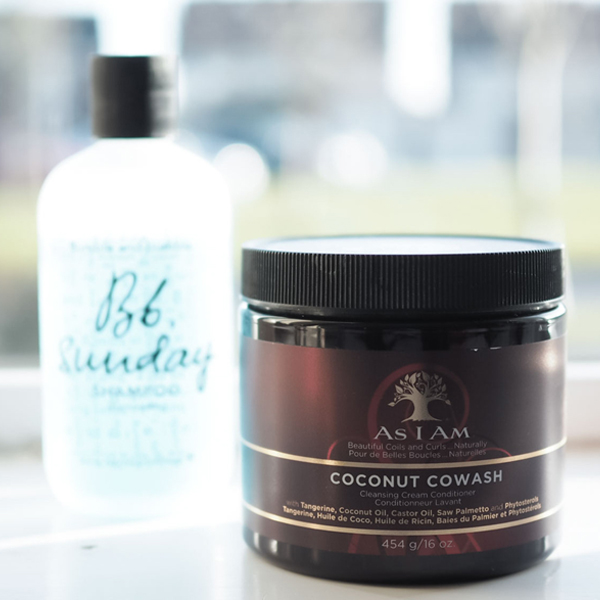 Shampoo
If you are outside the USA, and have heard all the rave reviews about the Trader Joe's Peppermint Tea Tree Shampoo but are gutted you can't get it because of where you live. Well, the Giovanni Tea Tree Triple Treat Shampoo is pretty much the same and well loved by curly girls. I also really like Bouclème's Curl Cleanser (the green one) – full Bouclème review here. I also want to mention Bumble & Bumble Sunday Shampoo. No, it's not curly girl approved, it's loaded with sulfates. I live in a hard water area and a chelating shampoo is the only way to get lime water build up out of your hair. I use this clarifying, chelating shampoo once a month to get rid of product and mineral build up in my hair and revive my curls. Unlike many chelating shampoos, this one doesn't contain silicones.

Top Tip: Low porosity hair gets easily weighed down, so clarifying is important. To avoid your hair feeling stripped and like straw, always do a deep conditioning treatment after a clarifying or chelating shampoo!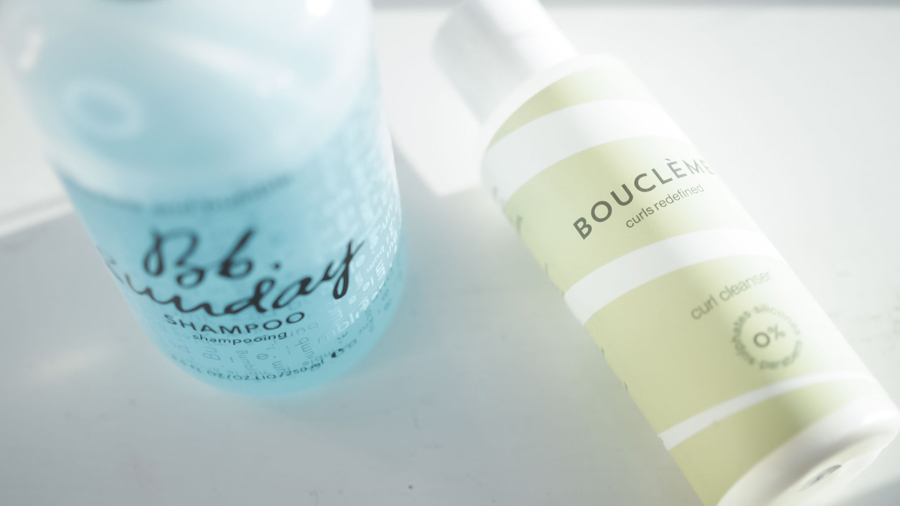 Leave-In Conditioner
I've tried a few leave in conditioners, but the Giovanni Direct Leave In Weightless Moisture Conditioner is my favourite. It's almost got a whipped texture, similar to Deva Curl's Wave Maker. Not quite the same, but similar. My little girl's frizzy curls love this stuff! It's a cult-favourite among curlies and I can see why.
Another favourite leave in conditioner of mine, and great for fine, low porosity hair and a favourite in the curly girl community, is the As I Am Leave In Conditioner.
Top Tip: Look Fantastic stock mini versions of Giovanni products, and Bouclème do 100ml versions too – a great, inexpensive way to try out new products out and see if they work for you and perfect for travelling!
Conditioner
If you are outside the USA, and have heard all the rave reviews about the Generic Value Product (GVP) Conditioning Balm from Sallys, and gutted you can't get it because of where you live. Well, Matrix Biolage Hydra Source Conditioner is the branded version! The formula is pretty identical, apart from a few plant ingredients at the end of the ingredients list which is mainly for fragrance.
I only recently discovered this and the transformation in my curls, and my daughter's is unbelievable! Curls are so much more defined and frizz is reduced. This product is amazing, especially if you're hair needs moisture. What I love most: you only need the tiniest bit! Unlike the NYM Pink Curl & Define which I need about 10 pumps! *Please note, this is the only product from Matrix Biolage that is curly girl method approved – from what I can tell. The rest all use Isopropyl Alcohol, which dries out the hair. Review coming soon.
Top Tip: You can also use the Matrix Biolage Hydra Source Conditioner (or GVP Conditioning Balm) as a deep conditioning treatment!
If your hair needs more protein, then a recent discovery and new-found love of mine is the Hairfinity Balanced Moisture Conditioner. It isn't as thick or balmy as the Matrix Biolage HydraSource Conditioner, but it gives a great balance of moisture and protein. Honourable mentions include Bouclème Curl Conditioner and MopTop Daily Conditioner.
Get 10% off MopTop here using code CURLMAVEN.
Deep Treatments
Curly girl method approved and great as a deep conditioning treatment, Olaplex No.3. Make sure you purchase it from authorised resellers only. Myself, and many other curly girls, have bought it from Amazon and had zero results, most likely because it's not the genuine product. This is especially great for curlies who have coloured hair, colour damaged hair or hair that's had Brazilian blow outs or relaxing treatments It's just as great for us natural curlies too though! YouTuber, Stephanie Nicole goes really into depth about Olaplex No. 3 in this video which is good one to watch if you're looking for more info on this product.
Another cult favourite deep conditioning mask is the Briogeo Don't Despair, Repair!. You only need a small amount of this. The tub lasts a really long time. Similar to Olaplex No.3, this deep conditioning mask is especially good if you're trying to repair damaged hair – the clue's in the name.
If you're hair needs more protein, then another favourite of mine is Hairfinity's Strengthening Amino Mask. It replenishes, strengthens and fortifies hair to protect against breakage and split ends. The smell, although amazing, is quite strong. I use it on my hair, and my kids' – with great results. It's a great detangler too!
Styling Products
Briogeo Rosarco Blow Dry Perfection & Heat Protection Crème is my favourite heat protectant I've found that is CG-approved. It's really light, and doesn't weigh my hair down at all, and smells divine – like skittles!
I'm pretty sure I've put at least a few kids through college based on the amount of times I've purchased this product. My favourite curly styling product both before and after discovering the CG method. I've been using the Pantene Defined Curls Mousse (No.5) for about 15 years I reckon! For years, I used this as my only styling product as it gives a great cast. Not the Natural Curls Mousse No. 3 though, that doesn't have the same hold or give the same cast. It works really well layered with other products too. I often apply this as my first styling product as a curl enhancer, then follow up with a custard or gel.
If I had to pick between the Pantene Mouuse and MopTop Curly Hair Custard as my all time favourite styler – I don't think I could. I love both of these products, they work so well on my hair. I tried the Kinky Curly Curling Custard and didn't really know what all the fuss was about. It wasn't as amazing as I'd hoped from reading countless rave reviews as the holy grail product for curly hair. MopTop Curly Hair Custard however lives up to all the hype and I haven't been able to go with out it since discovering it.
Get 10% off MopTop here using code CURLMAVEN.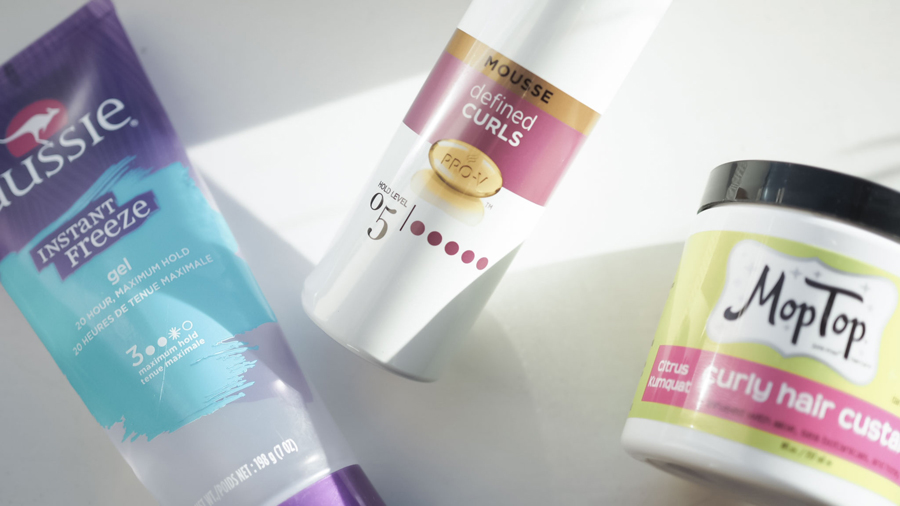 I adore Bouclème Curl Defining Gel! As a low porosity curly, I really struggle with products weighing down my hair. Products can often drag out the curl and leaves my hair feeling full of product on days two and three after wash day. Not with this lightweight gel. It's one of my favourites! No matter how much I put in my hair, it never feels like I've got too much product in it. I really controls frizz and looks great even on day 3 hair. Because it's so lightweight, and not sticky at all, it's great for refresh days. I've bought about three or four bottles of this, and it smells amazing! You can read my full, in-depth review of the Bouclème products here.
Another American import, but available from Amazon. My hair loves Aussie Instant Freeze Gel, and so does my wallet! It's a consistency I haven't come across before. It's almost like a whipped gel – if that makes sense. It doesn't weight my curls down, I don't always get a cast from it unless I use loads, but it gives good curl definition. I always use it as my last layer of styling products.
This is a total curve ball but work with me here. KY Jelly, yes lube! This is a great product for combating frizz between my wash days. After dampening my hair, I mix a little with some Aussie Instant Freeze Gel in the palm of my wet hands, and scrunch into my hair, always with great results.
An honorable mention for the Giovanni LA Naturals Gel (which is often sold out, so pick it up when you can!) and Umberto Giannini Curl Jelly. Both of them are budget friendly and pretty easy to get in the UK and Ireland. I prefer the Giovanni gel which has a really strong hold, to Umberto Curl Jelly which can feel quite sticky if you use too much.
Top Tip: Boots often do 3 for 2 and/or discounts, so check their site or in store for offers. They stock Umberto Giannini, Pantene, Shea Moisture, Cantu, Yes To and Maui Moisture.
Tools
I bought the Bouclème Cotton Curl Towel at the beginning of Summer 2017 and have used it ever since. Regular terry towels are a huge no-no for curly girls. This cotton jersey towel is quite large, great for if you have long, thick hair like me. This is what I use to plop, and scrunching out excess moisture. I've washed it loads and often put it in the tumble dryer and it's still perfect! I also have microfibre towels from Aldi, Only Curls, and DevaCurl – which is by far the best one if you want a microfibre towel. But I prefer the Bouclème cotton towel.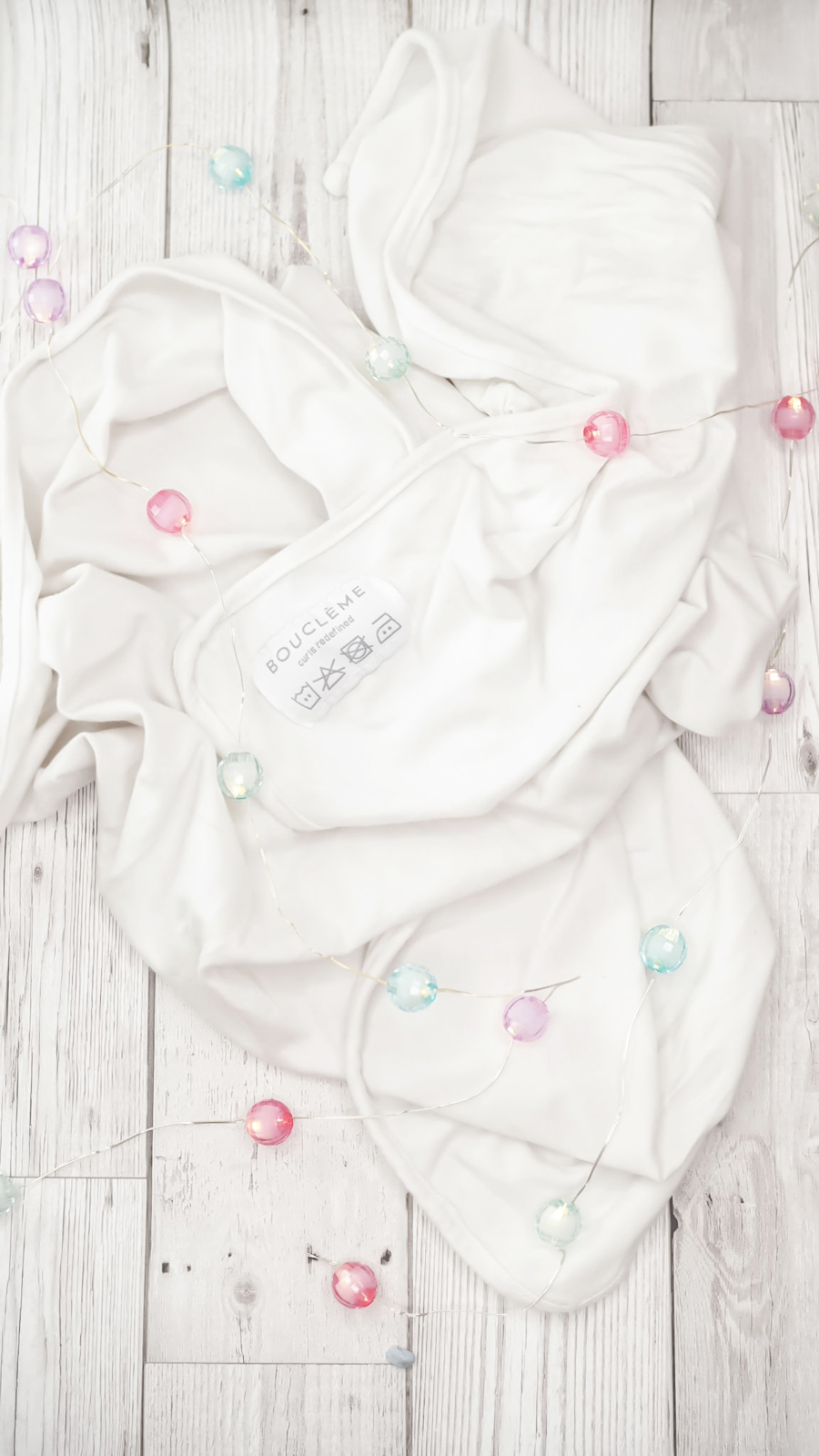 Check out this post on curly girl techniques to learn about plopping with a cotton towel/t-shirt.
I use my
Tangle Teezer
as a scalp massage brush. I bought it before I discovered the curly girl method, and figured it would do the same job. I use it every wash, with my As I Am Coconut Co-Wash, to really loosen any build up on my scalp, without causing irritation. I don't brush my hair with it though, I purely use it as a scalp brush.
To dry my hair, I use a
Diva Professional hair dryer
and
Diva Professional XXL Diffuser.
Not to be confused with the DevaCurl diffuser. This one is from Diva Professional Styling. I've used a lot of diffusers over the years and so far this is my favourite. Because it's HUGE! Which cuts down my diffusing time. It covers so much of my head at a time, it's an absolute breeze (no pun intended) to dry/diffuse my hair. Thanks to the little grips, I can lift the roots of the hair while I'm diffusing, to give my hair a little lift at the root. I've had one for years and it's as good as new
!
Cantu & Shea Moisture
You might have noticed I've not included any
Shea Moisture
or
Cantu
products. Here's why: I have fine, low porosity hair that gets easily weighed down with product. Both Shea Moisture and Cantu products are thick, heavy and more suited to high porosity and/or afro hair. So many people rush out and buy a tonne of products from both of these brands as soon as they learn about the curly girl method – because they are sulfate and silicone free and easy to find. Then they wonder why their hair is heavy, weighed down, full of product and incredibly greasy. I've tried a few different Shea Moisture products and haven't loved them, for
my
hair. But, I know loads and loads of curly girls out there who adore both these brands.
Feeling overwhelmed?
If you're feeling overwhelmed by all the tips, advice and product recommendations. Click here for more information on my Curl Clinics™. A completely bespoke curl consultation service tailored to suit you and your hair. Designed to help get your waves and curls back and achieve your healthy hair goals.
I hope you've found this post helpful! Please make sure you
subscribe
and
follow me on Instagram
, if you haven't already. If you're new to the curly girl method,
check out this post
on the basics and my top tips And check out this post on popular
curly girl techniques
to enhance curl definition and reduce frizz – you can have the best products, but if you're technique is wrong, your hair still won't look it's best!
If you found this post or any of my content helpful, and would like to show your Gratitude & Support, you can click here to make a donation. I'm so incredibly thankful and grateful to everyone who supports me, my content and my platform. Your support enables me to continue providing FREE, organic content, and keep my blog FREE from Google Ads. Not only that, it's also helping build towards my dreams and goals for Curl Maven as a brand and all I've got planned. Thank you so much! Gabriella x
*This post may contain some gifted items and affiliate links. Which means I get paid (a very small) commission on any products you purchase through my links. This in no way affects you, the price you pay or the way in which I write about products featured on this site. My content and opinion is not influenced by advertisers, sponsorships, affiliate partnerships, brands or PRs.