It's been four months since I coloured and highlighted my hair. Here's how I've been managing my colour at home using Alfaparf Ultra Concentrated Pure Pigments. Suitable for all hair types and fully customisable. A Curl Maven, curly girl friendly product that doesn't cause any damage to the hair!
In September 2020, I coloured my dark brown hair, using a combination of techniques such as balayage, baby lights and face framing highlights. You can read all about it in this post. The colouring process of course involved bleach, and toners – both of which will always cause some damage to the hair, no matter what you do. But until my highlights grow out, because I'm not doing another big chop! I wanted to find a way to manage my colour at home, without causing any further damage.
Damage-Free Colour Management
Once I succeeded in maintaining healthy hair when I coloured it. My next priority was to find a damage-free way to manage my colour long-term. I wanted to avoid multiple trips to the salon to get a toner applied. Because even toners cause damage, as they contain a low percentage of peroxide – which is what causes the damage. But salons had to close due to covid restrictions and lockdowns. So at-home colour management became even more important!
Pigments don't contain any peroxide and don't cause any damage to the hair. They're not an active ingredient, they're just pure colour pigment. It's actually the pigments (aka colour) that fades over time. So this post is how I'm managing my colour at home, without causing any damage. I've been using Alfaparf Ultra Concentrated Pure Pigments, which were recommended and given to me by my hairdresser at the time.
What are Alfaparf Ultra Concentrated Pure Pigments?
Alfaparf Ultra Concentrated Pure Pigments are just that, ultra concentrated colour pigments. They come in a variety of shades, and can be used individually or mixed with other shades for a completely custom colour and/or intensity. Alfaparf pigments can be added to your shampoo, conditioner, hair mask or styling product.
They can also be used to correct brassy or copper tones. Although these are often caused by metal and mineral deposits in the water. So clarifying using the Colour WOW Dream Filter is a great way to remove those unwanted tones from the hair without fading the colour. It's also curly girl friendly, and you can get 20% off using code CURLMAVEN at LOOKFANTASTIC – who ship worldwide.
Curly Girl Friendly Colour
Alfaparf Ultra Concentrated Pure Pigments are curly girl friendly, adding dimension and shine to natural or colour treated hair. Intensifying and revitalising colour and tone. And make damage-free colour management and maintenance at home really easy. Although the coverage and lasting power isn't the same as a semi, demi or permanent colour. Pigments don't cause any damage, or have any adverse effects on the hair. So when the salons re-open, you can get your colour or toner re-applied, without any issues.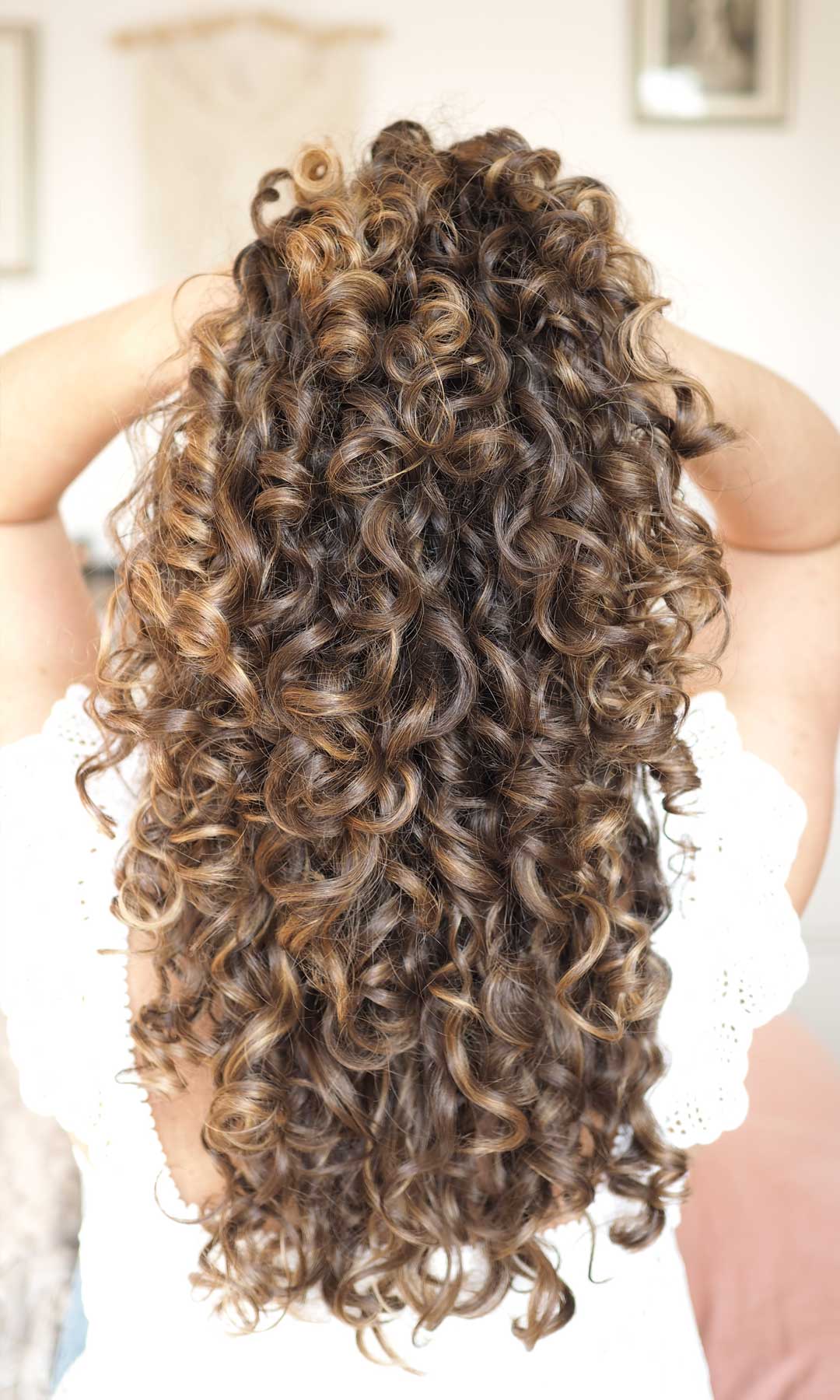 Suitable for all hair types
You can use pigments on virgin, highlighted, bleached or colour-treated hair. Colour pigments aren't just for blondes who want rainbow-coloured hair for festival weekends. Brunettes can use them too, although the brighter colours aren't as vibrant. They're a great way to add multi-tones and dimension to highlights, not to mention shine. Dark pigments are not strong enough to cover grey, but brighter pigments can be used, similar to blondes.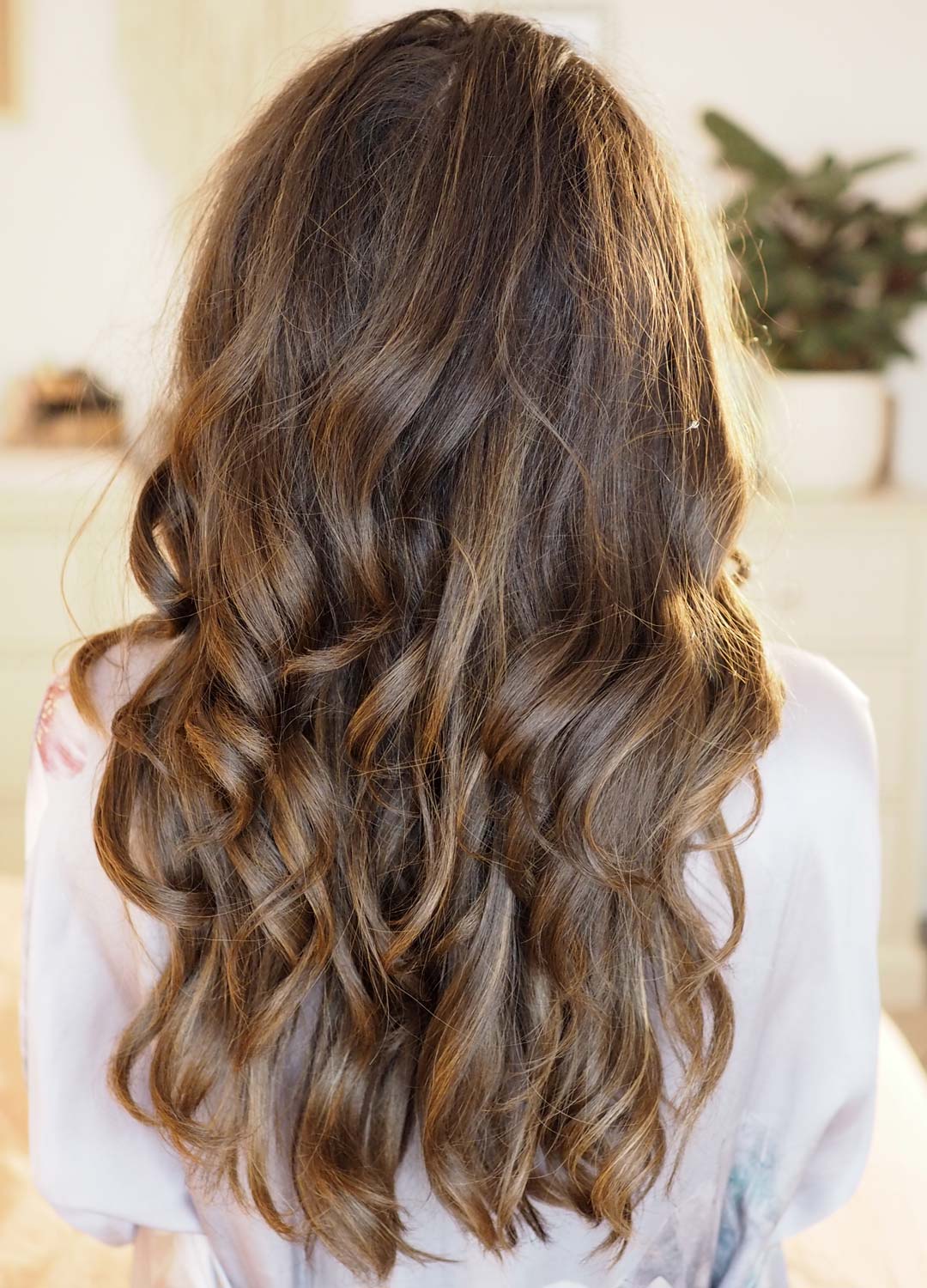 How to Mix Pigments
Alfaparf Ultra Concentrated Pure Pigments are intended for professional use, and meant to be available in-salon only. Mixed up and added to your favourite hair mask (or any other product) by your hairdresser. But salons are closed, and I can see them available on various sites online. So do a quick search on Google to find a reputable retailer near you, until the salons re-open again. You can see more information and all 12 shades available on the Alfaparf website here.
Blue and purple shampoos, Curlsmith Hair Makeup, Curly World's With or Without Hue are all just hair products with pigments added to them.
There's specific ratio instructions given on the back of the bottle, according to what product you're mixing them with. You can mix different pigments together to create your own custom shade. And the intensity can be adjusted by adding a high or low concentration of pigment into the mixture.
You don't have to custom-mix each time, there's no active ingredients so the drops don't lose potency. The idea is that your hairdresser will mix the pigment into a tub of your favourite hair mask for you to use at home. I just prefer consistency and a more intense golden mahogany colour, which is why I add 10 pumps per application. I'd love to try the new Golden Violet .32 shade next for a cooler alternative to Golden Mahogany.
How I use Alfaparf Pigments at Home
I've incorporated the Alfaparf Pigments into my haircare routine, the same way I use the Tan Luxe The Face custom tanning drops in my skincare routine. I use the shade Golden Mahogany, and apply them to my hair every three or four weeks. I start by cleansing or clarifying my hair, depending whether I need to clarify or not. I continue to clarify once a month using Bumble & Bumble Sunday Shampoo.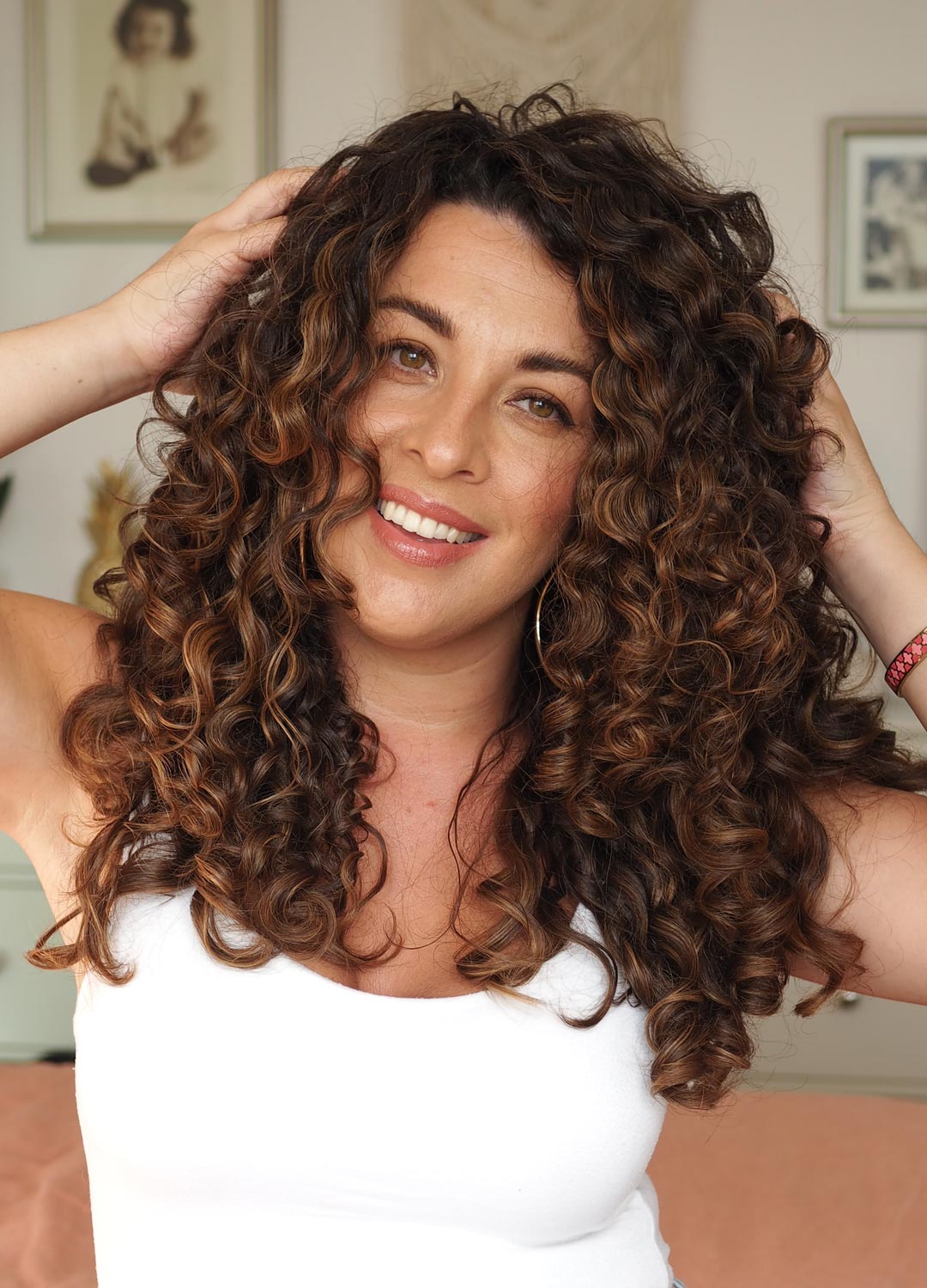 After cleansing, I add 10 pumps (yes, ten!), which is about 5g of Golden Mahogany, into some Joico Step 4 Intense Hydrator. Use code CURLMAVEN for 20% off at LOOKFANTASTIC. Mix well and using gloves, apply throughly to my cleansed, damp hair.
Cover with a plastic cap and leave on for 30-60 mins. Then I rinse it out almost fully, but not quite until the water runs clear. Add a little leave in conditioner, style and diffuse as usual. See this video to see what styling products I used and how I applied them.
Alfaparf Pigments fade evenly, and last anywhere from 5-12 washes. Colour, or pigment, will typically fade quicker on high porosity hair. If you're using a sulfate shampoo, they won't last very long at all, as sulfates strip and fade colour.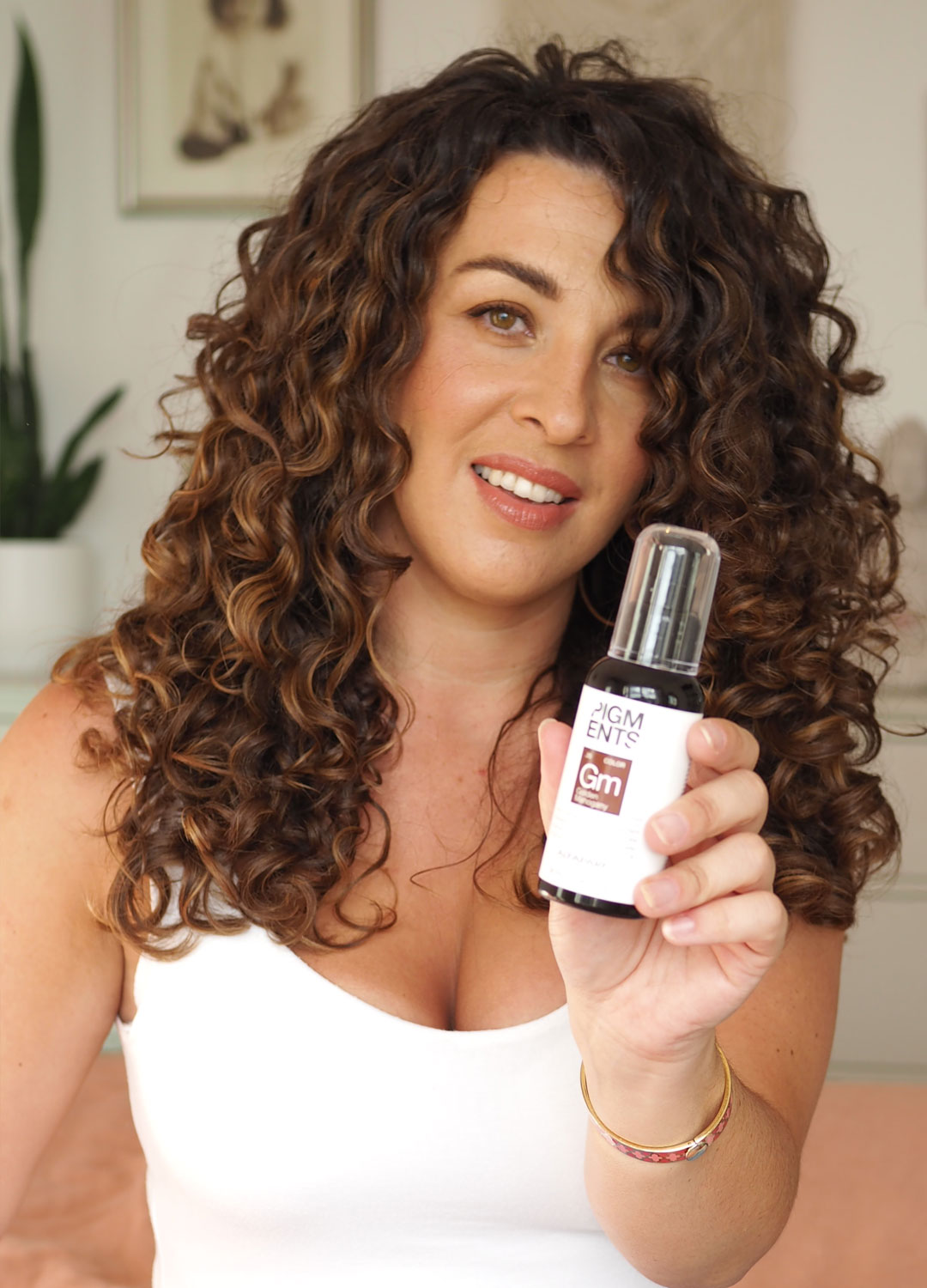 So I hope you found that post helpful and informative. Maybe I've inspired you to try them out for yourself. Let me know in the comments! Alfaparf Ultra Concentrated Pure Pigments are such a fun way to play with colour. Without damaging the hair and suffering the consequences that no amount of deep conditioning can save you from! If you have any questions pop them in the comments below.
Make sure you subscribe to the Curl Maven Collective Newsletter for exclusive giveaways and offers, new content, products and services. Follow me on Pinterest, Instagram and subscribe to my YouTube channel for more tips, advice and tutorials.
feeling overwhelmed + don't know where to start?
Book a Curl Clinic Consultation
Gratitude + Support
If you found this article or any of my content helpful and would like to show your Gratitude + Support, you can click here to make a donation. I'm so incredibly thankful and grateful to everyone who supports me, my content and my platform. Thank you!
*This article may contain some gifted items and affiliated links and discount codes. This doesn't effect my opinion or the way in which I write about products featured on this site.