Here's my Imbue Review and honestly, I don't know what's taken me so long. Because I'm a huge fan of these incredibly affordable, budget-friendly products for wavy, curly and coily hair!
They've recently expanded their product range, and you can get an exclusive 20% off Imbue at LOOKFANTASTIC using code CURLMAVEN.
AD | This article is sponsored by LOOKFANTASTIC. However, this hasn't influenced my opinion or the way I've written about the brands or products featured in this article. Use code CURLMAVEN for 20% off Imbue at LOOKFANTASTIC.
Imbue Review
Imbue is a British brand of curly girl friendly haircare products specifically designed and formulated for curly hair. Their cruelty free, vegan and plant-based formulas are made with natural, sustainably sourced oils or butters. Free from oil-based silicones, parabens, sulphates, drying alcohols, mineral oils or waxes.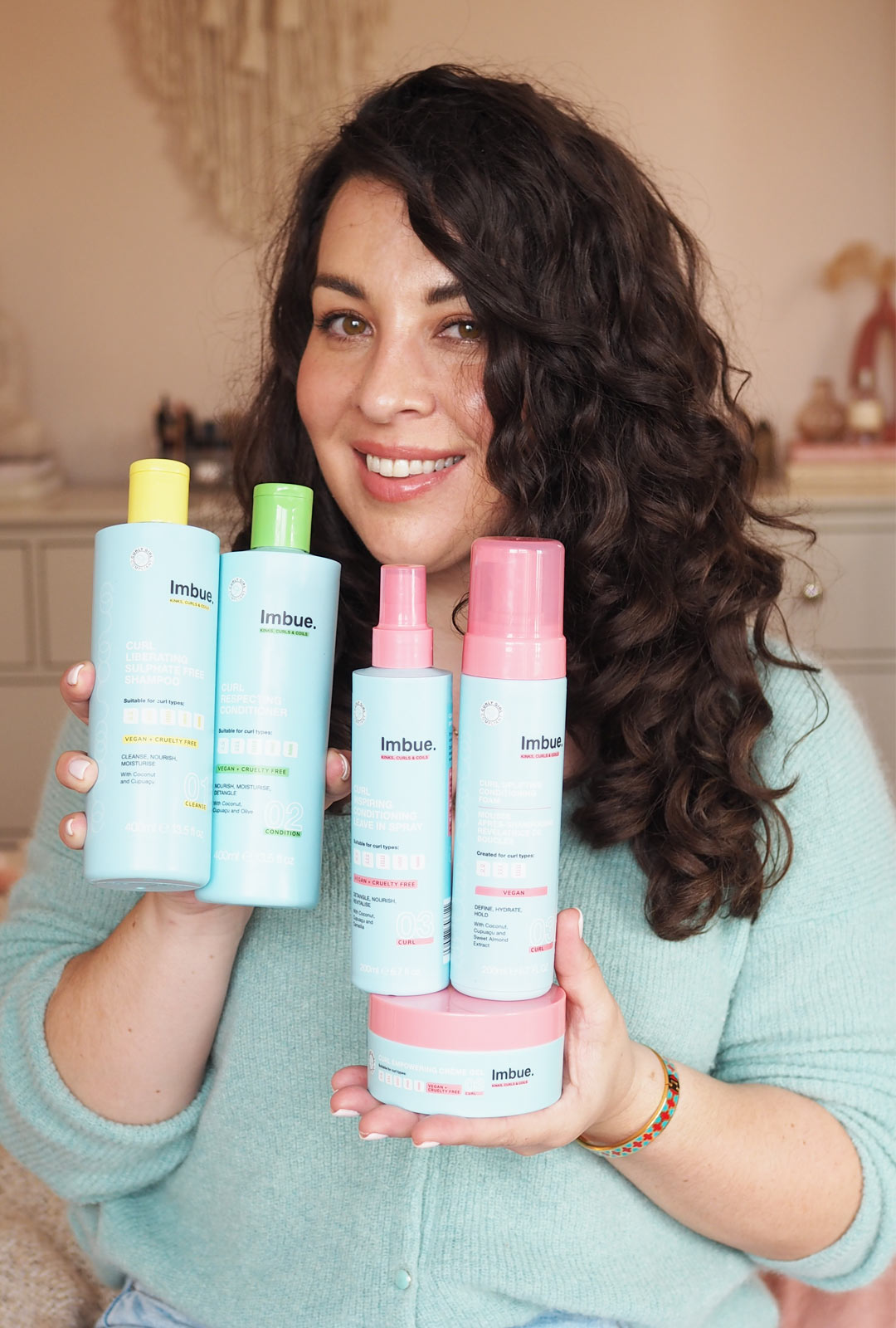 Imbue is committed to make online stores and high street retail a more inclusive, accessible place for all customers with curly hair. Bringing high quality products at an affordable, budget-friendly price too! And don't forget, you can get 20% off all Imbue products at LOOKFANTASTIC using code CURLMAVEN.
But Imbue don't just want to stop at positivity in hair and beauty. They are committed to making positive changes to the environment. With their sustainable sourcing of ingredients wherever possible and in their choice of packaging. All Imbue bottles are made from 100% recyclable plastic, and all their packaging can be widely recycled.
What I like
Imbue are committed to only using (sustainably sourced) ingredients that are good for curly hair. And not just for that one wash and go but longer term. Which is something I preach, teach and practice in everything I do. Whether it's articles on this website, advice given in Curl Clinics, Masterclasses or Curl Society education.
"It's not a trend, it's a movement."

Imbue
Not only are Imbue incredibly affordable and budget friendly. Their products give amazing shine and come in bigger bottles! So more product, for less money. AND they are one of the very few brands in this price range that include protein throughout their product line!
Protein is what gives wavy and curly hair the strength and the structure to not only define a curl, but to hold it there. So to see it included in multiple products throughout the range, at such an affordable price is amazing!
What hair type would suit these products?
Imbue products were originally designed and formulated for type 3 curly and type 4 coily hair types. But because of the light weight texture and consistency, and protein included in their products. I think they work just as well for type 2 wavy hair, and fine hair too.
If you're looking for an affordable range of products that have a good balance of protein and moisture throughout, then Imbue could be just what you're looking for. I've included a mini review of my favourite products below.
Prices range from as little as £3.49 to £12.99, with bundle offers too. And you can get 20% off all Imbue products at LOOKFANTASTIC using code CURLMAVEN at checkout, and that's available world wide, with FREE shipping.
Curl Liberating Sulfate-Free Shampoo – £8.99
The Imbue Curl Liberating Sulfate-Free Shampoo thoroughly cleanses the hair and scalp, without causing any dryness or irritation. You don't need much, and although it's sulfate-free, it still gives a rich, creamy lather – but without drying or stripping the hair.
You only need to apply a small amount to soaking wet hair. Massage it into the roots and scalp, and then the lengths of the hair.
A new launch from Imbue, and coming soon to LOOKFANTASTIC, is their Coil Awakening Cream Cleanser, which is more like a cleansing co-wash suitable for type 4 coily hair.
This Imbue Curl Liberating Bundle is just £13.99 + 20% off using code CURLMAVEN at LOOKFANTASTIC
Curl Respecting Conditioner – £8.99
I adore the Imbue Curl Respecting Conditioner, especially for my daughter's hair! It nourishes and moisturizes the hair, gives incredible shine. But it's really great for detangling, making it a really great affordable product to use for kids wavy, curly and coily hair!
Probably due the conditioning ingredients that create a protective barrier on the hair strands. Allowing my Denman cushioned paddle brush to glide through the hair like butter – which you can also get 20% off at LOOKFANTASTIC using code CURLMAVEN.
Curl Restoring Intensive Mask – £12.99
Hydration that isn't heavy, protein that doesn't dry out the hair, and a product that gives lots of shine without making the hair too soft. I love love love the Imbue Curl Restoring Intensive Mask!
Infused with naturally-derived Hydrolyzed Corn Protein, Hydrolyzed Soy Protein and Hydrolyzed Wheat Protein to strengthen the hair. This rich and creamy (yet also lightweight) hair mask gives hair the perfect balance of protein and moisture, strength and hydration.
This mask can of course be used to deep condition when needed, or once/month after clarifying. But it also works well if you prefer to use a hair mask as a regular conditioner. Because it's not super rich, thick and heavy.
Curl Inspiring Conditioning Leave In Spray – £7.99
The Imbue Curl Inspiring Conditioning Leave In Spray is my stand-out, favourite product! It's the best leave-in conditioner I've found with this much protein in it. Hydrolyzed Wheat Protein is the fifth ingredient, with Hydrolyzed Corn Protein Hydrolyzed Soy Protein a little further down the list.
This leave in spray is perfect if your hair is a little dry and lacking moisture in between washdays. But is also easily over-moisturized and needs protein to keep your waves and curls looking bouncy. Instead of flat, limp and lifeless.
This is also an excellent leave in conditioner to bring on summer vacation! Firstly, because the sun breaks down the protein in the hair. Secondly because I highly recommend applying a leave in conditioner to wet hair before in the pool or ocean.
It comes in a great size and convenient spray bottle, so perfect to throw in the beach bag! Click here to read more of my Summer Haircare Tips.
Curl Uplifting Conditioning Foam
The Imbue Curl Uplifting Conditioning Foam is one of their newest launches. A lot of brands have brought out foams in the last few months. But the Imbue Foam is a little different – it's protein-free, less drying and more hydrating and moisturizing.
It enhances your natural curl pattern, giving lightweight moisture and hydration. Helps to reduce unwanted frizz without weighing the hair down, and leaves curls feeling soft, smooth and shiny. I can feel a little product residue in my hair near the roots if I use too much.
So if you're looking for a foam to boost root lift and volume, this might not be the best one to use. But if you have fine hair, and you want some extra hydration and moisture, but in a really lightweight product – then the Imbue Curl Uplifting Conditioning Foam would be perfect!
Imbue's Curl Uplifting Conditioning Foam is sold out on their website, and coming soon to LOOKFANTASTIC – where my code CURLMAVEN will give you 20% discount off all Imbue products. But it's currently available in TK Maxx, along with the rest of the Imbue line.
Curl Empowering Crème Gel – £6.99
The Imbue Curl Empowering Crème Gel is something between a smoothie and a custard. It's light-medium weight, with a light-medium hold.Hydrating and moisturizing without being too heavy.
A styling product that's ideal for curly hair that needs some extra moisture. If that sounds like you, or you want a super lightweight, hydrating one-and-done styling product then you will probably really like it.
---
I really hope you found this Imbue review helpful! If you are looking for a high-quality, really great brand of budget-friendly, affordable wavy and curly hair care products that contain protein, then check out Imbue!
Remember, you can get 20% off the full range of Imbue products at LOOKFANTASTIC using code CURLMAVEN at checkout. Available worldwide and with FREE shipping!
Make sure to subscribe to the Curl Maven Collective Newsletter for exclusive giveaways and offers, new content, products and services. Follow me on Pinterest, Instagram and subscribe to my YouTube channel for more tips, advice and tutorials.
feeling overwhelmed + don't know where to start?
Book a Curl Clinic Consultation
Gratitude + Support
If you found this article or any of my content helpful and would like to show your Gratitude + Support, you can click here to make a donation. I'm so incredibly thankful and grateful to everyone who supports me, my content and my platform. Thank you!
Thank you for supporting this sponsored article which enables me to continue providing FREE, organic content and a website FREE from Google Ads and annoying pop ups.
*This article may contain some gifted items and affiliated links and discount codes. This doesn't effect my opinion or the way in which I write about products featured on this site.