How to take care of your kids curly hair, especially if you don't have curly hair yourself! This is such a hugely popular topic. So I wanted to give you a simple, step by step guide so you can learn and help teach your kids how to love their wavy, curly and coily hair. As well as avoid tearful bath times trying to detangle, and frustrated mornings trying to get them ready for school.
AD | This article is sponsored by LOOKFANTASTIC. However, this hasn't influenced my opinion or the way I've written about the brands or products featured in this article. Use code CURLMAVEN for 20% off at LOOKFANTASTIC.
How to take care of your kids curly hair
I'm going to share some simple tips, advice and recommendations. As well as some of the best curly kids hair products, whether they've go wavy, curly or coily hair. So you know how to how to take care of your kids curly hair, with confidence.
All the products mentioned in this post are available from LOOKFANTASTIC, who ship worldwide. And you can get 20% off using code CURLMAVEN. I've developed my own Curl Maven Method, but the tips, advice and products in this post are Curly Girl Method friendly. If you follow that method instead, you can read more about it here.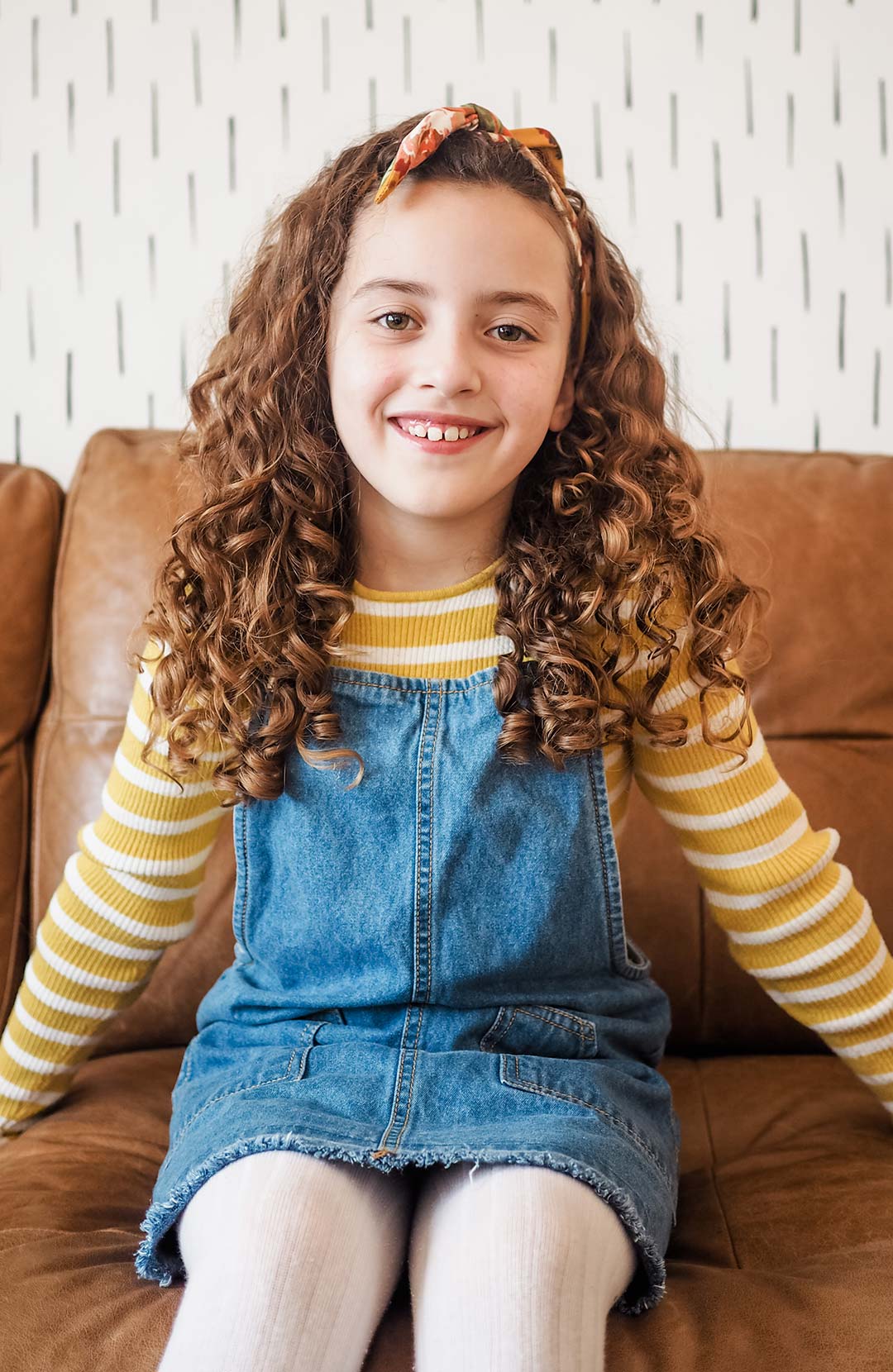 1. Keep it simple
You don't need to invest in really expensive curly kids hair products. Or need a long, complicated hair care routine with multiple steps either. You just need a few good products to start with, and you can add more as they get older and their hair changes. But when they're just babies and toddlers, you just need something a cleanser and a conditioner – that's all!
As they get older, you can include a styling product to define and hold their curls. Here's some brands that have great shampoos and conditioners suitable for curly kids hair. And don't forget you can get 20% off using code CURLMAVEN at LOOKFANTASTIC, who offer FREE worldwide shipping.
Top Tip: don't pile all their hair on top of their head when you shampoo – this causes unnecessary knots and tangles!
2. Don't wash too often
This is a tricky one, because there's some real confusion about how often you should wash curly hair. And I've found people are usually at the extremes, either washing daily or once a week or every other week. So, if your child has really fine, loose wavy hair – wash 2-3 times/week. If they have thicker, curly hair wash twice/week.
If sometimes it's three times a week because someone got paint etc in their hair – that's totally fine to do another wash. These things happen. If they have coily or afro hair, which tends to be thicker, coarser and drier, then washing once a week is fine. Check out my Washday Workbook for some simple, but effective tips and for washday success, no matter what products you use.
Top Tip: Co-washing is great at boosting moisture levels in the hair, especially if your child has coily or afro hair.
3. Detangle without the drama
Detangling can be a frustrating nightmare, full of tears and drama. But it doesn't have to be, once you know what to do and what to use. Don't ever try to brush or detangle your kids wavy, curly or coily hair when it's dry, before they get in the bath or shower. To detangle without the drama, do it when their hair is wet with lots of conditioner in it. You need a good conditioner with lots of slip, and a cushioned paddle brush – like this one from Denman.
Check out this post on "pre-pooing" written by my lovely friend, Lal who has the most amazing coily afro! It's a pre-shampoo treatment that's particularly good if your child has afro, coily hair. Or suffers with really dry, matted hair. Using a Curl Maven Thermal Heat Cap will really help too. Available here on my shop.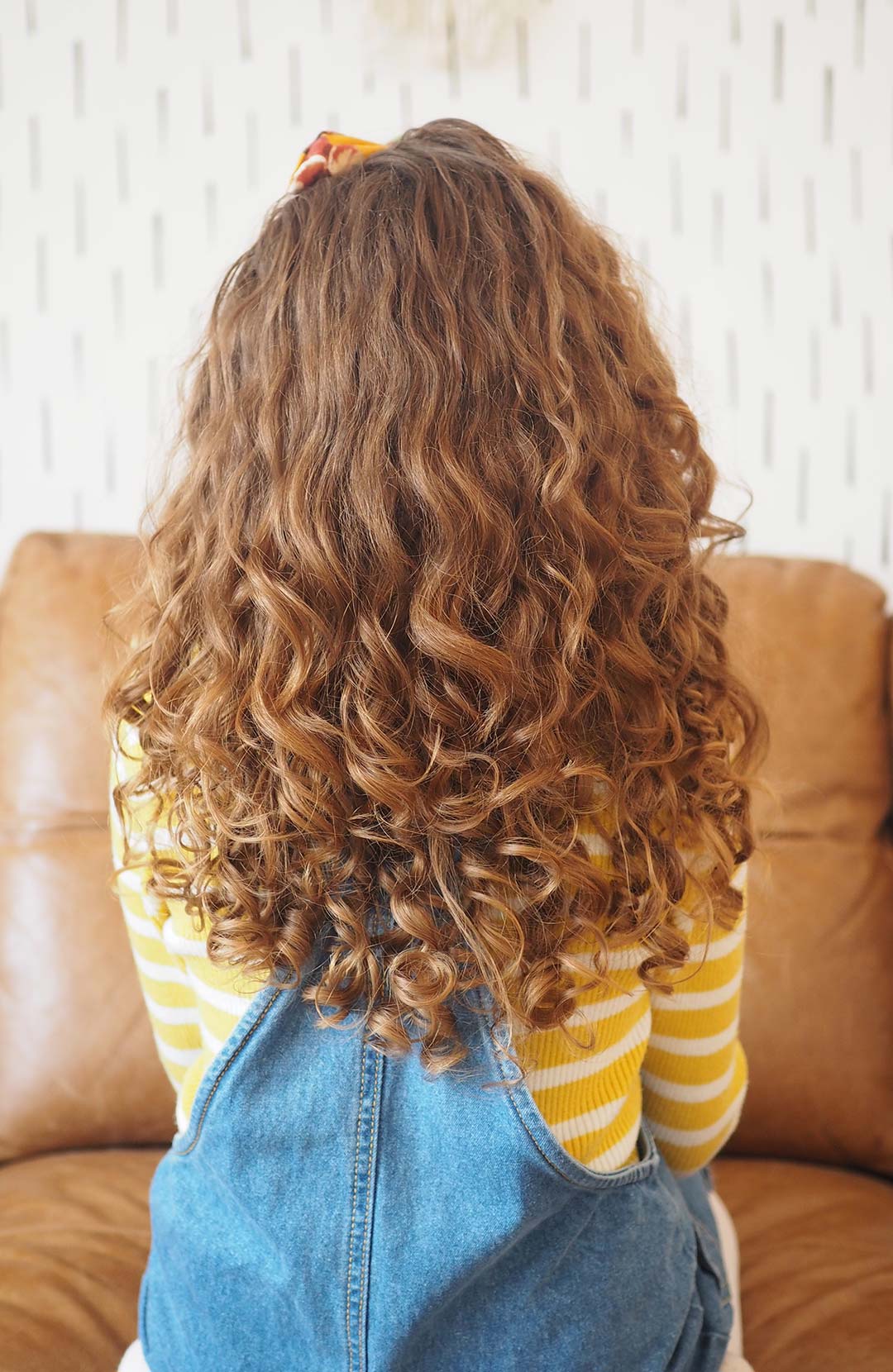 If your child has really dry, knotty, tangled or matted hair – the best conditioner to use is the Matrix Biolage Hydrasource Conditioner. This is the most potently moisturizing conditioner on the market! It's almost like a creamy balm, a little goes a very long way. It's super affordable, especially if you get the massive tub.
Apply it to soaking wet hair after shampoo. If their hair is really matted, knotty and tangled, leave the conditioner in the hair for a few minutes before you start brushing it through. Let the conditioner break down some of the knots and tangles for you.
Top Tip: don't rinse out the conditioner fully! This will help keep their hair hydrated and moisturized until the next wash day. Helping to prevent frizz, knots and tangles.
When you're ready, and once you've got enough water and conditioner in the hair. Starting at the ends of their hair, hold it tightly in your hands so the pressure is on your hand, rather than pulling at their head.
Then detangle by using your cushioned paddle brush from the ends upwards. Gradually working up in sections until you're able to run the brush smoothly through their hair from roots to end. Honestly, the Matrix Biolage Hydrasource Conditioner and Denman Paddle Brush, is the best thing for detangling knotty, tangled, matted hair. Ever!
4. Avoid these:
Sometimes it's just as important to avoid using certain products, ingredients, tools and techniques as it is to implement a good routine using good quality products. So here's a quick list of what to avoid:
Oils and butters: both of these reject and repel water. The very thing hair needs for hydration. Unless your child has coily, afro hair, avoid using neat oils and butters. Or any products that contain a lot of heavy oils and butters. For example, the Bouclème Intensive Moisture Treatment is great for really dry or coily, afro hair. But way too heavy for your child's wavy or curly hair otherwise.
Sulfates and silicones: always opt for a sulfate-free shampoo, and a silicone-free conditioner and styling products. Sulfates are extremely harsh and dry out and strip the hair of it's natural moisture. Silicones suffocate the hair, making it appear smooth and shiny. But also cause damage and build up on the hair. If you use silicones, you must use sulfates to remove them. So you're best avoiding them both altogether.
Fingers and combs: wide tooth combs, shower combs, even Tangle Teezers. These will all rip and tear the hair, especially when it's really fine baby hair. I'd highly recommend using a cushioned paddle brush. Even finger detangling is going to rip and tear the hair. As well as cause lots of tears and frustration.
Towels: regular bath towels, or even the softer baby towels are too harsh on the hair. Instead use either a cotton t-shirt or cotton towel – like this one from Bouclème. Or an Aquis hair towel – get 20% off both of those using code CURLMAVEN at LOOKFANTASTIC.
Cheap quality products: such as Shea Moisture, Not Your Mother's Nature or Cantu. I know they're easy to find, affordable and readily available but they're not great products and they're not made using good quality ingredients. And although you might not notice it straight away, you will a few months down the line.
3. Use a Leave-in Conditioner
If your child's hair is really dry and knotted, matted and tangled when they wake up in the mornings or after a nap. Wet their hair down a little with some warm water and apply a little leave-in conditioner. I've found this works much better than mixing water and conditioner in a spray bottle. But see the next tip below of how to avoid and prevent as many knots and tangles as possible.
Top Tip: You can use a conditioner as a leave-in conditioner, but you can't use a leave-in conditioner instead of a conditioner.
Applying a leave-in conditioner daily will help prevent frizz, and those knots and tangles from becoming a dry, matted mess. And especially important if your child has afro, coily hair as it needs much more moisture than looser waves and curls. Some of my favourite leave-in conditioners are:
MooGoo Protein Shot Leave In Conditioner: I see this mentioned a lot, but for the amount of protein that's in it. It may as well be fairy dust for all the difference it's going to make. Check out my other leave in conditioner recommendations instead.
6. Tie it up!
One of the biggest things you can do to help to take care of your kids curly hair, is to tie it up to protect it. During the day, but especially at night! Wet their hair down with a little warm water, add a tiny bit of leave in conditioner, gently brush it with a cushioned paddle brush, and tie it up before bed time. But even tying it up alone will help to prevent knotty, tangled, matted hair in the mornings. It doesn't have to be an elaborate style, just a simple pineapple or pony tail.
Opt for silk hair ties, like these ones from Silke London, if you can. But avoid Invisibobbles! If you really want to go all out protecting it at night, you can put a Silke London Turban on their hair once you've tied it up in to a ponytail or pineapple. They come in so many cute colours, and you can get 20% off using code CURLMAVEN.
Once they start play school, kindergarten or nursery – tie it up in a protective ponytail, pineapple, pigtails or plait/braid to keep it knot and tangle free. As cute and adorable as it is to leave their beautiful little curls and ringlets down and put a cute bow in their hair. It's not so cute when you're trying to detangle it during bath time and they're crying and you're getting frustrated.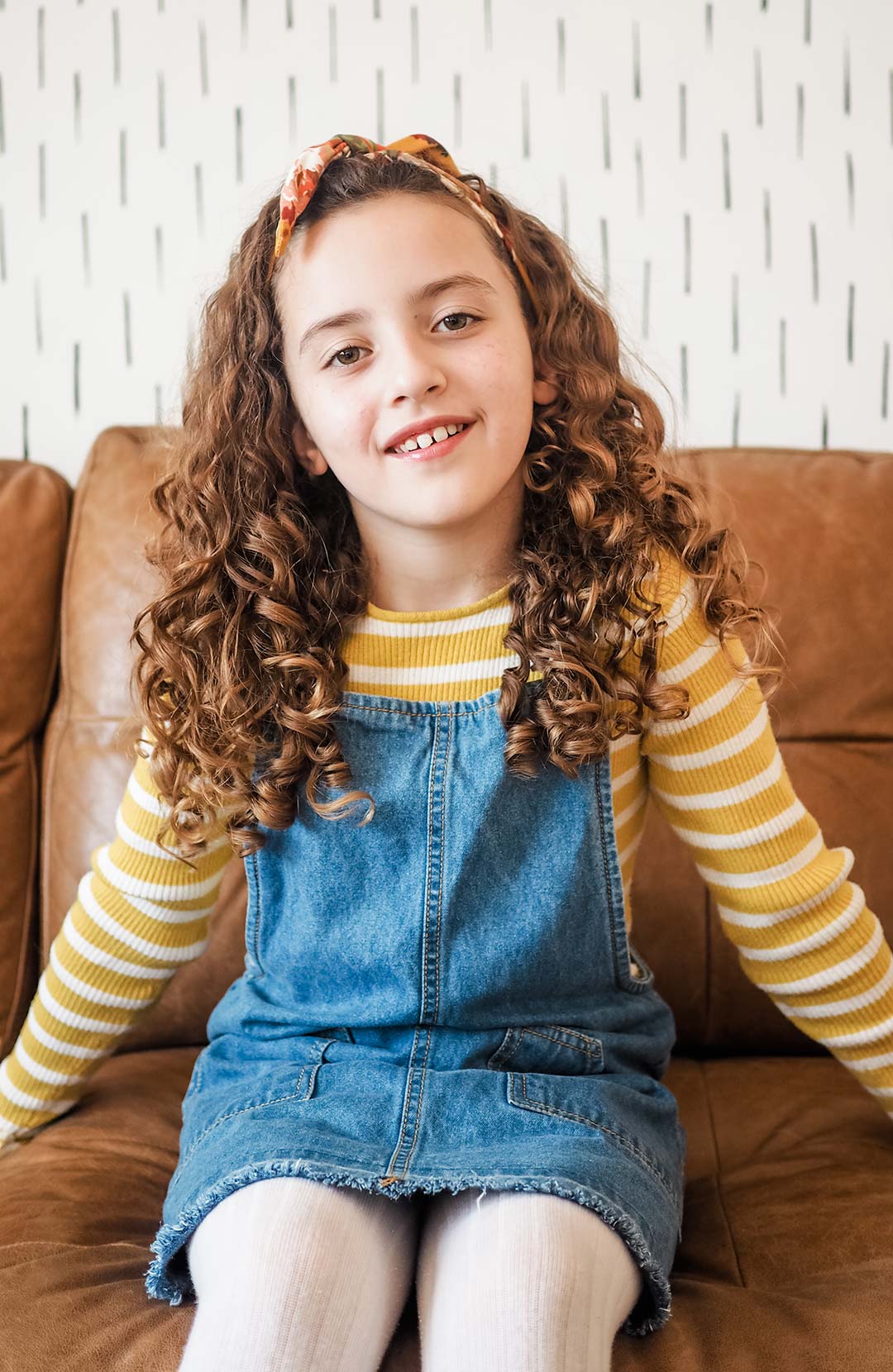 7. Watch what you say
The words you say and the language you use around your kids is so important! Especially when it comes to their wavy, curly and coily hair as they're growing up and learning about themselves. And I cannot stress that enough!
Even if you didn't grow up with curly hair as a kid, ask anyone who did. Negative comments and the words often used to describe curly hair can leave a lasting effect on people and how they feel about their hair.
Avoid using harsh or unkind words. Or complaining and giving out when you're doing their hair. Be gentle with the brush, and never pull their hair or smack them with the brush as punishment when you're trying to get their hair tied up before school.
Tell them how beautiful their hair is. Teach them how to accept, embrace and love their natural hair texture and curl pattern. Show tender care and love to their hair and watch them do the same when they get older. Make it special, make it precious, make it something both of you take pride in.
Try not to straighten it or use heat styling tools on it. Even if it's just for special occasions or a "once-off." This often leads to so many comments and praise from others of how lovely their hair looks straight and the child notices this. Notices that there's negative comments, tears and frustration when their hair is curly. And lots of attention, kind words and praise when it's straightened. Your words matter, so watch what you say. Because those words you use now, is what they'll say to themselves in years to come.
8. Style for School
Most kids with curly hair only need to start using styling products when they start school. For the most simple hair care routine for curly kids, you need something to cleanse the hair (shampoo). Something to moisturize the hair (conditioner) and something to define and hold the curl (styling products.)
Here are some of my favourite styling products for kids curly hair. Remember, keep it lightweight. Nothing too heavy. You can get 20% off all these products using code CURLMAVEN at LOOKFANTASTIC.
9. Tips for Diffusing
If you diffuse your child's hair, the best way I've found of doing this is getting them to lay on the bed. Let their hair hang off the side, and kneel or sit beside with the hair dryer and diffuser.
Get them to roll over onto their side and tummy every so often, so you can dry all of their hair. It makes life so much easier than trying to get them to sit still or flip their head over and back and forth. I've got highlights saved on my Instagram @curlmaven if you want to watch me diffuse my daughter's hair like this.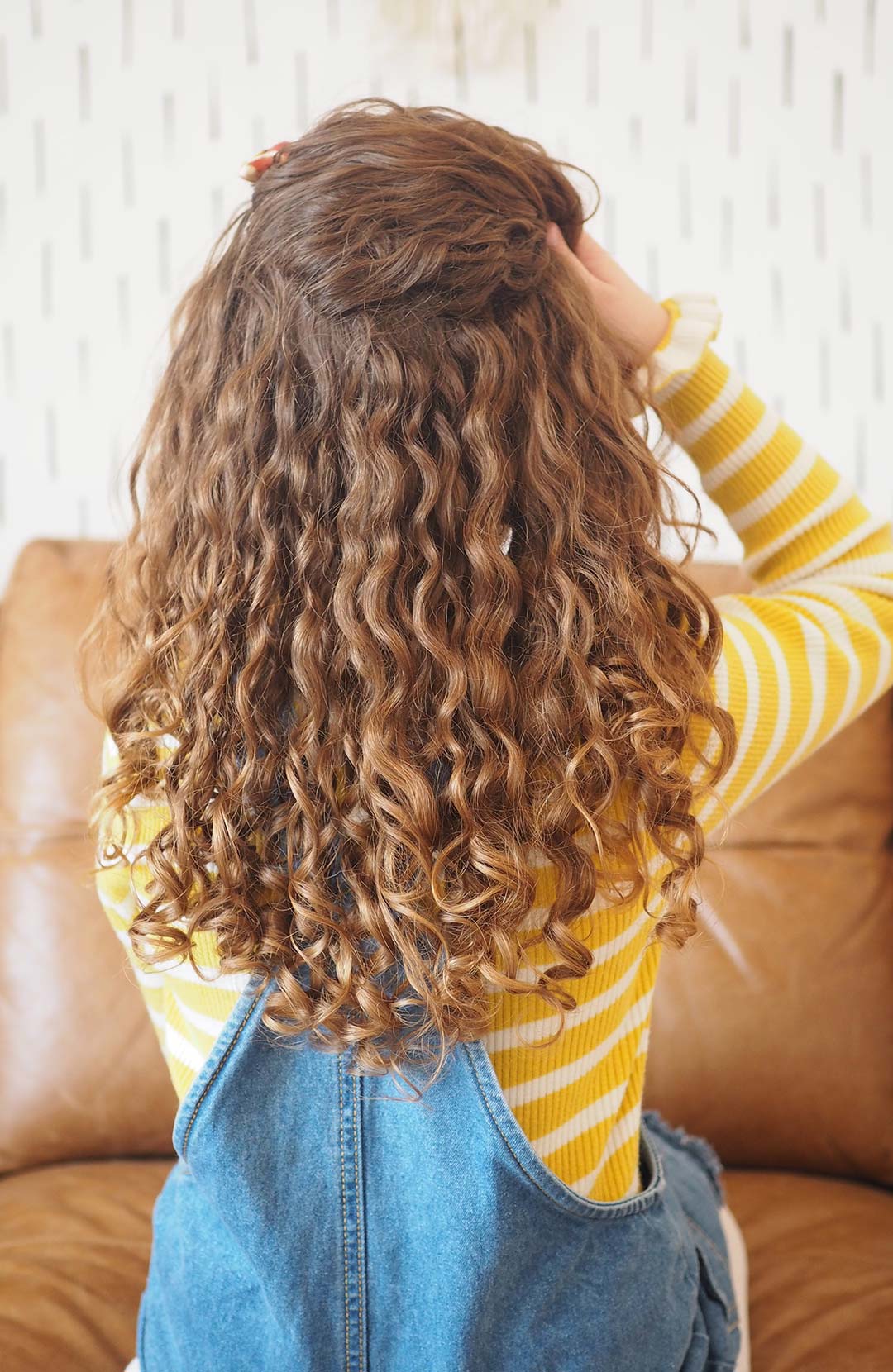 Always diffuse on a low to medium heat and medium speed. If you're in a hurry, up the speed not the heat. What dryer and diffuser you use doesn't matter that much when they're young. But my favourite dryer is the Lanai BLO – it's small, lightweight, powerful and fast! Available here in the UK, Ireland and Sweden. The best diffuser on the market is the Diva Pro XXL Diffuser, available here if you're in the USA. And available here if you're in the UK and Ireland/EU.
Voltage here in the UK and EU is 220 volts, much higher than it is in the USA and Canada where it's 120 volts. So it takes much longer to dry/diffuse the hair.
So if you really want to cut down and save time, then I'd recommend the Dyson Supersonic Hair Dryer. I don't think it's worth the investment if you're outside the USA or Canada, but it does dramatically reduce drying time if you are.
10. Don't Panic!
My final tip for how to care of your kids curly hair, is don't panic! As they get older, and their bodies and hormones change, so does their hair. This is completely normal and natural, so don't panic if their ringlets turn into waves after their first hair cut, or when they start school. Don't panic if they don't have the same curl pattern everywhere, but waves, ringlets, curls and even straight bits. That's totally normal too!
What I've found is that people who's hair changed in childhood, also experience changes in their hair and curl pattern when they hit puberty, pregnancy and menopause. Basically anything that affects the hormones, including contraceptives. So if curls and ringlets disappear, don't worry. They may come back when they hit puberty. Just focus on the keeping their hair healthy.
---
I really hope you found this blog post helpful! It's been such a hugely requested topic, and one I've been meaning to cover for a long time.
If you have any questions, feel free to comment below and I'll answer them as best I can. Don't forget you can get 20% off almost all the products mentioned in this post from LOOKFANTASTIC. They offer FREE worldwide shipping, and no Brexit custom fees.
Make sure you subscribe to the Curl Maven Collective Newsletter for exclusive giveaways and offers, new content, products and services. Follow me on Pinterest, Instagram and subscribe to my YouTube channel for more tips, advice and tutorials.
feeling overwhelmed + don't know where to start?
Book a Curl Clinic Consultation
Gratitude + Support
If you found this article or any of my content helpful and would like to show your Gratitude + Support, you can click here to make a donation. I'm so incredibly thankful and grateful to everyone who supports me, my content and my platform. Thank you!
Thank you for supporting this sponsored article which enables me to continue providing FREE, organic content and a website FREE from Google Ads and annoying pop ups.
*This article may contain some gifted items and affiliated links and discount codes. This doesn't effect my opinion or the way in which I write about products featured on this site.