Whether you've always had curly hair, or you've just discovered your curls and are battling to control your frizz. In this post I'm going to show you how to reduce halo frizz. Don't look at frizz as the enemy, just room for improvement. Frizz is just a curl reaching out for attention. But there are other causes of halo frizz too, and they're probably not what you think.
Have you ever wondered why the hair is so much healthier, hydrated, defined and curly underneath. But you've got dry, damaged, frizzy, looser waves or straight bits on top? If that sounds familiar, then the tips in this post on how to reduce halo frizz are for you! Those curls and ringlets underneath are a clue at the curl potential your hair has, once it's properly hydrated and you're using the right products for your hair. See this post on How to Build a Curly Girl Hair Routine.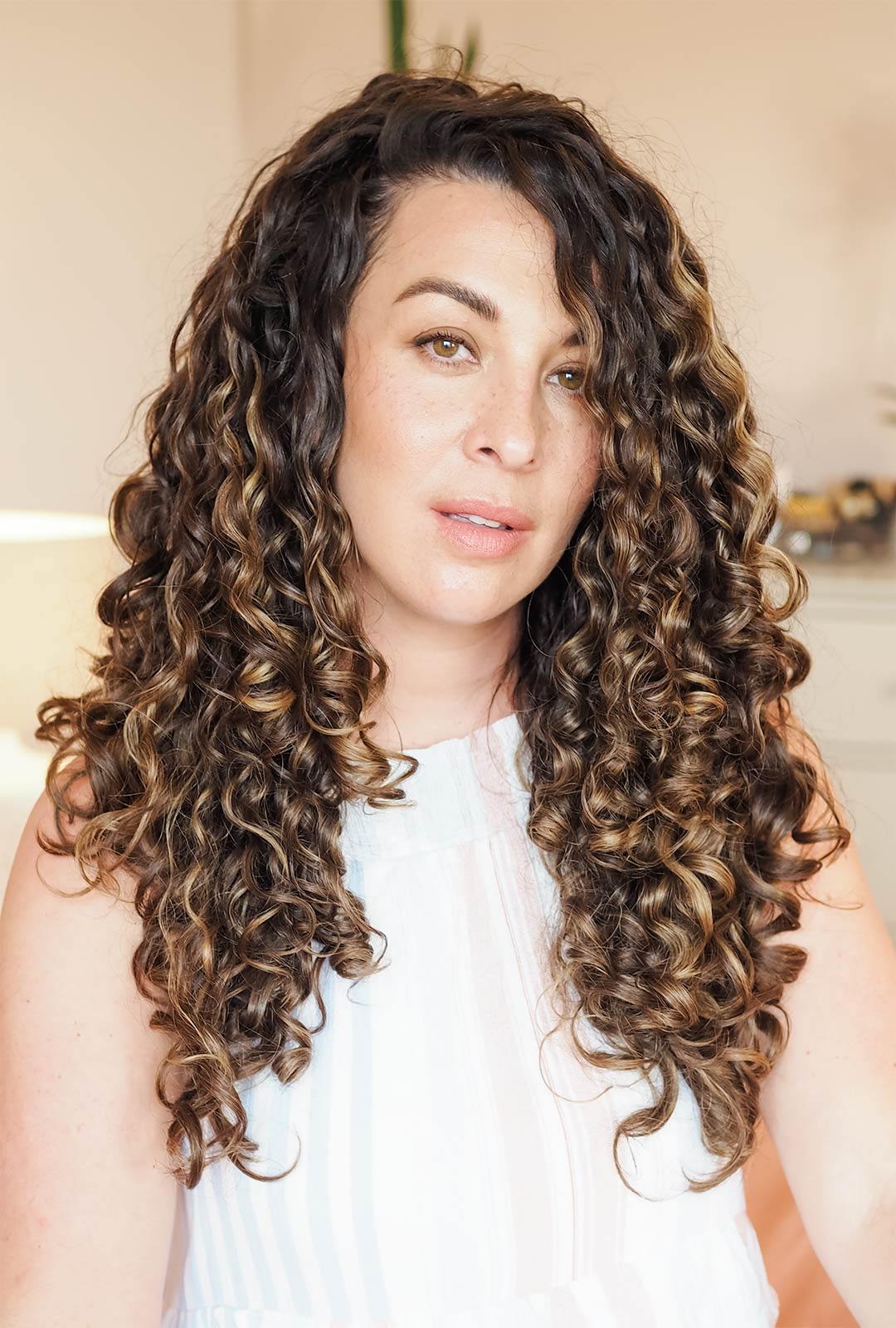 How to Reduce Halo Frizz
When I searched "how to reduce halo frizz" on Google, pretty much all the top hits involved either products or methods that weren't conducive to embracing or enhancing naturally curly hair. It feels like society is constantly trying to suppress, smooth and tame curls and our hair's natural curl pattern and texture. As if frizz is a dirty word, undesirable and must be eliminated by any means possible, even if it's damaging to the health of the hair. Here's how to reduce halo frizz without compromising your curls.
1. Turn down the pressure
Having a power shower may feel great on your body, but it wreaks havoc on your hair! And if you think about it, standing under the shower head, where's the first place all that pressure hits? The top of your head – your "halo." Then it cascades down the back of your hair, pulling and stretching out the curl pattern. Drying out the top layer leading to a frizzier, drier, loose curl pattern on top and resulting in – you guessed it – halo frizz! So my first tip on how to reduce halo frizz is to turn the power or pressure down on your shower!
There's some myths out there that you should turn the power up to help loosen dirt, grime and oil on your scalp. I don't recommend that, just use a good quality cleanser, and use your fingers, or a scalp brush instead, like this one from Bouclème – CURLMAVEN for 20% off. Here are my favourite shampoos suitable for regular use on all hair types, use code CURLMAVEN for up to 20% off: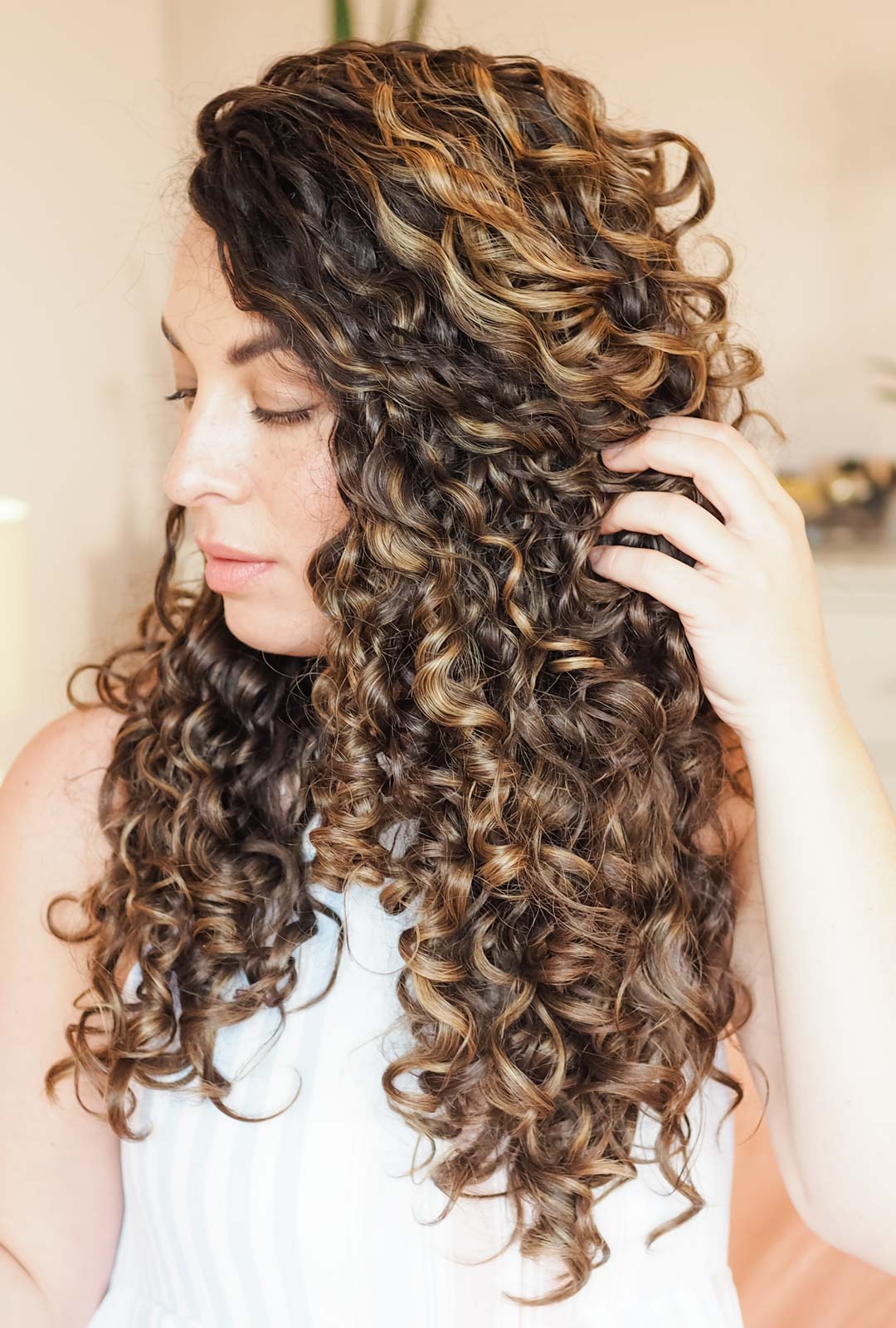 2. Turn down the heat
Heat damage to your hair doesn't just come from heat styling tools. Hot water feels great on your body but it's too damaging to the hair – it dries it out. And again, this hot water is hitting your halo first, also causing halo frizz. My second tip on how to reduce halo frizz is to turn the temperature down!
Ideally the water needs to be the same kind of temperature that you'd bath a baby in. Warm, not too hot, but not too cool either. You can do a cold water rinse at the end, especially if you have high porosity hair or want to add shine. But you need some warmth to cleanse and condition. Read my Step by Step Washday Routine for more tips + advice.
3. Do everything upside down
This method alone will hands down, massively reduce halo frizz! By washing your hair upside down or over the bathtub, all that heat and pressure (should you ignore points one and two above) will hit the underneath layers of your hair. Therefore any frizz will only be on the bottom layers of your hair. Underneath instead of your halo on top. If you use warm, low-pressured water to wash your hair upside down, you're onto a frizz-free washday winner!
Remember these tips take time! Think of how many showers, over how many years have you been washing with hot, high-pressured water beating down on the top of your head. You didn't damage your hair overnight, you're not going to fix or heal it over night either. It takes at least 3-6 months of consistently following these steps to see some improvement. But more like a year for the top canopy layer of the hair to properly heal and look as hydrated and defined as the underneath.
4. Use a chelating, clarifying shampoo – regularly!
Halo frizz isn't just caused by lack of moisture or damage. If you have hard water, limescale, chlorine, metal and/or mineral deposits in your water. Or you swim in the ocean, sea, pool, rivers or lakes. These deposits can build up on the hair causing lots of issues, including halo frizz. You need a chelating, clarifying, detoxifying shampoo to effectively remove these deposits from the hair, a regular shampoo doesn't have the necessary "chelating" ingredients.
Clarify your hair using a chelating shampoo once a month if you live in a hard water area – which is most of the USA, UK + EU. You'll need to use it more often if you swim regularly, read this post for more details, and always deep condition afterwards. Here's some chelating shampoo recommendations, Bumble + Bumble is my favourite:
6. Correctly identify + treat your halo frizz
Frizz that feels dry means there's not enough hydration and moisture in the hair. Think of it as a cry for help, your hair is literally reaching out into the atmosphere for what it needs: moisture. So make sure you're cleansing (and clarifying) properly and regularly, to allow the water properly hydrate the hair and moisturizing products to absorb into the hair. Using a Curl Maven Thermal Heat Cap will really help!
Frizz that feels soft and fluffy means that there's too much moisture in the hair and not enough protein. So make sure that you're not using products that are too rich, heavy and moisturizing for your hair. Download my Protein Moisture Balance Cheat Sheet to learn more. Here are some of my favourite conditioner and deep conditioner recommendations, use code CURLMAVEN for up to 20% off:
7. Use humectant free styling products
If the weather or environment is humid, then your halo frizz could be caused from styling products which contain humectants. Humectants attract, absorb and retain moisture from the surrounding atmosphere, into your hair causing halo frizz usually lots of unwanted volume too. Read this post for more info and try using humectant free styling products, some of my favourite are listed below. Use code CURLMAVEN for up to 20% off:
8. Use a cushioned paddle brush
How you apply your styling products matters. If you just scrunch products directly up into your hair, you'll cause a lot of frizz, damage and breakage. For the best, frizz-free results you need to glaze products from the ends of your hair upwards, until you're about an inch away from your roots. And then smooth down using praying hands, my praying claw method or a cushioned paddle brush, like this one from Denman – CURLMAVEN for 20% off.
Always brush the ends first, gradually working your way upwards, from the underneath of your hair. The biggest cause of breakage and split ends comes from brushing or combing the hair from the roots down, on the canopy (outside layers) of your hair, with the brush facing downwards and in towards the hair.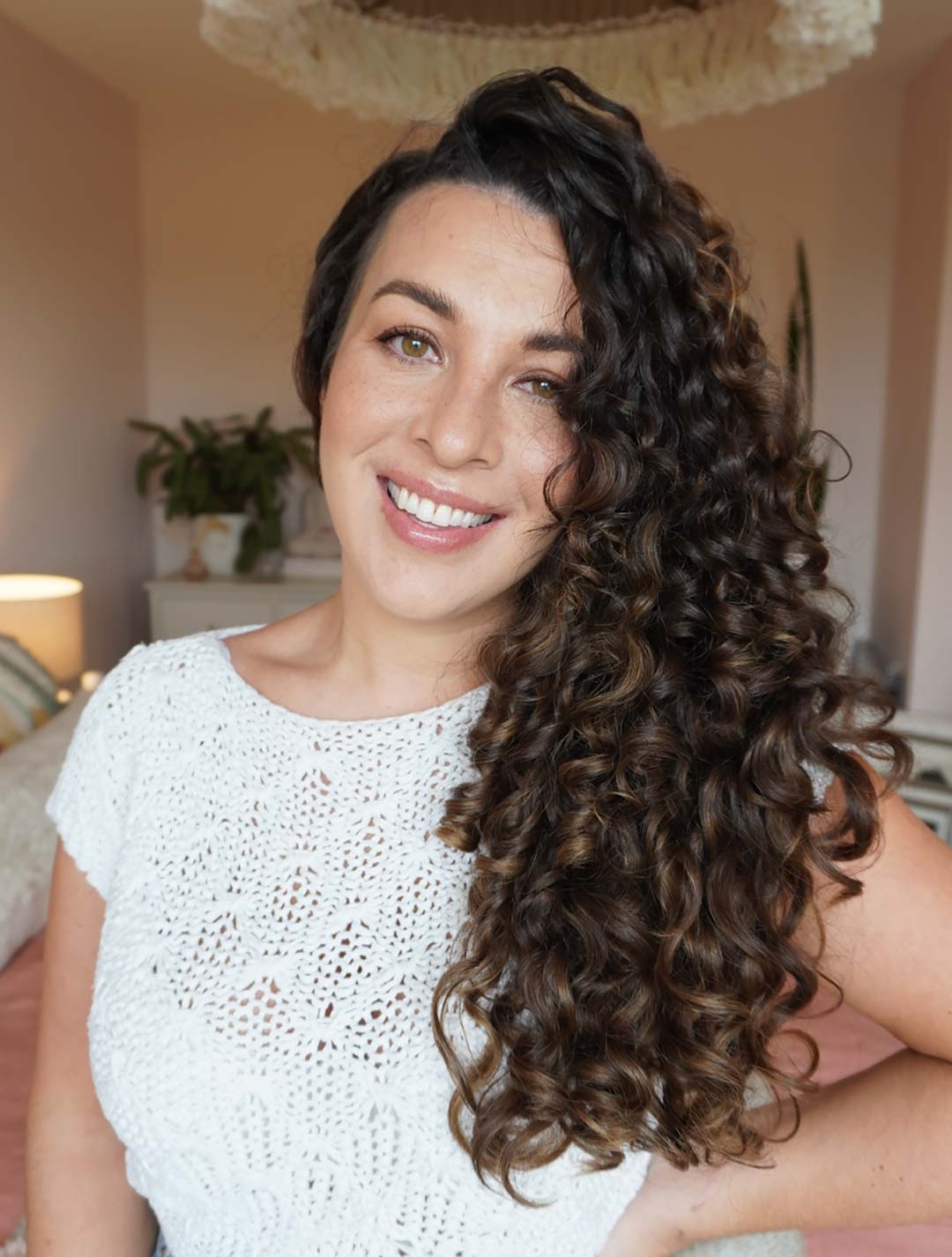 Finally, Heat + Colour Damage
If you spent years using heat tools on your hair, I bet the majority of your efforts were concentrated on the top, outer layer of your hair too – your halo. Therefore, this is where the most heat damage was done to your hair. The same goes for colour damage, especially if you get T-bar highlights which solely focuses on the halo of your hair, causing all the damage to those outside halo. See this post on how to maintain healthy hair when colouring.
All the tips, advice and product recommendations in the world can't repair heat or colour damage. So just be aware that although the tips in this post will help, you'll need to gradually grow and cut that kind of damage out of the hair. Only then will you discover truly healthy hair, shine and curl potential.
Make sure you subscribe to the Curl Maven Collective Newsletter for exclusive giveaways and offers, new content, products and services. Follow me on Pinterest, Instagram and subscribe to my YouTube channel for more tips, advice and tutorials.
Gratitude + Support
If you found this article or any of my content helpful and would like to show your Gratitude + Support, you can click here to make a donation. I'm so incredibly thankful and grateful to everyone who supports me, my content and my platform. Thank you!
*This article may contain some gifted items and affiliated links and discount codes. This doesn't effect my opinion or the way in which I write about products featured on this site.