This post is a long time coming, and something I'm very passionate about. How to be a responsible influencer in the curl community, and what that actually means. Not just for people who want to become influencers. This series is for anyone who is on social media or part of the curl community. To educate, so you know what to look for. And how to separate the responsible influencers, from the people who are just in it for free products, followers and fame.
Mini Series | Part One
I actually don't even know where to start, because I feel like there's so much, and it's all important. A few people saw my idea about doing this series, and ran with it on their own platforms. But they gave out a lot of misinformation. So I've decided to make this into a mini-series. With smaller, bite-sized pieces of helpful, useful, educational information that's in-depth, without being overwhelming.
This post is going to be about general pet peeves in the blogger/influencer curl community. The main things you need to look out for. As a content consumer and follower, and as a responsible influencer. As questions arise, and the conversation starts flowing, I'll address them in future posts in the series. If you have any questions, or something you want to know more about. Let me know in the comments at the end of this post.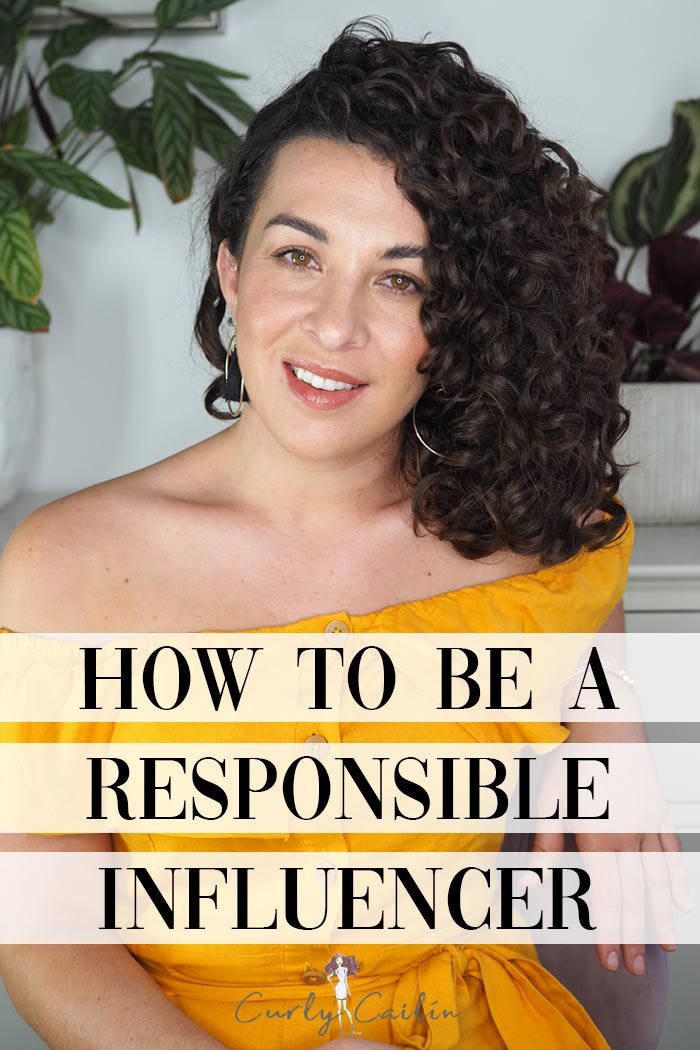 My Blogging Background
I'm an award-winning blogger, working in the blogging industry for over five years. I've attended countless blogging conferences, workshops, and mentorships. All of them paid, ticketed events, featuring industry leaders and authorities at the top of their field. I've had countless conversations with my peers. Both small bloggers and some of the biggest, most successful (and responsible) bloggers and influencers in the world. So know that the tips, advice and guidelines I'm going to share throughout this series, are accurate and factual. Coming from years of knowledge, practice, my own experience and advice from some of the industry leaders.
Influencer or Enabler?
I hate being called an influencer. Outside of the beauty and curl community, I don't know anyone who does like to be called or associated with that word. We much prefer to be called bloggers, or content creators. But I have to recognise that it's the label associated with who I am, and what I do. Instead of thinking of it as being an "influencer". What if you switched that word out to an "enabler?" Would it make you view it differently? Being an enabler has more of a negative connotation. "A person who encourages or enables negative or self-destructive behaviour in another."
A new term related to marketing and social media, is an influencer. "A person with the ability to influence potential buyers of a product or service by promoting or recommending the items on social media." Now switch out the word "influence" for "manipulate". How do you feel about it now? This is why people have such a distrust for influencers. It's why most people's automatic reaction to sponsored content, or affiliate codes and links is a negative one, especially in the curl community!
Biggest Pet Peeve
A lot of you asked me this on my Instagram question sticker. Please, do not call yourself a blogger unless you have an actual blog! And by blog, I mean a website. If you only have an Instagram account, and post your content there, you are a micro-blogger. I can't even begin to tell you how these two things are not even remotely similar!
If you only knew the amount of hard work, time, effort and money that goes into running, maintaining and creating content for an actual blog. You'd realise the two things can not even be compared! A similar comparison would be if you do Instagram stories, and call yourself a YouTuber. Or writing a caption on an Instagram post, and calling yourself a journalist. NOT. THE. SAME! Okay, rant over – let's get on with the rest of the post.
Micro-Blogger v Influencer
Being an "influencer" now, is what used to be called a micro-blogger. Someone who shares their content, and has a large following, on a social media platform. The whole reason stories and swipe ups were created, was to facilitate revenue for influencers with large followings. To work with and make money from brands, sponsorships and affiliates. Without the hassle and hard work of a website/blog to facilitate those clicks.
The word influencer wasn't around when I started blogging. When describing "micro-bloggers," the "micro" initially described the platform, not the follower count. Nowadays, "micro" refers to the platform, and the follower count. If you have between around 5K and 50K followers on social media, you're referred to as a "micro-influencer". I'm going to go more in-depth into followers, social media and algorithms. What you need to hit before approaching and working with companies in a future post in this series.
Don't Judge By Numbers
Don't judge a curly influencer or account by their follower numbers, judge them by their content. Follower numbers on Instagram mean nothing, simply because they can be (and are) bought. This makes you believe they are much bigger, more influential and more knowledgeable about curly hair than they actually are.
Authentic | Attitude | Approach | Acknowledge
I've broken down how to be a responsible influencer in the curl community into four simple things: the 4 A's. Authentic, attitude, approach and acknowledge. Firstly, are you being authentic, true to yourself, who you are and what you believe in? Does the person you're following seem authentic and genuine to you? Look at their page, their content. Is it just regurgitated information they've picked up from other people, other groups, other accounts? If you ask them a question, do they actually know what they're talking about? Or are they just repeating what they've heard or seen elsewhere, but don't have the research, knowledge and experience to help or advise you? Do they come across a certain way on their stories and grid, but act completely different in DM's? If so, unfollow!
Have the right attitude. I don't care who you are, how long you've been following the curly girl method, or a part of the curl community. You don't know everything. Anyone who comes into this with the wrong attitude, that they know it all. They've got it all figured out, or they just come across rude or aggressive – unfollow! Don't listen to someone who tells you they try out a million products and techniques, so you don't have to. It's your hair, you know it better than anyone else. You need to experiment with different products, methods and techniques. It's only through trial and error that you'll find out what works best for your hair. Because not everything works for everyone.
Approach is important. And it's goes hand in hand with attitude. Your approach to creating content, how you speak to, engage and interact with your followers matters. The message can get lost if the attitude and approach is wrong. There have been some curlies with a great message, but because their approach is all wrong. That message has been lost, or disregarded. Having a humble, helpful attitude and approach is so important. It's a good indicator of someone who's sharing content for the right reasons. Three people spring to mind, all responsible micro-influencers with various follower numbers. Jackie @mymanecurls, Megan @wavycurlychronicles and Daysie @curlswithdaysie.
Finally, and this is a huge problem in the community, and another pet peeve of mine. Acknowledgement! On many levels. Acknowledge that you don't know it all, you don't have all the answers. Acknowledge where you learned something, or who you learned it from. I'm really struggling to love and enjoy Instagram at the moment. And it's because of the lack of acknowledgment, honesty and transparency; stealing ideas, content and images. Since I started Curly Cailín almost 18 months ago, I've had all of that happen to me. My images, ideas and content stolen. People use my name and blog to get clout, and often don't even have their information and facts right. It's soul-destroying, heart-breaking and infuriating!
Another level of acknowledgment, which is another huge issue on Instagram at the moment. Is acknowledging when a product has been sent for free by a company or brand. Or acknowledging that a discount code is an affiliate link. Which earns that person a small commission for every purchase made using their code/link. Acknowledging that a post is sponsored, aka an advertisement. This is why there's such a distrust of influencers and bloggers. Because of this shady behaviour and not being honest, truthful and transparent. Basic stuff that makes us a good person, not just a good influencer.
Rules | Recommendations | Guidelines | Law
Again, a more in-depth, definitive post with accurate, factual information is coming soon. So you can be the best, most responsible influencer for your location, and followers. In most countries they are given as "recommendations" as "guidelines". In others – such as the UK, its the law. Regardless of whether you call yourself an influencer or not. You MUST declare if a product has been sent to you for free. From either a PR company, or the brand itself – use #gifted, every time you use/show/discuss that product. If you stand to make affiliate commission from a link or discount code – use #af or #affiliate. Or if your content, image, caption, story or post has been paid for in any way. Then use #ad or #spon. Clearly visible, not hidden or disguised within an image, or thrown in a mix hidden among 20+ other hashtags.
Would you really want to follow and support someone who goes out of their way to be shady like that? There is nothing wrong with influencers making money from their hard work. So long as these influencers are being authentic, with the right attitude and approach. Acknowledging that it is gifted, affiliated, sponsored or taken/learned from someone else, or somewhere else. I'll be breaking that down in an upcoming post too. How to know your value, know your worth and work out what to charge for your content.
Fake | Free Products | Followers | Fame
The opposite of all these things, and what gives influencers and bloggers a bad name and reputation, are the 4 F's. When people are in it for the wrong reasons. Be wary of people who are fake, who are in it to try and get free products, followers and fame. Unfollow them! Do not give them your engagement, comments, likes, shares and certainly not your money – affiliated or otherwise. I receive a lot of questions from people asking how can they become an influencer? How can they get free products? Why does someone with the same or less following than them get free products and they don't?
This is something else I'm going to get into in this series. How, why and when brands will start working with you. There has to be something in it for the brand, they do not give out free products just because you have a couple thousand followers. Or because you asked them, and promised reviews and content in return. Stop doing that! Because it's damaging the curl community!
Although this post may not have given you all the nitty, gritty answers and details you were hoping for. The information is important. Everything in this series is built on the foundation of the 4 A's and the 4 F's. I want to be as transparent, honest, educational and informative as I possibly can. To help this community be responsible, be better. And as the saying goes, a rising tide floats all boats. Just please don't rip off my content! At the very least ask me, tag me and credit me. Make sure you've got my message, method, techniques and facts right!
As you can see, I've got a lot planned for this series. The next post will be all about the hot-topic of affiliate codes, discounts, ads and sponsored content. Leave any questions you have in the comments below, or anything else you'd like me to discuss. I'll address them throughout the series. Thank you so much for taking the time to read this, I really hope you've found it helpful!
Make sure you subscribe to the Curl Maven Collective Newsletter for exclusive giveaways and offers, new content, products and services. Follow me on Pinterest, Instagram and subscribe to my YouTube channel for more tips, advice and tutorials.
Gratitude + Support
If you found this article or any of my content helpful and would like to show your Gratitude + Support, you can click here to make a donation. I'm so incredibly thankful and grateful to everyone who supports me, my content and my platform. Thank you!
*This article may contain some gifted items and affiliated links and discount codes. This doesn't effect my opinion or the way in which I write about products featured on this site.