Here's how I set goals and intentions for the year ahead using astrology, manifesting, affirmations and mantras in 7 easy steps. I've been doing method this for many years now, and it really works! So whether you're new to manifesting and setting goals and intentions, or if you've been doing it for a while. I hope you learn from or are inspired by how I set my goals and intentions for the year ahead.
How I Set Goals + Intentions for the Year
I've turned how I set goals and intentions for the year ahead into a beautiful evening ritual of cleansing, reflecting and releasing the past year. Before deciding what my values and mantra for the coming year will be. And then setting my goals and intentions for the year ahead. There are seven steps involved: Reflect, Define, Values, Mantra, Goals + Intentions, Affirmations and Vision Boards.
I've developed this method from various books I've read such as LifePass by Payal Kadakia which is currently FREE on Audible and really affordable on Kindle. The 6 Minute Succcess Journal by Dominik Spenst, which featured in my 2022 Gift Guide. As well as all the various books I've read on manifesting, moon cycles and intention setting – too many to name! Along with my own experience.
I highly recommend that you follow these steps using a pen and paper or journal, instead of doing them digitally. There's an extra magic and meaning when you physically write it down and make it happen. The digital detachment just doesn't have the same feeling, meaning or power as committing pen to paper.
You Choose When
But first, you get to choose when you want to do this ritual and follow these steps to set your own goals and intentions for the year ahead. Because timing is everything, it can be as important and significant as you want it to be. The year ahead can start any time you want it to. Here are some suggestions and ideas, with the significance behind them. See what timing resonates with you, and then move onto the next step.
The Calendar Year
There are many different opinions on when the best time to set goals and intentions is. Many people do it at the New (calendar) Year. And yet there are many arguments for why the New Year is not the best time to set goals and intentions.
The Astrological Year
If you're into astrology, you can do it at the start of the astrological year on March 21st, which is Aries season, the first zodiac sign in astrology.
The Wheel of the Year
March 21st is also the start of Spring and the Spring Equinox in the Celtic Wheel of the Year – give or take a day or two. New signs of life, new beginnings such as spring always seem like a better time to set new goals and intentions than in the depth of winter, a dormant time of death before the rebirth of spring. If you want to know more about the Celtic Wheel of the Year, the seasons, cycles and astrology, I highly recommend Kirsty Gallagher's new book, Sacred Seasons.
Your Birthday
You can also set your goals and intentions for the year on your birthday. It's another way to measure your growth and manifest your future according to your age, instead of a calendar or astrological year.
New Moons
If you like to work with the moon cycles, you can set your goals and intentions on the first new moon of the calendar year, which would either be the New Moon in Capricorn, or the New Moon In Aquarius. You can set your goals and intentions on the New Moon in Aries, which is the first zodiac sign of the astrological year. Or the new moon of your own zodiac sign. New Moons are a powerful time to set intentions, manifest your goals and put your dreams and wishes out into the Universe.
When I Set Goals + Intentions for the Year
In the past, I've set my goals and intentions for the year ahead on the New Moon in Aries, which is also my zodiac sign. With all the momentum of the universe, seasons, cycles and astrology behind my intentions. The goals I want to set and the things I want to manifest in my life for the year ahead.
New Moon in Capricorn
However, I changed things up in 2022 to harness the power of the New Moon in Capricorn, which always falls around this time of year, between December 22nd and January 19th. Perfect for setting New Year goals and intentions. And here's why: the Capricorn New Moon encourages you to focus on laying stable foundations, get clear on what you want and create an action plan. This is exactly the kind of energy you want when setting goals and intentions for the year ahead.
According to author Kirsty Gallagher, "This new moon (in Capricorn) shows you that it's not enough to simply dream and set intentions for the year ahead; you need to take action too. If you want things to be different in this next year, you need to do things differently."
"You have to set a clear focus on what you want and what you will and won't accept. Capricorn will bring you a determination to reach your life goals like never before and wants you to take your focus off what hasn't been working, and instead put all your energy into what you want and how you will get there." – Lunar Living Journal, Kirsty Gallagher
Quarter Moon in Aries
However, I didn't set my goals and intentions on the New Moon in Capricorn, I did them on the First Quarter Moon a week later – which just happened to be in Aries, my zodiac sign. First Quarter Moons bring energy, ideas, inspiration, motivation and a sense of tangible reality to your goals and intentions. To bring your hopes, dreams, wishes and ambitions to fruition. I wanted to harness all of that goodness and infuse it into my goals and intentions for the year ahead.
Step 1: Reflection Questions
The best place to start is where you are right now. You don't have to feel ready, you just need to know where you are, so you can figure out steps you need to take to get where you want to go. The best way to do that is to reflect on the past year. These six reflection questions were inspired by author Jay Shetty on his podcast, On Purpose:
What was my biggest challenge?
What was unexpected this year? – this can be positive or negative, whatever comes to mind first
What am I most proud of? – something you achieved or overcame
What am I grateful for? – this can be a person, situation, anything!
What lessons did I learn? – again, this can be positive or negative and doesn't have to be long
What was a good investment/spend? – this is important, because we often talk about what was a waste of our time, effort, energy or money. But knowing what worked, and what was worth our investment can show us the benefits of that and what else might be worth investing in in the coming year.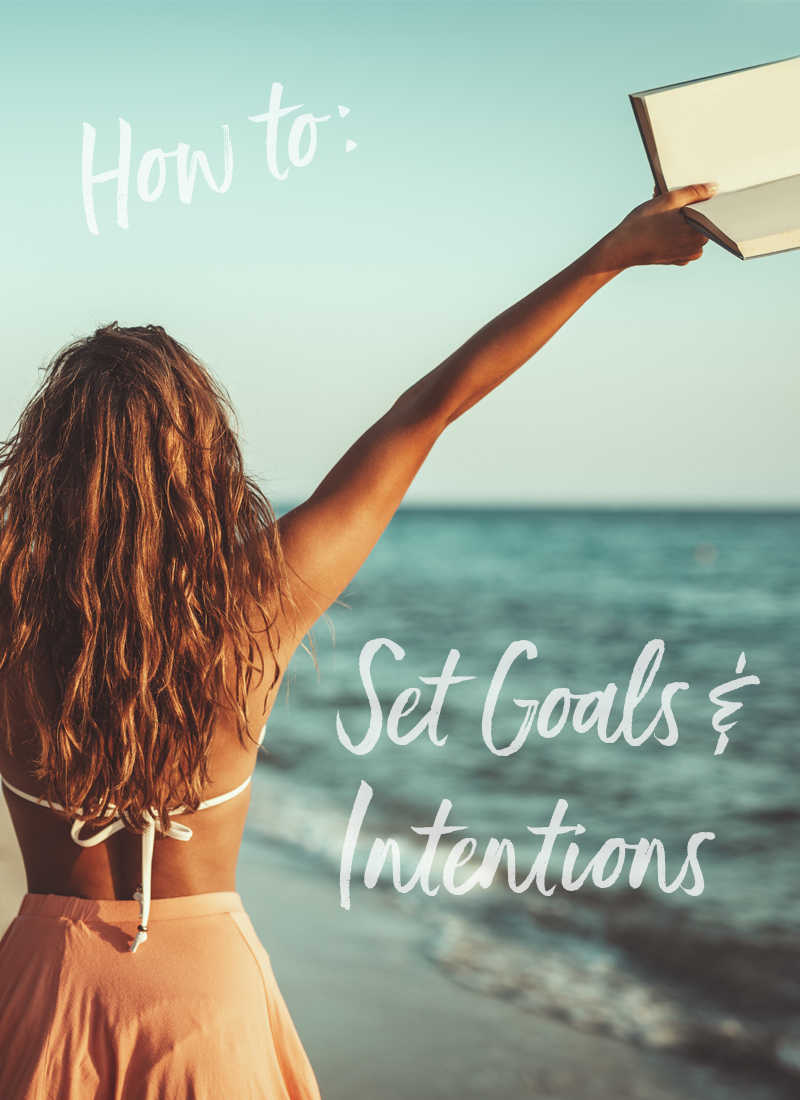 Step 2: Define Your Year
Next, define your past year in five words. This was taken from Payal Kadakia's LifePass Method. If you're doing this on the New Year you can write, "2022 was…" If you're doing this on your birthday you can write, "35 was…" etc. The words you choose can be negative and/or positive and are a snapshot that defines and sums up your year. Here's mine, as an example:
2022 was: unpredictable, unhealthy, intense, transformative, clarifying
Once you've defined your past year, now use five words to define what you want the year ahead to be. Using the same format according to the year, your age etc. Make sure the words you choose to define your year are positive and what you want to focus on. Ideally you want these words to be the same at the end of the coming year. Again, here's mine as an example:
2023 will be: healthy, stable, authentic, creative, growth
Step 3: Values
According to the best-seller 6 Minute Success Journal, "Values are the solid foundation for your goals. If you determine what your personal values are, you can then create the ideal starting point for your goals. Your values are the most important basis of your actions." So if your actions are in line with your values, you'll be more motivated to achieve your goals and experience more satisfaction when you do. Next, choose five values you want to live by in the year ahead and become the foundation of your goals. Here are mine as an example:
Health, authenticity, spirituality, passion + meaningful progress
Step 4: Mantra
You can do this now, or you can do this as your last step. Create a mantra for the year ahead. This will be useful when you feel discouraged, out of alignment or when you need to make a decision. It should be a short, inspiring statement.
Use your mantra to see if the choices and decisions you need to make align with it, or to lift you up and get back on track with your goals. My previous mantras have included, "consume less, create more" in 2020, "forge don't follow" in 2021 and "work smarter, not harder" in 2022 . For 2023 my mantra is: nourish and nurture to create and grow, or simply NOURISH.
Nourish
Step 5: Set Goals + Intentions
Instead of just jotting down whatever you want to manifest, goals or intentions you want to set. I recommend dividing this step into different categories, which I'll list below. This brings much more balance and purpose to all areas of your life. Instead of neglecting one or some areas of your life, such as friends and family. Because you're so focused on your career goals, for example.
When setting goals and intentions, stay true to your values and what you really want in this next year. It's helpful to know what your long term plans and goals are, so you know the ultimate destination in 5 or 10 years time. And then use this next year's goals and intentions to work towards that. Use positive words in the present tense. Be specific and realistic, and make them measurable and achievable. Set your goals and intentions under these headings:
Personal + Spiritual – it's always got to start with you
Mind + Body – mind and body wellness is so crucial when it comes to achieving all your other goals
Friends + Family – this includes relationships and children
Work + Career – or Business + Career if you own or want to own your own business
Money + Finances – always be specific when it comes to money!
Home = Travel – one might be more important than the other at different times in your life, or you might want a balance of both
You can focus on one, two or even three of these areas in your life, but the aim is to create a healthy balance in all areas – whatever that looks like for you. You might really focus on money and finances if you're saving for a mortgage, wedding, honeymoon, college fund or business investment.
Friends, Family + Relationships if you're newly single, getting married or growing your family. Home could be your focus if you've just moved or bought a house. Travel could be anything from travelling the world, country or continent to going on vacation with your loved one, friends or family.
Step 6: Affirmations
An affirmation is a positive statement that you can use or repeat to re-frame your negative thoughts to a positive mindset. I'm a huge fan of affirmations, as they are such a powerful yet simple tool to change your mindset and change your life. Step 6 is to create powerful affirmations to motivate and encourage you to achieve the goals and intentions you've set out for the year ahead.
When writing affirmations, make sure to keep it positive, and keep it in the present tense, using words like I am, I have and I will. Try to infuse your affirmations with the excitement, emotions and energy of having already achieved everything you set out to do. It's not a statement of something you want, or hope to have. It's an affirmation, a confirmation of what you will do, be, have and achieve.
You can start with, "This year I will…" Or be more specific with the timing, such as: "In 2023 I have, I will, I am etc." Just make sure it's realistic and achievable, otherwise you won't truly believe it's possible and negative thoughts and doubts will creep in.
Step 7: Vision Boards
I'm going to do a separate post on vision boards, because they are so much fun to do. But also incredibly powerful when it comes to manifesting! Some people skip all the reflection, writing down goals and setting intentions and skip straight to vision boarding. Personally I like to do this step last. Again, more details will be in a future blog post. Or maybe even a work shop or master class. But you only want to put images on your vision board that truly excite you and bring the future you want to create to life!
I highly recommend going digital for this step! You have the whole internet at your finger tips to source images and inspiration for your vision board, using free websites such as Pinterest, Canva or Milanote. Write your affirmations, mantras, values and key defining words on your vision board. Get creative and get excited – I can't stress that enough. Every image you find should really excite and inspire you, so much! And if it doesn't, don't put it on your vision board! Here's a sneak peek at some of my vision board.
Optional
And finally, this step is optional. But if you're into tarot, oracle or affirmation cards or runes you can pull a card or rune for the year ahead. Depending on the type of card, it could give you your mantra for the year. Oracle or affirmation cards are great for that, it's where I got my "forge don't follow" mantra. I love The Mantra's affirmation cards by Roxie Nafousi x The Head Plan. You can pull a card for extra wisdom and guidance for each category of your goals and intentions. Make a note of them in your journal, or put them on your vision board.
Revisit + Reassess
I really hope you found how I set my goals and intentions for the year helpful. I'd absolutely love to know what you thought of it and the steps I've shared. I love all this kind of stuff and it genuinely gets me so excited for a new, fresh start! And the best thing is, you can do this any time.
Make sure you refer back to everything we've covered in this post throughout the coming year. Revisit and reassess your goals, values and vision board. Don't be afraid to make adjustments. As you work towards some goals, you may realise they're not what you want any more. That's okay, that's good! Now you know, and you can use your time, energy and intention to focus on working towards another, or a new goal instead.
I'm really loving creating more wellness content like this on Curl Maven, I hope you're enjoying it too!
Make sure you subscribe to the Curl Maven Collective Newsletter for exclusive giveaways and offers, new content, products and services. Follow me on Pinterest, Instagram and subscribe to my YouTube channel for more tips, advice and tutorials.
Gratitude + Support
If you found this article or any of my content helpful and would like to show your Gratitude + Support, you can click here to make a donation. I'm so incredibly thankful and grateful to everyone who supports me, my content and my platform. Thank you!
*This article may contain some gifted items and affiliated links and discount codes. This doesn't effect my opinion or the way in which I write about products featured on this site.