There's nothing worse than putting lots of time and effort into achieving a bomb wash day, only to wake up the next morning with flattened, pulled out curls and a tangled, knotty mess. Here's how I protect my curly hair at night to minimise frizz, retain moisture and maintain curl definition. So my wash day results last longer throughout the week.
Since writing this post, I have changed how I protect my curls at night. I now use a Silke London Hair Turban, instead of my Buff. Everything else has stayed the same. You can watch this IGTV video, of how I use it, and what my hair looks like the next morning. And you can get 20% off Silke London on Look Fantastic, using code CURLMAVEN.
Silk Pillowcase
A silk pillowcase is an absolute must-have for curly hair! Or any hair type, and skin type too for that matter. I've tried a few, and even made my own. But I didn't seem to be getting all the benefits of sleeping on a silk pillowcase that I hear about. I figured this was down to the quality of silk I was sleeping on. So when I was looking at some popular, well-known pillowcases, one name kept coming up in the reviews as the best on the market. One that no other silk or satin pillowcase compares to: Silkskin pillowcases. They've got lots of great info and articles on their website which are well worth a read.
Not just any silk pillowcase
Silkskin pillowcases are exclusively designed and hand-finished for the beauty industry and unlike any other I've seen, touched or slept on before. They are incredibly soft, made out of the finest and most durable natural silk available, Mulberry silk. Which is also naturally hypoallergenic, and breathable. They aren't shiny, unlike most silk pillowcases. Which are actually satin pillowcases, made out of man-made, synthetic fabrics such as nylon, polyester and rayon. I didn't realise what a big difference that actually made to my hair, and skin, until I started sleeping on a Silkskin pillowcase.
Now I don't sleep without it! Not only is my hair holding it's curl pattern and definition much better the next day. Which means I can go longer between wash days and refreshes. I also don't have as much frizz, and can even sleep on my Silkskin pillowcase without any other form of protection (unintended bit of sexual innuendo there!) or pineapple at night! Silk contains very similar proteins to those in your hair, so your hair stays soft and silky as you sleep. As opposed to frizzy, knotty and tangled!
Retain Moisture
Natural, Mulberry silk also helps to retain moisture in your skin and hair, keeping them both hydrated and nourished. I've noticed my skin isn't as dry in the mornings either. My skin has absorbed all my skincare oils and serums I put on at night, rather than my pillowcase. So if you do nothing else to your hair, or only invest in one thing to protect and preserve moisture in your curls at night; make it this unique, multi award-winning silk pillowcase from Silkskin.
Recommended & Used By
Recommended by dermatologists, skin care specialists, hairdressers and doctors. Not to mention used by royalty, and celebrities such as Nigella Lawson, Helena Bonham Carter and Jemima Goldsmith. Vogue and Marie Claire are also fans of Silkskin. They've worked with Chanel, Aveda and Dove. There's a reason why they're the best on the market – just like I'd read in those reviews.
Invest & Care
Purchasing a Silkskin pillowcase is an investment, but it's worth it and will last for years! So long as you look after it properly. Use a special detergent suitable for silk. Wash on a 30-35 degree delicate or hand wash, and let it dry naturally. They ship worldwide on the Silkskin website. This is the best solution for avoiding frizzy, tangled knots. Or if you wash your hair in the evenings and like to sleep with your hair in a cast at night.
Protective Styles
There are lots of different protective styles to wear at night, such as braids, top knots and pinned curls. But these all alter the natural curl pattern, and I want to preserve and protect my curls. A really popular way to protect natural, or curly hair at night is to use a silk scarf. I tried this for a while before I got a Buff. I had to wrap it and tie it so tight so it wouldn't fall off during the night, which it often did. And my curls got flattened, especially at the back, and the very front, and I kept getting headaches.
Sleeping in the Buff
Wearing a silk scarf at night didn't work, so I tried out the Buff. Multifunctional headwear that's a seamless tube of stretch fabric which feels like a lightweight cotton jersey. It's made using a 95% recyclable performance microfiber, that's got odor control, insect shield and UPF 50+ sun protection.
Admittedly I don't need sun protection at night, but I went for the UV option because it was lightweight and would be cooler to wear at night. I've got a lot of hair, and don't want to have a hot and sweaty scalp at night. I slip the Buff over my head first, so it's sitting around my neck. Then I put my hair up in a pineapple, using my matching satin scrunchie from Coorie Curls. Get 5% off using code CURLMAVEN.
Then I pull the sleeve up over my face so that it sits around the edge of my hairline. I basically look like Marge Simpson! It's tight enough to stay on during the night, but not too tight that it causes headaches. It can often slip up at night though, and does flatten the back but not as bad as a silk scarf. They do children's sizes, and this is what I use to protect my daughter's hair at night. You can buy them in my Amazon shop.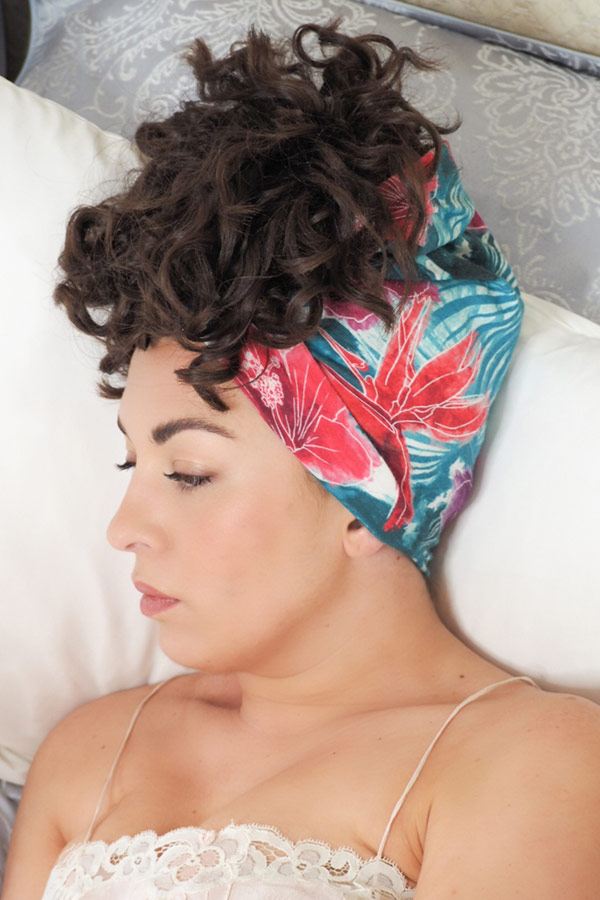 Pineapple
My favourite way to protect my curls at night is putting it up in a pineapple. Not only does it protect my curls, because they're sitting on the top of my head. They don't get squashed or flattened as I move around at night. It's also great for root volume! Not to mention it's the easiest thing to do, and requires minimum time and effort. Always a winner when you're exhausted and ready to fall into bed at the end of the day!
Invisibobbles
There are a few different hair accessories I use, but the effect is all the same. It's just a matter of finding out which one you prefer, and what works best for your hair. You can use an Invisibobble, which are great for fine hair. I've got a lot of hair though, so I find they get tangled in my curls when I pull them out in the morning. Top Tip: if your Invisibobble gets stretched out, simply put it in bowl of hot water, and it will shrink back to it's original shape! I've found that only works with genuine Invisibobbles though, not the generic ones.
Satin Scrunchies
Satin scrunchies circa the 1980's are back in fashion, and great for protecting curly hair at night! My one is from Coorie Curls and I love it! You can get 5% off using my code CURLMAVEN. If you've got long hair, loop your hair twice into a loose bun to protect it at night. This will prevent the ends of your hair from getting stretched and flattened out, losing curl pattern and definition. Although my satin scrunchie doesn't get tangled in my hair, it does pull my curls a little when I pull it out the next day because I have to loop it twice. One loop is too loose to hold my hair up securely throughout the night.
Puff Cuff
My favourite way to put my hair up in a pineapple is using the Puff Cuff. Get 15% off using code CURLMAVEN. It took me a while to learn how to secure them in my hair, and get them back out again. But once I got the hang of them, I use them all the time now. They don't disturb or ruin my curls when I'm putting them in, or taking them out. I use the mini Puff Cuff size most of the time, but if you've got fine hair use the micro. Which is also great for half up, half down styles. Check out my Amazon shop for Junior and Original sizes too, or use code CURLMAVEN to get 15% off on the Puff Cuff website.
I got a great laugh when I got some sent to my cousin. He didn't know what to think when they arrived, labelled as a Puff Cuff and looking like some kind of torture device/sex toy! I love Puff Cuffs because they don't pull the curls, or leave any kind of bend or mark in my hair either. So when I take my hair down, it looks just as good as when I put it up!
Protecting Short Hair at Night
If your hair is too short to put in a pineapple, you can try Medusa Clipping. Using small hair claws or large u-shaped bobbi pins like these, pin your hair up towards the top of your head. If that doesn't work or is too uncomfortable, you can use a silk bonnet or cap. My advice would be to invest in a Silkskin pillowcase and leave your hair down. After all, night time is for sleeping and so your body can rest. Not for worrying about your hair, frizz, knots, tangles and curl definition.
So there you go, a rather long post on how I protect my curly hair at night! Not my usual kind of images and photographs I usually post on my blog! (Insert shy monkey face emoji here) A special thank you to Ballymagarvey Village, an award-winning exclusive wedding venue in Co. Meath, Ireland. They very kindly let me take these images in the beautiful bridal suite in the main house. The whole venue is stunning, unique and one of a kind. All the things you'd imagine from a fairytale Irish country wedding venue. Check out their website for more info and details, or their social media for the gorgeous decor throughout the seasons and holidays.
If you're struggling with halo frizz and not sure why, make sure you check out this post. As the cause may not be what you think.
Or if you're not sure if your skin is dry or dehydrated, and want to follow a skincare routine along the same principles as the curly girl method, then check out this post.
Feeling overwhelmed?
If you're feeling overwhelmed by all the tips, advice and product recommendations. Click here for more information on my Curl Clinics™. A completely bespoke curl consultation service tailored to suit you and your hair. Designed to help get your waves and curls back and achieve your healthy hair goals. Or book in here!
Don't forget to subscribe to this blog so you don't miss a post or announcement. You can follow me on Instagram @curlmaven for more bitesize content, tips and advice in my stories, highlights, reels and videos. Or Check out my YouTube channel for more washdays and tutorials. Follow me on Pinterest or check out my Facebook page. Book a ticket for my next Monthly Curl Clinic, or watch any of my previous Monthly Curl Clinics, available on my Shop.
Gratitude & Support
If you found this post or any of my content helpful, and would like to show your Gratitude & Support, you. can click here to make a donation. I'm so incredibly thankful and grateful to everyone who supports me, my content and my platform. Your support enables me to continue providing FREE, organic content, and keep my blog FREE from Google Ads. And build Curl Maven as a brand and all I've got planned. Thank you so much! Gabriella x
*This post may contain some gifted items and affiliate links. Which means I get paid commission on any products you purchase through my links or codes. This in no way affects you, the price you pay or the way in which I write about products featured on this site. My content and opinion is not influenced by advertisers, sponsorships, affiliate partnerships, brands or PRs.