Here's how I protect my curly hair at night to minimise frizz, reduce dryness and prevent damage. Retain moisture and shine, maintain curl definition and boost root lift and volume. So my wash day results last longer throughout the week. And I don't have to spend time, money and more product (and packaging) refreshing on the days in between!
How I Protect my Curly Hair at Night
I've tried lots of different ways to protect my curly hair at night over the last five or six years. I've found a way that works best for my curly hair, whether my hair is short, long or mid-length. It works so well in fact, that I literally don't have to do a thing to my hair in between my wash days!
I invested in a really good quality silk pillowcase, and a silk hair wrap. Which although they're quite expensive, you're spending money once, to save money for months and years to come. Because my hair looks so good on the days in between my wash days. I don't have to use more product and packaging refreshing my hair every day.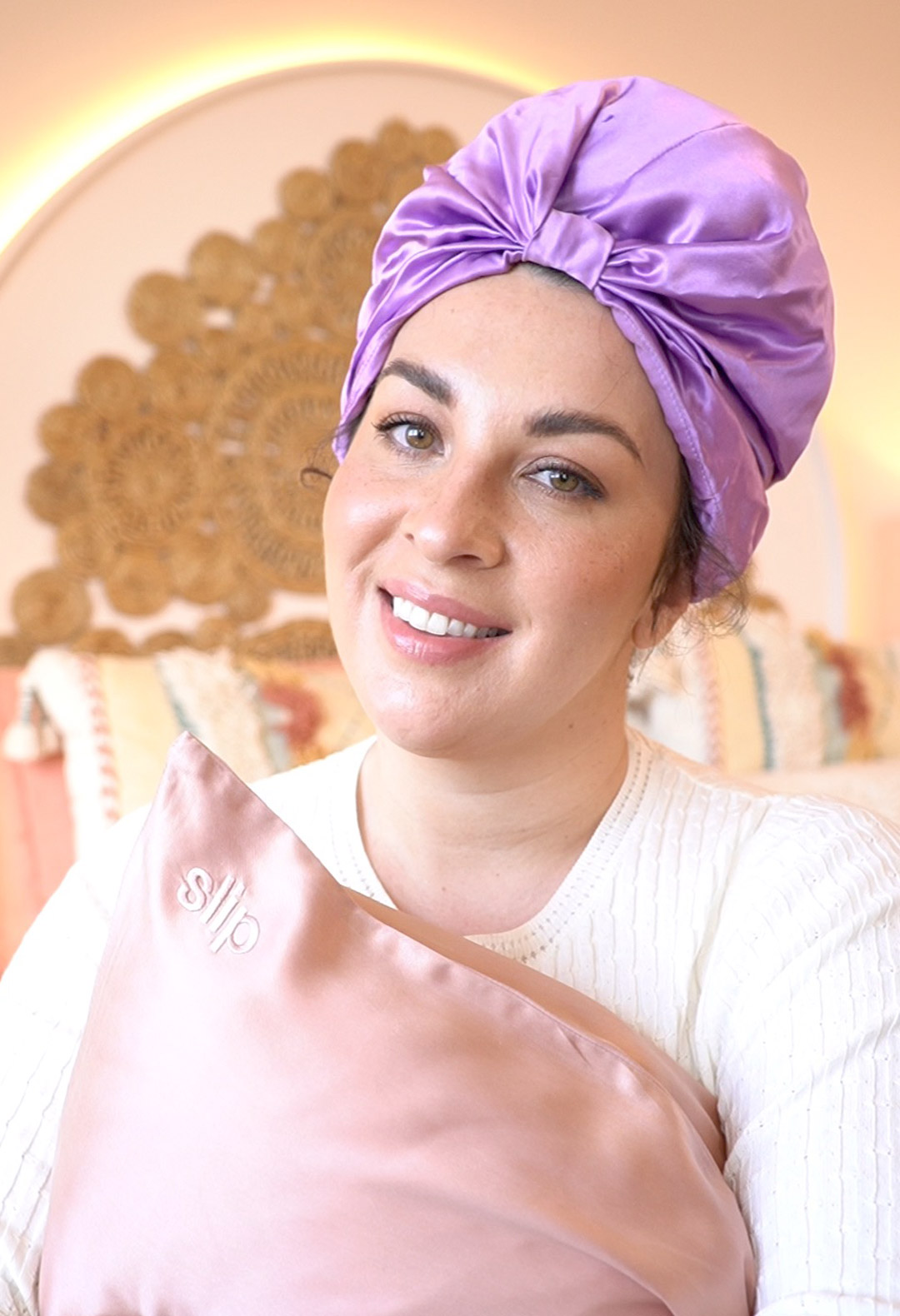 Not to mention the amount of time it saves me! I'm a single mum with two kids, one of them has ADHD and ASD. I've also got two dogs, a partner and I run my own business. So saving time on the morning not having to refresh makes a huge difference to my day!
No Need to Refresh!
There's nothing worse than putting lots of time and effort into your wash day. Styling your hair just how you like it. Only to wake up the next morning with flattened, stretched out curls and dry, frizzy hair full of knots and tangles. It wasn't until I figured out how to protect my curly hair at night, that I was able to make my washday results last. And my hair look and feel better, for longer.
If you protect your hair properly at night, you shouldn't have to refresh your hair on the days in between washing. Providing you had a good washday to begin with. Used the right styling products to give you the results you want. And used enough product to make those results last. Which means protecting your hair at night can also save you precious time, hard-earned money spent on using more product. And packaging – which is much better for the environment.
Recommended Reading: Washday Workbook, How To Build a Curly Hair Routine and my LMG Styling Method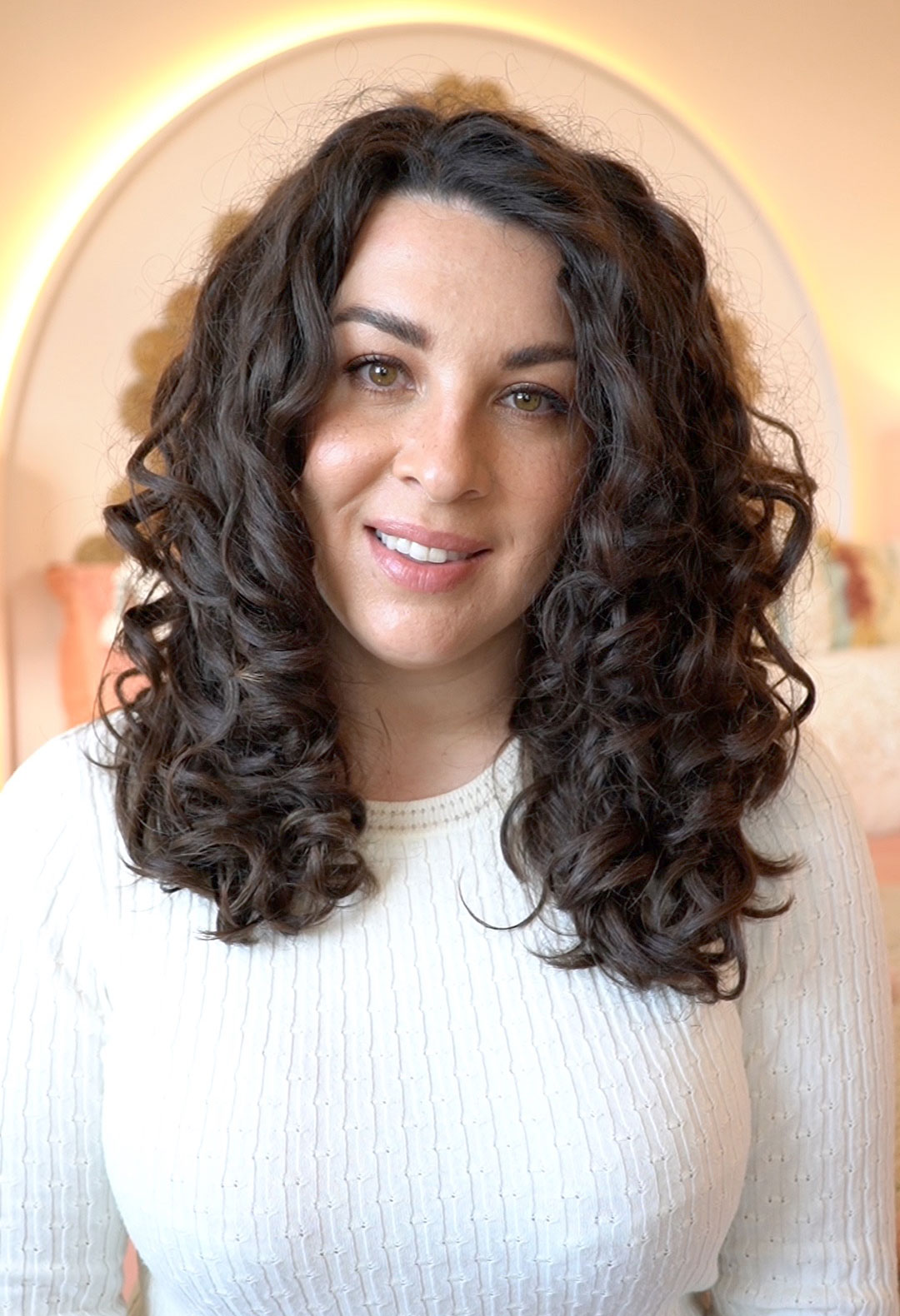 Not just curly hair…
If you have straight hair, protecting it at night is really important and beneficial too. As it will help reduce and avoid the use of heat styling tools. Such as wands, tongs and straighteners in between washdays – and the added heat damage that comes with it.
But even if you get a blow dry, or do heatless curls. (Check out Silke London's Heatless Curler – CURLMAVEN for 20% off at LOOKFANTASTIC) You'll still benefit from protecting your hair at night. As it will help maintain your smooth, frizz-free style, retain moisture and shine and protect your hair from dryness, damage and breakage.
Put it in a Pineapple
Perfect for mid-length to long hair
My favourite way to protect my curls at night is to put it up in a pineapple. Which I've been doing for years, decades actually! You want to put your hair in a pineapple right at the very top of your head. So whether you sleep on your front, back or sides, your curls won't get squashed or flattened as you move around during the night.
It's also really great for root volume! I always get more volume on day two and three hair, and that's down sleeping with it in a pineapple. Not to mention it's the easiest thing to do, and requires minimum time and effort. A pineapple is always a winner when you're exhausted and ready to fall into bed at the end of the day!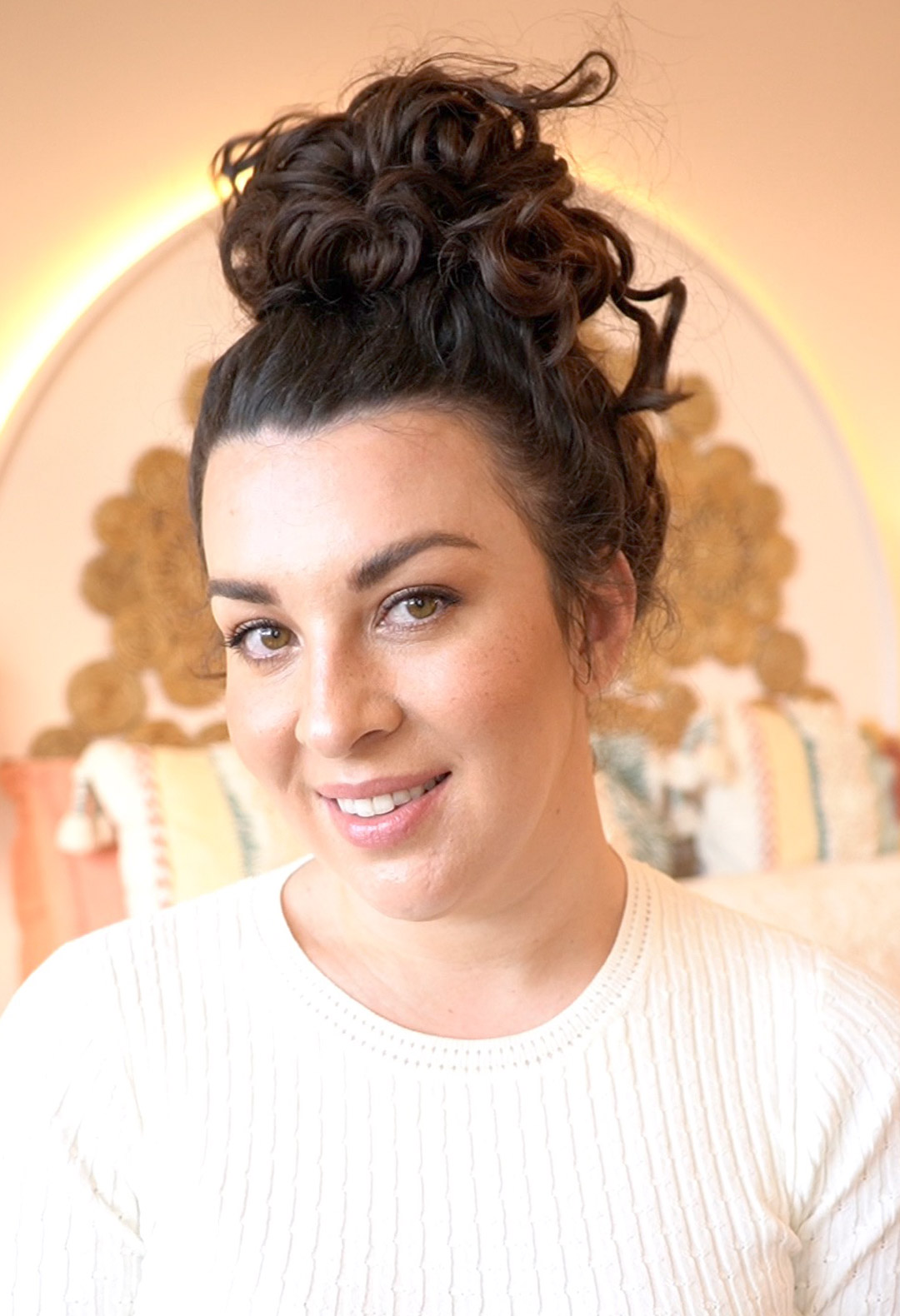 Use a Scrunchie or Puff Cuff
Great for mid-length to long hair
Silk and satin scrunchies are back in fashion, widely available, and great for protecting curly hair at night. If you've got mid-length hair, a pineapple is fine. If you have longer hair, I recommend putting your hair in a loose bun (again, at the very top of your head) to protect it at night. This will minimise friction and frizz, and prevent the ends of your hair from drying out and losing definition.
Simply tie the scrunchie around the hair once. Then on the second loop, don't pull the hair all the way through. Make sure you don't twist your hair into a bun, as this will twist out your natural curl pattern. I find using a scrunchie can sometimes pull and stretch out my curl pattern.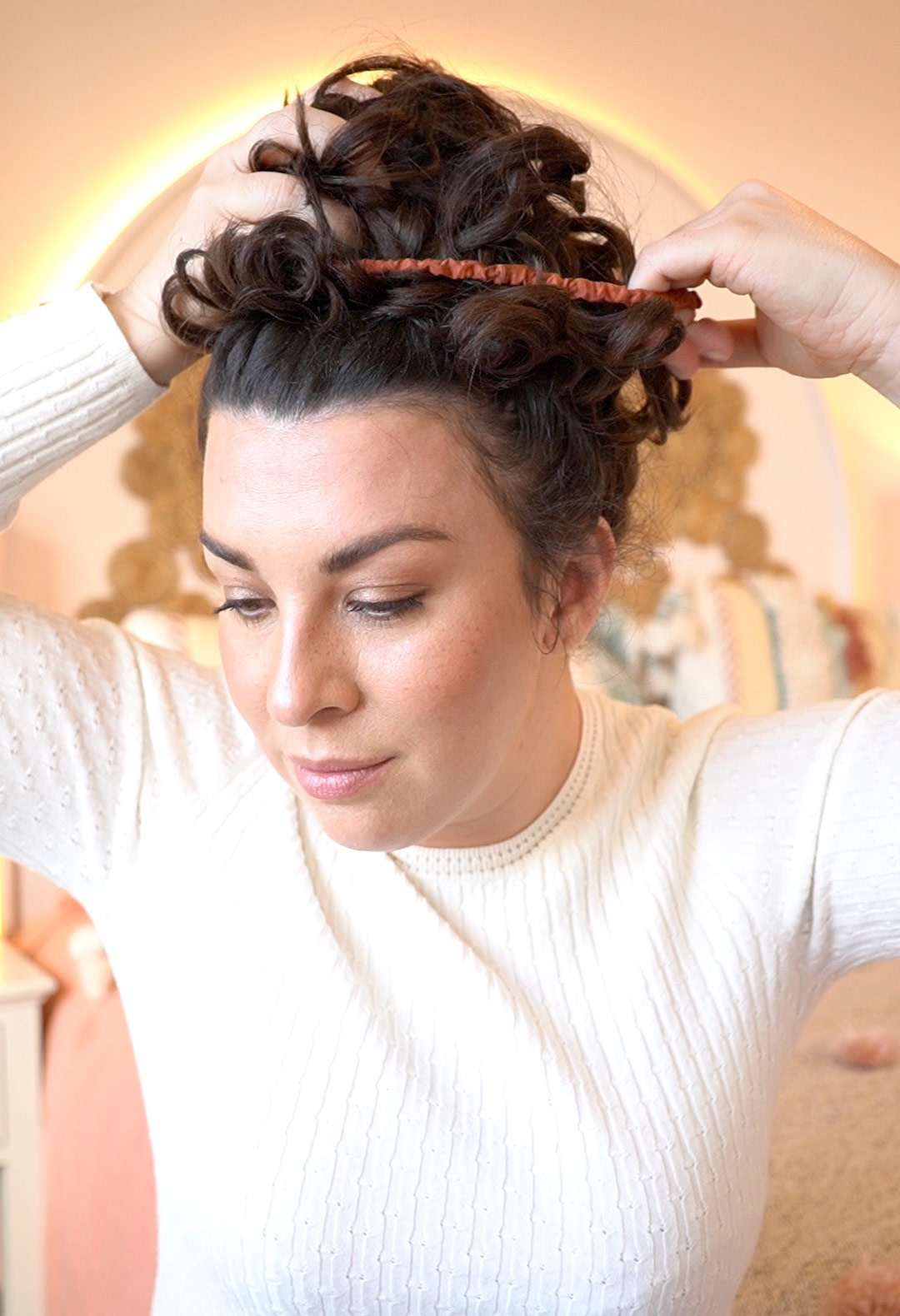 So I prefer to use a Puff Cuff which is kind of like a round banana clip (kind of…). They can take a while to get used to and figure out how to secure them in the hair. And then take them back out again without getting them caught or tangled in your hair. But I use them all the time now, every single night!
I love Puff Cuffs because they don't pull or stretch out the curls. Or leave any kind of bend or mark in the hair either. So when I take my hair down, it looks just as good as when I put it up! I use the Mini Puff Cuff when I'm putting it in a ponytail or pineapple. And the Micro Puff Cuff if I'm doing a half up/half down style, or using it on my daughter's hair. Use code CURLMAVEN to get 15% off on the Puff Cuff website in the USA. Or 10% off Kiyo Beauty in the UK who ship worldwide.
If you have really fine hair, or low density (aka not much hair). A Puff Cuff may not be the best option for you as they will most likely just slide out of your hair. You'd be better off going with a scrunchie instead – like these ones from Silke London or Slip – CURLMAVEN for 20% off both brands (and many others) at LOOKFANTASTIC.
Sleep on a Silk Pillowcase
Perfect for all hair lengths, but especially short hair
A silk pillowcase is the quickest, simplest and easiest way to protect your hair at night. And if you have short hair, it's really the only thing you need to protect your hair at night. But if you have longer hair, and you do nothing else. Put your hair up in a loose pineapple at the top of your head, and sleep on a silk pillowcase. Done!
Cotton and linen are naturally absorbent, and can pull moisture from your hair (and your skin) while you sleep. The natural fibres can also create friction and frizz, drying out the hair and causing damage, breakage and split ends.
I've tried a few different silk and satin pillowcases from lots of different brands, and even made my own. But my favourite are the Slip Silk Pillowcases, which are made from the highest grade (6A) pure mulberry silk. Mulberry silk is finer, smoother, and when dyed, gives a more consistent, even colour than other silks. One of the reasons I purchased a Slip silk pillowcase was because of the colour, Rose Gold – which matches my bed linen perfectly!
Use code CURLMAVEN to get 20% off Slip at LOOKFANTASTIC.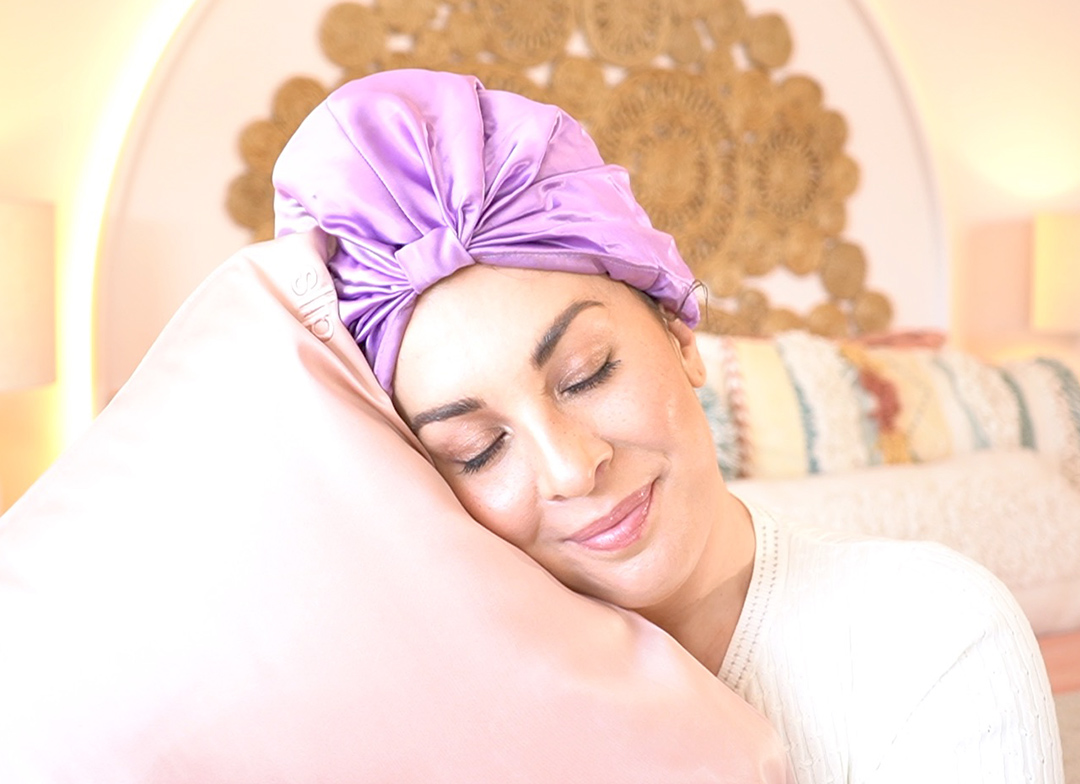 Silk vs Satin
Fun fact: I've got a BA Honours Degree in Textile Design. So let's have a quick chat about silk vs satin. Although satin is cheaper, often feels as smooth as silk, and also reduces friction more than cotton or linen. There are many benefits to investing in a real silk pillowcase that a satin pillowcase just can't deliver.
Here's why: pure silk is natural protein-based fibre, similar to our hair. Many hair products actually contain hydrolysed silk protein. Which helps to boost shine, improve elasticity, smooth, strengthen and retain moisture. But satin is a man-made material, so it doesn't have the same benefits.
Silk is breathable, hypoallergenic and naturally resistant to dust mites. It's also much less absorbent than other materials and therefore won't draw moisture out the hair, or your skin. It's also much softer and delicate on the skin, helping to reduce fine lines and wrinkles.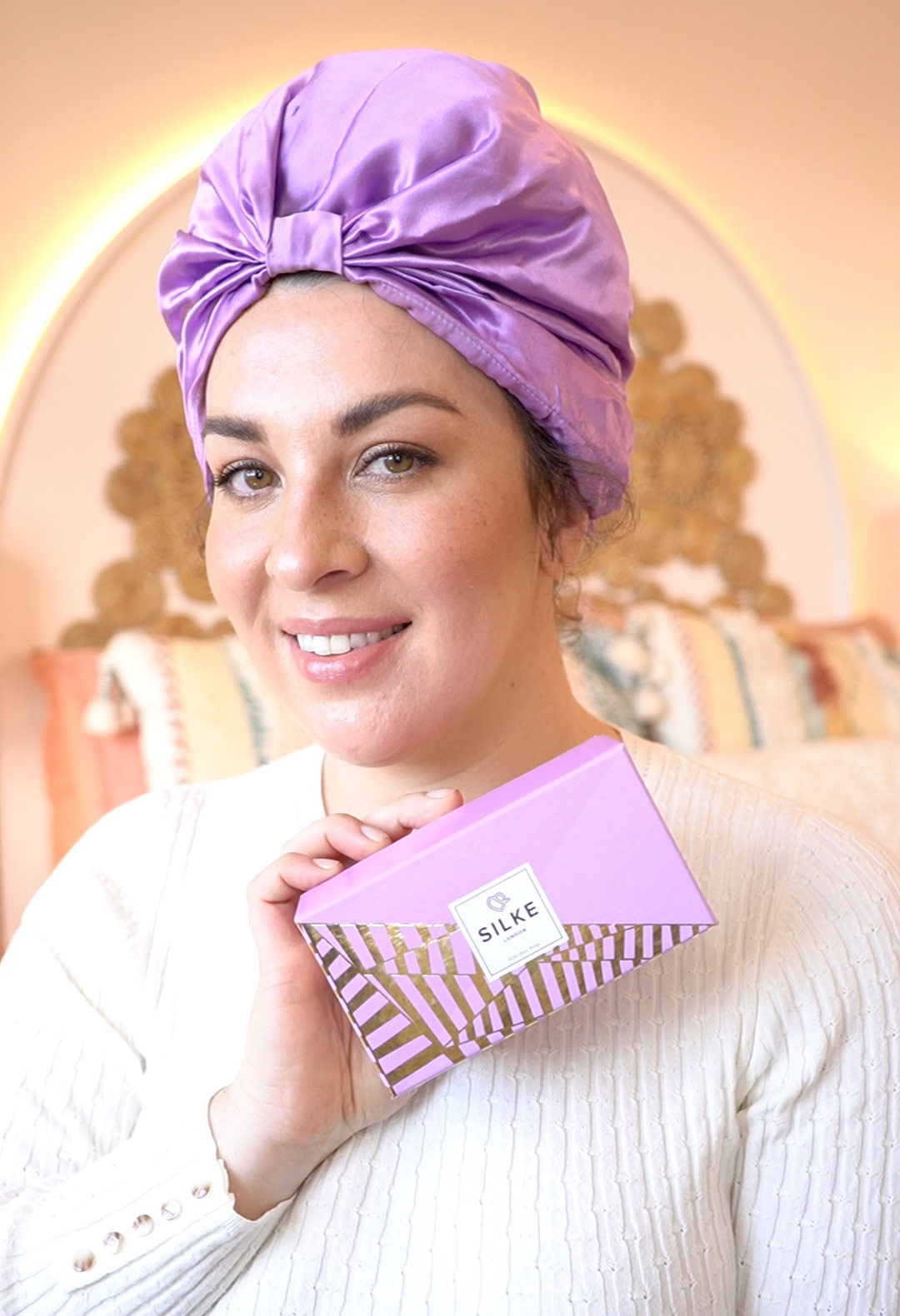 Silke London Hair Wrap
Great for short, mid-length and long hair
If you've read any of my annual Gift Guides or Favourite and Best Products of the Year, you'll recognise the Silke London Hair Wrap. It's my favourite way to protect my curly hair at night. I have them in lots of colours, and have been them using to protect my curly hair at night for years! They work great for all hair types and hair lengths. I continued to use mine when my hair was half way down my back. But if you have longer hair than that, you might be better off with a bonnet or Buff.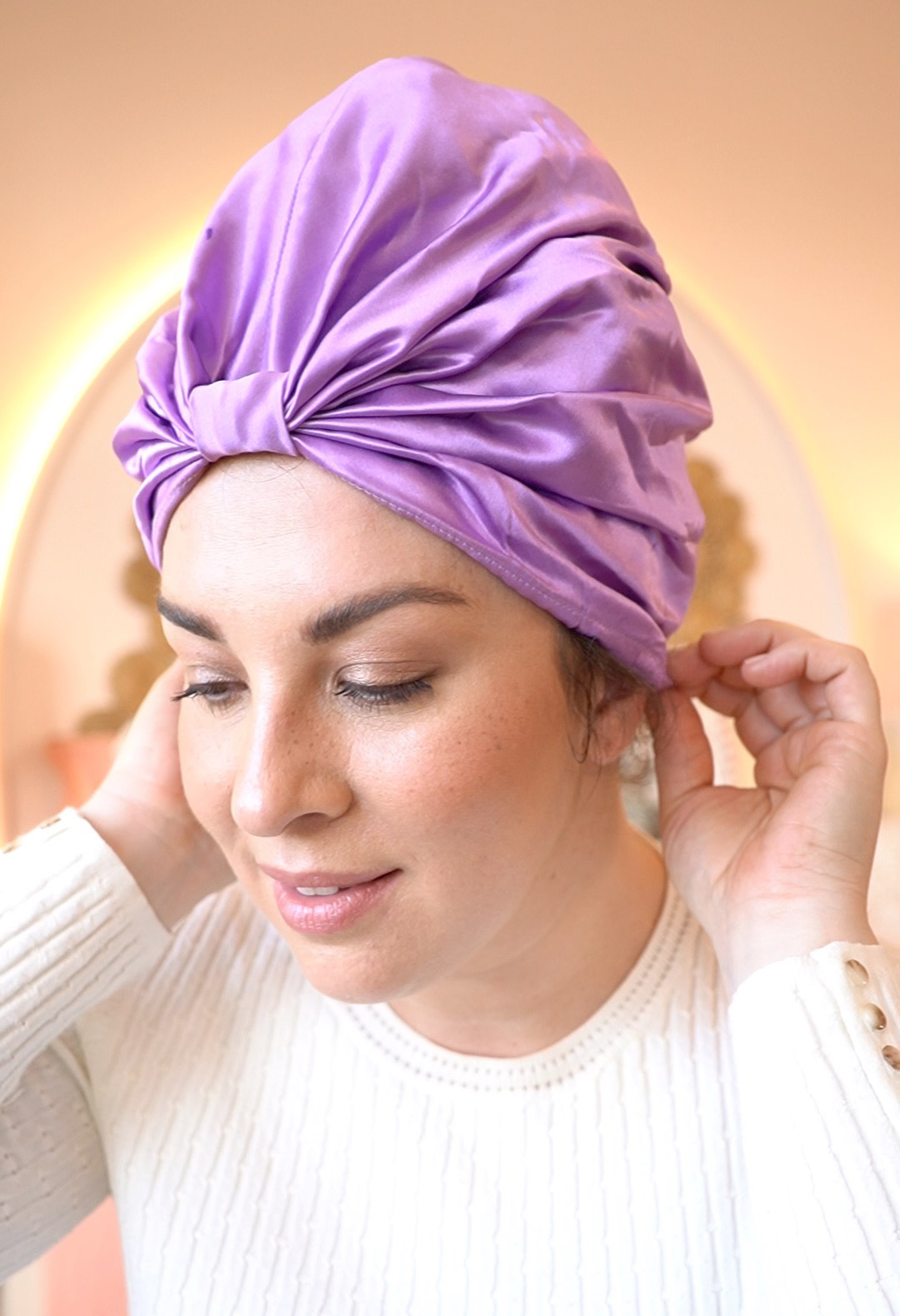 Yes the Silke London Hair Turbans are great quality. And yes they hold their shape really well, and come in lots of beautiful colours. But the biggest reason why I like them so much is because they're tight enough to stay on all night. But not so tight that they give me a headache or leave marks on my forehead. They're also big enough to fit all of my hair inside – and I've got a lot of hair!
If your budget is tight and you can't afford a silk pillowcase, definitely consider investing in a Silke London Hair Wrap instead. Especially when you can get 20% off Silke London at LOOKFANTASTIC. They also do silk scrunchies in matching colours to the hair wraps too. You can see how I protect my curly hair at night, using the Silke London Hair Wrap, Puff Cuff and Slip Scrunchie in the video below:
Silk Scarf
Didn't work for me
A popular way to protect curly hair at night is to use a silk scarf. I tried this for a while, but I found I had to wrap and tie it so tightly to keep it on during the night. That my curls got flattened, especially at the front and back. And I kept waking up with headaches and marks on my forehead.
Sleeping in the Buff
Perfect for really long hair
Wearing a silk scarf at night to protect my curly hair didn't work, so I tried out the Buff for a while. Which is a seamless tube of stretch fabric that gives off some strong Marge Simpson vibes! And it worked great, but I still experienced some dryness and frizz. Which was most likely due to the material, which is a 95% recyclable performance microfibre that feels like a cotton jersey.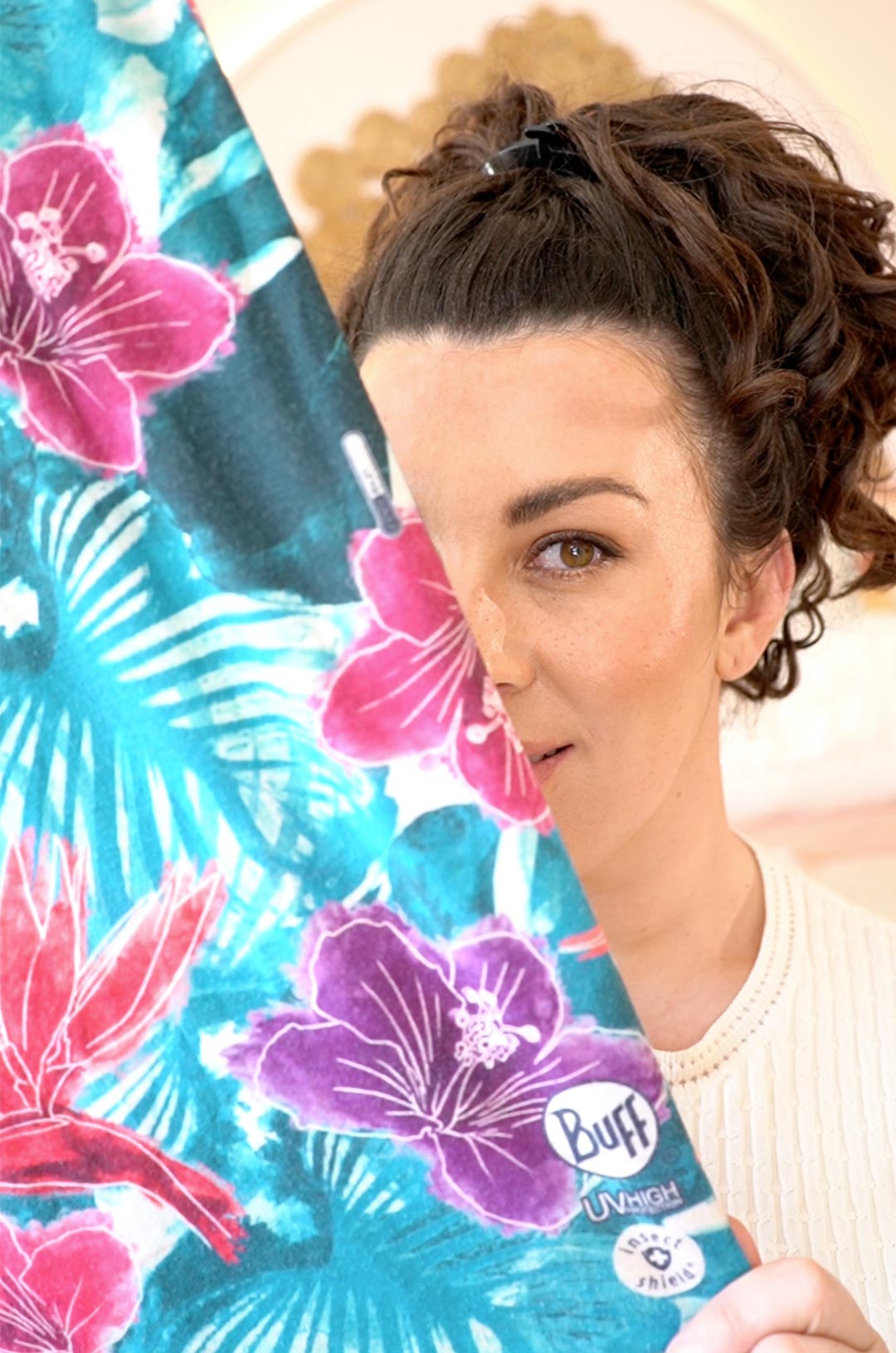 I still think this is the best option if you have really long hair. As it keeps the hair in the tube, instead of bunching it up in a bun or silk wrap, turban or bonnet. Top tip: slip the Buff over your head first. So it's sitting around your neck before putting your hair up in a pineapple. Then gently pull the Buff up until one end is around your hair line. And then keep pulling gently until you've pulled it the full length of your hair. You can tie it at the end if you like.
I found it was tight enough to stay on during the night, but not too tight that it caused any headaches, or left those marks on my forehead or hair line. But often it would slip up at night, and flatten the back of my hair. Not as bad as the silk scarf though. You can also get the Buff in children's sizes, which is what I use to protect my daughter's hair at night. You can buy them in my Amazon shop in the USA or my Amazon Shop in the UK.
---
I really hope you found this updated post on how I protect my curly hair at night helpful. If you're still not sure how to put your hair up in a pineapple, use the Puff Cuff or put the Silke London Hair Wrap on. Make sure you watch the video where I go through and demonstrate everything.
If you have any questions, let me know in the comments. Or if you've found a different way that works best for your hair, I'd love to hear more!
Make sure you subscribe to the Curl Maven Collective Newsletter for exclusive giveaways and offers, new content, products and services. Follow me on Pinterest, Instagram and subscribe to my YouTube channel for more tips, advice and tutorials.
feeling overwhelmed + don't know where to start?
Book a Curl Clinic Consultation
Gratitude + Support
If you found this article or any of my content helpful and would like to show your Gratitude + Support, you can click here to make a donation. I'm so incredibly thankful and grateful to everyone who supports me, my content and my platform. Thank you!
*This article may contain some gifted items and affiliated links and discount codes. This doesn't effect my opinion or the way in which I write about products featured on this site.