We got head lice and nits, and I'm finally ready to talk about it! Here's what head lice treatments did and didn't work for our wavy and curly hair. It's not fun, many of the treatments and remedies are more suited to straight hair. And can cause damage and breakage to wavy, curly and coily hair. But here's how to get rid of head lice in curly hair and my home remedy Head Lice Treatment for Curly Hair.
If you want to skip ahead straight to the Curl Maven Head Lice Treatment or the other home remedies and treatments of what did work, then just click here.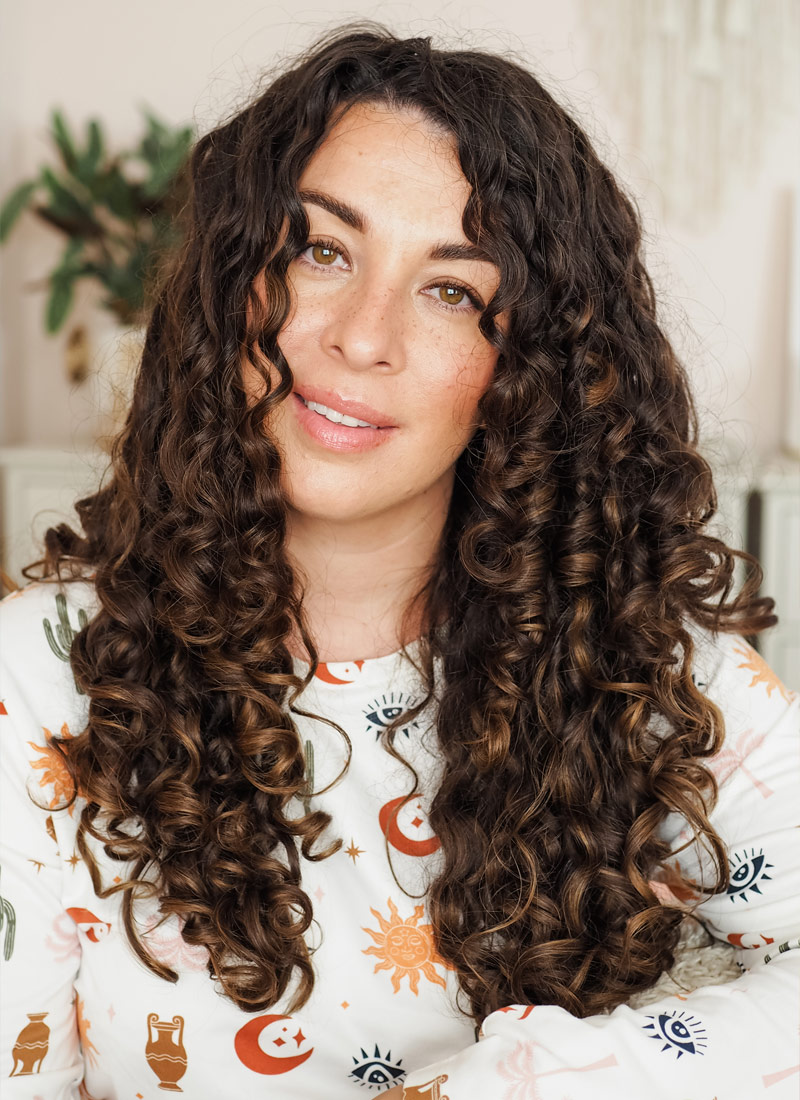 What are head lice & nits?
I'm not going to go into a tonne of detail of what head lice and nits are. If you're reading this article, no doubt you know exactly what they are! And you want to get rid of them as quickly as possible, with as little damage and breakage as possible. But briefly, here are some facts:
although more commonly found in children's hair, anyone can get head lice – no matter what age, hair type or curl pattern
they are not a sign of poor personal hygiene or poverty
head lice are the adults, about the size of a strawberry seed
nits are the eggs – brown or yellow if live, white if empty shells
by the time you're itching, it's too late – you've already got head lice
head lice don't jump or fly, they crawl
you cannot get them from, or pass them to pets
Head Lice Treatment Options
There are many different head lice treatment options available over the counter. As well as home remedies for head lice and nits. The first thing I'll say is, after a quick Google search, many of the articles say that there's little to no evidence that home remedies work as an effective treatment for head lice and nits. In my opinion, that's simply down to marketing and money-making. There's no money to be made if everyone uses simple home remedies to treat head lice and nits. But that doesn't mean they don't work.
Two weeks ago, both my daughter and I got a really bad case of head lice and nits. We've both got fine hair, but a lot of it. Her hair is more dry and wavy, with some tight ringlets underneath. My hair is softer and curly. I've tried three over the counter head lice treatments and three home remedies, here's what worked and what didn't and how to get rid of head lice in curly hair at home.
But first, let me start by saying, there's no head lice treatment that will effectively remove head lice and nits from the hair without having to use a nit comb. But not all nit combs are the same, or as effective. And there are different types of treatments, which all claim to do the same thing. Essentially the treatments are supposed to kill the head lice. And the combs are used to remove both the head lice, and the nits – aka eggs.
What Didn't Work
Vamousse
Like most people when they first discover head lice and nits. I went to a pharmacy for advice on the best head lice treatment to use. The first product I was given, and the most expensive, was Vamousse. With the same claims on the box as all the others on the shelf: fast, effective treatment. This one said proven to kill and remove head lice and eggs in just 15 minutes. It's a non-greasy, dry texture mousse that you apply to dry hair. Then use the steel comb provided to remove the head lice and nits.
Spoiler alert: I've nothing good to say about this treatment! It didn't work, at all – and I used one whole 160ml can on my hair. And another can on my daughter's hair. That's €40 and no results! The metal comb teeth were too wide apart to effectively remove any head lice or nits, even on thick, coarse hair. The dry, chalky residue from the mousse stays in the hair, and so does the smell.
It's strongly scented and it lingers for days! Even after washing the hair with other shampoos, conditioners and treatments. Including mayonnaise and tea tree essential oil. So my advice is save your money, and your time, and don't get this one.
Lyclear Creme Rinse
Then I went to my local chemist where I've been going for 10 years. They recommended their best-seller, Lyclear Creme Rinse – which I can't find online. My sister also swears by this product. It has all the same claims, only this treatment claims to work in 10 mins, suitable for asthmatics and a pleasant smell. Great – both myself and my daughter have asthma. And the promise of a pleasant smell was a welcome relief after the Vamousse.
Firstly, the size of the bottle is tiny – just under 60ml. But it's half the price of the Vamousse at €10. It says it's enough to treat one person with shoulder length hair of average thickness. So I probably should have got two bottles, but I only used one. Lyclear Creme Rinse doesn't come with a comb, and isn't vegan. It also contains the active ingredient, permethrin which can/may cause an itchy, irritated scalp.
This head lice treatment felt much better on the hair, due to the consistency of the creamy product. The nit comb I used glided effortlessly through the hair. But the smell was literally eye watering! Especially if you try to do the treatment on your own hair, bent over the bath tub. I had to keep coming up for air!
And not only that, but it really caught in my chest – so I'd argue with the "suitable for asthmatics" claim. Overall, despite the smell, I liked using this product and was hopeful it would work. Unfortunately it didn't. I still had nits in my hair after use, and I left it in longer than 10 minutes. Maybe it's because I only used one bottle instead of two. So maybe if I'd used this to do a second treatment.
At this point, honestly if someone had handed me a pair of clippers, I would have shaved all my hair off right there and then! But out of all the over the counter products I used, I liked this one the best. And feel maybe I would have got better results if I'd used two bottles instead of one.
Nitty Gritty Head Lice Solution
So I went back into the chemist, and this time walked out with the Nitty Gritty Aromatherapy Head Lice Solution. Not as heavy on the marketing claims on the box as the others, good reviews online. This one cost €14 for a 150ml. "Made by mums, kind to kids," promoting "safe", natural ingredients with no pesticides. It's an oil treatment, including neem, eucalyptus, lavender, rosemary and tea tree oil. I had HIGH hopes for this one! Thinking it's more natural, and the oils would be much more gentle on the hair.
Spoiler alert: I didn't like this one either and it only confirmed my opinion that oil treatments are not good for the hair! It's a simple cap top bottle, open and pour directly onto the scalp. Leave on for a while, then comb through to remove the head lice and nits.
The plastic nit comb that comes in the box isn't great. Again the teeth are too wide apart to effectively remove anything. Granted, this was my third treatment. But up until I'd used this oil – my hair was in pretty good shape, despite all the combing I'd done so far.
But my goodness, this oil…!!! Despite feeling and looking really light weight, all natural ingredients – that I actually recognise and understand what they are. My hair was in such a bad way after using this head lice treatment! The bottom five or six inches of hair looked like it was damaged so much, it would need to be cut off.
And after growing my hair for the past three years, I was devastated! Using a different comb, I was able to remove some of the nits from my long, thick, curly hair. But the damage wasn't worth it, I've found much better, more effective, less damaging ways to do it.
Ivora Saw Cut Fine Comb
None of the combs provided with any of the head lice treatments were sufficient to effectively remove head lice and nits from our hair. But the Ivora Saw Cut Fine Comb was recommended by my local chemist. I instantly recognised it as the type of comb – if not the same one, that I remember being used when I was a child. It costs around €6 and it's pretty good. The teeth are close together, and it did a good job of removing head lice and nits. But I found better.
What Did Work
After all the tears – literally, I cried several times! Frustration and frantic combing through all those failed head lice treatments. I'm so glad that I can share what did work as an effective head lice treatment for curly hair! What's frustrating is that one of these treatments is my own home remedy I've done before. And it's worked every time, without causing any damage to our wavy and curly hair! I think I just panicked when I saw how bad my daughters hair was. I doubted my own home remedy, even though I know it works! But I've now got two, if not three home remedies for head lice and nits – that actually work!
Mayonnaise
Yep, you read that right, mayonnaise! When I was back in my local chemist in pure desperation and frustration because nothing was working. One of the women who's worked there for over 30 years. I know her well and trust the advice and recommendations she's given me and my children for over a decade. She told me to go home, lash some (a lot) mayonnaise into our hair. Leave it on for a few hours, then comb it through and wash it out. And it worked! As simple and easy as that. A jar of mayo and a good nit comb!
Once applied to the hair, mayonnaise becomes a creamy, gel-like consistency. Which at first, I thought there's no way I was going to be able to get a comb through it. But I sectioned it off, brushed through with my Denman Paddle Brush – CURLMAVEN for 20% off – and then the nit comb glided effortlessly through the hair! I'd recommend having a towel on the floor, because it drips everywhere!
But most importantly, this home remedy effectively removes head lice and nits, without damaging the hair or causing breakage. Which is all anyone with wavy, curly and coily hair wants to hear when they've got head lice or nits! And who doesn't have a jar of mayonnaise in their cupboard?! Sure the smell isn't great, but once it's washed out, the smell is gone. And the hair is silky smooth with lots of shine – thanks to the vinegar, olive oil and egg yolks.
Curl Maven Head Lice Treatment for Curly Hair
This is a home remedy treatment I've made up several times and it's always worked. I don't know why I doubted myself and this treatment. It's not as simple as the mayonnaise, but it really works as an effective head lice treatment for curly hair. Here's what you need for one treatment for medium-long, thick density hair:
First shampoo the hair using either Giovanni Tea Tree Triple Treat Shampoo or AG Hair Balance Apple Cider Vinegar Shampoo. Then mix the following ingredients until smooth to make your home remedy head lice treatment for wavy, curly or coily hair.
What you'll need:
1 tablespoon of either conditioner
1 tablespoon of olive oil
1 teaspoon of apple cider vinegar
3-4 drops of any of the following essential oils which are all beneficial for the hair and/or antimicrobial. Just grab what you can find. Most people have a few of these essential oils at home: rosemary, tea tree, lavender, eucalyptus, clary sage, thyme, cedarwood or ylang ylang
How to apply:
Apply the mixture to the roots and scalp first, then apply to the lengths of the hair and brush through with a cushioned paddle brush. This will detangle the hair and remove any excess hair shedding. Which will make combing it through with a nit comb later much easier. Pop a plastic cap on if you have it – but don't use heat – and leave in for one hour.
Nitty Gritty Nit Free Comb
After an hour of leaving in either the mayonnaise or my Curl Maven Head Lice Treatment for Curly Hair. Comb the hair through using the Nitty Gritty Nit Free Comb. It's the best and most effective nit comb I've found! A metal comb with a unique spiral groove design on the teeth. Pricier than other combs, but it's worth it.
The cheapest places I could find it were Amazon and Boots. It works best, with the least damage and breakage when you use it with either this treatment using conditioner, or mayonnaise. As with all combs, you've got to make sure you're starting right at and along the scalp. Combing from both directions: above and underneath small hair sections. Then wipe it on something or run it under the tap between each time you comb through the hair.
Heat
I was skeptical about using heat as a head lice treatment, never mind the heat damage to the hair. But there's a number of studies and surprising stats behind it. You can't use a bonnet, or a diffuser. It needs to be strong, high heat, directly on the hair. I used my Dyson Supersonic Hairdryer to blast my roots on full speed and full heat after doing the mayonnaise and Curl Maven treatments on our hair. But DO NOT USE HEAT with the Vamousse or Lyclear treatments as they are flammable!
Nothing is going to replace or beat using a good nit comb to effectively remove head lice and nits from the hair. But this is a good follow up after rinsing out treatments to ensure you've got absolutely everything! You can get the Dyson Supersonic Hairdryer at Boots in the UK & Ireland – think of the points!
Bouncing Back After Head Lice
After a week of intense treatments and relentless combing, our hair looked and felt terrible. I was convinced we were both going to need several inches cut off our hair. But the pictures from this post are from my first wash and style after all the head lice treatments. I'm astounded at how well it bounced back, and amazed it's in such good condition! Here's what I did and the products I used:
I clarified using the Bumble & Bumble Sunday Shampoo, twice – back to back! That's how bad my hair was after that Nitty Gritty Hair Oil. I didn't use that treatment on Éabha's hair and didn't need to clarify her hair. Then I used the Joico KPAK Cuticle Sealer and left it in my hair for 10 mins. Followed by the Joico KPAK Deep Penetrating Reconstructor and left it in my hair for 30 mins with my Curl Maven Thermal Heat Cap.
Then I used the Joico KPAK Intense Hydrator for another 30 mins with my heat cap. You can get 20% off Joico at LOOKFANTASTIC using code CURLMAVEN. The reason why I used this brand is because it's a repairing, rebuilding, refortifying range of products. Which is exactly what my hair needed!
Then I used the TréLuxe Untie the Knot Leave In Conditioner, followed by their Reflex Serum and Hi! Definition Gel. Get 15% off TréLuxe using code CURLMAVEN. I diffused on high heat and high speed until almost 100% dry. Usually I'd diffuse on low-medium heat and medium-high speed.
The relief I felt when I scrunched out the crunch! And then a few hours later when my hair still looked and felt fine. If you follow me on Instagram and remember my stories from that day, now you understand why I was so relieved!
My hair held up fine over the next three days, and has been fine on the next washday, and the next one! I cancelled my panic hair appointment. Because I realised I didn't need inches of damaged hair cut off. My hair just needs lots of TLC with the help of my Curl Maven Thermal Heat Cap – available on my shop, and regular deep conditioning for 30 minutes once a week.
Best Shampoo & Conditioner to Prevent Head Lice
Although there's no real way to prevent head lice or ever getting them again. I'm going to be much more vigilant by checking both our hair more often. I've bought two new Denman Paddle Brushes – CURLMAVEN for 20% off – one for me and one for my daughter. I'm using the Giovanni Tea Tree Triple Treat Shampoo and Conditioner on my daughter's hair. And the AG Hair Remedy Spray too.
---
Let me know if you found this post helpful or if you have any questions! I know as the kids all go back to school in September, after Christmas and Easter Holidays, there's always a surge in head lice and nits. But now you know what head lice treatments do and don't work. And that home remedies are much more effective than you might think!
Make sure you subscribe to the Curl Maven Collective Newsletter for exclusive giveaways and offers, new content, products and services. Follow me on Pinterest, Instagram and subscribe to my YouTube channel for more tips, advice and tutorials.
feeling overwhelmed + don't know where to start?
Book a Curl Clinic Consultation
Gratitude + Support
If you found this article or any of my content helpful and would like to show your Gratitude + Support, you can click here to make a donation. I'm so incredibly thankful and grateful to everyone who supports me, my content and my platform. Thank you!
*This article may contain some gifted items and affiliated links and discount codes. This doesn't effect my opinion or the way in which I write about products featured on this site.