If you've been following me for a while, or read my recent TréLuxe review, you'll know I've fallen in love with the products from this brand. So in today's post I'm sharing some incredible deals and discount codes, where you can get up to 30% off TréLuxe during the upcoming sales! So keep reading for all the details, a mini review of each product. As well as a styling routine video using my favourite two TréLuxe products!
AD | This post and corresponding video is sponsored by TréLuxe. Sponsored content enables me to continue providing free content, create organic content and keep my blog free from Google Ads. However, this hasn't influenced the way I've written about the brand or the products featured in this post. Some items were gifted, other items I have purchased (repeatedly) for myself.
Overview
TréLuxe has a curated line of five products formulated with natural ingredients and active botanical blends to cleanse, moisturize, strengthen and define wavy, curly and coily hair. You can read my full review here for more about the founders, brand philosophy and origins. The packaging is easy to use and instantly recognizable. I love the simplicity of them, it's not a complicated line: cleanse, condition and style. All formulated with a good balance of protein and moisture – which you can read more about here.
Curly Girl Friendly
Curly girl friendly, they're free from sulfates, silicones, parabens, waxes, harsh chemicals and drying alcohols. As well as being gluten-free and cruelty free. If I could use one word to sum up their line, it would be weightless. I've been using their styling products since the Spring/Summer of this year and they've quickly become my favourite products for curls, clumps, ringlets, definition, shine and hold! I mean, what more could you ask for?! Oh, maybe to get up to 30% off TréLuxe? I got you!
Get up to 30% off TréLuxe!
TréLuxe have different deals and discount codes running on Thanksgiving, and Black Friday through to Cyber Monday. You can get up to 30% off, so whether you're new to the brand, or want to stock up on some favourites, now's the time!
I'll list each of the deals and discount codes below with all the details, you can click here to shop. Then I'll do a mini review of each product, including links. Followed by my YouTube video on my Curly Hair Styling Routine using TréLuxe styling products. Photos shared throughout this post are from the same wash day that I filmed the video.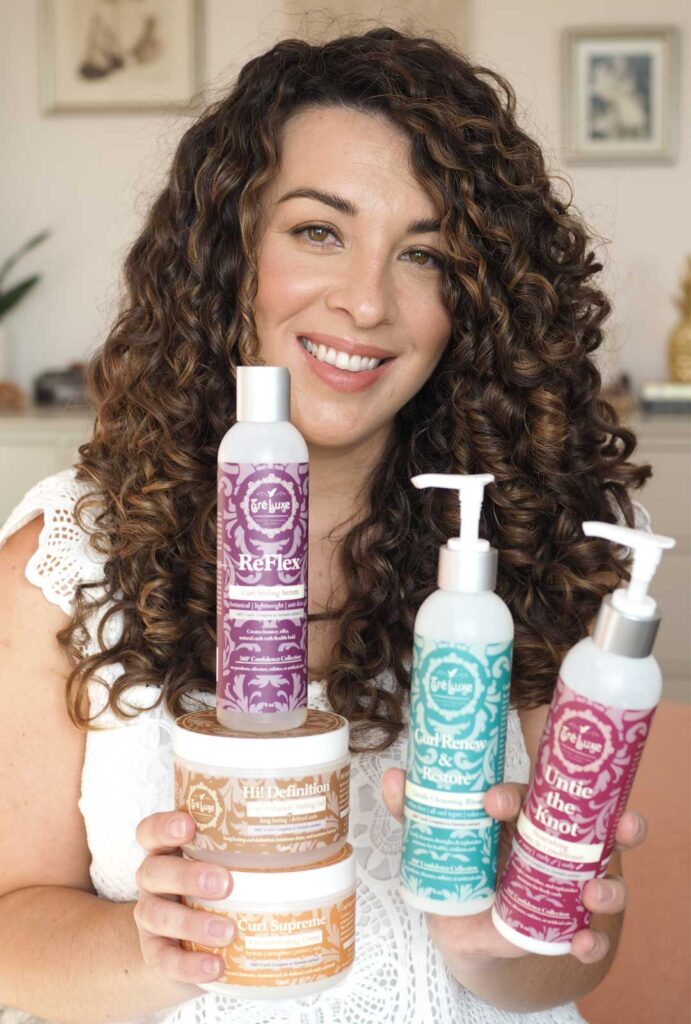 Thanksgiving Sale
Discount: 25% OFF all product bundles + free shipping over $50
Valid 11/22 – 11/26
Promo code: luxebundle
Black Friday Sale
Discount: 30% OFF all products sitewide + free shipping over $50
Valid 11/27 – 11/29
Promo code: BF30
Cyber Monday Sale
Discount: Get up to 30% OFF TréLuxe (buy more/save more) + free shipping over $50
Valid 11/30
Spend $75 or more, get $22 OFF. Promo code: CM22
Spend $55 or more, get $14 OFF. Promo code: CM14
Spend $ 35 or more, get $7 OFF. Promo code: CM7
Spend $15 or more, get $2 OFF. Promo code: CM
Use code CURLYCAILIN15 for a further 15% OFF
Mini Reviews
Curl Renew & Restore Gentle Cleansing Rinse
A sulfate-free, low-lathering cleanser, Curl Renew & Restore is the most light-weight cleanser I've yet to try. For fine hair that gets easily weighed down, this would be perfect! It also contains protein, great for providing strength and structure to the hair.
Untie the Knot Nourishing Leave In Conditioner
The only conditioner from TréLuxe, Untie the Knot is great at smoothing and detangling. Providing the hair with moisture, hydration and slip. Nourishing, but still really light weight. A good balance of protein and lightweight moisture, and glycerin-free.
Curl Supreme 4-1 Hydrating Cream
For those of you who like to use a styling cream, Curl Supreme moisturizes, protects, and fortifies hair strands. While also providing a soft, supple hold. Providing hydration and moisture to your curls, coils, and protective styles. Thick, rich and smooth – you only need the smallest amount applied to wet hair. A little goes a long way!
Reflex Curl Styling Serum
Reflex Serum, or as I like to say, ringlets in a bottle! Designed to smooth, elongate, and define curls and waves. A lightweight formula that won't weigh the hair down. Glycerin free, with a good balance of protein and moisture. You don't need a lot, and it plays well with other products too. It's a bold statement to make, but no other product gives my hair spirals and ringlets anything like this! It's definitely a game-changer in my styling routine.
Hi! Definition Curl Enhancer Styling Gel
My favourite gel of all time and my Product of the Year for 2020, TréLuxe Hi! Definition Gel! The consistency is somewhere between a gel, a custard, a jelly and a purée. Great at enhancing curls and creating clumps. Providing long-lasting curl definition, as well as shine. Enough protein to define, enhance and tighten natural curl patterns. Combined with enough moisture to give hydrated, frizz-free, juicy ringlets and curl clumps, and lots of shine! This gel is also glycerin free, perfect if you live in an environment with lots of humidity.
My Styling Routine Video!
Finally! If you've been listening to me banging on about my love for the TréLuxe Reflex Serum and Hi! Definition Gel, but wonder HOW I apply my styling products. Then you'll definitely want to check out this video. My curly hair styling routine using TréLuxe! There's some slick slo-mo's, so you can really see the techniques I use to enhance the ringlets and curl definition I get from using these two TréLuxe styling products. I hope you find it helpful, enjoy!
So that completes this post. Don't forget to shop through my affiliate link. You can get up to 30% off TréLuxe during the sales, and get 15% off TréLuxe year-round using my code CURLYCAILIN15 at checkout. Follow me on Instagram for more bite-size information, tips, tricks and techniques. As well as the chats on IG Stories and my monthly Curl Clinics on IG Live, the first Washday Wednesday of every month!
I've got my annual A-Z Black Friday Guide for Curly Girls going live first thing in the morning on Black Friday. This year's post is featuring almost 100 brands and has some amazing deals and discounts, up to 50% off! So you don't want to miss that! See you then, Gabriella x
*This post contains some gifted items and affiliate links. Which means I get paid (a very small) commission on products you purchase through my links. This in no way affects you, the price you pay or the way in which I write about products featured on this site. My content is not influenced by advertisers, sponsorships, affiliate partnerships, brands or PRs.