I recently celebrated two years following the curly girl method. My first post on following the curly girl method | one year on, was so popular I decided to do another. If I thought I had an amazing curl transformation in the first year of following the curly girl method, it's nothing compared to the second year!
Here's my transformation over the past year, the products I've used a long the way, bumps along the road, what's worked really well for my hair, and what I've learned. So if you're thinking about starting, your at the beginning of your curly journey or just need some inspiration and encouragement to keep going, this post is for you. Don't give up!
Following the Curly Girl Method | One Year On
Okay so when I ended the last post tracking my journey and transformation after following the curly girl method for one year; I had been finger coiling every wash day for a month. Click here to watch my YouTube video on how I finger coil my curly hair. I do it a little differently to everyone else, it was the only way I could get success with this technique.
13 months – DIY Cut
11 months into my curly journey, I went for the big chop. Read all about that in this post. A couple of months later, I decided to do a DIY cut for shape and volume, LIVE on Instagram! This was hands down the best hair cut I've ever had! The boost of confidence and sass I got, as well as the shape and volume, was incredible! Check out this post for some before and after photos, and details on how I did it. Or see this Instagram post for sped-up clips of how I cut my hair during the live.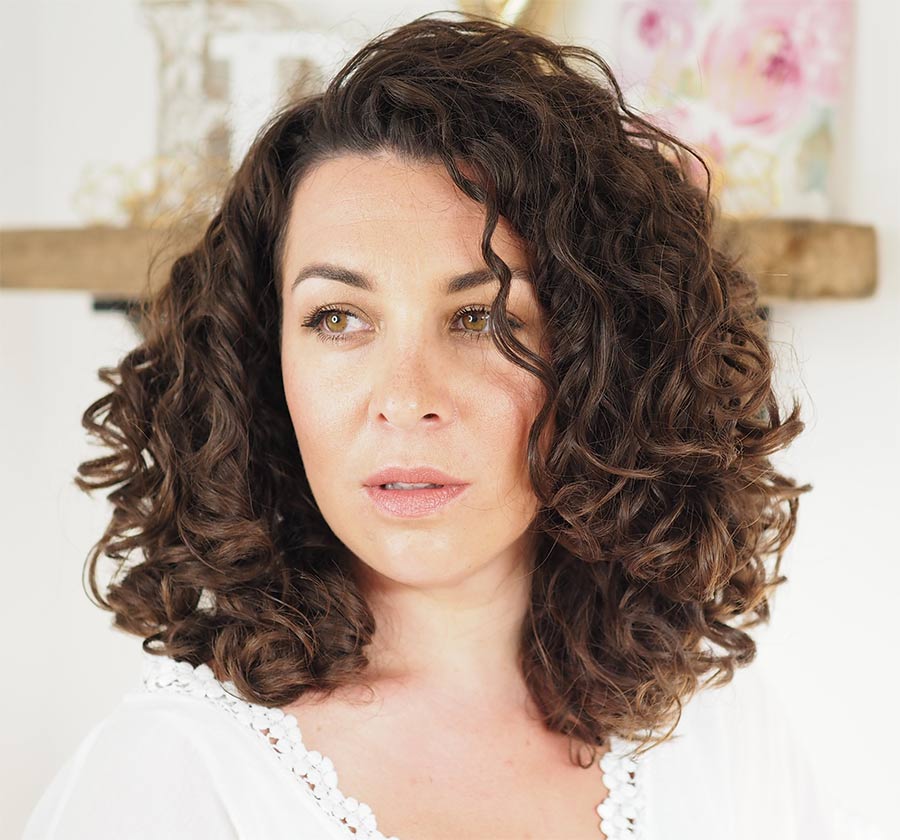 During this time, I was exclusively using Jessicurl products and my hair was consistently amazing! The only difference in these photos is one week apart and the DIY hair cut. Jessicurl continue to be one of my all-time favourite brands! Read my full review here and get 10% off Jessicurl at Kiyo Beauty.
14 months – Being Exclusive
I switched from all Jessicurl products, to exclusively using all MopTop products, which are available in my Amazon Shop. I fell equally in love! I think there's a lot to be said for having a consistent routine. My best hair days have been when I've been consistently and exclusively using the same products and brand.
I have to watch the dew points when I use MopTop – CURLMAVEN for 10% off. But when the humidity and dew points are just right, I love the results I get! If you're struggling with glycerin and humidity, and looking like Monica in Friends when they go to Barbados, this post is for you!
19 months – Neglect
During the summer, I had a traumatic house move and a few personal issues I was dealing with. As a result, I suffered a mental break down with severe depression, anxiety and panic attacks. I completely neglected my hair for three months, didn't take any pictures or do any deep conditioning. I stopped doing my weekly modified rice water treatments using my Curl Maven Thermal Heat Cap. And played around a lot with different products.
I was hardly using the same products two wash days in a row; constantly switching up my products and brands. And I think it shows in my hair, I experienced a lot more frizz than when I'd been exclusively using Jessicurl and MopTop, and deep conditioning regularly. But you can see my curl pattern tightened up. I've got some tightly-coiled, 3b ringlets.
20 months – Hair Oils & Scalp Massages = Growth!
In the past, I'd tried using the cult-favourite Righteous Roots Hair Rx Oil, but found it too thick, heavy and greasy on my scalp and roots. In January, I decided to try Tropic Isle Living Black Castor Oil and Red Pimento Oil for regular scalp massages instead. All of which are available in my Amazon Shop. But my favourite by far is the the Act + Acre Scalp Detox!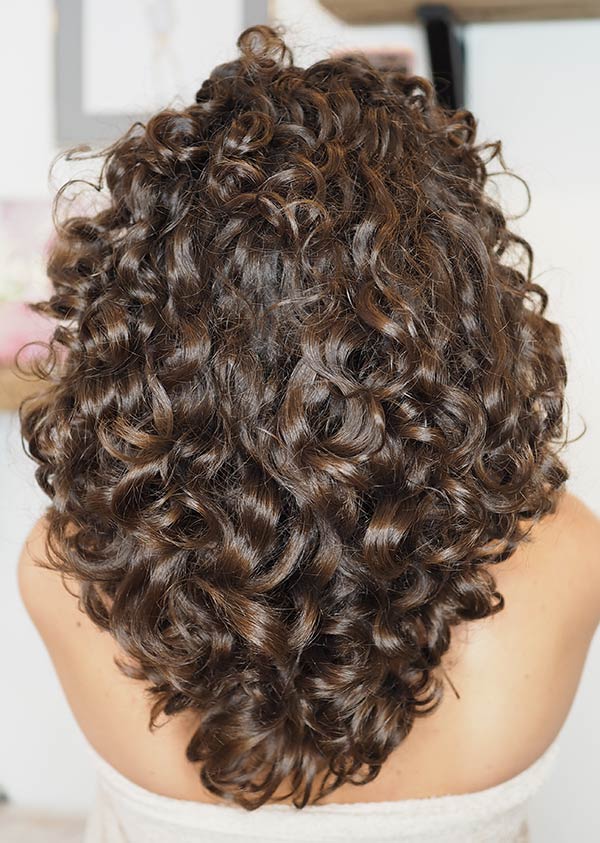 I immediately noticed a difference! Tropic Isle Living oils are so light, especially the Black Castor Oil one. They're not oily, greasy, thick or heavy at all! I truly believe the combination made a noticeable difference in my hair growth. And they smell incredible!
I had a trim and some layers put back in my hair just before Christmas, from my regular non-curly specialist hairdresser. But for the first time, I wasn't entirely happy with the cut or shape, especially at the back. So I did a little DIY trim (again!), at the back to fix the shape.
22 months – Over Moisturised Hair
After listening to a professional curl specialist hairdresser on Instagram, I went back to exclusively co-washing my hair for a few months. Eliminating any products that lather, such as low-poo's and clarfiying shampoos. As you can see from the pictures, my curl pattern is much looser. It wasn't able to hold a curl for very long, and there's a lot of frizz!
I was headed for Hygral Fatigue, which I experienced in my first year following the curly girl method. I wasn't quite at that stage, but I definitely had over-moisturised hair. Scroll back up and see the difference in my hair's hydration, definition and lack of frizz when I was using Jessicurl and MopTop products, compared to this picture below.
So to re-balance my over-moisturised hair, I did an Aphogee Two Step Protein Treatment. I filmed it for YouTube, so you can watch it here if you like. I also wrote a detailed blog post about Protein Moisture Balance, and how to come back from protein overload or hygral fatigue. How to identify and fix both, and find the right balance for your hair. These photos were taken 5 days/1 wash day apart, just look at the difference!
2 Years! – Bouncing Back + Focusing on Growth!
What has frustrated me the most about the past year following the curly girl method, is my growth and hair length. Don't get me wrong, I'm glad I did the big chop, for the health of my hair and curl pattern, definition and formation. But the goal was to do the big chop, and then grow my hair long again. I temporarily sacrificed my long hair so I could have healthy hair. But I lost sight of the long term goal over the past year.
One year after doing the big chop, my hair wasn't any longer. And I only had myself to blame, I was my own worst enemy. I kept picking up the scissors and doing little trims here and there. So yes, scalp massages, hair growth oils, and even vitamins, have all helped the last couple of months. But not as much as the simple step of putting the scissors away. You'll be amazed at how much your hair will grow if you just stop cutting it! So simple, it's silly!
What I've Learned…
Following the curly girl method two years on, I'm not where I wanted to be, in terms of length. But I've learned a lot about the health of my hair, and this whole curly girl method and journey. Here's my top three lessons I've learned:
1. Have a goal, work towards it and stick to it. For me, this is to do the big chop. I did it for the health of my hair, to grow it long again. Without all the damage I'd caused from years of using the wrong products, bad ingredients, colour and heat damage. But I lost sight of the long term goal. Going forward, I'm going to keep that goal in mind. Use it as encouragement to keep going while my hair is in that awkward in-between stage as it grows out.
2. Listen to what your hair is telling you. Social media and the curly community can be amazing, truly. I'm part of it, and for the most part I love it. But it's so easy to get caught up in the latest hashtag routine, or technique. Or wanting to try A L L the products. Even listening to professional curl stylists who have never seen or touched your hair! For example: the bowl method for ultimate hydration and exclusively co-washing and using non-lathering cleansers are not good for my hair. My hair is really good at retaining moisture, but lacks protein. So those kind of routines, techniques and products put me on a fast-track to over-moisturised hair and hygral fatigue.
3. Regular deep conditioning is so important! I really neglected deep conditioning my hair regularly over the past six months or so. It really shows in my hair and it's something I'm making a conscious effort to make time for each week. Using my Curl Maven Heat Cap is a must-have and really helps maximise all the goodness of my deep conditioner. You can purchase them here. But despite using good quality products, taking my time on wash days, and trying to get the protein moisture balance right. My hair has suffered from not regularly deep conditioning.
I hope this post has been helpful and encouraging. It's so important to take pictures throughout your journey. Even on the bad hair days. Not only is it a great way of seeing how far you've come. But also to look back and identify what has and hasn't been working.
Let me know in the comments what you've struggled most with on your curly journey, and what's been the biggest game changer, or ah-ha moment for you. I'd love to know!
Make sure you subscribe to the Curl Maven Collective Newsletter for exclusive giveaways and offers, new content, products and services. Follow me on Pinterest, Instagram and subscribe to my YouTube channel for more tips, advice and tutorials.
feeling overwhelmed + don't know where to start?
Book a Curl Clinic Consultation
Gratitude + Support
If you found this article or any of my content helpful and would like to show your Gratitude + Support, you can click here to make a donation. I'm so incredibly thankful and grateful to everyone who supports me, my content and my platform. Thank you!
*This article may contain some gifted items and affiliated links and discount codes. This doesn't effect my opinion or the way in which I write about products featured on this site.
.