In this post, Lal discusses everything you need to know about pre-pooing. You may have already heard of it, but not sure what products, ingredients and treatments are best to use. Or you might not have heard of it before and are wondering if it would suit your hair.
It's not for everyone, certainly not if your hair tends to be slightly over-moisturised like mine. But for certain drier, more coily hair types. And especially if you struggle with knots and tangles, pre-pooing is an essential step on wash day. And there's a specific pre-poo great for coloured or highlighted hair too. So keep reading for everything you need to know about pre-pooing.
What is a Pre-Poo + Who is it for?
Pre-poo is short for pre-shampoo. It's a protective moisturising treatment you apply to your hair and scalp before you wash or 'shampoo' it. If you have waves or a looser curl pattern. Or your hair tends to lean towards being slightly over-moisturised, then it's best to avoid pre-pooing. But for others, who have tighter curl patterns and textures.
Type 3 or 4 curls that experience more shrinkage and the hair tends to be more dry. Or if it takes you thirty minutes or more to detangle your hair on wash day. Then incorporating a pre-poo into your wash day routine is going to be a time-saving game-changer!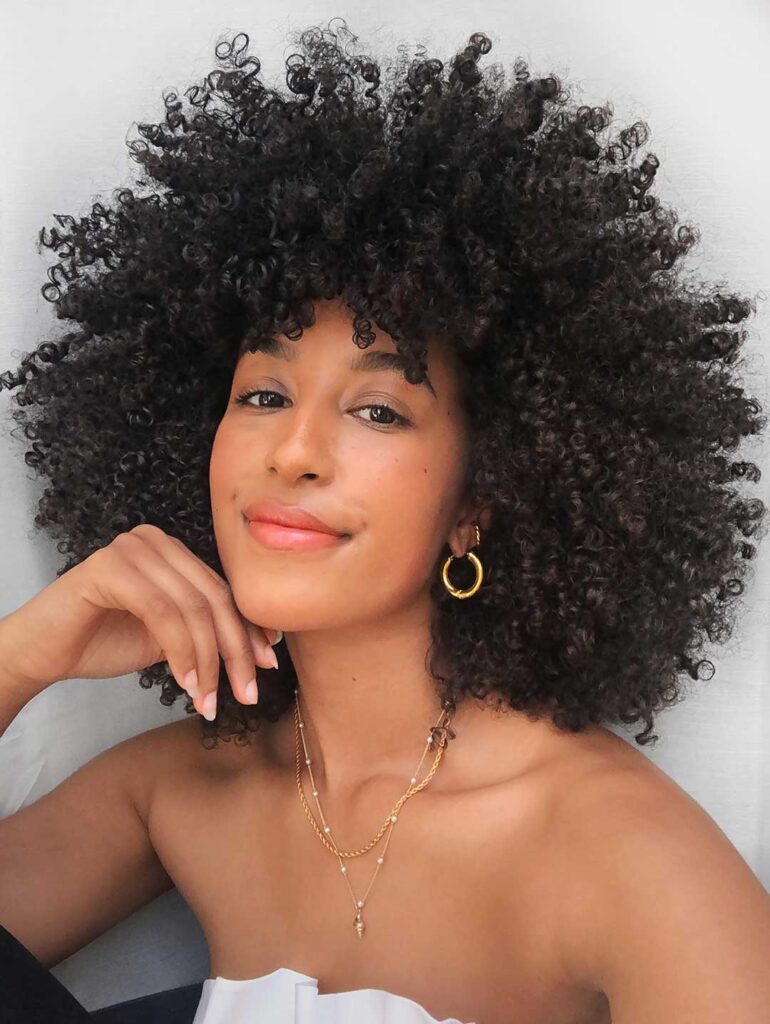 How does it work?
Pre-pooing works by adding a much-needed layer of protective moisture to the hair before shampooing. This is to avoid stripping or drying out the hair during cleansing, which can happen even with gentle, sulfate-free cleansers. Leaving hair feeling too clean and stripped from moisture, and causing dryness, breakage and more knots and tangles.
The protective barrier of a pre-poo not only prevents all of the moisture being removed during cleansing. But it also cuts down on time during wash day. Allowing you to ease through knots and tangles not only faster, but with less breakage too.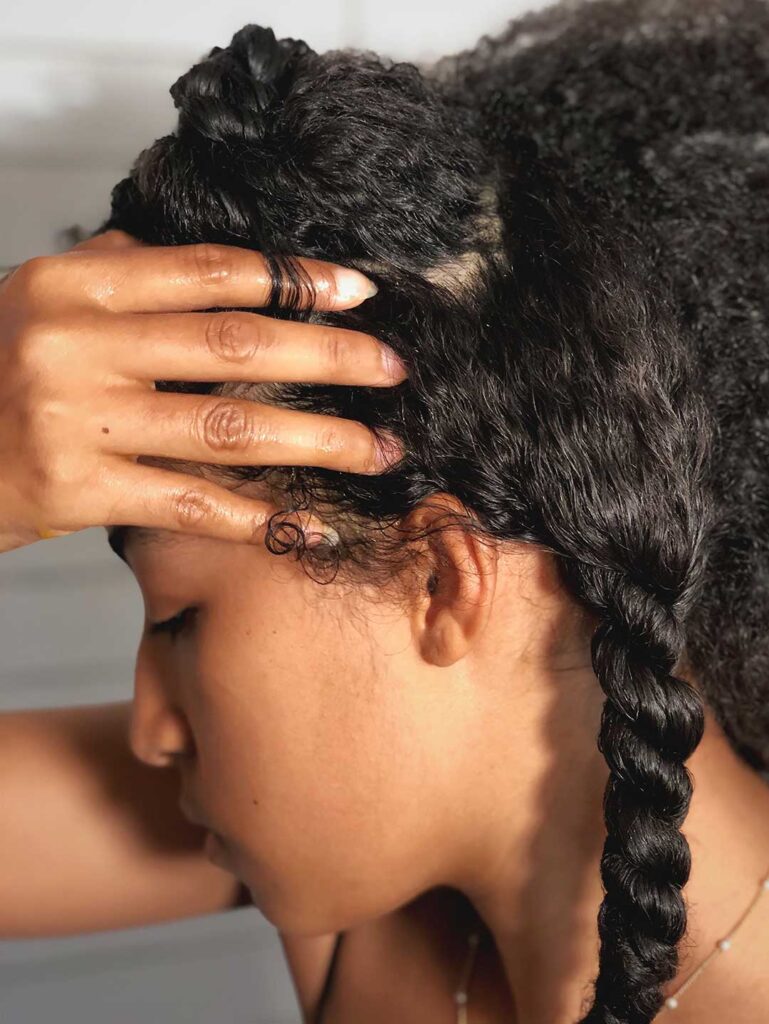 What can I use to Pre-Poo?
A pre-poo can be anything from your favourite oil or hair mask, to a DIY deep conditioner. When using oils, it's better to use hair-penetrating oils such as babassu, coconut, grape seed or argan oil. As these will protect both the outer and inner layers of the hair. And provide extra moisture to the hair both during and after cleansing.
However, you can't use just any oils, because not all oils are the same. You need to make sure you use a penetrating oil for pre-pooing, and not a sealing oil. Bouclème's Revive 5 Hair Oil can be used as a pre-poo and you can get 20% off using code CURLMAVEN at Look Fantastic. But my favourite is the Afrocenchix Soothe Oil – which you can buy here.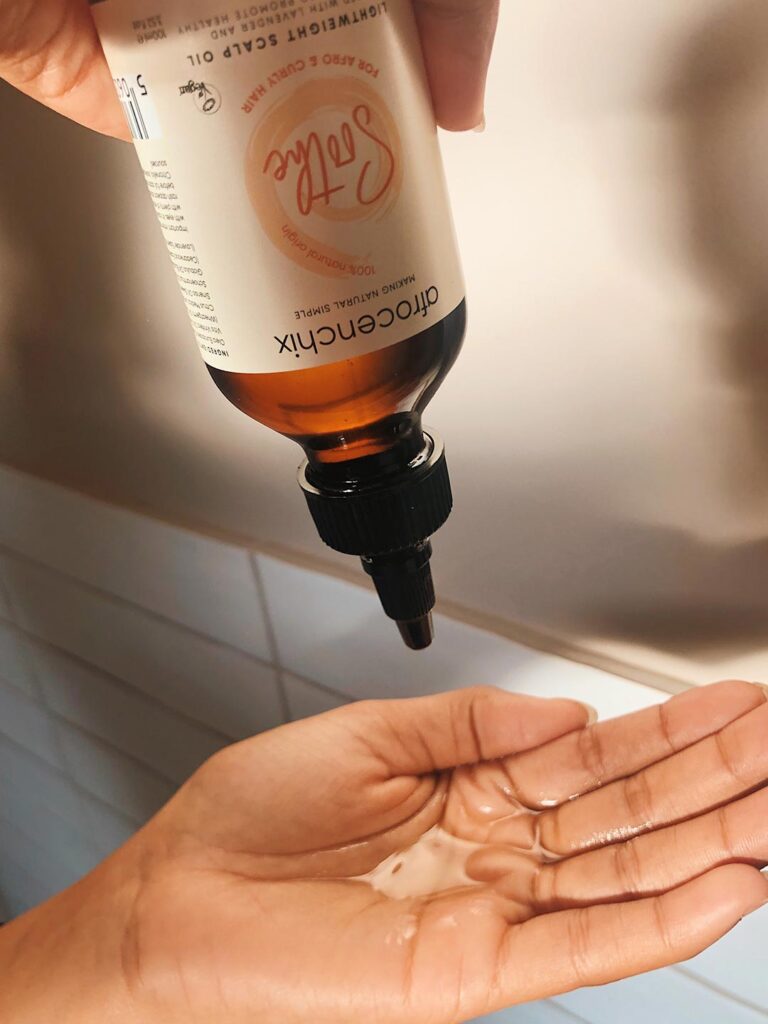 If you use a water-based deep conditioner, you should use much less product than when using it as a mask to deep condition. I prefer to apply anything water based 15-60 minutes before I wash my hair. A pre-poo is usually applied to dry hair. However, you can lightly mist your hair with some warm water before applying, if you prefer. You may find this works better if you have low porosity hair. The aim is not to wet the hair completely, but to dampen to hydrate.
What oils work best?
Without getting too scientific, oils are made up of fatty acid chains, and some chains are longer than others. It's these fatty acid chains that determine an oil's ability to penetrate the hair. The Sciency Hair Blog has a great post on penetrating vs sealing oils if you want to read some more in-depth information on it.
For example, babassu and grape seed oil are great for pre-pooing as they penetrate and moisturise the hair strand. Preventing the hair from being stripped through cleansing and can be left on overnight, with caution. On the other hand, jojoba and sweet almond oil are better for sealing moisture in the hair after washing and styling. Creating a protective film around the hair strands, and adding shine.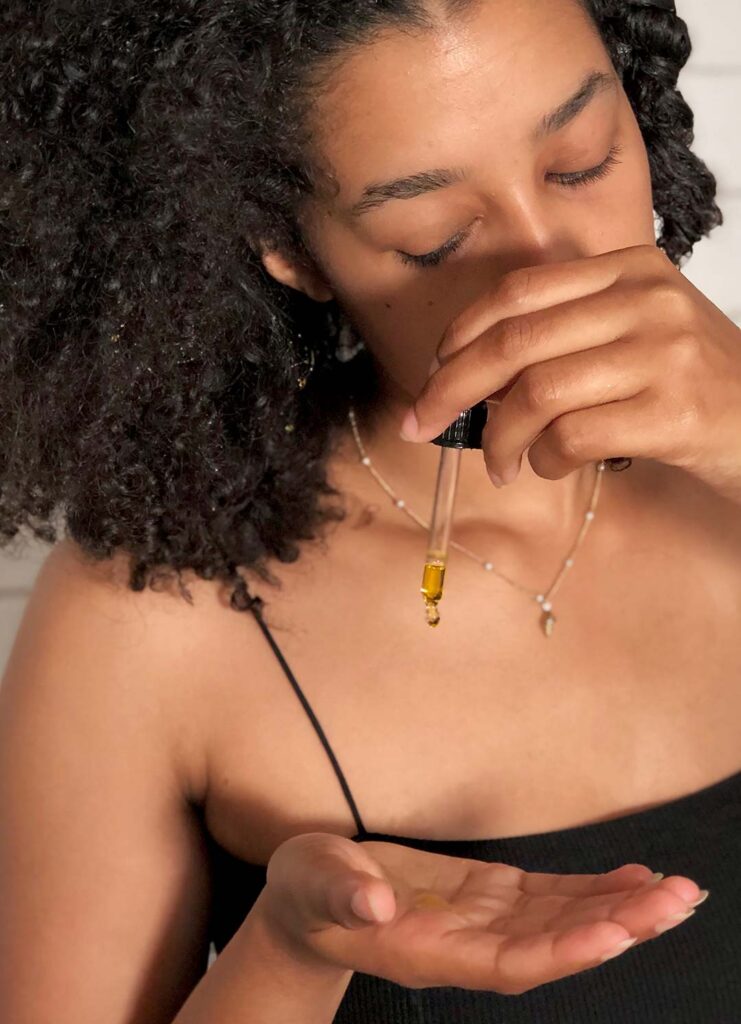 Top Tip: add a few drops of peppermint or rosemary essential oil to your pre-poo for added scalp-health and hair growth benefits
Pre-Poo for Coloured Hair
If you have coloured or highlighted hair, you can use a special pre-poo treatment called Colour WOW Dream Filter Treatment – CURLMAVEN for 20% off. It's a clarifying, chelating spray treatment that you apply to the hair before shampoo. And a quick ingredients check seems to show that it's curly girl friendly. It works by removing hard water, minerals and metal deposits that can build up on the hair over time, making coloured and highlighted hair appear yellow, brassy, greenish and dull.
Use Colour WOW Dream Filter as a pre-poo once a week, or before every wash, to lift unwanted minerals away from the hair shaft and detoxify the hair, which you then remove when you shampoo/cleanse. It brightens highlights and makes blonde, grey and white shades appear lighter, brighter and more vibrant. Not just for coloured hair, this would be a great, gentle alternative to use in between monthly clarifying with Bumble + Bumble Sunday Shampoo – which is a chelating, clarifying shampoo that contains sulfates. Read more about clarifying in this post. You can get 20% off Colour WOW Dream Filter Treatment using code CURLMAVEN at Look Fantastic. They also do FREE worldwide shipping.
How to Pre-Poo
I like to part my hair down the middle and warm the oil in my hands. With hands pressed together, press the oil into small sections of hair with a downwards smoothing motion, from root to tip. Then I finger detangle, adding more oil when needed. For type four curls in particular, whose curls that are densely packed and can easily wrap around each other. I'd suggest dividing your hair into 4-6 sections. Then twist the hair and clip it up to prevent the hair shrinking back up. Leave in for as long as your hair needs.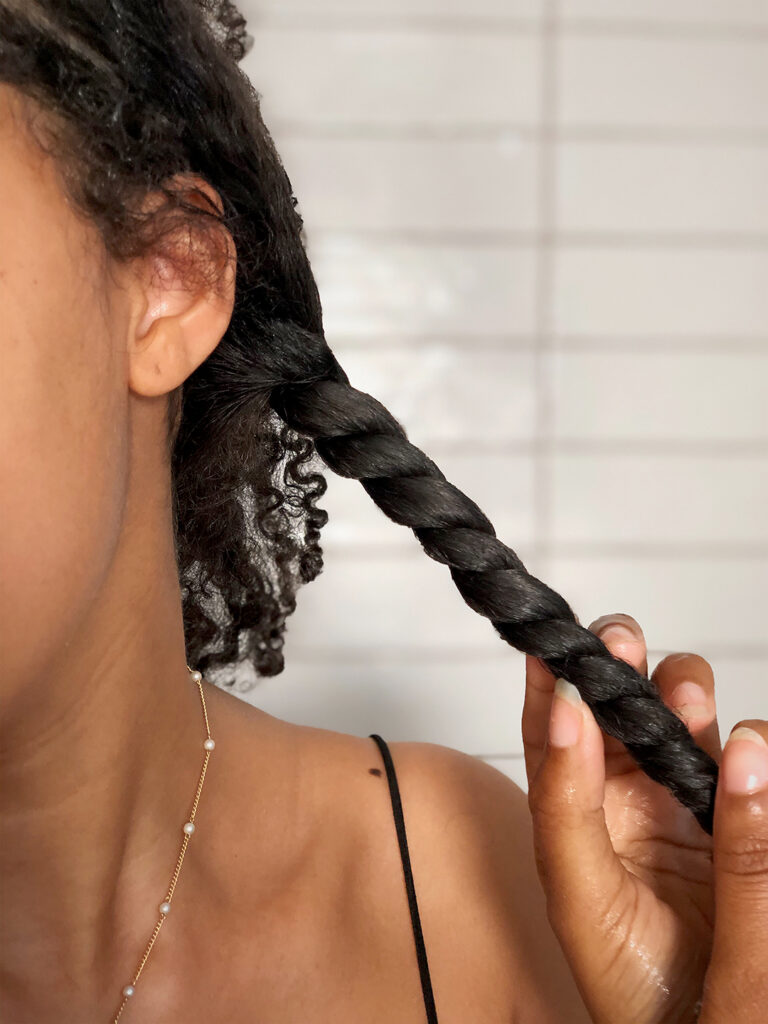 When in the shower, take out each section at a time, ensuring each is adequately cleansed, moisturised and detangled. To avoid unnecessary breakage, I always detangle using my fingers, working from the ends up. Once I've done that, then I go in with a paddle brush to distribute product through the hair. You can get 20% off the Denman Paddle Brush using code CURLMAVEN at Look Fantastic, it's the best detangling brush for curly hair.
Level Up Using Heat
Combining gentle heat with your pre-poo will maximise both the absorption and the benefits of a pre-poo into the hair. It's also a game changer when it comes to deep conditioning, especially if you have low porosity hair! You can purchase a Curl Maven Thermal Heat Cap here, which is great for pre-pooing, hot oil treatments and deep conditioning.
You'll need a microwave to heat it up. But if you don't have one, you can gently warm your pre-poo using a bain-marie or a steamer. Turning it into a hot oil treatment before you apply it to your hair. You can also use a hooded drier or if you don't have one of those, hold your hairdryer and/or diffuser away from your hair, directing the heat towards it for a few minutes.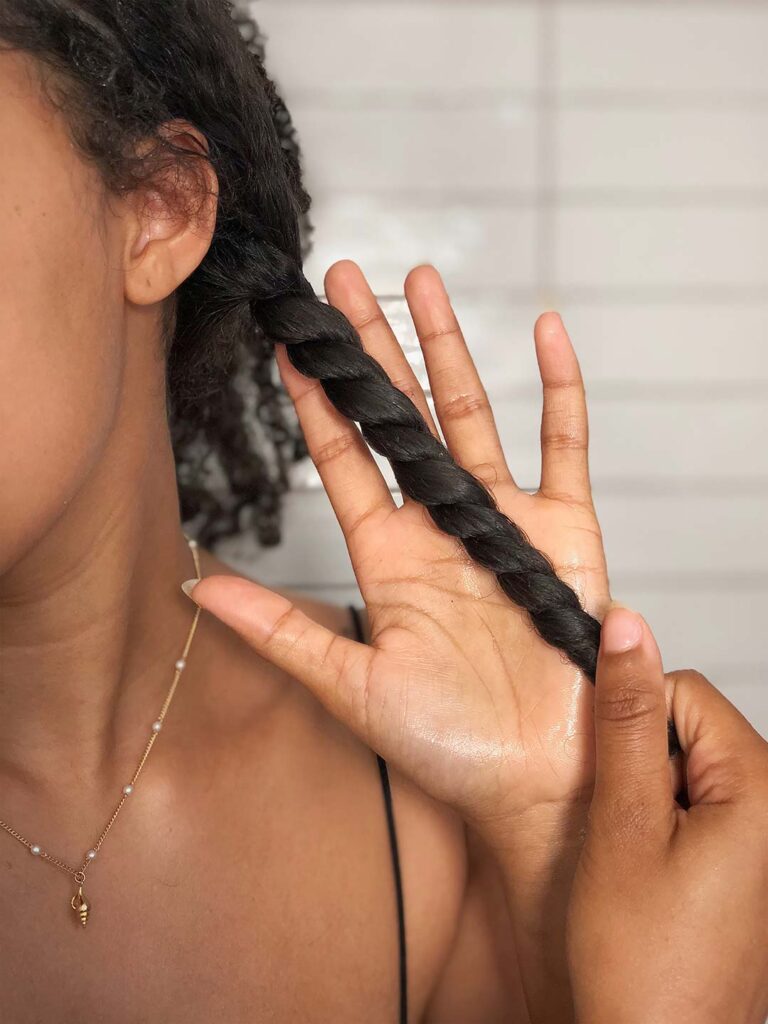 Really Important!
Pre-pooing is not suitable or recommended for everyone. For example, pre-pooing works great for my tight, coily curls which tend to be quite dry. But Gabriella's hair doesn't need and wouldn't benefit from a pre-poo, as it would cause her hair to be over-moisturised. Now that she's got highlights in her hair, she could use the Colour WOW Dream Filter Treatment as a pre-poo. But not an oil or deep conditioner. CURLMAVEN for 20% off at Look Fantastic.
Also keep in mind that you can only leave a pre-poo in overnight if you're using an oil. It's not recommended to leave a water-based conditioner or hair mask on overnight as a pre-poo. As it can quickly and easily lead to hygral fatigue, which is severely over-moisturised hair. Not only can it cause damage to the cuticle. But hygral fatigue can takes weeks, if not months to recover from, which Gabriella experienced and discussed in this blog post.
I really hope you found this post helpful and informative. And you feel more confident about incorporating a pre-poo into your wash day routine. Let me know in the comments what your favourite product is and how you use it to work best for your hair. Do you prefer to use an oil or deep conditioner? Just before you wash your hair, or do you prefer to leave it in overnight/all day?
Make sure you subscribe to the Curl Maven Collective Newsletter for exclusive giveaways and offers, new content, products and services. Follow me on Pinterest, Instagram and subscribe to my YouTube channel for more tips, advice and tutorials.
feeling overwhelmed + don't know where to start?
Book a Curl Clinic Consultation
Gratitude + Support
If you found this article or any of my content helpful and would like to show your Gratitude + Support, you can click here to make a donation. I'm so incredibly thankful and grateful to everyone who supports me, my content and my platform. Thank you!
*This article may contain some gifted items and affiliated links and discount codes. This doesn't effect my opinion or the way in which I write about products featured on this site.