There's a popular Dyson Diffuser Hack that's been doing the rounds in the curl community for a while now. So I thought I'd try it, and show you a step by step guide, using the Xtava Black Orchid Diffuser. I'll give you my thoughts on whether it really works, if it's worth it and if I recommend it.
Let me start by saying I was very kindly gifted a Dyson Supersonic Hair Dryer and attachments 6 months ago, from Dyson with no requirement to post or promote content for their products. Like any other product I receive, I thoroughly test out, use and experiment with it for a while before I say anything about it. And I only ever recommend something if I genuinely, use and love it. This post isn't a review of the Dyson as a hair dryer, the diffuser or whether it's worth it if you have wavy or curly hair. I'll be posting that soon. This is just a quick post on the Dyson Diffuser Hack.
Dyson Diffuser Hack
The diffuser that comes with the Dyson Supersonic Hair Dryer is pretty small. Much smaller than most other diffusers on the market. And despite many diffusers being universal, there isn't one that fits the Dyson – yet. But there is a Dyson Diffuser Hack. So I wanted to try it and give you a step my step guide, and my thoughts.
The Xtava Black Orchid Diffuser is a large, deep bowl diffuser – which I love. Great for shape, volume and root lift. If you're in the UK/EU, you can get it here on Amazon. Although it's not magnetized, the attachment is exactly the same size as the Dyson. So all you have to do is magnetize it! Notice I didn't say it's super "quick" and easy. This Dyson Diffuser Hack took me hours!
What You'll Need:
* The Dyson Supersonic Hair Dryer comes with all the magnetized attachments. Including the diffuser, wide tooth comb and the new flyaway attachment.
How to: Dyson Diffuser Hack
Aside from the items listed above, this hack requires a lot of time and patience. It took me a whole afternoon, and it's quite fiddly because the disc magnets are so small. And you're trying to super glue those tiny magnets, which want to stick to, or be repelled away from each other – on a thin, small surface.
Apply a small amount of Gorilla Super Glue to one side of the magnet, and wait about 20-30 seconds before you stick it to the Xtava Black Orchid Diffuser attachment. Then wait another minute or so before placing the next magnet, near to the first one – without any glue on it just yet.
This is to make sure that the magnets are attracting to each other, instead of pushing away from each other. Otherwise that magnet will flip and stick onto the magnet you've just glued down. This happened a few times, and it was a mess trying to get them apart. I often had to start the whole process again.
Once I got the first few magnets glued down, waiting a couple of minutes in between each one. It saved time and was much easier by sticking a magnet to each end of the circle. Instead of working my way the whole way around the circle in the same direction. Hopefully that makes sense! Just remember to flip the magnets over each time you glue one down on the opposite end of the circle. Until you gradually get all the way around to join the circle up.
Top Tip: Take your time! The longer you can wait before glueing each magnet down, the better and easier it will be!
Once all the magnets have been glued down to your Xtava Black Orchid Diffuser, leave it to fully dry for 24 hours or more before attaching it to your Dyson Supersonic Hair Dryer.
Does the Dyson Diffuser Hack Work?
At first, I thought this Dyson Diffuser Hack was so good! I much prefer the Xtava Black Orchid Diffuser to the diffuser that comes with the Dyson Supersonic Hair Dryer. It gives my long, curly hair great shape, definition, volume and root lift. The size and deep bowl shape of the Xtava Black Orchid Diffuser, combined with the power and speed of the Dyson Supersonic Hair Dryer. I was able to diffuse my hair really fast!
However, my enthusiasm didn't last very long. And this is why it's important to try something repeatedly. For at least a few weeks, to see if it really works or not. After just a couple of uses, I noticed the middle attachment of the Xtava Black Orchid Diffuser was coming out. Which meant the part I'd magnetized to stick to the Dyson was holding fast. But the rest of the diffuser wasn't. Quite a few times it fell out completely when I was using it!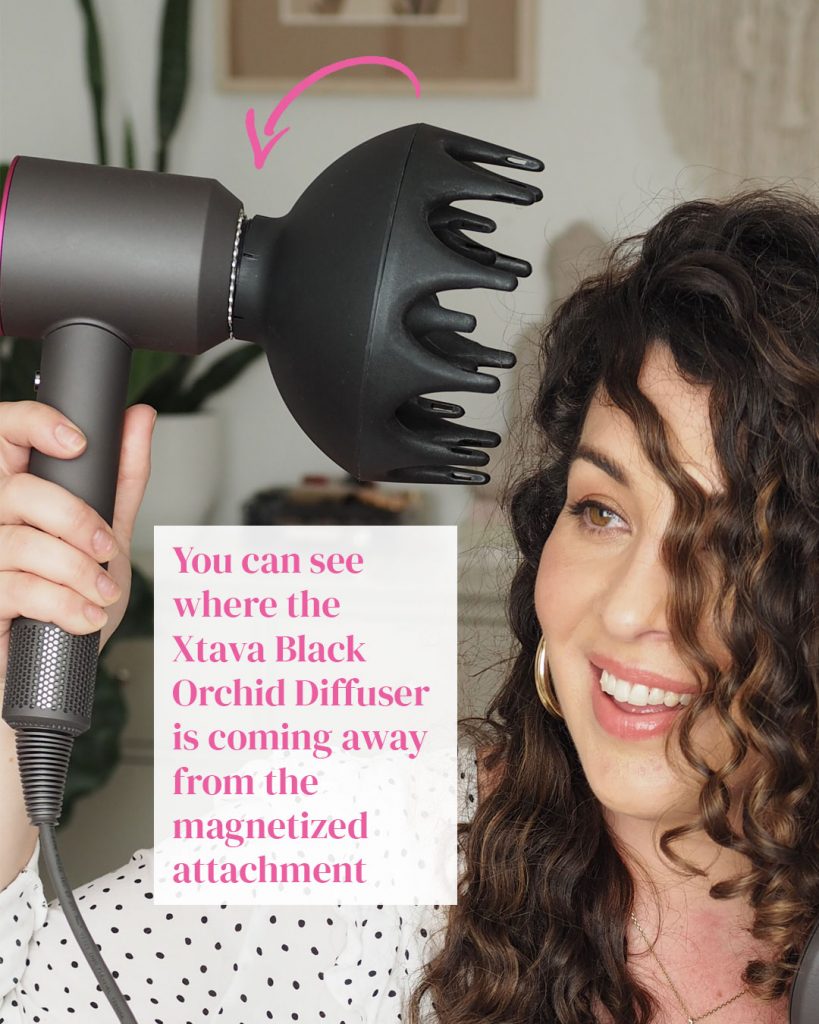 After another couple of uses a few of the magnets became unstuck. I also noticed even at the lowest heat setting, the heat was affecting not only the magnets, and the Xtava Black Orchid Diffuser. But also the Dyson Supersonic Hair Dryer – and that's way more expensive to replace than the diffuser! I spoke to one of my curlfriends and she experienced the same thing with this hack. It worked fine at first, but started overheating the dryer after a while.
She also said it started to take her longer to diffuse her hair with the diffuser hack. Than just using the diffuser that came with the Dyson Supersonic Hair Dryer. I definitely found that happened too, but I don't know why. Ultimately, I didn't want to damage my Dyson Supersonic Hair Dryer. And I felt like that's what was happening with this Dyson Diffuser Hack, using the magnets and Xtava Black Orchid Diffuser. But…
Is it worth it? Would I recommend this hack?
Is it worth purchasing the most expensive hair dryer on the market so you can do this hack? No, personally I don't think so. Would I recommend this hack? No, and it's not that it doesn't work. Because it does – at first, just not long-term. I've seen a similar hack using the Dyson and the Xtava Black Orchid Diffuser but using a handy accessory called, the Snozzlepro instead.
So I'm going to get one of those, try that out for a few weeks and let you know how I get on. Have you heard of the Snozzlepro? If you're in UK, it's available at Naturalistic Products here. Or if you're in the EU, it's available at Sari Curls here.
Have you tried it? Or tried both of these Dyson Diffuser Hacks and think one works better than the other? Or is the diffuser that comes with the Dyson still the best one to use if you have the Supersonic Hair Dryer? Let me know in the comments, I'd love to hear how other people got on!
Make sure you subscribe to the Curl Maven Collective Newsletter for exclusive giveaways and offers, new content, products and services. Follow me on Pinterest, Instagram and subscribe to my YouTube channel for more tips, advice and tutorials.
feeling overwhelmed + don't know where to start?
Book a Curl Clinic Consultation
Gratitude + Support
If you found this article or any of my content helpful and would like to show your Gratitude + Support, you can click here to make a donation. I'm so incredibly thankful and grateful to everyone who supports me, my content and my platform. Thank you!
*This article may contain some gifted items and affiliated links and discount codes. This doesn't effect my opinion or the way in which I write about products featured on this site.