Introducing The DREAM Morning Method, a modern wellness ritual designed to reduce stress, manage mental health, achieve success and manifest your goals.
Using various wellness tools and habit stacking to reduce stress and anxiety, manage depression, expand my knowledge, move my body and still my mind.
I use this method to set goals, achieve success, manifest and live my dream life. And I'm going to show you how to do the same thing using the DREAM Morning Method!
The DREAM Morning Method
I've called it The DREAM Morning Method because that's how I incorporate it into my life and use it to set myself up for a successful day ahead. But life doesn't always allow or make space for strict routines and rituals. And we often need to surrender to situations we may have no control over, and go with the flow.
One of the many benefits and beauties of The DREAM Method, is it can be done in the morning, evening or throughout the day. Whenever it suits you and how your life looks right now. It's what you do, and the intention and ritual behind it that matters. Not when you do it.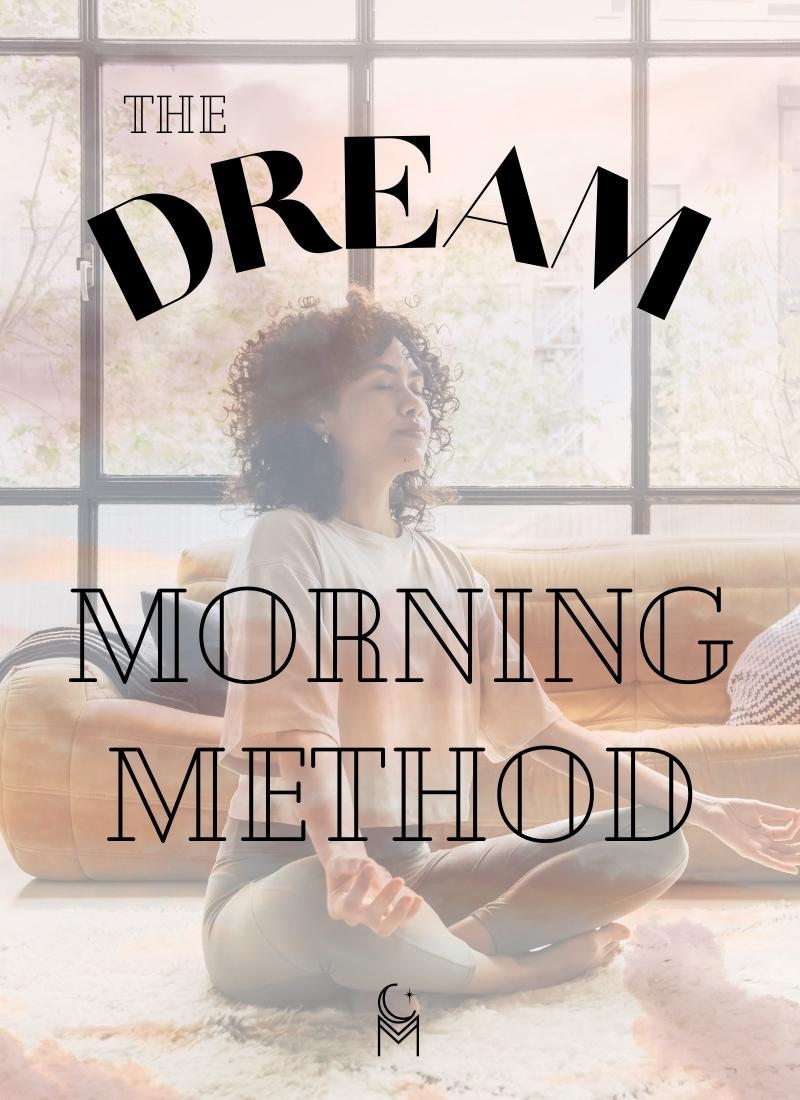 It's taken me almost five years of slowly developing The DREAM Method. Trying out new things, seeing what works for me, what resonates and what doesn't. Finding out what fits my life, what feels good, what positive changes I notice and what I can be consistent with. Sometimes that means I exercise mid-afternoon and meditate before bed.
But if you can, I highly recommend you do it in the morning to get the most out of this method. Get up earlier if you have to, it makes such a difference! And by the time you're done, you've already achieved five things in your day and feel amazing!
Habit Stacking
I already had an established morning ritual of waking up, making myself a coffee and reading. I built on this using a term called "habit-stacking." Which I learned about in the book, Atomic Habits by James Clear, and it's also part of The Noom Mindset, which is another incredible book.
Then I stacked more habits on top of those first two, slowly adding, removing and making adjustments until I found something that worked for me. If you're new to morning rituals and routines, I recommend slowly habit stacking each element of The DREAM Method, so you can start living your dream life!
D is for Drink
The first step in the DREAM Morning Method is making myself a drink. I'm Italian, so I love my coffee! But you can drink whatever you prefer. It can be a cup of cacao, matcha, tea or lemon and water. It's the ritual of making a fresh cup of coffee with steamed, frothy milk that I love.
You can put as much intention into this as you want. It's a great way to awaken the senses and the body. As well as cultivating some gratitude, appreciation and joy, and whatever other benefits come from your chosen drink.
R is for Read
Once I've made my coffee in the kitchen, I'll go into my living room and open the windows to let in the fresh air and listen to the birds singing. I love to do this in the evening too. I'll light a Palo Santo incense stick, and sit on the sofa with my coffee, blanket and whatever book I'm reading.
After a trip to California in 2019, I came home with a MANTRA Wellness Magazine, a modern wellness and mindfulness magazine with a fresh approach to healthy living. The vibrant artwork and graphic design is what first caught my eye. But I loved the articles and content too, reading one every morning.
I did this for a while, until I really got into wellness, spiritual and self-development books. So now I read a few pages or a chapter every morning. This helps put me in a positive mindset, as well as expanding my knowledge and learning new skills and tools. Whether that's how to manifest my goals, deepen my spirituality practice, heal my trauma or live my Dharma. All that kind of stuff, which I love!
If you'd like some book recommendations, Think Like a Monk by Jay Shetty, The Sugar Jar by Yasmine Cheyenne or Presence by Lisa Lister are all amazing!
E is for Exercise
Next up in the DREAM Morning Method is Exercise. And like Drink, this can be any form of exercise you like – but something that moves your body. It could be gentle movement like yoga or pilates, dancing around the kitchen while you make breakfast, walking your dog. Or something a little more active like a brisk walk, running or strength training.
I love to go for a run in the morning, as the sun is rising, the birds are singing and the traffic is low. There's something about the freshness of the air, the whole day ahead and all the potential it holds. But I find a mid-afternoon walk or run does wonders for my energy levels! And sets me up for the rest of the day when the kids get home from school and the cycle of homework, dinner and after-school activities start.
A is for Affirmations
I've spoken about affirmations a few times on the blog. They are my favourite way of aligning my thoughts, words and actions, with my goals and intentions. The thing with affirmations is, you've got to really believe them! Believe what you're saying, what you're speaking over and calling into your life. The more energy, positivity, feeling and excitement you can infuse into your affirmations – the more powerful they become.
So for me, the best time to do my affirmations is right after Exercise! As I walk in the door, riding high on all the endorphins, high serotonin levels and sense of accomplishment and achievement I feel. I pour all of that into my affirmations! If you've done affirmations before, or want to incorporate them into your life – try doing them right after exercise and notice the difference.
As part of the DREAM Morning Method, I recommend taking your time to create your own set of affirmations. Make sure they feel aspirational but believable to you and what you want to manifest and create in your life. Get specific, get excited and get ready – because they're a powerful tool to create huge change in your life. If you're new to affirmations and don't know where to start, read this post on how to set goals and intentions. And here's some of my favourite mantras to use every day:
M is for Meditation
If you take nothing away from this wellness post and The DREAM Morning Method, let it be this. Let it be meditation, it's the most powerful, transformative thing you can do for yourself! There are so many incredible, science-backed, health and wellness benefits to meditation. I'm not going to list them here, because there are books, TedTalks and all sorts of amazing resources that will do a much better job than I could.
Instead, I'm going to share with you my favourite guided meditation teachers and creators. Because guided meditation is a little like therapy, in that you really have to find the one that you click with, enjoy and works best for you. I spent quite some time going through some of the most popular guided meditation teachers, creators and well known apps. But they just weren't it for me, something wasn't clicking.
My all-time favourite guided meditations are from yoga and meditation teacher and creator, Kelly Smith called Mindful in Minutes, available on Spotify and Apple Podcasts. If you follow me on Instagram @curlmaven you'll know I've shared so many of her incredible meditations over the years. I discovered Kelly and Mindful in Minutes in 2020, and have been listening to her meditations almost daily ever since!
Another great one is Manifest by Jess by Jessica Heslop on YouTube – formerly known as Live the Life you Love. I did her 21 Day Transformation Gratitude Meditation, which has almost 10M views on YouTube! As the name suggests, a lot of her meditations are more for manifesting. As well as healing and transformation, using positive affirmations. They're incredibly powerful too! One of my favourites is the Manifest Your Soulmate, and it works!
Make it beautiful, give it meaning
As I was habit stacking and developing The DREAM Morning Method. I put more thought, meaning and intention into each element. If something looks beautiful, feels good and has meaning, we're going to do – and WANT to do those things more often. Commit to them and show up consistently, which is when we see results!
So make it beautiful and give it meaning. I bought a Sage barista coffee machine, organic coffee from Brazil and the same ACME cups and saucers from New Zealand that all the really nice coffee shops use.
I did the same with what I was reading, instead of doom scrolling my way through the news and social media. I started reading health and wellness articles that make me feel so much better! I bought myself comfortable running shoes, exercise clothes and a meditation cushion.
Invest in Yourself
Do whatever you need to do – and can afford – to make these rituals beautiful and meaningful. It doesn't have to cost money or be expensive, but you can save up if you need to. If someone wants to know what you'd like for your birthday or Christmas, you can suggest books, a yoga mat or mediation cushion. My brothers got me a Flowstate Yoga Mat for my birthday a few years ago. If you love bold colours, graphic prints, would like a yoga mat and want to support a small Irish company, they would make such a lovely gift!
See it as a gift or investment in yourself, your self-care, your success. Who you are now, and who you're going to show up as for your family, friends, job. The future you and all the things you want to manifest and become. Give yourself all the tools you need, so you can show up consistently and reap the benefits. See real transformation and experience powerful change in your life. The DREAM Morning Method will help you do that, just as it has done for me.
---
Let me know if you enjoyed this wellness post, and if you try out The DREAM Morning Method. Please let me know how you get on and the impact it has on your wellness, mindset and life! I feel I could have written a book on this method- and maybe one day I will! Let's put that out into the universe and manifest that ay?!
Make sure you subscribe to the Curl Maven Collective Newsletter for exclusive giveaways and offers, new content, products and services. Follow me on Pinterest, Instagram and subscribe to my YouTube channel for more tips, advice and tutorials.
Gratitude + Support
If you found this article or any of my content helpful and would like to show your Gratitude + Support, you can click here to make a donation. I'm so incredibly thankful and grateful to everyone who supports me, my content and my platform. Thank you!
*This article may contain some gifted items and affiliated links and discount codes. This doesn't effect my opinion or the way in which I write about products featured on this site.