Thank you so much for all the love for my first post What is the Curly Girl Method? I've been on my curly hair journey since May 2017, and I wanted to share this post on understanding curly girl techniques so you know your plop from your pineapple and how to best enhance and maximise your curls whilst also reducing frizz. Like most people starting something new, I looked at lots of websites and forums to try and learn as much as possible. There were loads of terms and acronyms that I knew nothing about, or how to even begin understanding. So in this post, I'm going to explain and talk about them. To help you understand the lingo, and get to grips with the techniques so you can continue on your curly hair journey, feeling more confident and knowledgeable.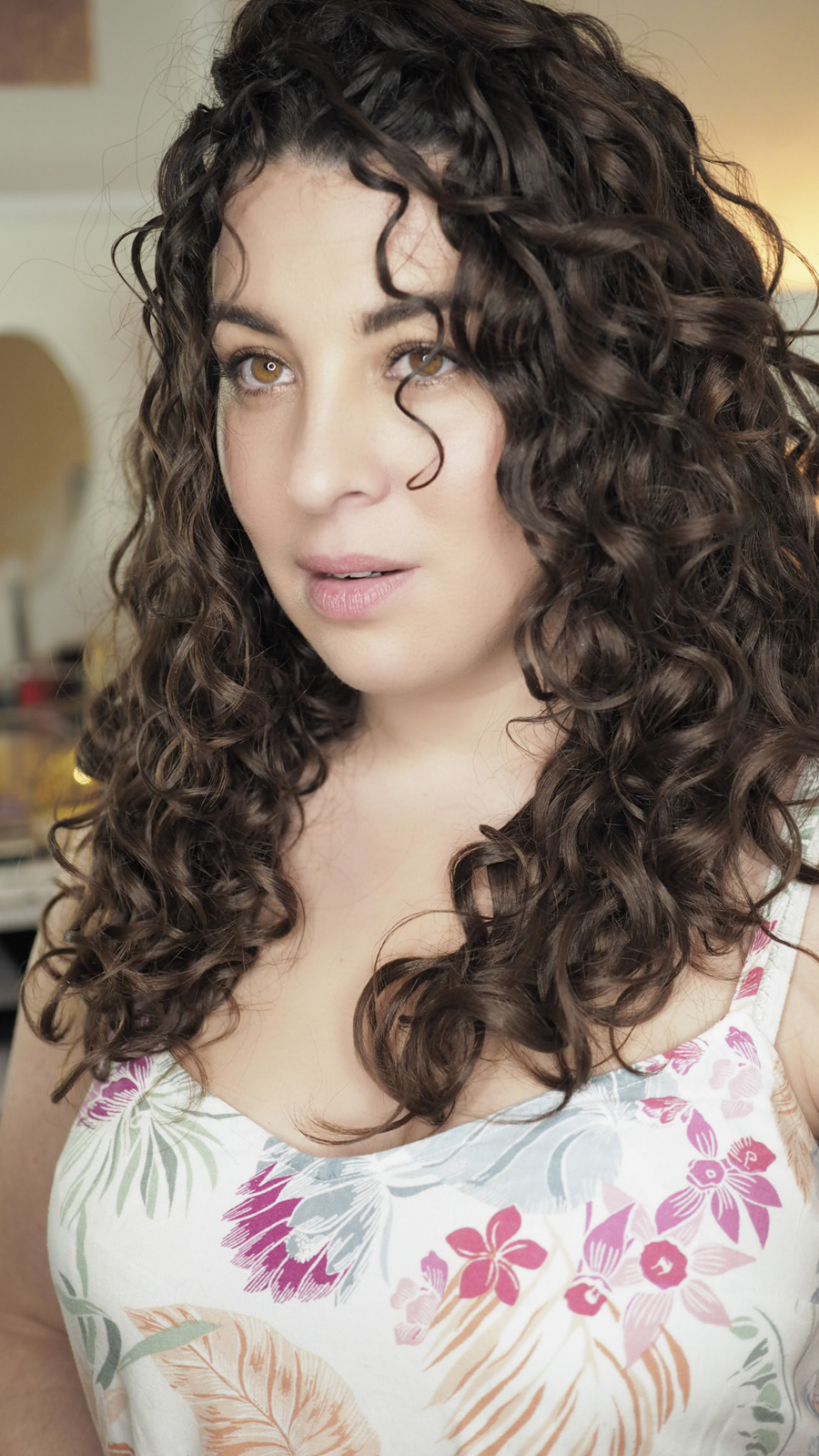 Co-Wash
This is mentioned a lot in curly girl chats. It's even creeping into mainstream hair products. Kerastase and Aveda both have co-washes in their hair care lines. It means a conditioning wash, or using a conditioner – in place of shampoo – to wash your hair. Things have evolved a little, as conditioners can feel heavy and greasy, especially on fine hair. So the co-wash was born.
To be CG-approved, they should be sulfate and silicone free. Kerastase Cleansing Conditioner left so much build up in my roots, it took a clarifying wash using a shampoo loaded with sulfates to get my hair (and scalp!) properly clean again. Aveda Be Curly Co-Wash wasn't moisturising enough for me. My absolute favourite co-wash is the As I Am Coconut Co-Wash. If you're a member of any of the CG Facebook groups I'm in, you've seen me recommend this countless times! I've got a dedicated review of this product coming soon, so make sure to subscribe so you don't miss it. I also talk a little more about co-washing in this post.
SOTC
This one baffled me in the beginning! It means Scrunch Out The Crunch. Which can still leave people guessing. Almost every curly girl has experienced crunchy, or crispy hair. Mousse and gels are the culprits, as they create a "cast" on the hair. Which is good, you want that! This is my hair, fully dry before I've scrunched out the crunch. I used Pantene Defined Curls Mousse, and Umberto Giannini Curl Jelly.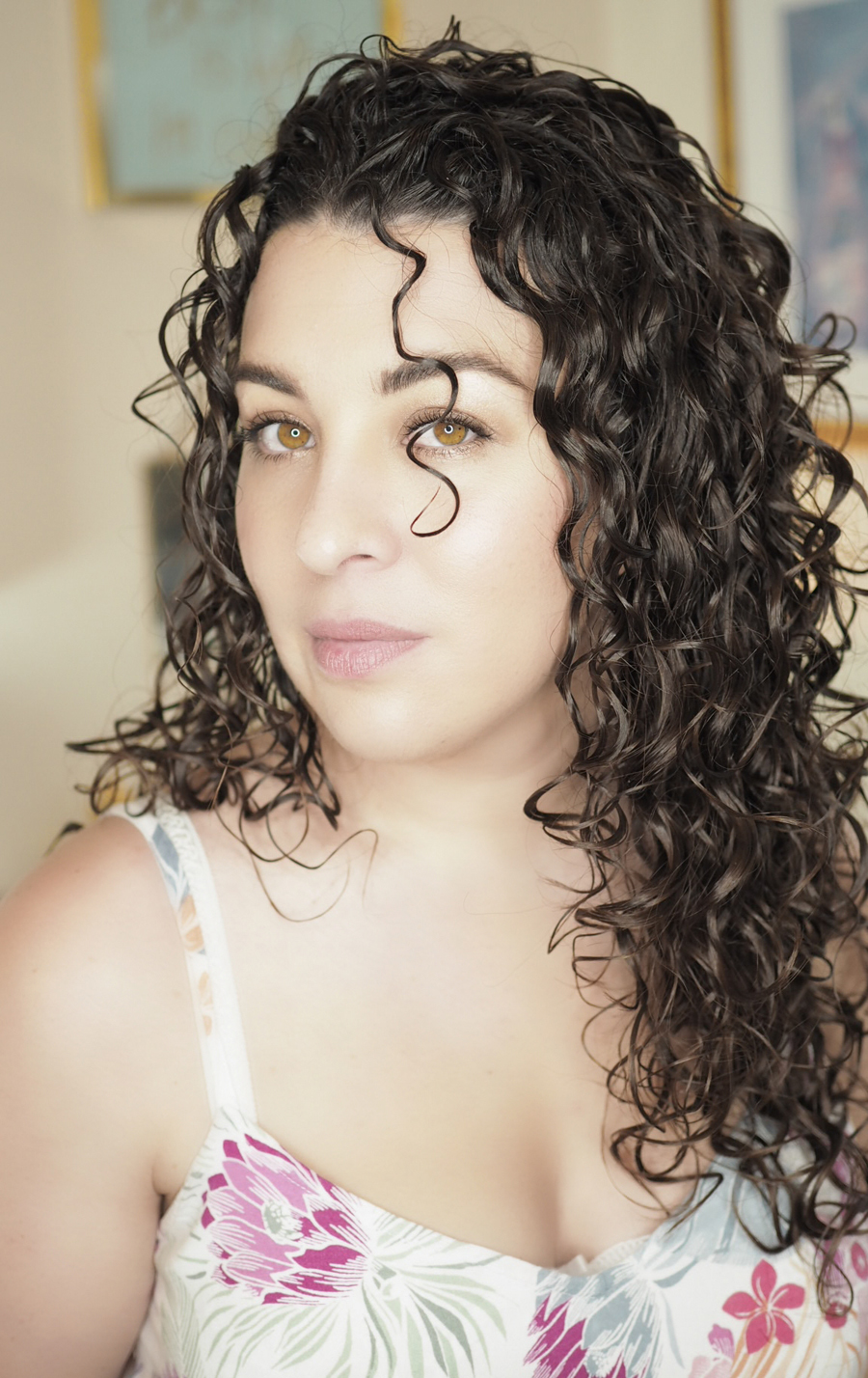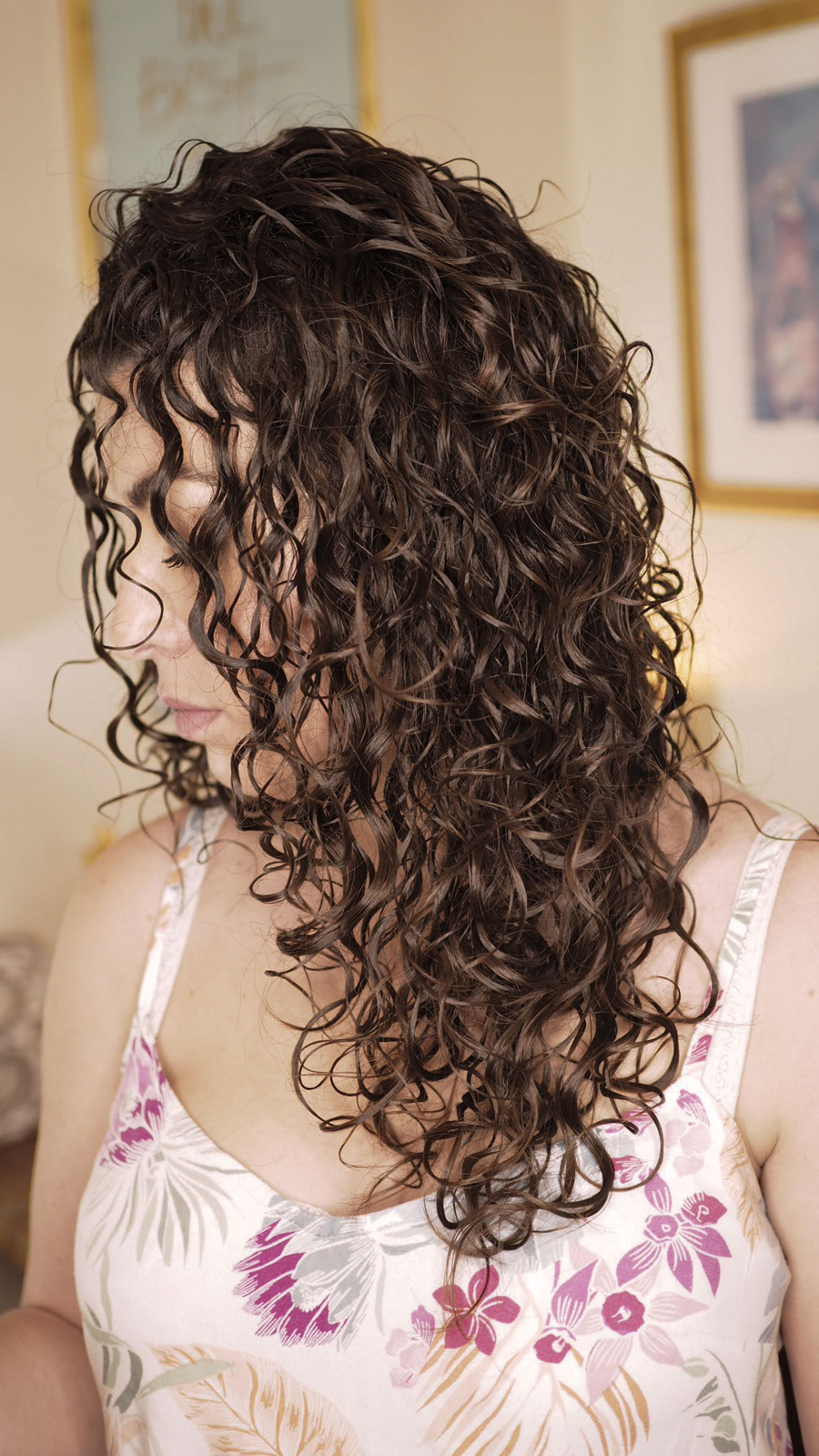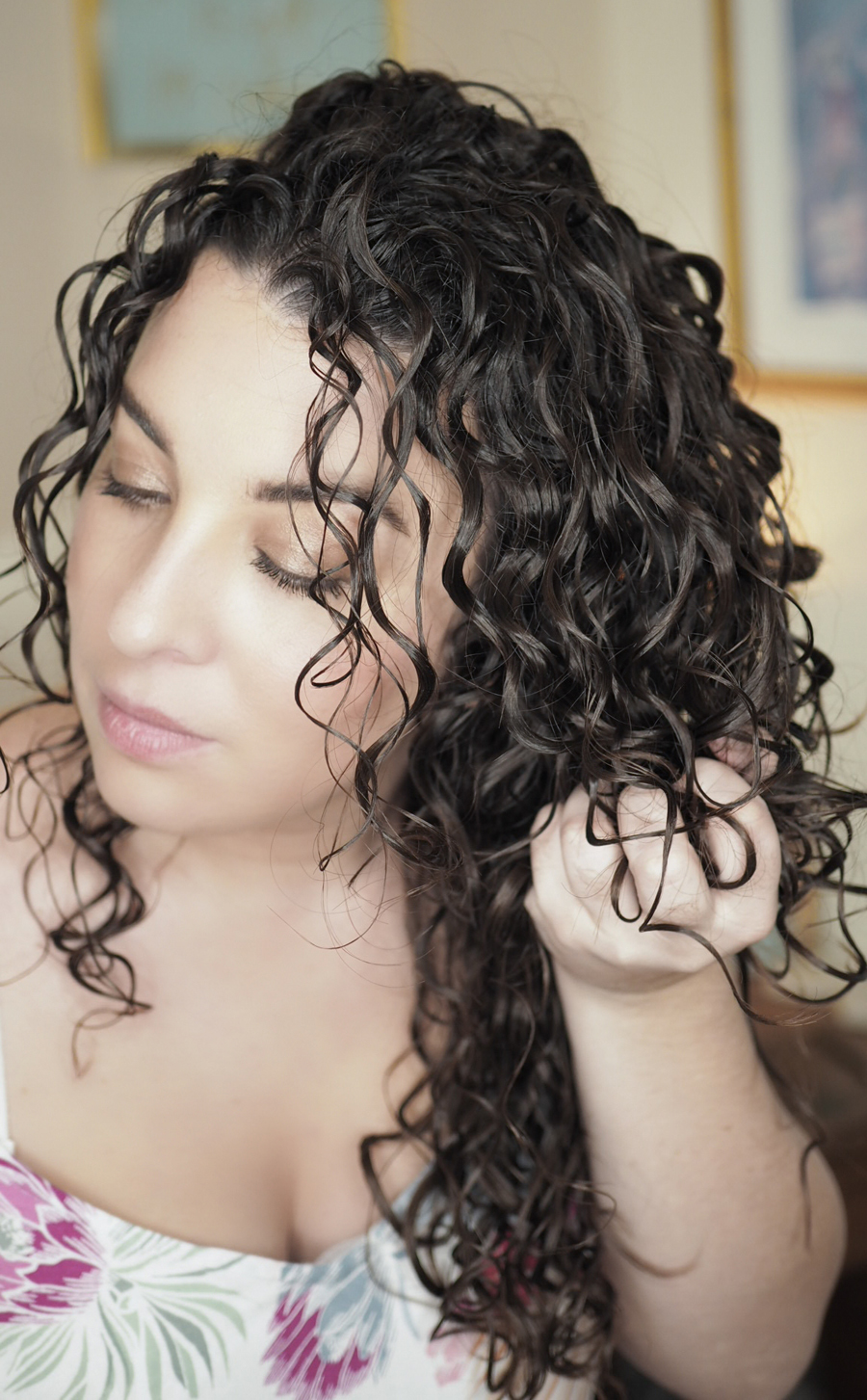 What I didn't realise was that you're supposed to break that cast, to reveal your soft, bouncy curls underneath. Think of it like applying fake tan. Applying it is only part of the process, you've got to wash off the guide colour to reveal the golden tan underneath. Same with applying your hair products.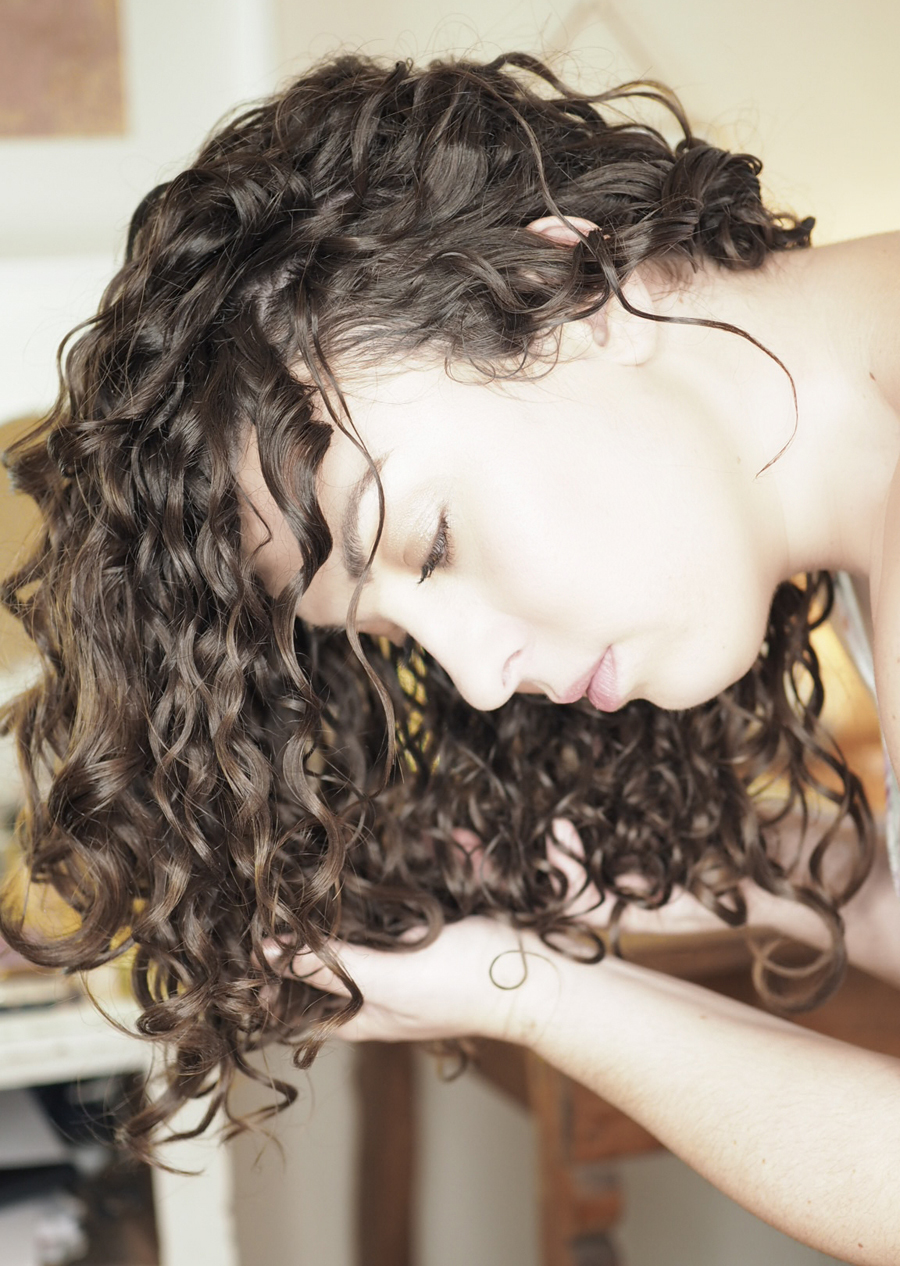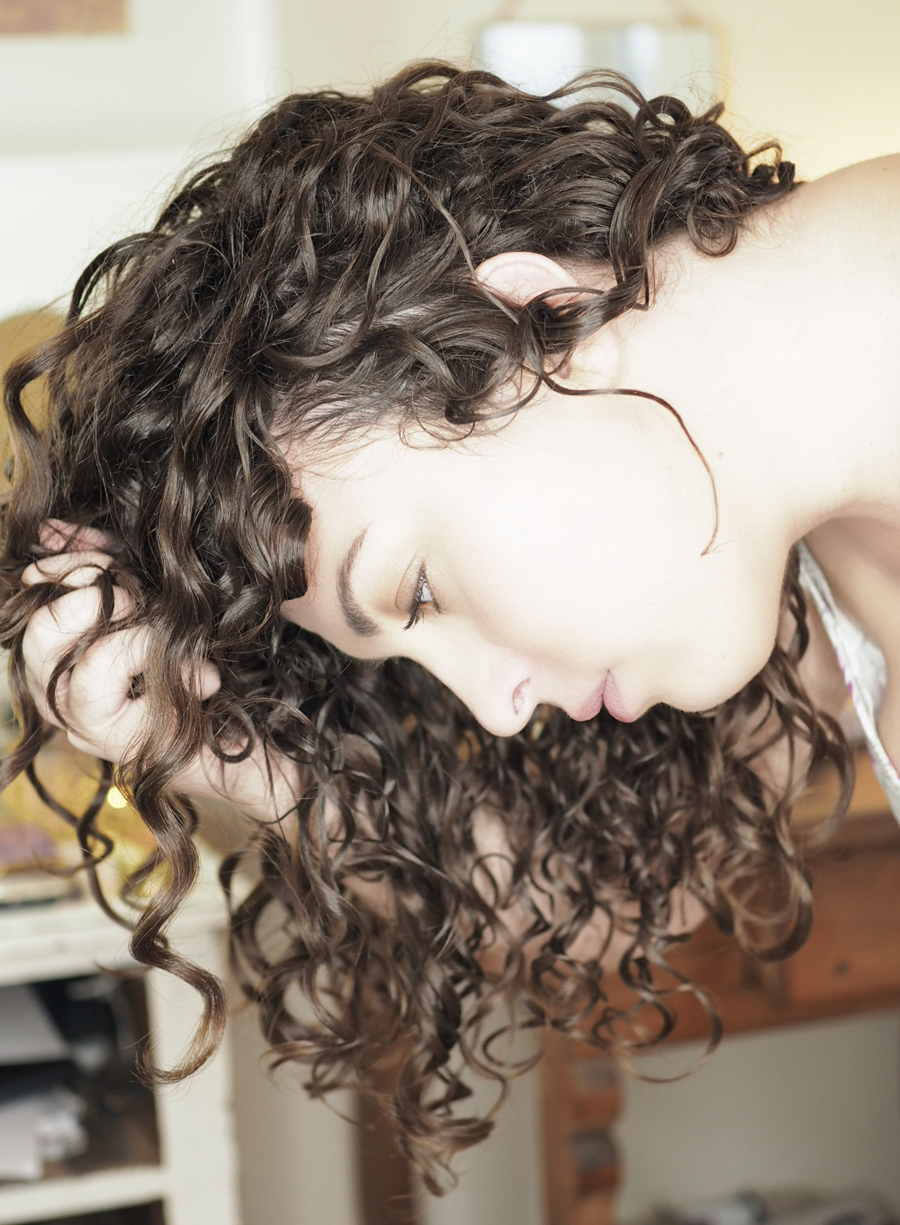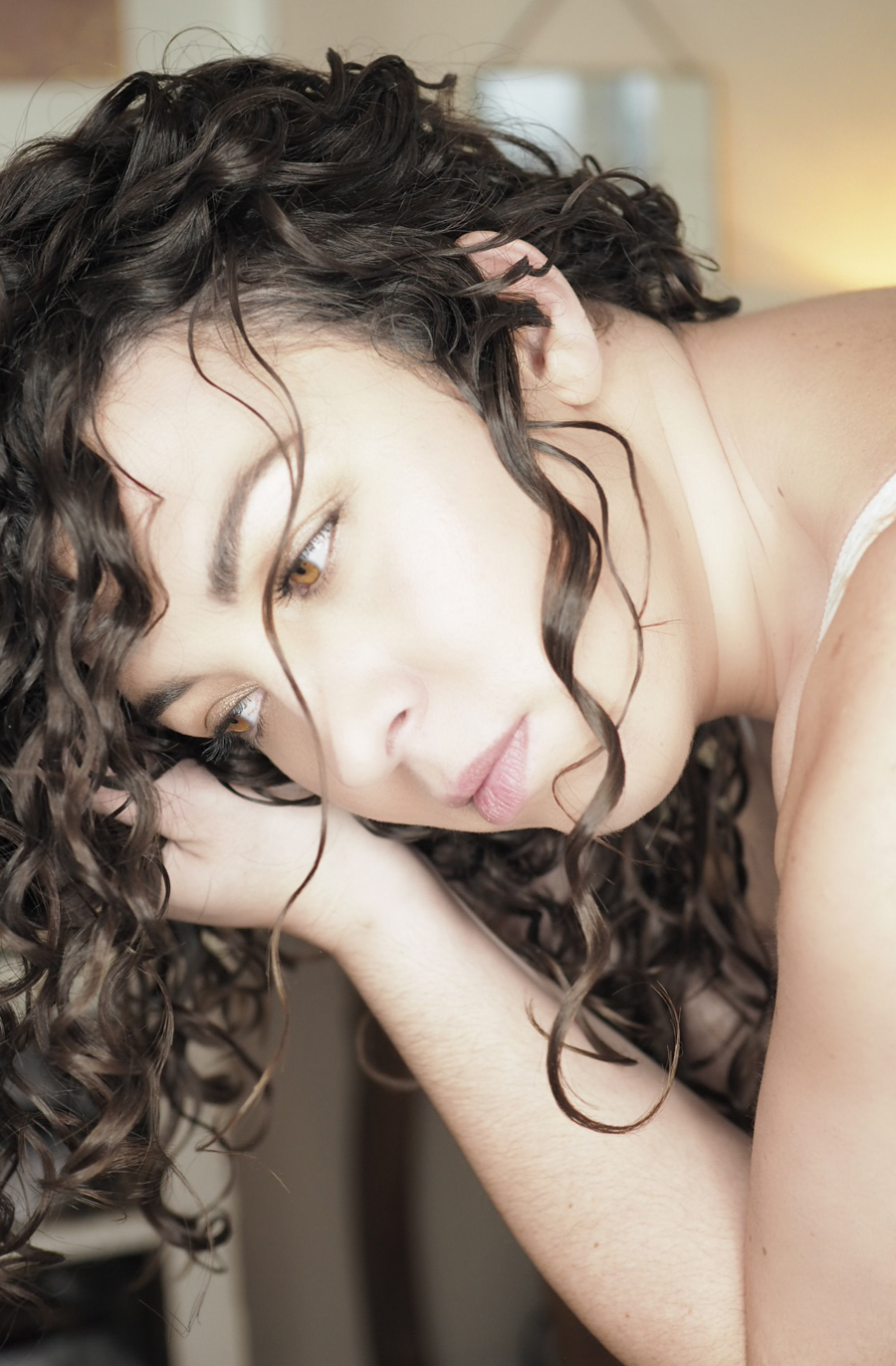 Look at the difference in volume and texture after I SOTC. I use my hands, some people use a light oil like jojoba or grape seed or even KY Jelly (yes, lube!) as it's great for fighting frizz.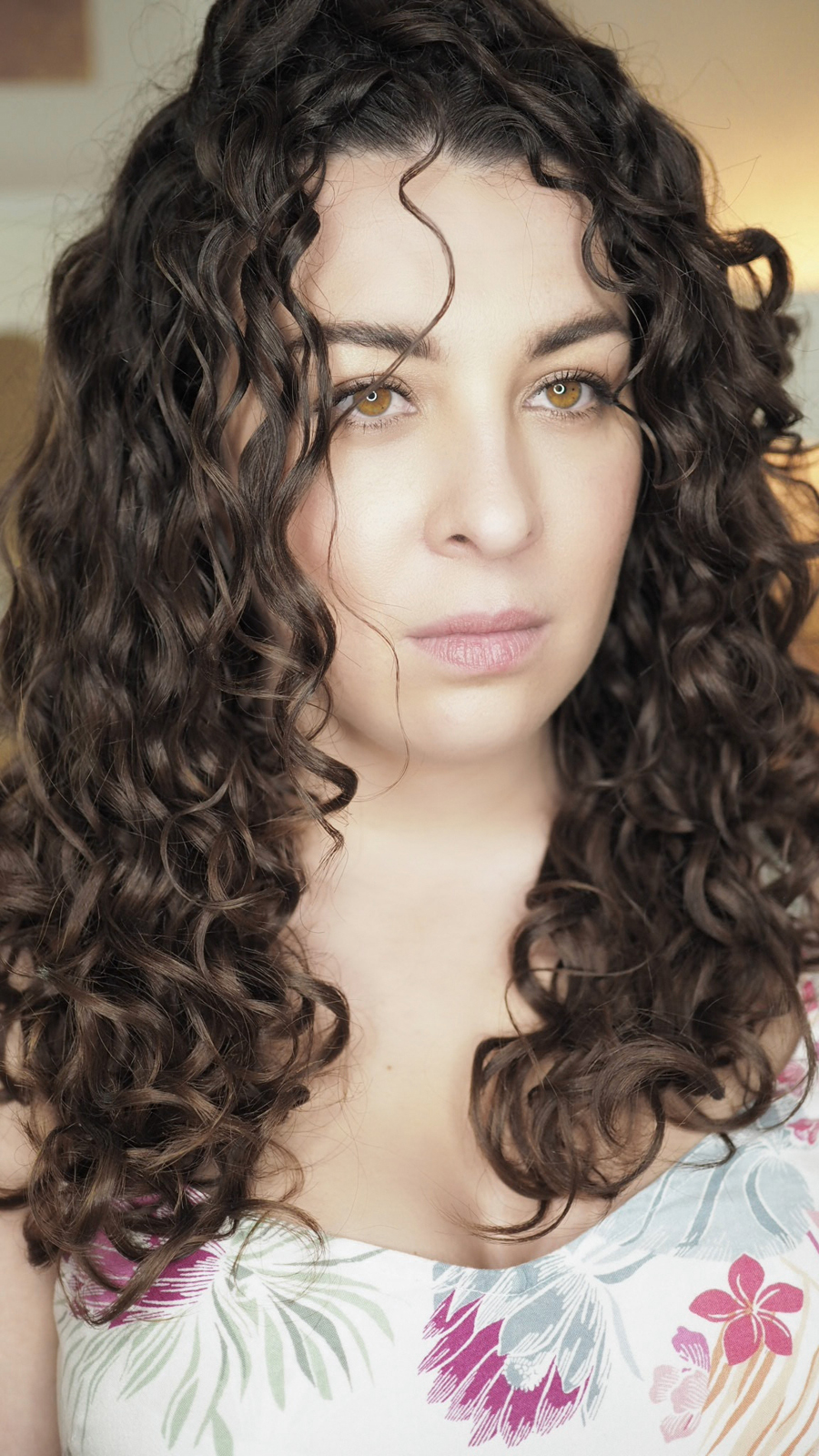 I've used Pantene Defined Curls Mousse for years and years, long before I discovered the curly girl method (CGM). On my wash days, I would always have crunchy, crispy hair – which I hated! It wasn't until the next day that my real curls would make an appearance. After the cast and crunch had been scrunched out during the night as I slept. Now I do it once my hair is fully dry and I don't have to wait a day to have gorgeous curls.
Top Tip: If you wash your hair in the morning and have a date or event on in the evening, leave your cast in for as long as possible before SOTC. This will protect and preserve your curls for longer.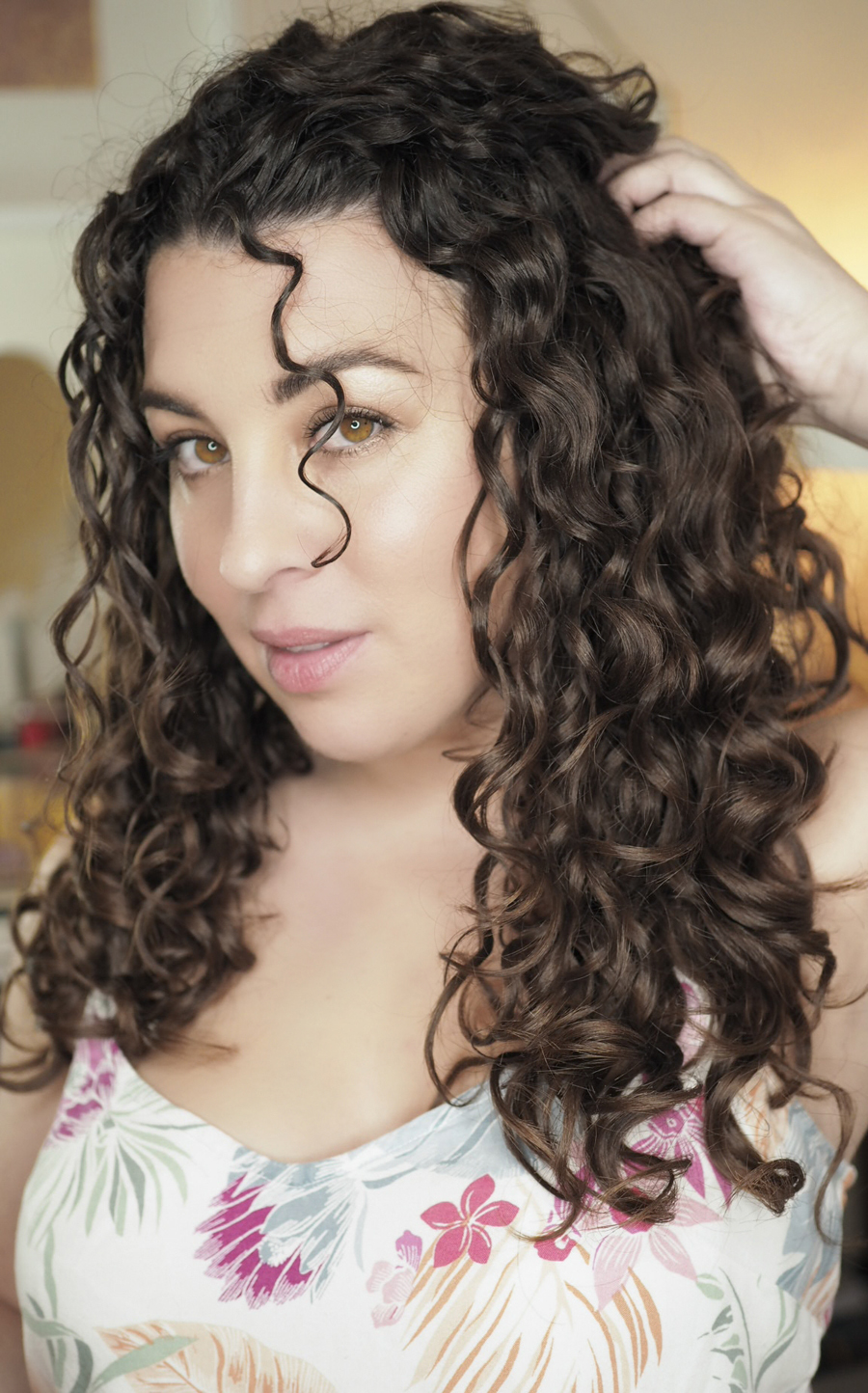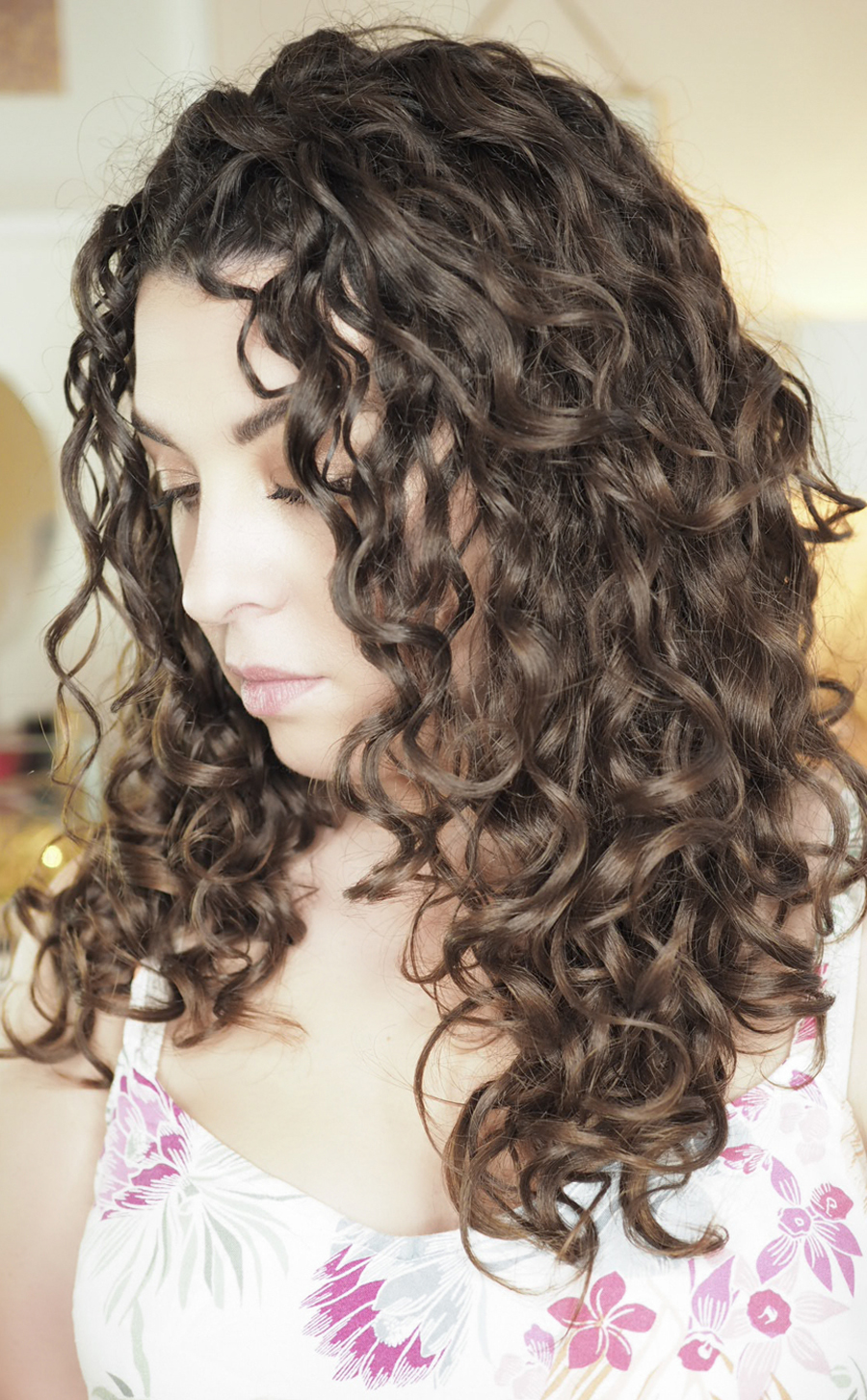 Pineapple
"What on earth does a pineapple have to do with curly hair?!" I thought the exact same thing. Think of those cute little toddlers walking around with a tiny ponytail right on the top of their head. It looks just like a pineapple right? Well, putting your curly hair in a pineapple is one of the ways to protect your hair at night while you sleep. Or naps – I love a good nap during the day. Don't mistake this for a top knot. The pineapple is much looser, to protect your curls, and less twisting into a knot.
Top Tip: Always SOTC before putting your hair in a pineapple, especially before bed. I've tried leaving my hair in a cast and putting it in a pineapple before bed only to wake up the next morning and my hair is a hot mess!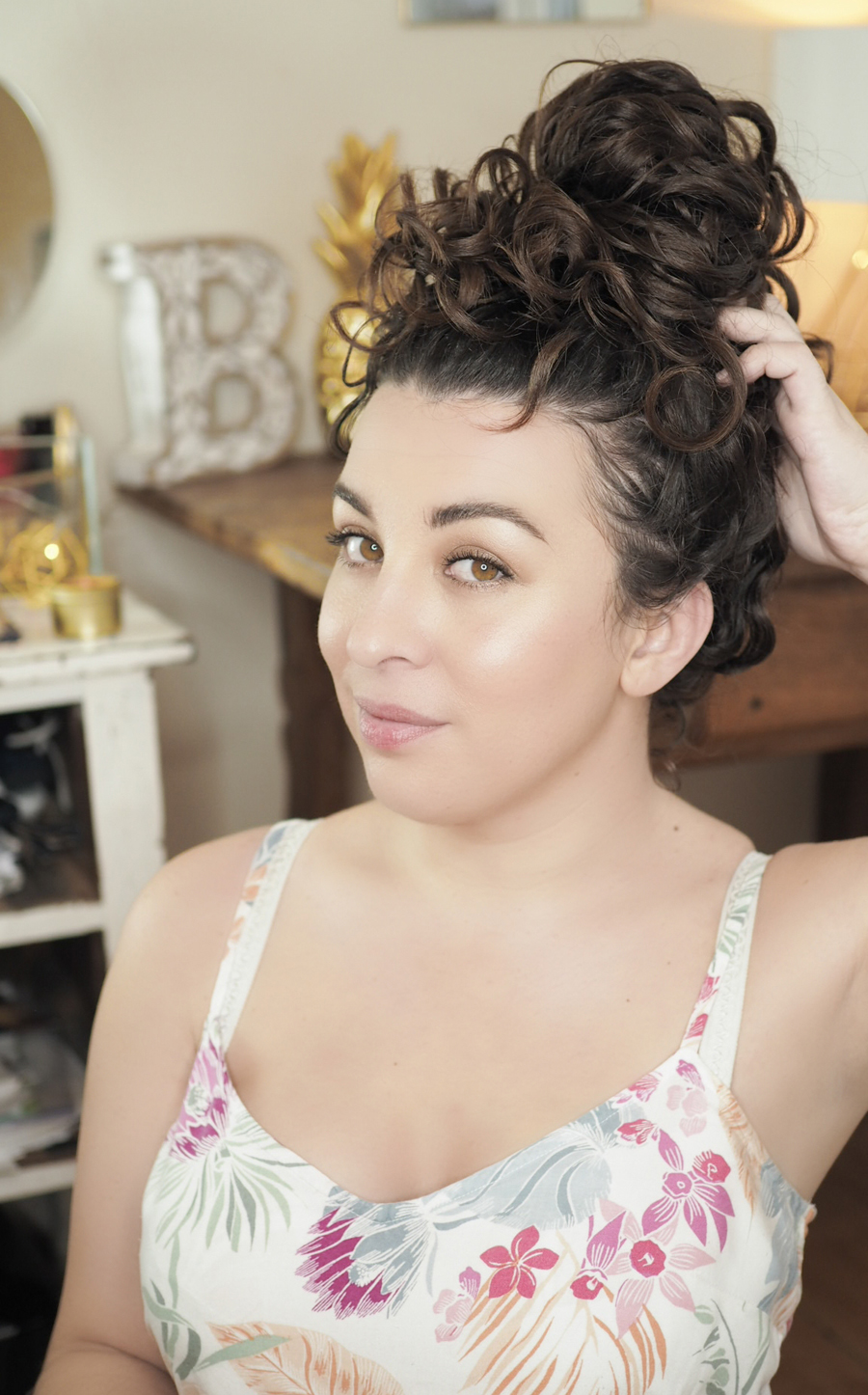 If you're hair is shorter, you might not be able to gather all the pieces of your hair at the back of your head into your pineapple – that's okay. If you're hair is longer, like mine; don't pull it all the way through your hair tie. Keep as much hair as possible on the top of your head. Pineappling is my favourite time of the day! It means it's time to wash my face and do my night time skincare routine, and bed time isn't far away. Here's how to do it, and you're only going to loop the hair tie once or twice at most – it shouldn't be tight.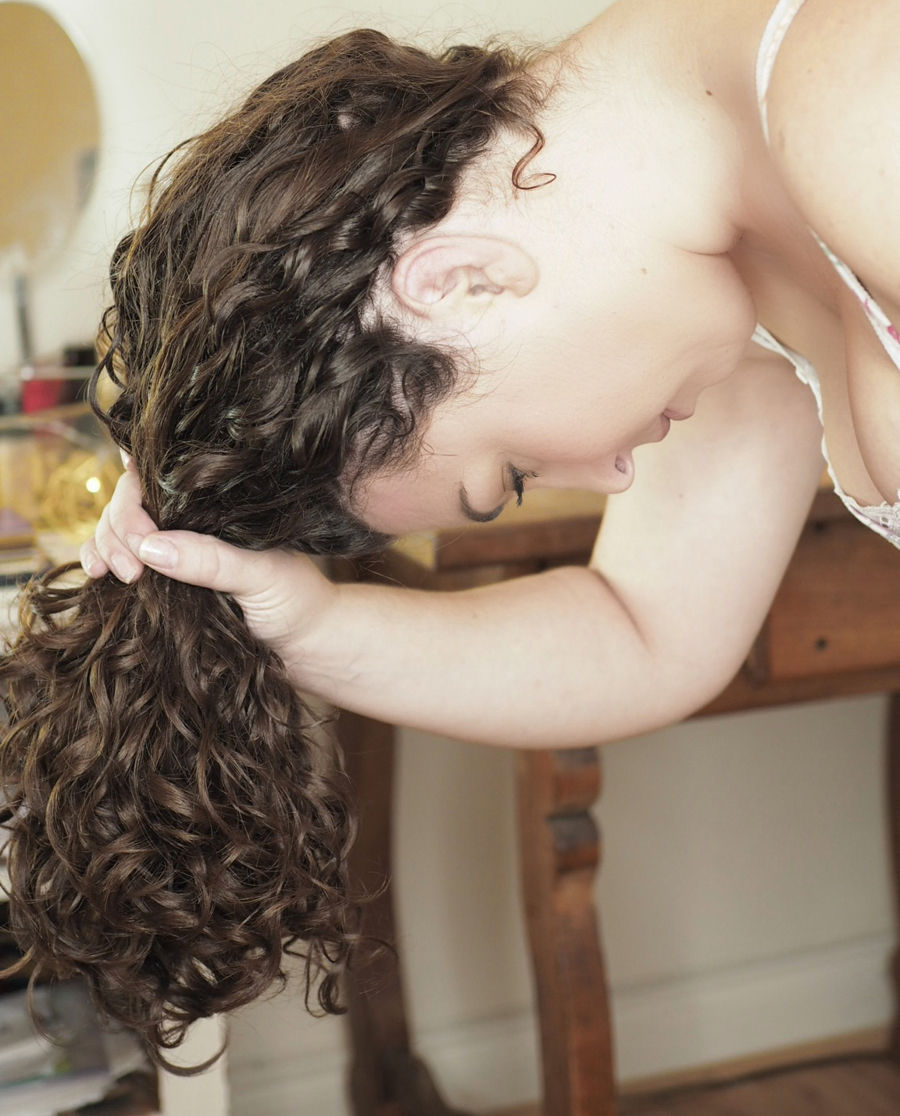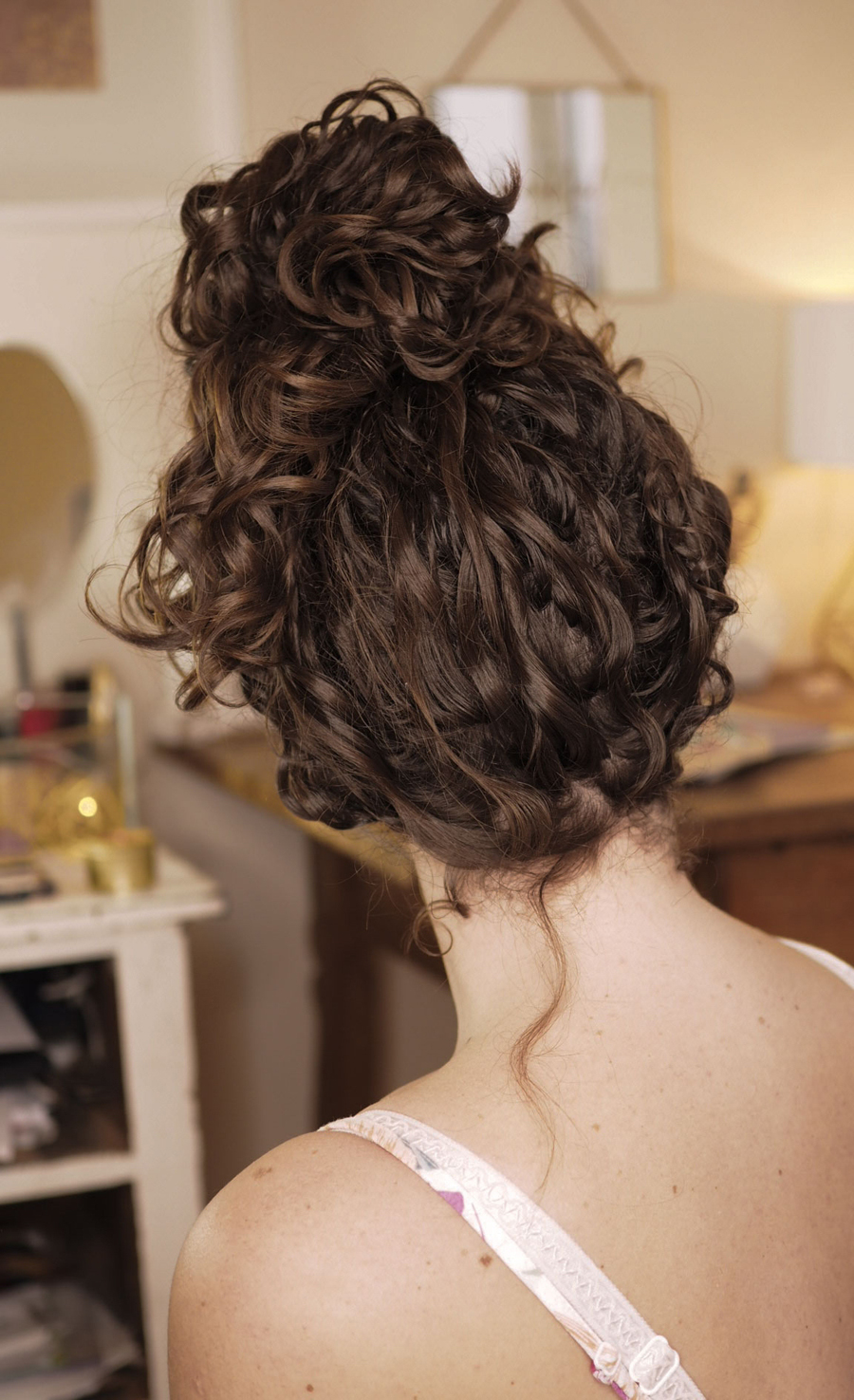 Plopping
This one is worse than the pineapple! My mum has asked me a few times what on earth I'm doing with "that thing" on my head. I always reply (to her horror) that I'm plopping! Make sure you use a cotton t-shirt or microfibre towel to "plop." My favourite curl towel is the Bouclème 100% cotton jersey towel. Although I don't really like microfibre towels, as I find they cause frizz for me, the best one, in my opinion, is the DevaCurl microfibre towel. The DevaCurl one is cheaper, but only available in USA. The Boucléme one is more expensive, but I prefer it for plopping. Alternatively, you can use a cotton t-shirt.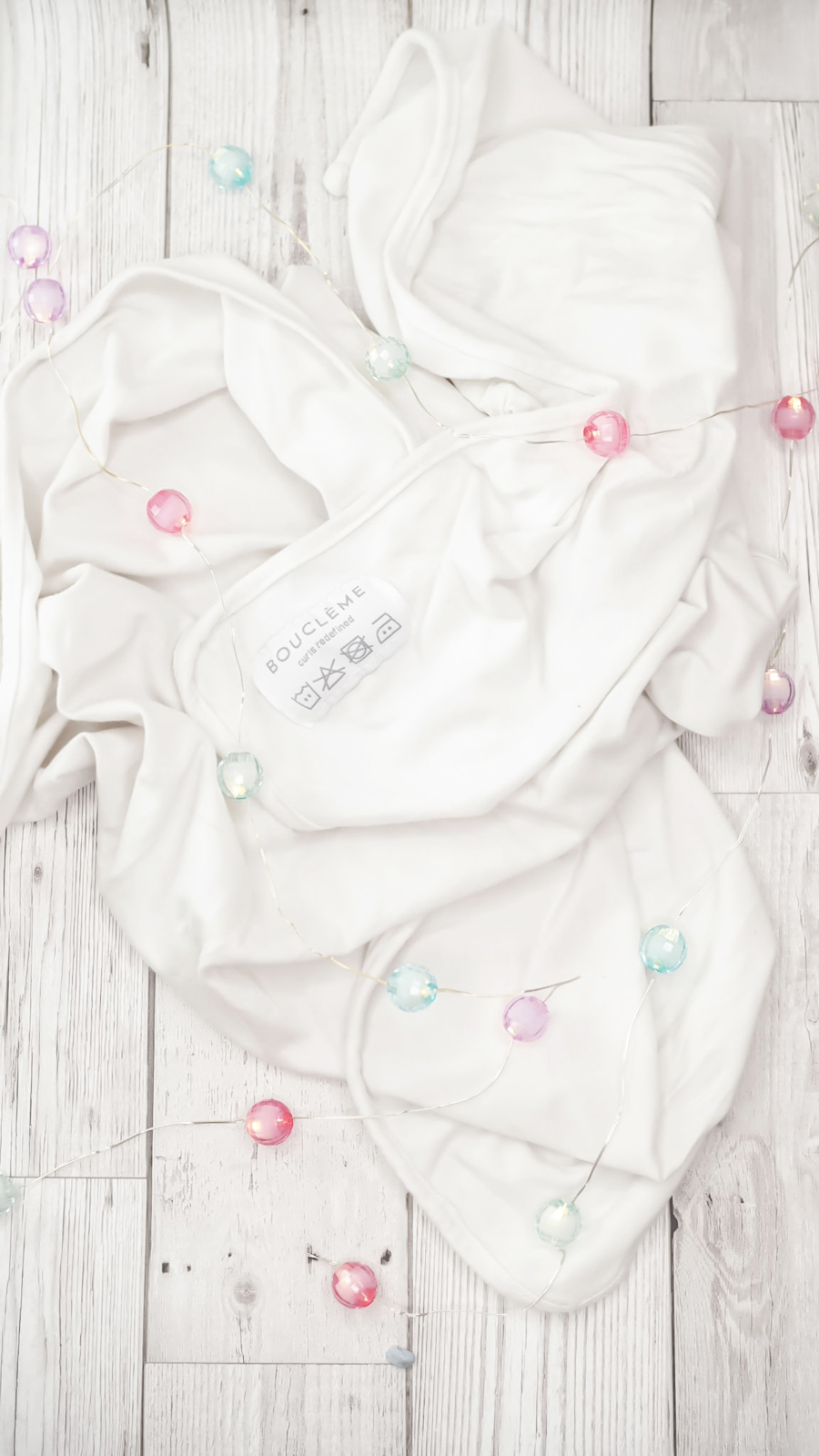 The art of plopping – indulge me here; let's at least try to make it sound glamorous! Lay the towel/t-shirt on the bed, usually below waist height helps – especially if you've got a bad back. Flip your hair over, grabbing it in the same way you would start your pineapple. "Plop" your hair onto the middle of the towel, with your forehead nearest the edge.
Fold over the remaining towel or t-shirt over the back of your head, and tie with the sides to secure. If you're using a t-shirt, use the sleeves to tie it. After I've applied my products to my soaking wet hair, I diffuse for about five minutes until my hair is damp, or about 60-70% dry. Then I plop, leaving it on for 20-30 minutes before taking my hair out to air dry.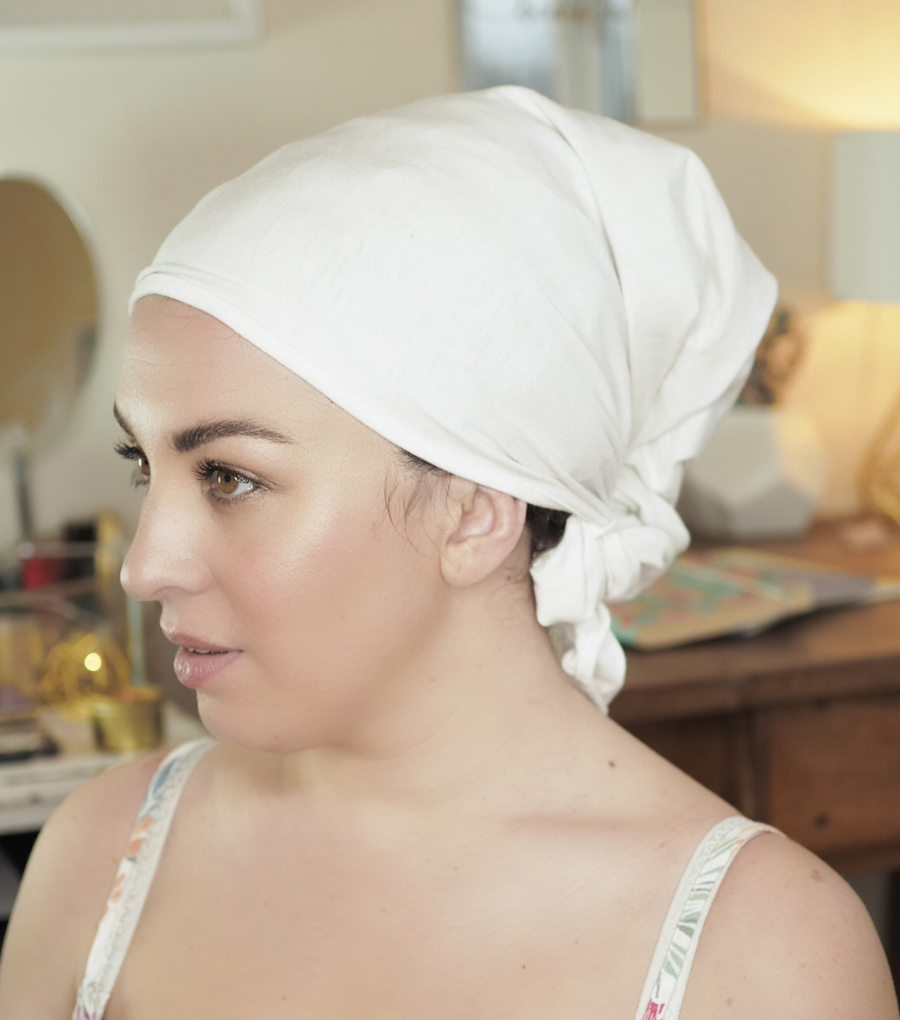 Plopping really helps curl pattern and formation. I always scrunch until my fingers feel like they're going to fall off just before I plop. This is to get as much curl into my hair as possible. As you can see from this image, it ain't pretty or flattering. But the curls afterwards are worth it! Some people plop overnight, after washing their hair, to preserve curl pattern and formation, and partly dry it. But you nearly always have to air dry or do a quick diffuse afterwards. I have high porosity hair, which takes ages to dry. Which is why I don't plop over night, and why I diffuse before plopping.
Caution: Going to bed with wet hair increases the risk of hygral fatigue which can leave your hair limp and fluffy to the point where it's almost mushy and can't hold a curl. I don't recommend going to bed with your wet hair in a plop, and certainly not with a deep conditioning treatment in.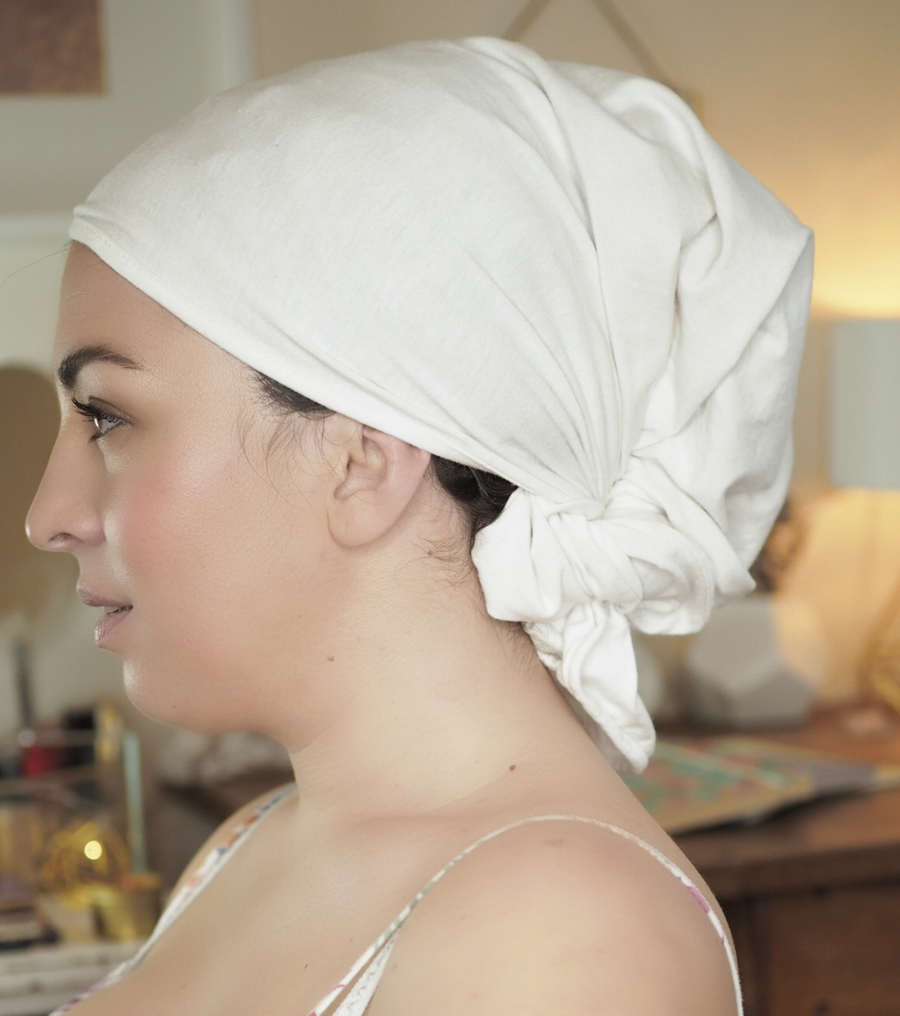 Rake & Shake
I feel like this post is getting more ridiculous with each title! Raking is a technique to de-tangle curly hair in the shower, and distribute products through your hair. I use my fingers to rake through my hair during the shower when I apply my conditioner and any deep conditioning products. Some people like to use the same raking method to distribute their styling products too. And then "shake" their hair to encourage curl pattern and formation. This is done by holding the ends of your hair in sections, and shaking it up to the root. Personally, I'm not a fan of this method as it pulls out my curls.
Top Tip: If you want a looser curl pattern, more like beachy boho waves, then use the Rake & Shake method either with your fingers, or a wide tooth comb to wash and apply all your products.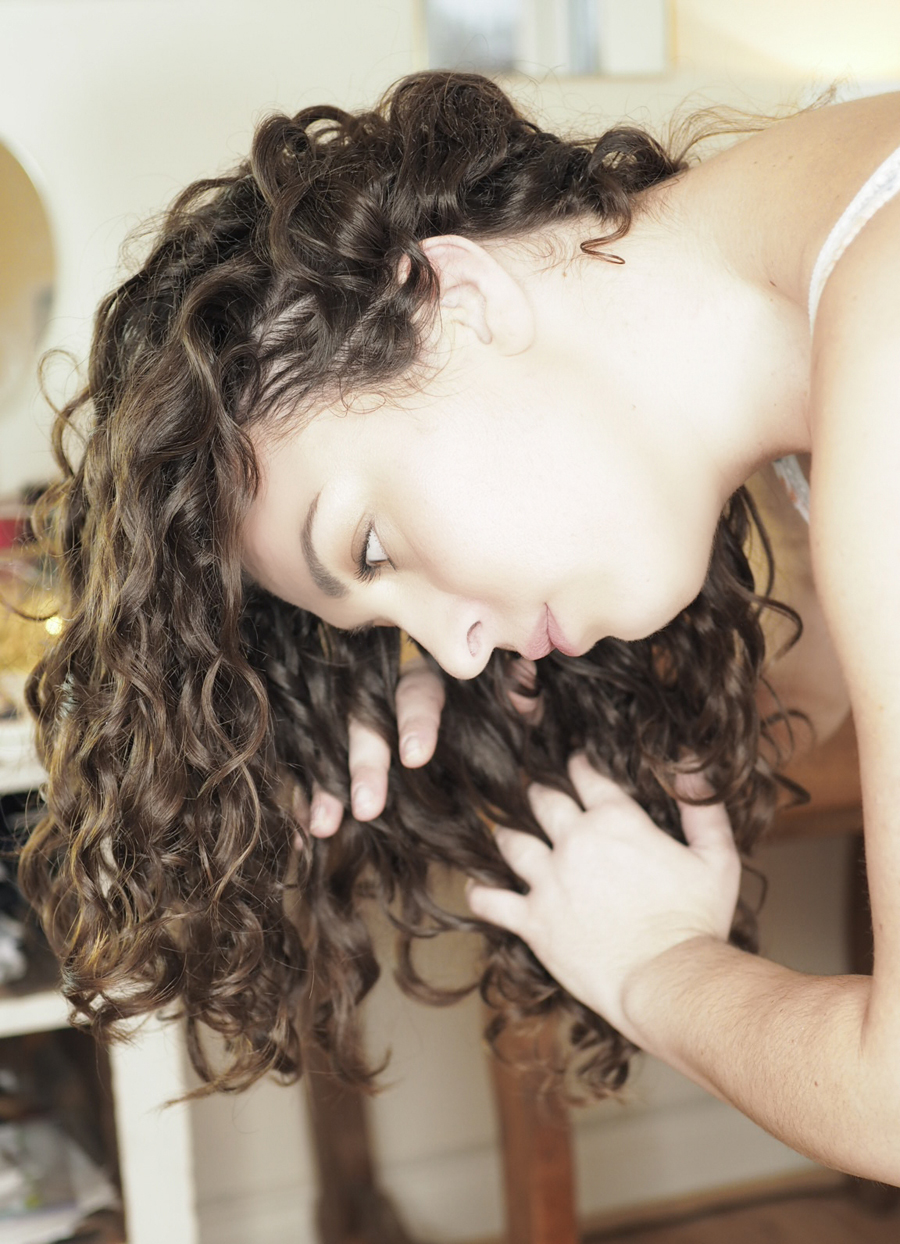 Praying Hands
No, not yoga. Using praying hands to distribute hair products is a great alternative to brushing, combing or raking. Which can pull your hair, disrupting your curl pattern and formation. I use praying hands to apply all my styling products. I do one gentle sweep of praying hands from root to tip to distribute the product. Then scrunch like crazy to encourage curl formation and clumping.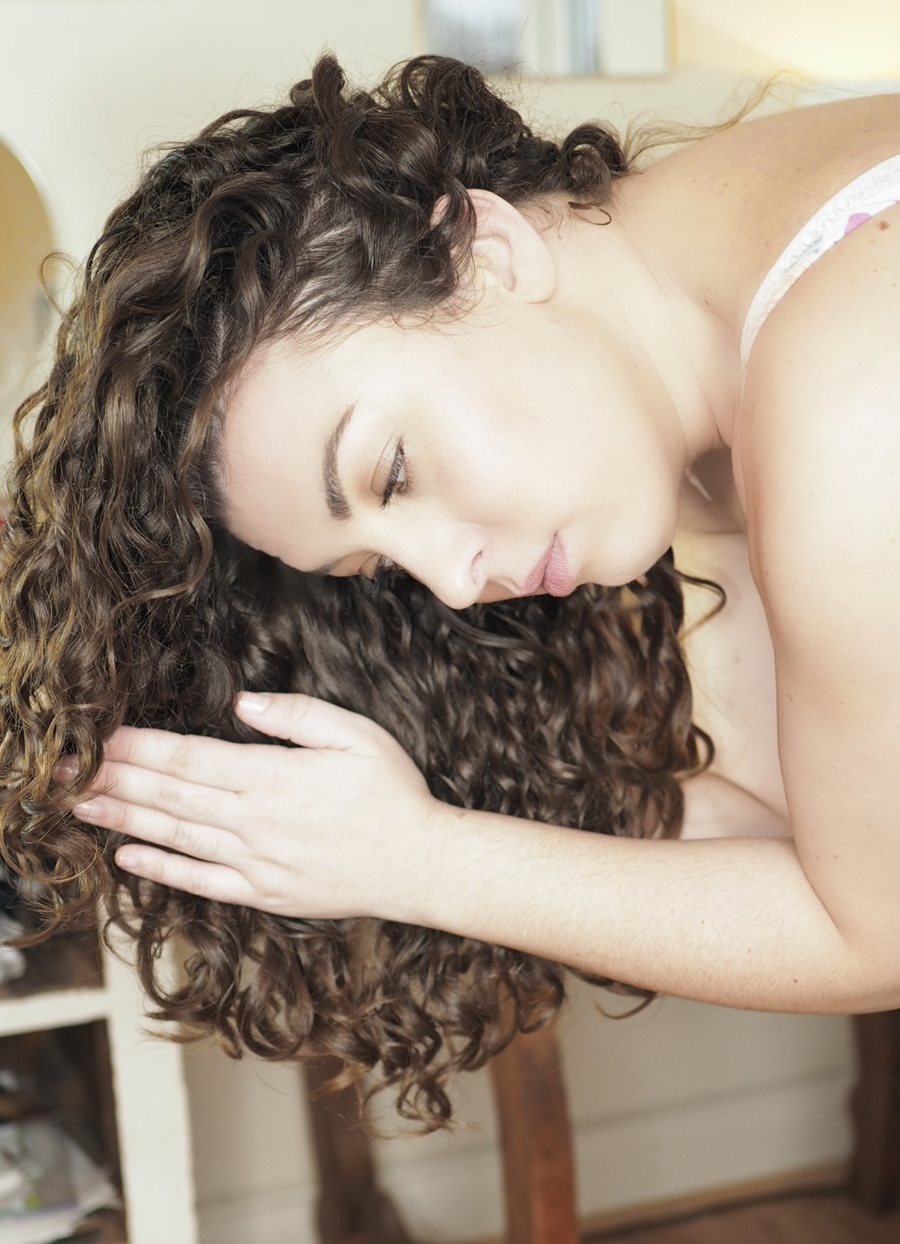 Squish to Condish
If you want to get great results from the curly girl method, you need to learn the "squish to condish" technique. It's means squishing your hair to condition it, also called "scrunching." This is the art of scrunching your hair, primarily to encourage curl pattern and formation – which I've mentioned a lot in this post. It's also used to distribute conditioner, which is concentrated at the ends and middle of the hair. Personally, I apply conditioner from about two or three inches from my root, all the way to my ends using praying hands and then a brush. I don't rinse it out, but dangle my hair sideways, cup water in my hands and squish to rinse instead. I do the exact same technique after praying hands, and again to SOTC.
Top Tip: If you're pushed for time, using this method is a great way to get product into the cuticles of your hair quickly. It's also great for low porosity hair where the cuticles tend to lay flat. By pushing the product upwards, it penetrates the hair shaft more efficiently than brushing or using praying hands which uses downward motions.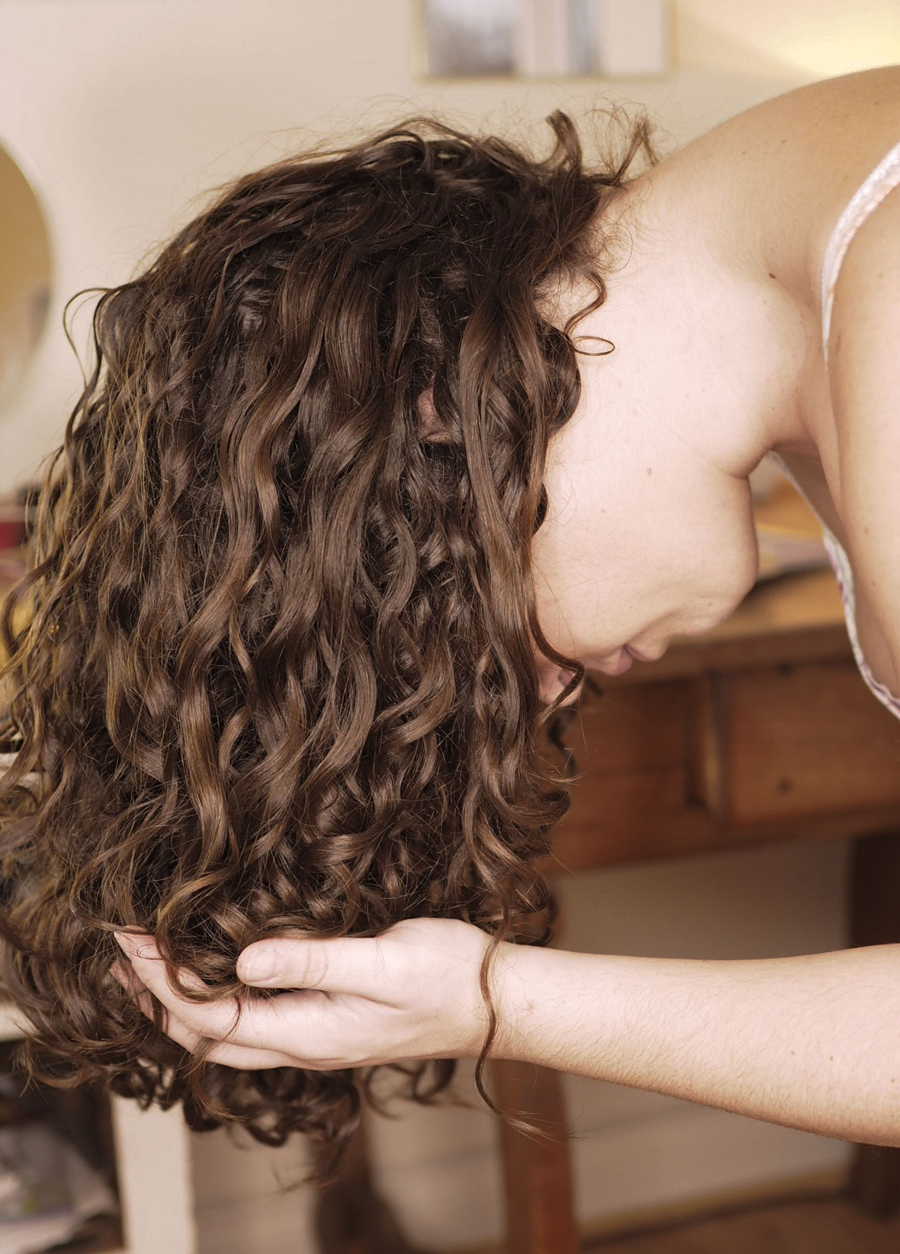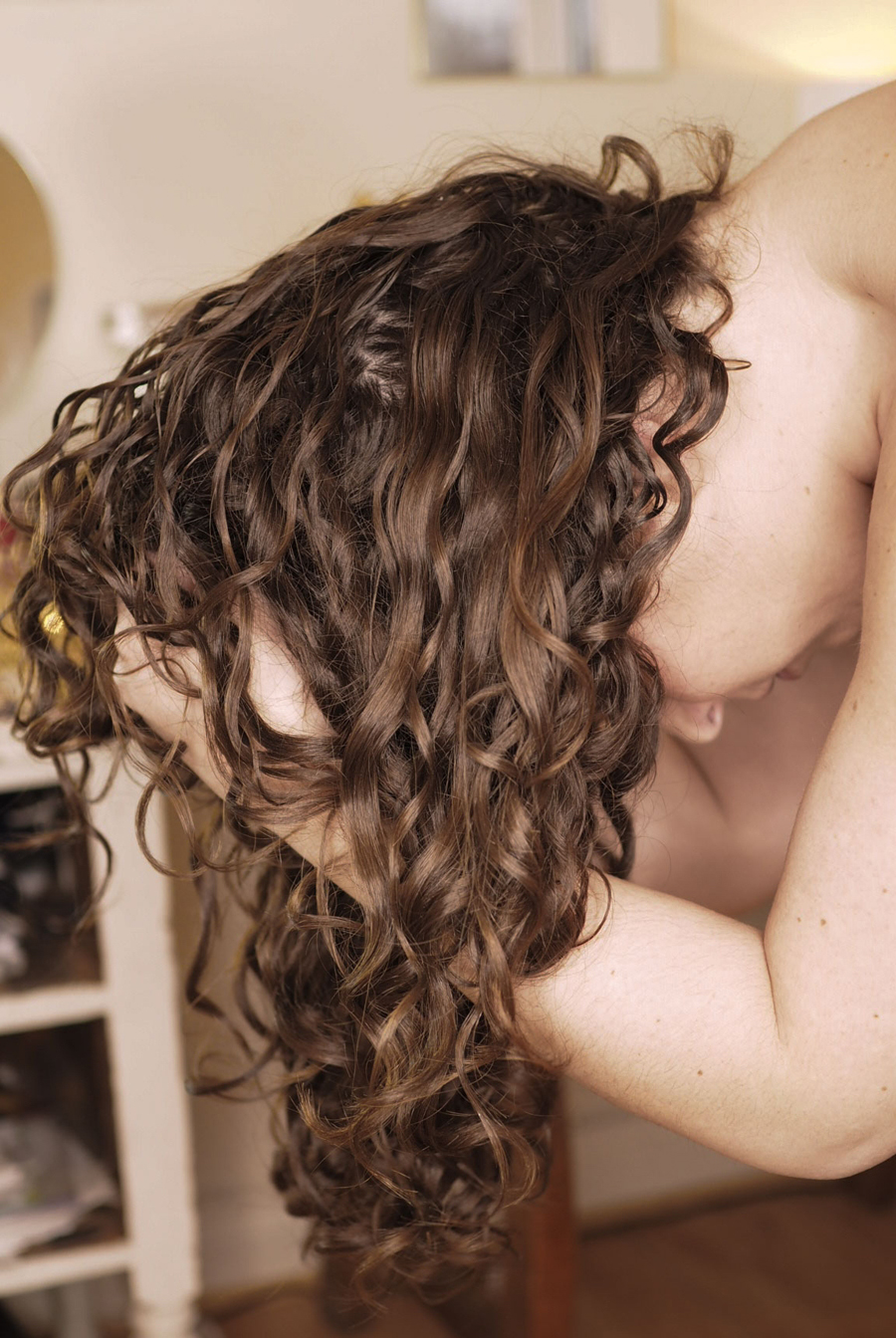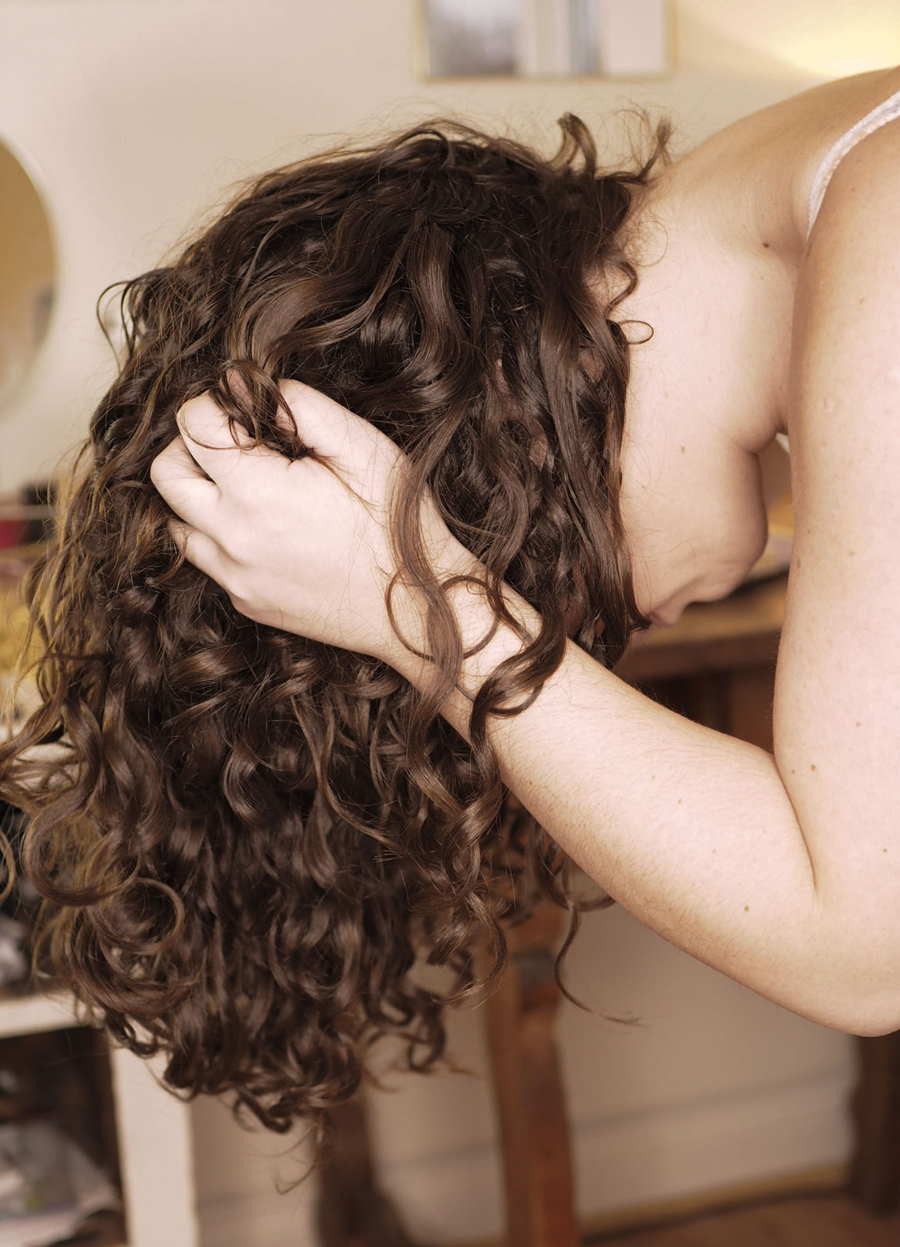 Finally, Clumps
Like I've said, the titles in this post sound ridiculous. Anyway, clumps are curly girls' best friends. And all of the techniques (apart from Rake & Shake) will help and encourage clumps to form. One of the reasons that brushes and combs aren't recommended for the curly girl method, is because they separate the strands of the curls. This can result in stringy, bitty curls – the opposite of clumps.
One of the reasons praying hands, squishing and scrunching is so good, is because it encourages the hair to cling and bind to itself. Thus, clumping occurs! And this is a wonderful thing as it creates big, bouncy curls, rather than stringy curls, which tend to be looser too. If you're struggling to get curly clumps, try squeezing sections of your hair together, vertically, with your hands.
Top Tip: If your hair looks stringy and bitty after applying your products, wet your hair again with the shower head, tap or spray bottle. Just enough to wet your hair, not so much that you wash all the products out. Voila, clumps will appear! Scrunch the individual clumps a couple of times to encourage curl pattern once again, and then dry.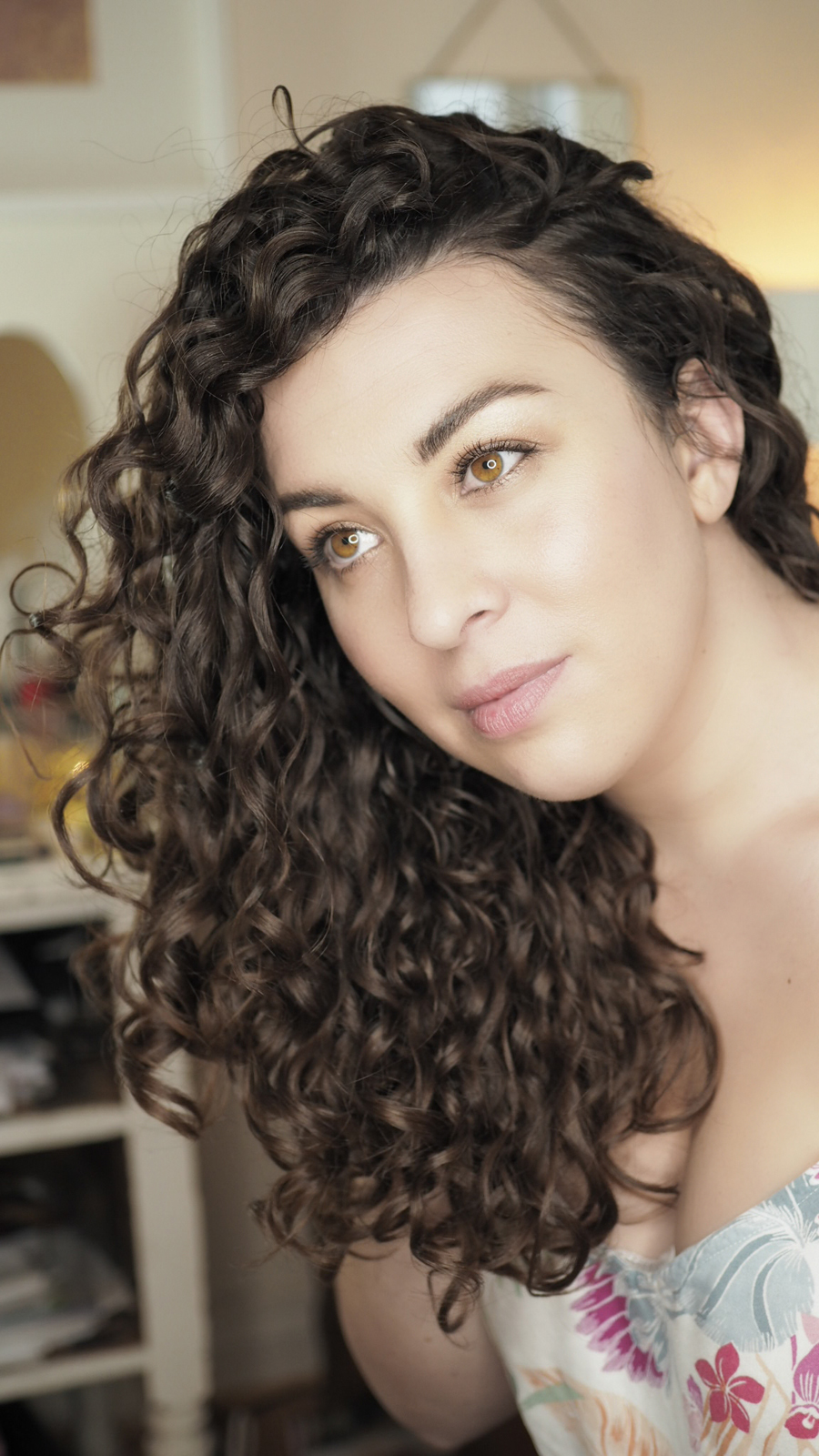 Wow, that was a really long post! But I really wanted to get all the techniques in one post so you can be fully up to speed. I hope you found this post helpful and you know your plop from your pineapple. Please subscribe if you haven't already, like my Facebook page and follow me on Instagram. Comment below with any questions, what are your favourite techniques? And let me know what you'd like to see me cover/try out next.
If you're doing many of these techniques but still struggling with halo frizz, check out this post to see what may be causing it and how to beat it.

These are my favourite curly girl products, where to find them and discount codes!
And finally, if you're struggling to get volume in your roots, this post is for you!
If you found this post or any of my content helpful, and would like to show your Gratitude & Support, you can click here to make a donation. I'm so incredibly thankful and grateful to everyone who supports me, my content and my platform. Your support enables me to continue providing FREE, organic content, and keep my blog FREE from Google Ads. Not only that, it's also helping build towards my dreams and goals for Curl Maven as a brand and all I've got planned. Thank you so much! Gabriella x
*This post may contain some gifted items and affiliate links. Which means I get paid (a very small) commission on any products you purchase through my links. This in no way affects you, the price you pay or the way in which I write about products featured on this site. My content and opinion is not influenced by advertisers, sponsorships, affiliate partnerships, brands or PRs.