I've been using these products for a month now, here's my Curlsmith Strength Line Review. My hair is fine, but I have a lot of it. It can often get easily weighed down. My type 3a long curly hair is medium to high porosity, and easily over moisturized.
Previously I've found Curlsmith products to be too hydrating and moisturizing for my hair, so I was really excited to try the new Curlsmith Strength Line, as it contains protein! I actually couldn't find many written reviews on this line, so I hope you enjoy this and find it helpful if you're considering purchasing any of these products. There's also an exclusive 20% discount code on ALL Curlsmith products!
AD | This article is sponsored by LOOKFANTASTIC. However, this hasn't influenced my opinion or the way I've written about the brands or products featured in this article. Use code CURLMAVEN for 20% off at LOOKFANTASTIC.
Protein-Rich Hype
I've spoken about this many times on the blog and all my platforms. I wrote a post all about the Protein Moisture Balance, which you can read here. There's a lot of hype about the Curlsmith Strength Line and Superfood Protein Kit being protein rich.
This is not the case, it is protein-enriched. Which is very different, it just means these products contain protein. Unlike the rest of the products from Curlsmith, which are protein-free.
Protein and moisture play an important role in achieving healthy, balanced hair. It's especially important for wavy and curly hair. Curlsmith seem to have a really good understanding of porosity, and protein moisture balance, from the information provided on the packaging.
HOWEVER, despite the hype, these are NOT the most protein-rich, protein heavy line of products on the market. The Curlsmith Strength Line is actually much more balanced.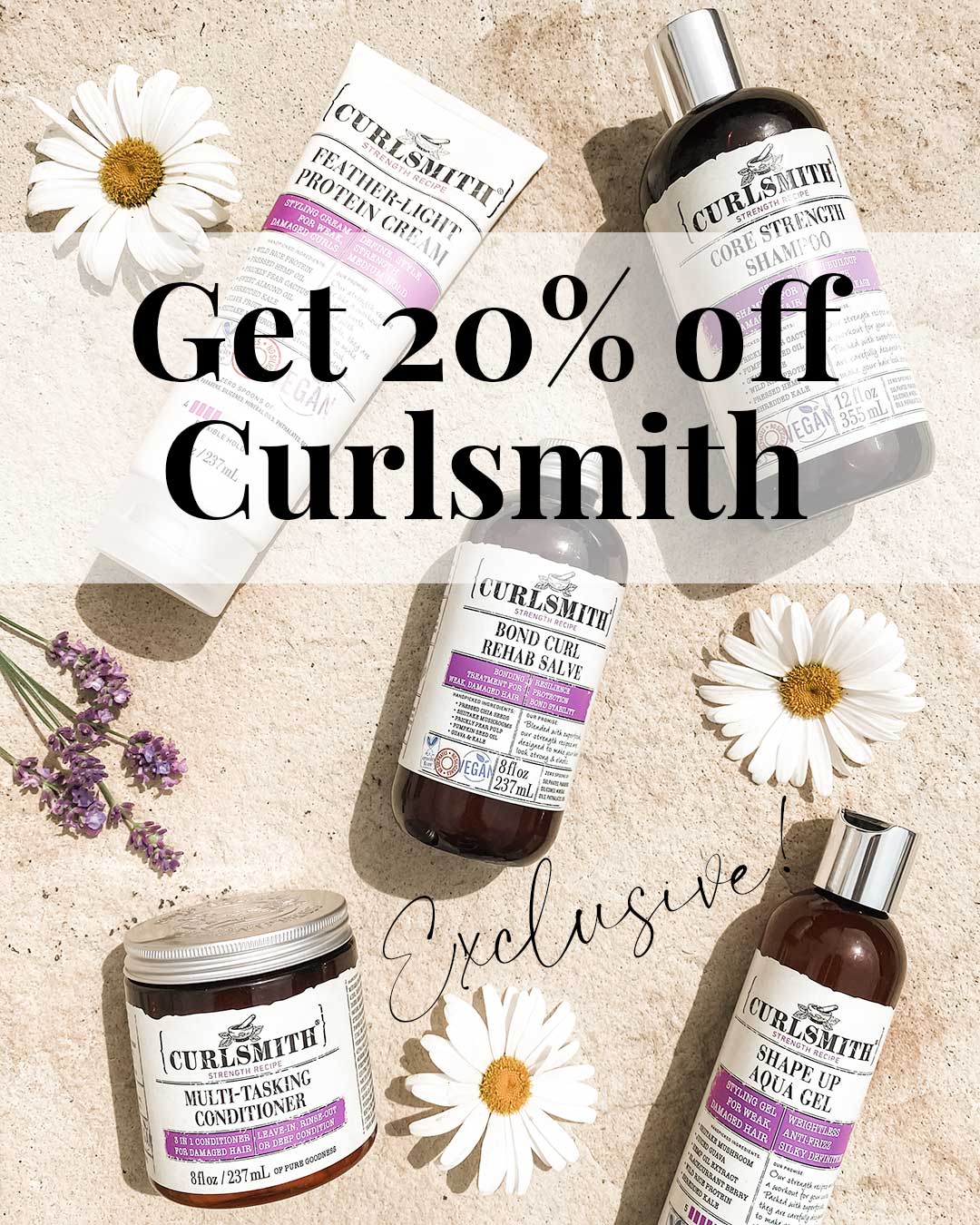 What I like
Over all, I really like this range. It's lightweight and hydrating without being heavy. With just enough protein to make a difference, but not so much so that it dries the hair out. I think the Curlsmith Strength Line was very much needed in their range.
As I've found other Curlsmith products to be too rich, hydrating and moisturizing for my hair. Except their Moisture Memory Reactivator and Hold Me Softly Balm – which I like to use from time to time. But would find too moisturizing if I were to use them regularly, wash day after wash day.
What I don't like
The first thing I noticed was the smell. Lots of people said they liked the line but couldn't stand the smell. Admittedly, it's not my favourite scent in the world. And personally I find it quite strong, but it's okay. I've definitely tried other products that smell worse and haven't been able to continue using them because of it. But the Curlsmith Strength Line isn't one of them.
I didn't really like the Core Strength Shampoo, which I'll go into more detail below. Apart from that, it's not really a dislike. But for a strength line that talks a lot about protein. These aren't the most protein-rich products I've tried, which was a little disappointing. My hair loves protein, so these products wouldn't suit me long term if I just used this line. I'd have to do stronger protein treatments regularly in my hair care routine.
What hair type would suit these products?
I'd recommend the Curlsmith Strength Line if you have fine hair that gets easily over moisturized or weighed down. You're looking for products that are well balanced in both protein and moisture. Or you have a looser wave or curl pattern.
I don't think this line would be hydrating, moisturizing or rich enough for type 4 hair types. Apart from the Bond Curl Rehab Salve, which is a protein-enriched bond-repairing treatment suitable for all hair types. And not just wavy, curly and coily, but straight hair too!
Curlsmith Strength Line Review
Curlsmith is vegan, cruelty-free, and curly-girl friendly – if you follow that method. Their products are free from sulphates, parabens, silicones and mineral oils. I've been trying out the Curlsmith Strength Line for just over a month now. I tried the cult favourite Bond Curl Rehab Salve first, then slowly introduced the others into my routine.
I've got some favourites, some feedback, advice and recommendations. So if you're thinking about trying these products, here's my Curlsmith Strength Line Review. Don't forget, you can get 20% off the full Curlsmith range at LOOKFANTASTIC, using code CURLMAVEN at checkout.
Core Strength Shampoo
I didn't like this product, but before I get into that. Let's talk about the packaging for a minute. I'm a strong, well able-bodied person with no weakness issues, difficulties or disabilities. And I found it really, really hard to get this product out of the bottle!
If you have kids, or any kind of weakness in your hands or arms, arthritis or any kind of disability, this is going to be a struggle. The consistency of the product is very thick and the packaging isn't suitable. It needs a pump to make it more user-friendly, in my opinion.
Described as a "protein-enriched gentle cleanser that melts dirt and build-up to help hair look stronger and more resilient." I found this left my hair a little dry and a little too squeaky clean. And it's not due to the protein, because there's not much in it. It's more than half way down the ingredients list.
The Core Strength Shampoo isn't as concentrated as other cleansers and shampoos I've tried. I needed to use more product than usual, a lot more! About a tablespoon sized amount, to achieve the same results. So despite the big bottle, I'd end up going through this shampoo much quicker than others I have.
Multi-Tasking Conditioner
Described as a "protein-enriched multi-purpose cream that can be used as rinse-out, deep conditioner or leave-in hair moisturizer." Again, remember protein-enriched (contains protein), not protein-rich. A little public service announcement, all conditioners are multi-tasking.
You can use a conditioner as a regular conditioner, leave in conditioner, or leave it in longer to deep condition. All that said, I really like this Multi Tasking Conditioner, it's one of my favourite products from the Curlsmith Strength Line! A protein-rich conditioner it isn't, but I like that it's lightweight, hydrating but not heavy. It's easy to use, apply and detangle with and doesn't weigh down my hair.
It contains Castor and Babassu Oil, and Murumuru Seed Butter, which are all quite moisturizing ingredients that can sometimes be a little heavy. Personally I found it fine on my hair, but if you have really fine, loose waves and curls don't leave this conditioner in the hair for too long. About 20-30 mins should be just right, if you're using it to deep condition. You can maximise the benefits of this Curlsmith Multi Tasking Conditioner by using it with my Curl Maven Thermal Heat Caps – available on my shop and shipping worldwide.
Bond Curl Rehab Salve
Described as an "intense pre-shampoo treatment, rich in proteins that target hair bonds to strengthen and repair from the inside out." Bond Curl Rehab Salve has been compared to Olaplex No. 3, but in a bigger bottle and better value. With some added extras to see quicker results after just one use, and it contains protein. This is the cult-favourite product from the Curlsmith Strength Line, and the one a lot of people want to try out first.
Similar to Olaplex, Curlsmith Bond Curl Rehab Salve is a bond building, bond repairing treatment. Suitable for damaged hair from colour and chemical treatments, as well as excessive heat. I'm going to do a more in-depth comparison and review of both of these products soon. But the main difference between these products, apart from the price and the quantity, is protein. Bond Curl contains protein, Olaplex No. 3 does not.
Protein tightens up the curl pattern. But it can also dry out the hair if you use too much, leave it in the hair for too long, or use it too often. Leaving it dry and brittle, and protein overload. This is a great product, once you use it correctly and figure how much to use and how often to use it for your hair.
I've used this a few times now, applied it to damp hair after cleansing. It never makes sense to me to put a treatment on dirty hair. To me, that makes about as much sense as putting a face mask on without washing off your makeup and sunscreen first.
My Bond Curl Routine
I left the Bond Curl Rehab Salve on for 15 mins the first time, then 20-30 mins a few times since. It doesn't have the best slip so I found it hard to brush through. I applied a generous amount of conditioner afterwards to squish to condish for 5 mins. I also tried leaving the Multi Tasking Conditioner in for 15-20 mins afterwards, otherwise I found the Bond Curl too drying on my hair.
I tried using it once a week, which I found too much for my hair. So I reduced it to once every other week and that worked out much better. The photos from this post were from using all the products, including the Bond Curl for 20 mins and the Multi Tasking Conditioner, to squish to condish for 5 mins and then I didn't rinse it out fully.
Feather-Light Protein Cream
Described as a "protein-enriched styler that combines the moisture of a cream with the flexible hold technology of a gel." I was either expecting the Feather-Light Protein Cream to flash dry on my hair. Or dry my hair out (or both) as protein is quite high up the ingredients list. It didn't flash dry, but if I use this on the same washday as the Bond Curl, then my hair feels too dry. Especially on the days after washday. It's very, very lightweight – which I love!
Curlsmith have a way of formulating creamy, balmy products to make them both lightweight, and with light-medium hold. This Feather-Light Protein Cream and the Hold Me Softly Style Balm are quite similar like that, but this one contains protein.
I really liked this product, it gave me great definition with minimal frizz and light to medium hold. Even though it's lightweight, you don't need a lot and it doesn't weigh my hair down. I used it with my Denman Paddle Brush on wet hair then gently scrunch to enhance my curl pattern, applied the Shape Up Aqua Gel on top, then diffused until dry.
Shape Up Aqua Gel
You guys! I'd heard a lot of mixed reviews about the Shape Up Aqua Gel, and I think it's my favourite from the whole line! Described as a "protein-enriched, incredibly lightweight styling gel that provides light hold, flexible definition and volume for all curls." I think they nailed that description. The protein is pretty far down the ingredients so it doesn't flash dry on my hair, nor does it dry it out. I love the texture and consistency!
It sits perfectly in between the Bouclème Curl Defining Gel – which is protein free, lightweight and hydrating – CURLMAVEN for 20% off at LOOKFANTASTIC. And the Bounce Curl Light Creme Gel – which is protein rich, light weight. But that gel can cause flash drying and dry out my hair if I use too much, or use it too often. I can't use it wash day after wash day. Use code CURLMAVEN for 10% off Bounce Curl in the USA, or buy it here at The Clean Beauty Edit in Ireland, who ship worldwide.
I love this gel and have tried it with other products too, it plays really well with my favourite, TréLuxe Reflex Serum – CURLMAVEN for 15% off. I styled my hair with Reflex Serum first, followed by the Shape Up Aqua Gel for the photos in this post.
What I love most is that it doesn't dry my hair out after wash day. But it doesn't weigh it down or over moisturize it either. This is a great gel for fine hair that gets easily weighed down, especially good for looser curl patterns and wavy hair. It's also a great gel for refreshing in between wash days!
Bouncy Strength Volume Foam
I didn't get a chance to try out Bouncy Strength Volume Foam yet. But as soon as it's back in stock, I'll try it out for a few weeks and update this post. It's described as a "protein-enriched styling foam that will give your hair a volume boost."
If you want body, texture, volume, movement and soft definition with minimal hold, then a foam is a great styling option. Especially for fine, type 2 wavy hair. Or even straight hair that wants a little body, texture and volume.
Foams can be a little drying on the hair, especially if they contain protein. So I'm excited to try this one and report back. If you already have this foam and find that it's drying your hair out.
Try either using a leave in conditioner before you apply the foam. Or don't rinse your conditioner out fully, then apply the foam to wet hair. Layer a lightweight (protein-free) gel on top for extra hold and weightless hydration. Something like the Bouclème Curl Defining Gel.
---
I hope you enjoyed this Curlsmith Strength Line Review and found it helpful and informative! Don't forget you can get 20% off almost all the products mentioned in this post at LOOKFANTASTIC using code CURLMAVEN. Including Bouclème and Denman, which I mentioned a few times. LOOKFANTASTIC offer FREE worldwide shipping.
Make sure you subscribe to the Curl Maven Collective Newsletter for exclusive giveaways and offers, new content, products and services. Follow me on Pinterest, Instagram and subscribe to my YouTube channel for more tips, advice and tutorials.
feeling overwhelmed + don't know where to start?
Book a Curl Clinic Consultation
Gratitude + Support
If you found this article or any of my content helpful and would like to show your Gratitude + Support, you can click here to make a donation. I'm so incredibly thankful and grateful to everyone who supports me, my content and my platform. Thank you!
Thank you for supporting this sponsored article which enables me to continue providing FREE, organic content and a website FREE from Google Ads and annoying pop ups.
*This article may contain some gifted items and affiliated links and discount codes. This doesn't effect my opinion or the way in which I write about products featured on this site.