For my first
ever
review of a product or range, I wanted to start with one that I get asked about a lot, recommend all the time and truly
love!
Some of you may not have heard of
Bouclème
, but for a lot of you, it will come as no surprise! Summer 2017, when I was at the start of my curly journey, I discovered this incredible line of products and have continued to use them ever since! Check out this post for my review of their full line of products and an exciting giveaway and discount code!
Bouclème | The Brand
Founded in 2015, by curl expert, and curly girl herself, Michele Scott-Lynch, Bouclème is a 100% curly girl-approved range of products created specifically for curly hair. Created to deliver healthy, frizz-free curls using all natural ingredients, and absolutely no sulphates, silicones or parabens. As a mum of two curly kids myself, I can relate to what inspired Michele to create this line of products specifically designed for curly hair.
"When my 2 beautiful curly girls entered the world, it was important for me to help them love their curls. I needed to be a curly role model for them to see the beauty in having a head full of curls. I was determined that they wouldn't wake up every day feeling cursed, as I did for so long." – Michele

Eco, Ethical + Animal Friendly
Bouclème products contain no chemical nasties, even the preservative used is eco-certified. Using fair trade products wherever possible, only ever testing products on real curls,
not
animals. And recyclable packaging all combine to guarantee an eco-ethical policy from a brand and products that give
real,
curl crush-worthy results. I adore the recyclable packaging and love the instantly recognisable colours used for each product. It means I can let my son wash his own hair in the shower (independent boys, anyone else…?) knowing he's using the right products by simply telling him what colour bottles to use. Did you also know for every 300ml bottle purchased from the
Bouclème website
, they plant a tree? Since 2015, they've planted over 10,700 trees in partnership with Trees for the Future – I
love
that!

Ingredients & Scent
Curly hair requires nourishing and penetrating ingredients to help hydrate and strengthen the hair cuticle from the inside out. Packed with natural, plant-based ingredients, Bouclème products were designed to give you beautiful, shiny, frizz-free curls with three main curl types in mind: loose, medium and tight. I can't go any further without telling you about the smell. The entire line of products from Bouclème smell ah-mazing! It's so fresh, light and invigorating! I've never smelled anything else like it, I absolutely love the smell! My son, who has sensory processing disorder and really struggles with smells, loves it too! I think it's down to the citrus, spearmint and magnolia leaf – but I can't be sure, because it's such a unique, natural scent!
"I want curly haired women to embrace their natural curl. Women have been told, for far too long, to straighten and flatten their curls. My ultimate ambition is that everyone celebrates their curls. This is about learning to love your natural and beautiful hair type. Our celebration of curls can be seen on the Bouclème website and we want women to share their unique journey of being #curlyandproud." – Michele
Price & Availability
I didn't even tell you the best part yet, Bouclème is made in the UK! Finally, a top quality line of products for curly girls, easily available for us Irish and UK curlies! If you're reading this post in America, don't worry, Bouclème is stocked online at
Anthropologie
, in store at
Ricky's in NYC
and
Ayla Beauty
in San Francisco. *If you're in Dublin and see this range of products in Space NK on Grafton Street, by all means, have a whiff and test them out but don't buy them there – the price is
way higher
than online! – I find that with most things from Space NK to be honest. If you're travelling or want to try out the products before purchasing the full size products, they do 100ml bottles as well as 300ml and 1 litre bottles.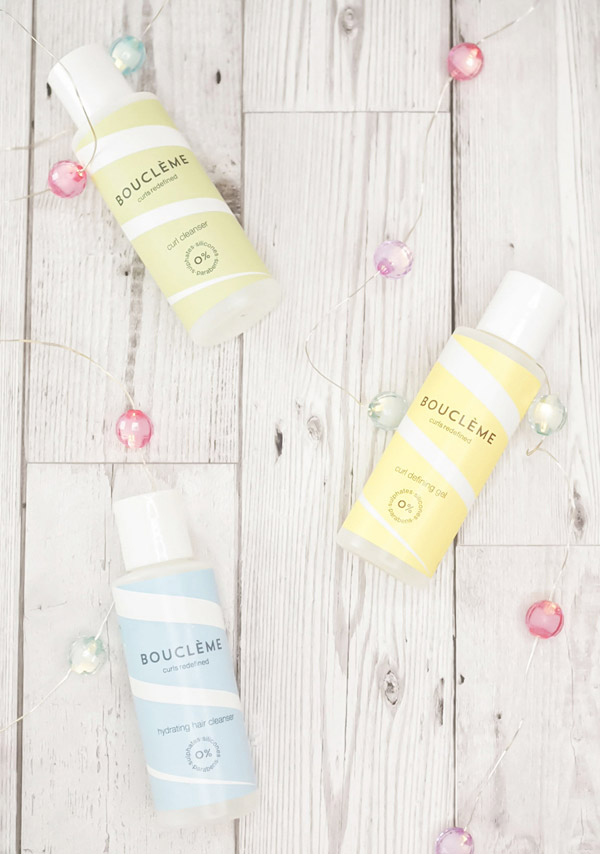 Bouclème v Deva Curl
I've heard quite a few curlies say that
Bouclème
is the most comparable brand/products to
DevaCurl
. As far as products and formulations, I have to disagree. I've tried both and find them completely different. For starters, DevaCurl products usually contain a lot of protein, Bouclème doesn't contain any (apart from their
Intensive Moisture Treatment
). However, as a brand delivering an entire line of products, designed specifically for curly girls, then yes – I can see the comparison. Bouclème doesn't have as many products as DevaCurl, which isn't necessarily a bad thing. But they
are
working on some new products. Personally I'd like to see a leave-in conditioner, a mousse/foam (because I bet they would be
amazing!
) or hard hold gel. But stay tuned and I'll let you know as soon as their new products launch, and my thoughts.
This is a sulfate-free, low poo and uses a special blend of natural ingredients to provide a
very mild
low-lather cleanse for fine hair, loose waves and oily scalps. Now, of all the Bouclème products, this is my least favourite. Personally I found it somewhere between a clarifying shampoo and a low poo. I'm the right hair-type for it, but I just don't like it on
my
hair. As I'm working it in, it feels like it's almost stripping my hair, making it feel squeaky at the ends, but oily at the roots. Yet when I rinse it out, my hair feels
more
oily, especially at the roots.
However
, this feeling is gone by the time I'm finished washing my hair. I don't know how or why, but that oily roots feeling doesn't last – thankfully! Although this Hydrating Hair Cleanser is geared towards fine hair and loose waves, I feel like it would suit dry, high porosity hair better than low porosity – which is my hair type. I much prefer the
Curl Cleanser
– the green one.
Buy it here
£15/€22/$25 for 300ml
Key ingredients:
Sea Salt
Mongongo Oil
Sea Buckthorn Oil
Camellia Oil
Coconut Oil
Castor Oil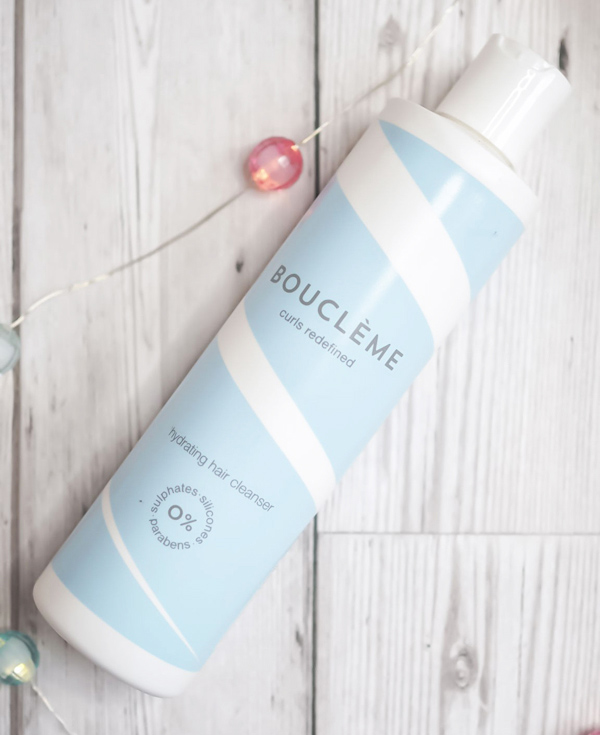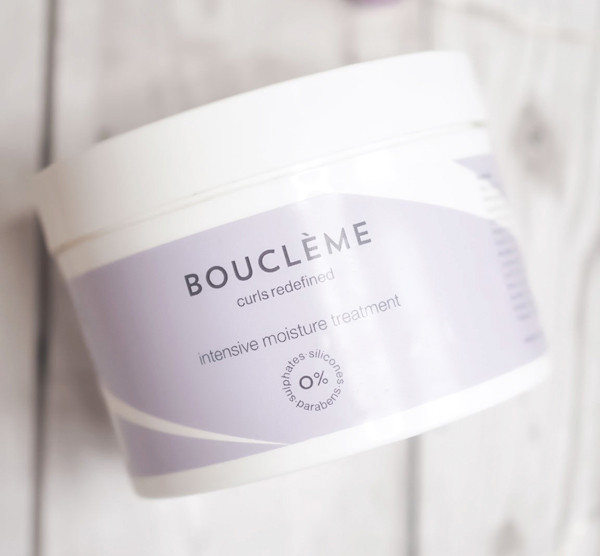 This is a no-poo, or co-wash. For me this is much more "hydrating" than the blue one, but in a good way. It thoroughly cleanses the scalp and hair without upsetting the natural moisture balance or leaving those oils behind that the blue one does. It doesn't contain any harsh foaming detergents, and leaves my hair feeling clean, fresh, hydrated and ready for conditioner. It's got quite good slip and I can de-tangle with it, which is always a great sign of a really good (curly girl-approved) shampoo! Buy it here £15/€22/$25 for 300ml
Key Ingredients:
Argan Oil
Virgin Coconut Oil
Aloe Vera
Linseed (same/similar to flax seed)
Pomegranate Extracts
Honey
The Curl Conditioner
is rich in Omegas 3, 6 and 9, vitamin E and antioxidants to strengthen the hair, protect it from environmental damage and add shine. I love the texture and consistency of this conditioner, it's not too thick or heavy –
perfect
for my low porosity hair. That being said, I find I have to use more of it, to get the desired level of moisture, hydration and slip to finish de-tangling my hair and for it to feel fully "conditioned." I don't rinse it out fully. I know a lot of curlies who skip this product altogether, for the same reasons, and prefer to
just
use the
Intensive Moisture Treatment
as a conditioner instead. I quite like mixing the two together, as I find the Intensive Moisture Treatment a little too heavy for regular use.
Buy it here
£17/€24/$28 for 300ml
Key Ingredients:
Virgin Coconut Oil
Argan Oil and
Aloe Vera Leaf Juice
A new addition to my Bouclème line up. This nutrient-rich and deeply nourishing formula is perfect for dry, parched hair in need of hydration, strength and shine. It claims to improve curl definition, boost elasticity, regenerate hair, decrease breakage, de-tangle, hydrate and shield the cuticle. For curlies who find the Curl Conditioner isn't enough, they reach for this instead. It's a much thicker, heavier consistency. If you have dry, damaged hair in need of moisture and your hair responds well to oils, you will love this product. You only need a small amount and best results are achieved when you really work it into the hair and use a thermal heat cap. (Did you know I'm now selling Curly Cailín Heat Caps?! Check out my Etsy store for the lastest collections.) This is the only product from Bouclème which contains protein with the plant-based keratin, wheat bran. I feel like this will work really well on tighter, kinky-coily hair textures. Buy it here £26/€30/$36 for 250ml
Key Ingredients:
Wheat Bran Extract
Camellia Oil
Marula Oil
Mafura Butter
Prickly Pear Seed Oil
Sea Buckthorn Oil
Another new addition to my Bouclème line up. Unlike the light, almost weightless texture of their Curl Defining Gel, I find
this curl cream
heavier, which I think is down to the shea butter. I've heard some people say it's like a leave-in, definitely not, in my opinion. However, I don't think you'd need a leave-in conditioner
and
this curl cream. I only use two pumps, applied to wet hair for smooth, frizz-free, bouncy and beautifully defined, clumpy ringlets. On days when I can't get those smooth, frizz-free, seaweed curls using just conditioner, I can always rely on this. It says it can be applied to dry hair for added moisture on day two or three curls, but it would be too heavy for my hair to use it like that. My daughter's hair really likes this product too, her hair is much drier than mine and can get mega frizzy around her face. Less is more with this product I find, if you over do it on low porosity hair, it will feel weighed down and oily/greasy.
Buy it here
£19/€26/$32 for 300ml
Key Ingredients:
Virgin Coconut Oil
Coconut Fruit Extract
Kukui Oil
Shea Butter
Castor Oil
This product is the first to get Curly Cailín Hall of Fame status. The award-winning
Curl Defining Gel
, I've never come across a gel like it. So much so I wonder should it even be called a gel, I feel like it deserves a whole new name, it's almost undefinable – excuse the pun! This moisturising gel smooths and defines curls without flaking or stickiness. No matter how much I put on my hair, it never feels product-heavy or weighed down. I use it on wash days, and refresh days between washes; and my hair
still
doesn't feel weighed down! This is a low-porosity, fine hair curly girl's dream! Sometimes I can get a great cast with it, other times I don't. It's a soft hold gel, and yet it keeps my curls perfectly defined and frizz-free. This incredible curl defining gel give me shiny, super soft, frizz-free, super defined and bouncy curls – can you tell I
absolutely love
this gel!
Buy it here
£15/€22/$25 for 300ml
Key Ingredients:
Aloe Vera Leaf Juice
Argan Oil
Linseed Oil
Coconut Oil
Castor Oil
Like most brands, Bouclème say their products work best when used together. However, I've found some great combinations using their award-winning
Curl Defining Gel
, see below:
Ultimate Refresh Combo: Bouclème Gel mixed together with KY Jelly – yes that's right, lube!
Really Good Refresh Combo: Bouclème Gel mixed together with Bounce Curl Light Creme Gel
Weightless Definition & Hold: Bouclème Gel after Pantene Defined Curls Mousse
Moisture, Definition, Clumps & Soft Hold: Bouclème Gel after Bouclème Curl Cream
Clumps & Soft Hold: Bouclème Gel and MopTop Curly Hair Custard
Get 10% off Bounce Curl here using code CURLMAVEN.
Get 10% off MopTop here using code CURLMAVEN.
I'm very skeptical about towels. I knew long before discovering the curly girl method that regular terry towels were causing havoc and lots of frizz. I've seen all the YouTube videos about how to squeeze out excess moisture and plop using a cotton t-shirt. I can't get on board with microfibre towels – that's a whole other post. But let me tell you,
this Bouclème Curl Towel
is one of the best things I've bought since I started the curly girl method. And it's going straight into the Curly Cailín Hall of Fame too!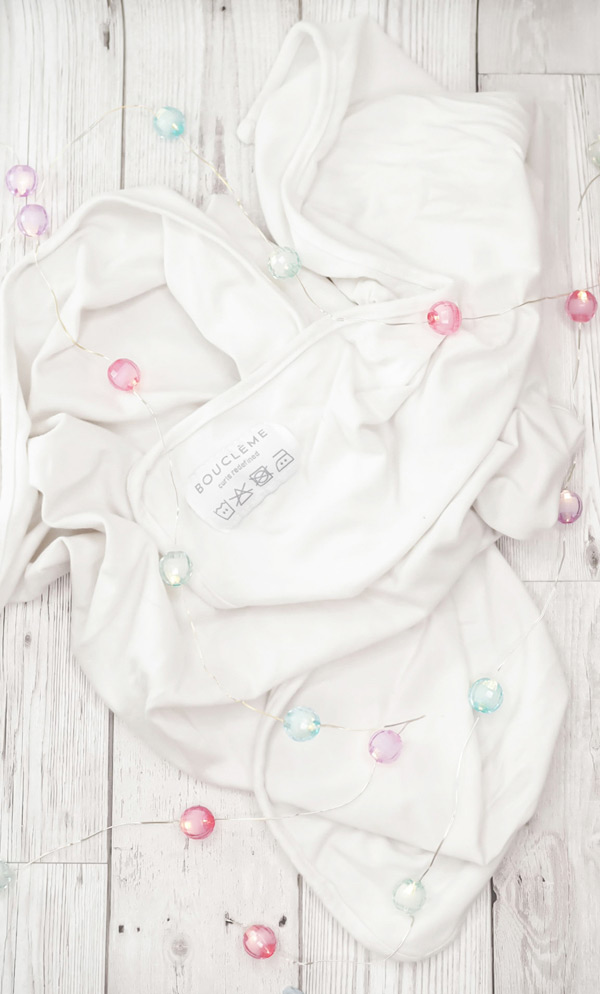 Bouclème's super soft jersey curl towel is made from 46% organic cotton, 46% bamboo and 8% elasthene, absorbing excess water
only.
This means your curls retain maximum hydration. Wash at 30 degrees. Don't tumble dry – although I nearly always do. To see how I plop using this towel
check out this post
on curly girl techniques.
Buy it here
£25/€33/$36
Products used: Pre-Poo: Righteous Roots Hair RX Oil, Bouclème Hydrating Hair Cleanser, Curl Conditioner, Curl Cream and Curl Defining Gel.
Feeling overwhelmed?
If you're feeling overwhelmed by all the tips, advice and product recommendations. Click here for more information on my Curl Clinics™. A completely bespoke curl consultation service tailored to suit you and your hair. Designed to help get your waves and curls back and achieve your healthy hair goals. Or book in here!
Don't forget to subscribe to this blog so you don't miss a post or announcement. You can follow me on Instagram @curlmaven for more bitesize content, tips and advice in my stories, highlights, reels and videos. Or Check out my YouTube channel for more washdays and tutorials. Follow me on Pinterest or check out my Facebook page. Book a ticket for my next Monthly Curl Clinic, or watch any of my previous Monthly Curl Clinics, available on my Shop.
Gratitude & Support
If you found this post or any of my content helpful, and would like to show your Gratitude & Support, you. can click here to make a donation. I'm so incredibly thankful and grateful to everyone who supports me, my content and my platform. Your support enables me to continue providing FREE, organic content, and keep my blog FREE from Google Ads. And build Curl Maven as a brand and all I've got planned. Thank you so much! Gabriella x
*This post may contain some gifted items and affiliate links. Which means I get paid commission on any products you purchase through my links or codes. This in no way affects you, the price you pay or the way in which I write about products featured on this site. My content and opinion is not influenced by advertisers, sponsorships, affiliate partnerships, brands or PRs.