Here's my top tips and tricks, and 7 hair styles to make your wash days last longer. Ensuring you look cute every day between washes. Rather than looking more and more like you've been dragged through a hedge backwards as the days go by.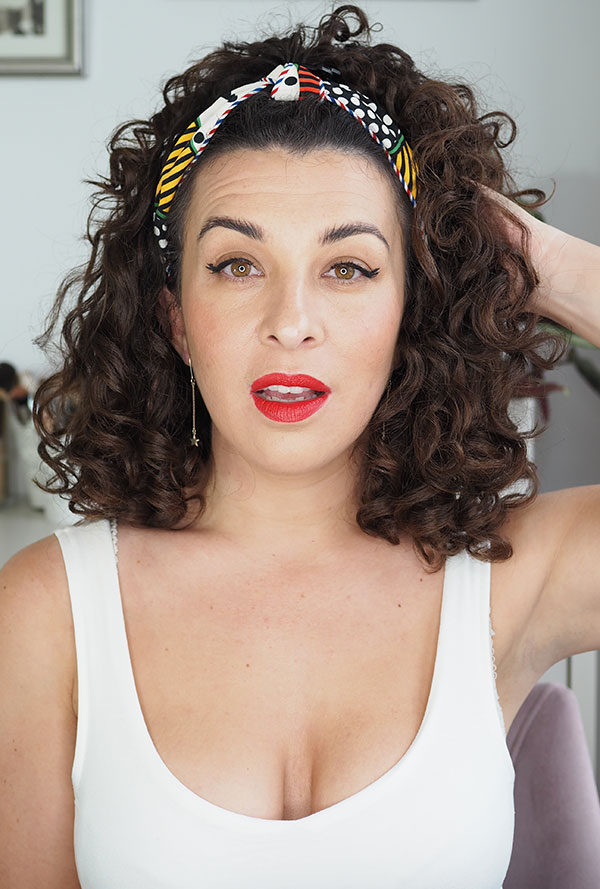 Whether you've got curly or straight hair; long or short, wash days take time and effort, and are a bit of a pain in the neck – or back. Literally! We plan our week, days and activities around them. There's a reason it's an ironic, funny joke to avoid something by saying you "have to wash your hair that day."
Take Your Time on Wash Days
My first tip is to take your time on wash day. I find this alone helps to make my wash days last much longer. And my hair looks better, for longer, on the days in between.
Use Good Quality Products
My second is to use good quality products, and that doesn't necessarily mean expensive products. Some brands and products work better for me. For example, part of the reason I love Jessicurl products so much, is because I rarely ever need to refresh between washes. I've listed what products I've used for this wash day at the end of the post.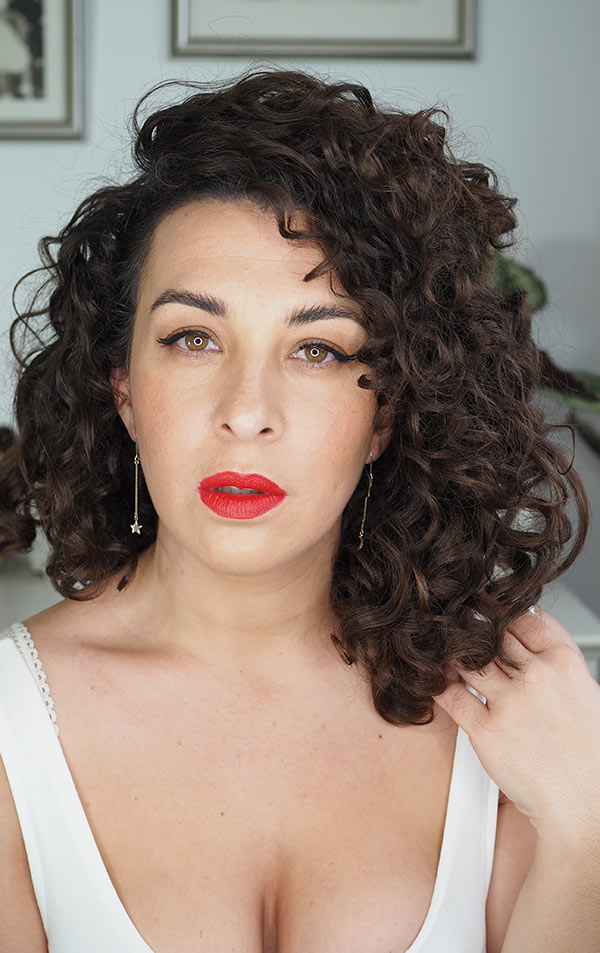 Day 1: Hair Down
Now, Day 1 can vary. I wash my hair in the mornings, so my wash day is my Day 1. However, if you prefer to wash your hair in the evenings, or at night before you go to bed. Then the following day is your Day 1. Whenever you choose to wash your hair, show off all your hard work, time and effort that went into your wash day and wear your hair down, if you can.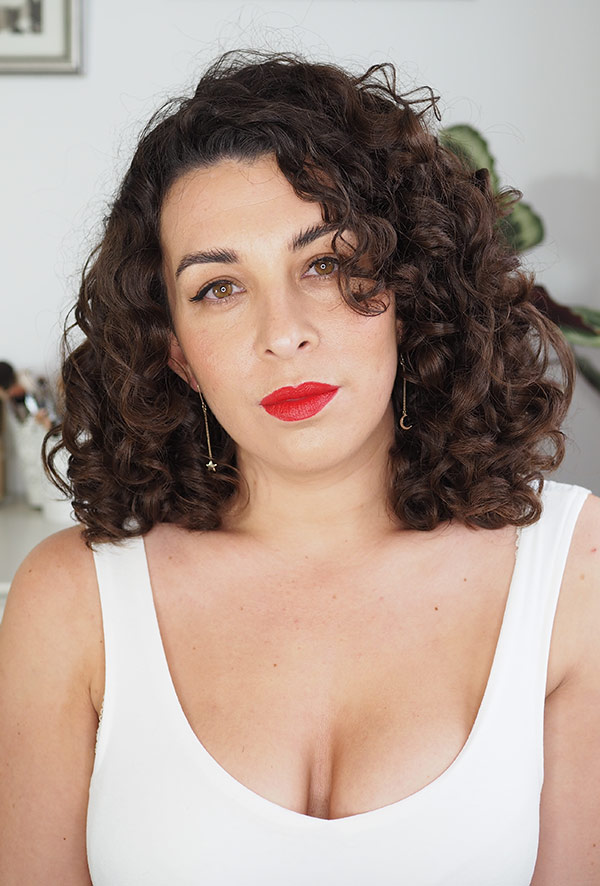 Day 2: Hair Band

Most people prefer to wear their hair down. But it doesn't always look as good as the days go on. Part of the secret to wearing different hair styles to make your wash days last longer, is working with how your hair is looking and feeling. To make the most of the results from wash day, other than throwing it up in a pineapple on Day 2. Put on a cute hair band, Zazzy Bandz, head bands like these ones from Bizzy Crafts – you get the idea.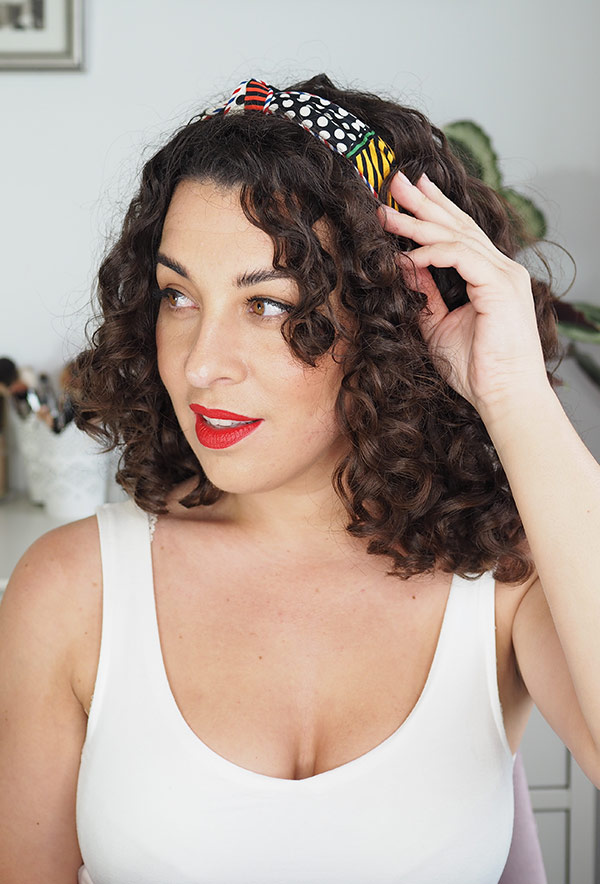 Day 3: Half Up
So you've got to Day 3. Your hair has been down for the last two days. The curls may be a little pulled out. Or maybe you've got a bit of frizz on the top canopy layers of your hair.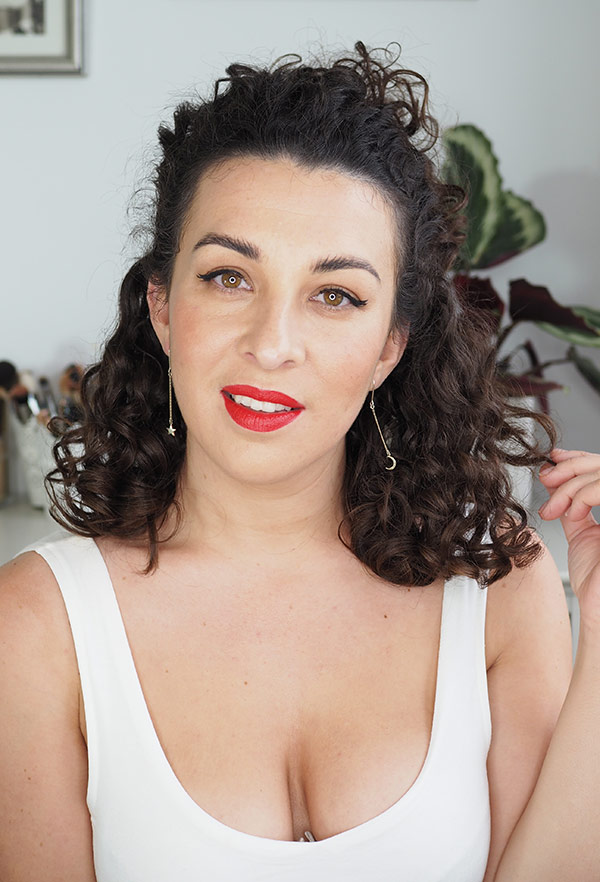 My favourite solution to this, is a half up – half down hair style. It's also a great style to wear your hair if you want to let it back down later that day, evening or even the next day. It's also a good option if you work out regularly and don't want to ruin and pull out your natural curl pattern.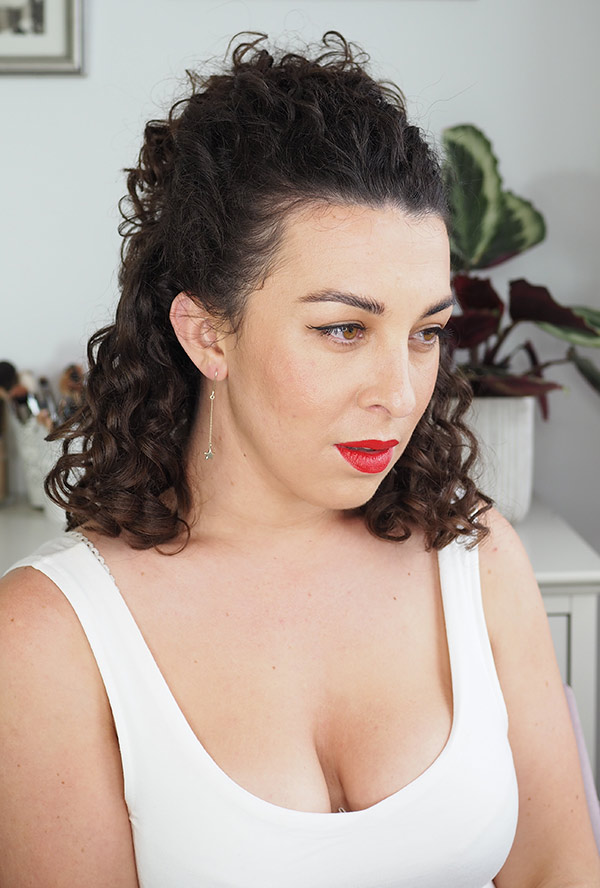 Top Tip: If you have shorter hair like me, wear your hair higher up in a half up – half down style. If your hair is longer, you can wear it lower down your head, and a little looser too if you like.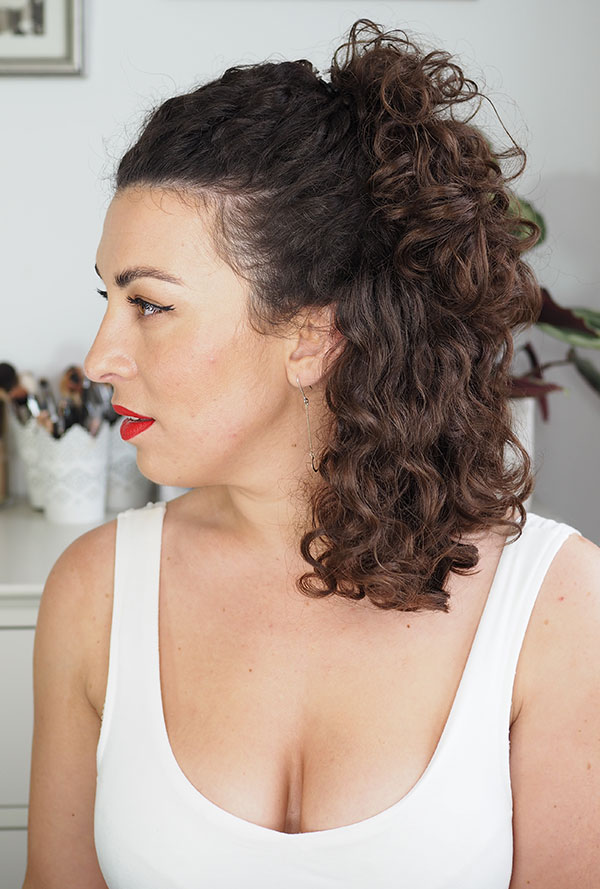 If you want a more stylish look, or to dress up this hair style. Put on a hair band, or use a satin scrunchie like these ones from Coorie Curls. I prefer to use the micro-sized Puff Cuffs for these half up – half down hair styles on Day 3. Get 15% off Puff Cuff here using code CURLMAVEN.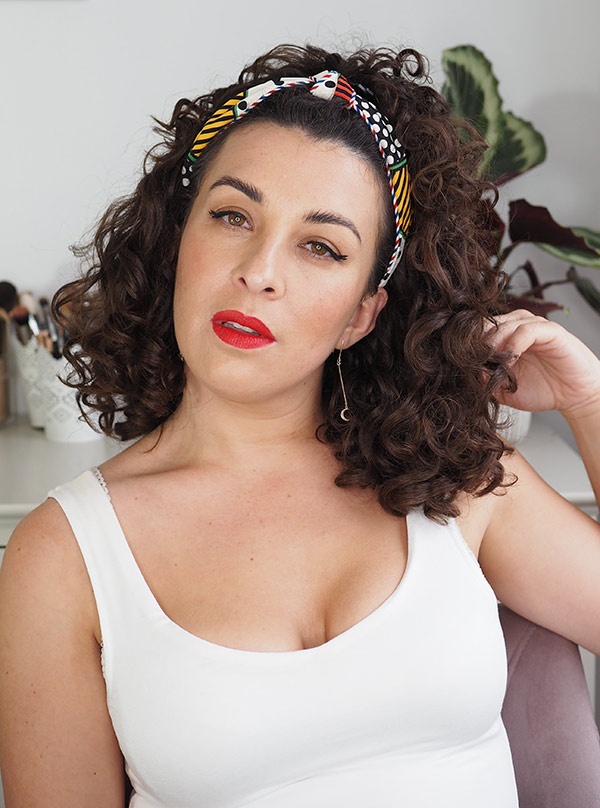 Day 4: Ponytail or Pineapple
I'll be honest, this is often my go-to style for most days between my wash days. It's also how I protect my hair at night – which you can read more about in this post. A pony tail or pineapple.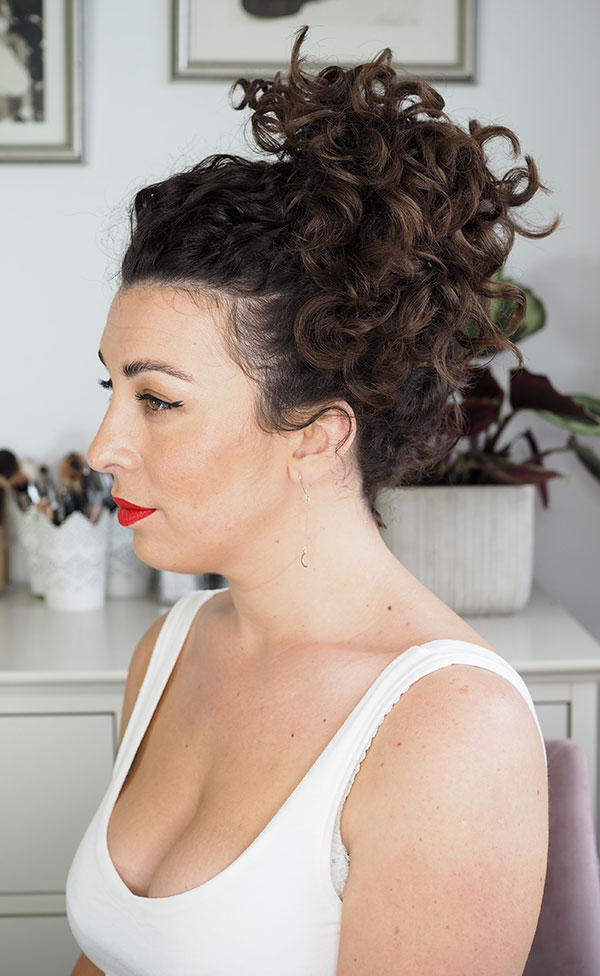 If you keep your pony tail loose and high, you won't pull the curl pattern at the roots. Which means, with a quick refresh, you can wear it down again that evening, or the next day if you want to. I use a mini-sized Puff Cuff, or my satin scrunchie from Coorie Curls. Get 15% off Puff Cuff here using code CURLMAVEN.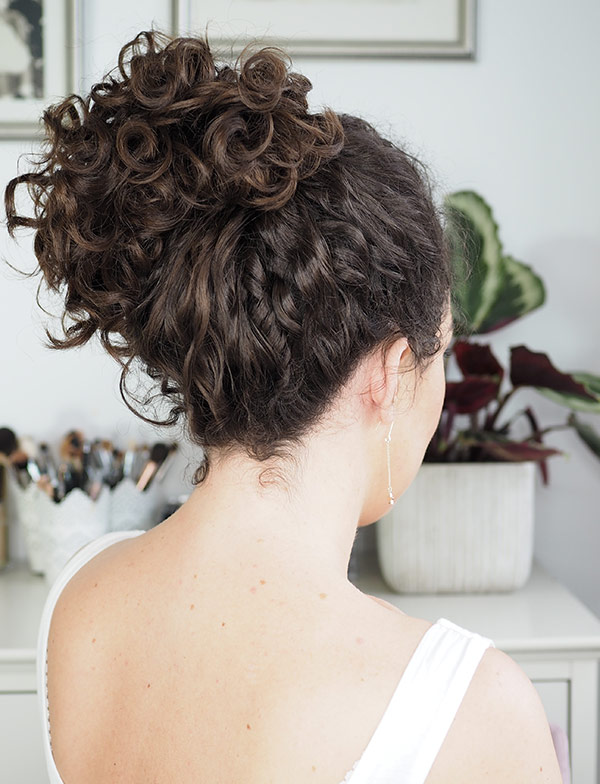 Day 5: Banana Clip
Okay okay. This may feel like a blast from the 80's past. But hear me out. I've been wearing banana clips in my hair for almost as long as I've been using mousse. I LOVE banana clips! You can buy them in my Amazon Shop here.
They're great for throwing your hair up but still showing off all your curls. It's also a genius way to put your hair up out of your face, without losing length. These are the best and strongest banana clips I've found for thick hair like mine.
I just love the look of my curls cascading down my back or over my shoulder like a waterfall. Like the Puff Cuff, they don't damage your hair either, because of the claw and clip function.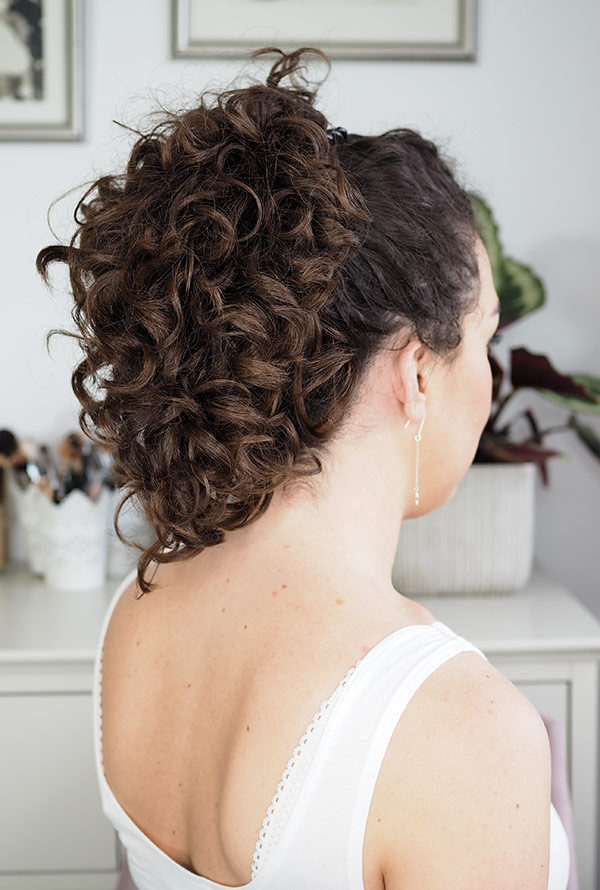 Top Tip: if you want lots of volume, put the banana clip high up on your head. If you want to maximise length, even on short hair; put the banana clip lower so the base of the clip is on the nape of your neck. See the difference in the pictures below.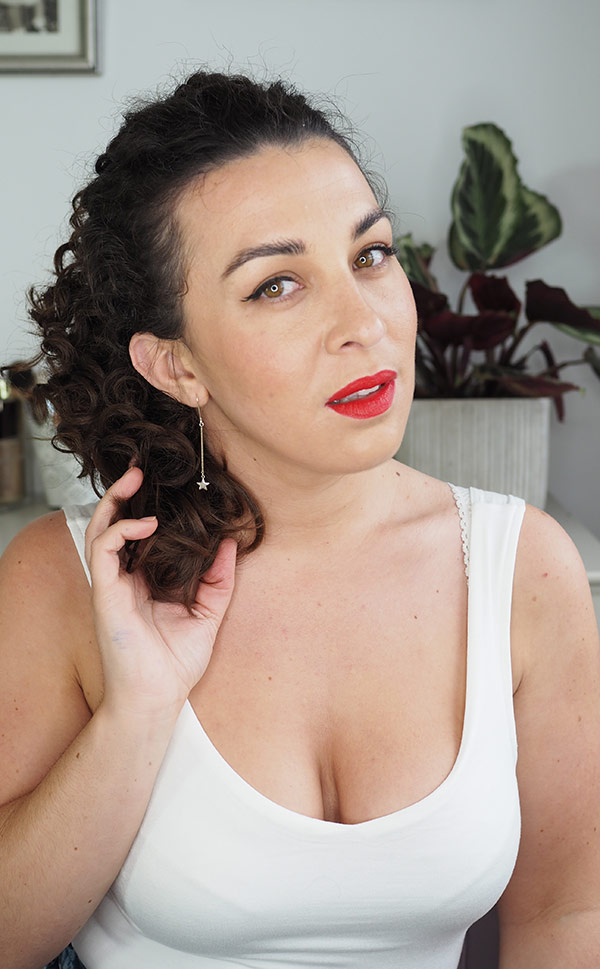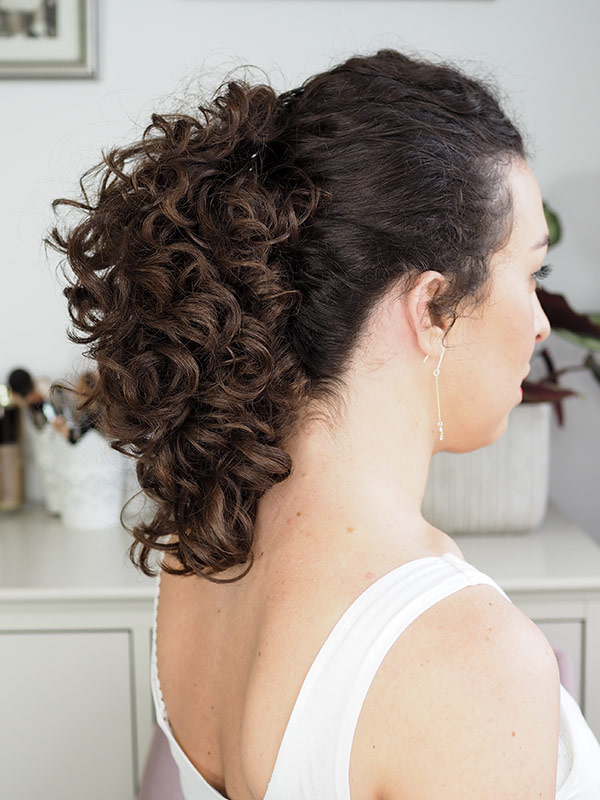 Day 6: Bun
Day 6, it's almost wash day. Your hair might not be looking it's best, but that doesn't mean you can't rock a cute hair style! And still look perfectly respectable. A low bun will give a more sophisticated feel to your look, more sexy if you wear it at the nape of your neck with a few pieces or curls falling loose around your face, and a pair of hoop earrings.
A higher bun will make it more fun – and is often the most practical too. If your roots are getting a little greasy, or losing a little volume. Use a CG-friendly dry shampoo, like this one from Innersense.
This is a great hair style to wear if you work around food, or in a corporate environment that doesn't embrace naturally curly hair. (That's a whole other debate and issue that needs to be addressed, but we'll leave that for another day.)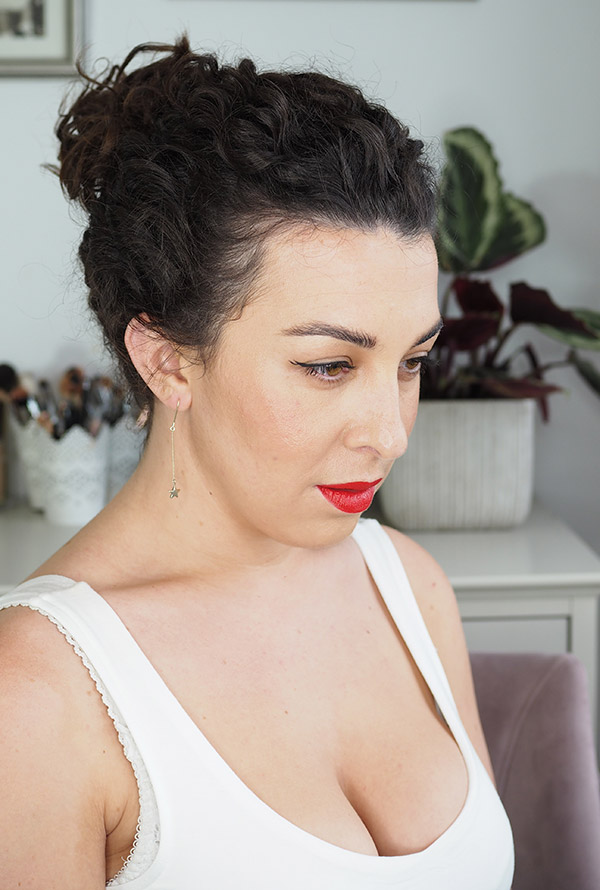 Make sure you don't pull your hair too tight, or twist it tightly before wearing your hair in a bun. The secret to most of these up-styles for curly hair is to keep it loose.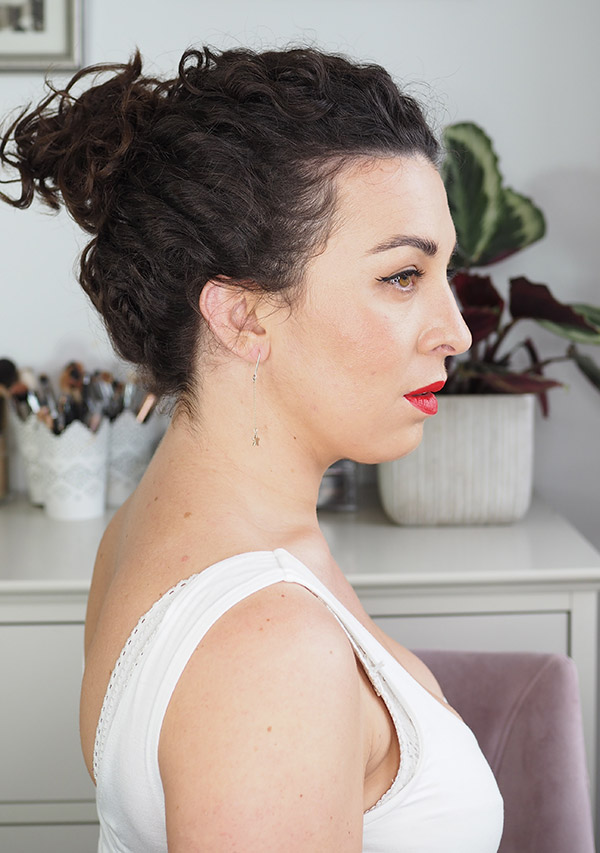 I use a mini-sized Puff Cuff and clip it around my loosely-twisted bun. A pair of earrings and/or lipstick will bring this Day 6 hair style from desk to date night. Get 15% off Puff Cuff here using code CURLMAVEN.
Day 7: Top Knot
Perfect for the weekend when you've got to do the housework, the grocery shop and stand on the sidelines cheering on your kids as they play their favourite sport. Wait, what am I saying? My kids get so embarrassed when I shout and cheer them on. It's not cool apparently. They impose a strict set of rules of no jumping up and down, no cheering, no clapping, no encouraging, advice, excessive joy, excitement or smiling; and definitely no waving! Please tell me this is normal?!
Either way, pair your Day 7 Top Knot with a cute head band, earrings and a bold lip. You'll have a look that's both cute and practical; as well as disguising greasy or gritty roots. This is my go-to look when I haven't been able to wash my hair in the morning, and have stuff to do before I can get around to washing my hair. I use a regular hair tie, or a mini-sized Puff Cuff, which is perfect for my thick hair. Or if you want a pop of colour, a satin scrunchie from Coorie Curls.
Products used in this post: Innersense Pure Harmony Hair Bath // Pure Inspiration Daily Conditioner // I Create Lift Volumising Foam // I Create Hold Gel // Headband from local gift shop // NARS Audacious Lipstick in Annabella // Earrings from Mint Velvet
Make sure you subscribe to the Curl Maven Collective Newsletter for exclusive giveaways and offers, new content, products and services. Follow me on Pinterest, Instagram and subscribe to my YouTube channel for more tips, advice and tutorials.
feeling overwhelmed + don't know where to start?
Book a Curl Clinic Consultation
Gratitude + Support
If you found this article or any of my content helpful and would like to show your Gratitude + Support, you can click here to make a donation. I'm so incredibly thankful and grateful to everyone who supports me, my content and my platform. Thank you!
*This article may contain some gifted items and affiliated links and discount codes. This doesn't effect my opinion or the way in which I write about products featured on this site.