Here are my 10 Summer Haircare Tips, advice and recommendations for wavy and curly hair, as well as straight. To keep your hair looking healthy, hydrated, frizz-free and defined throughout the Summer.
As well as how to protect your hair in the sun, swimming in rivers, lakes, oceans and pools and prevent dry, damaged and brittle hair. Here are my 10 Summer Haircare Tips to help keep your hair looking good all Summer long!
Whether you're going on vacation to a hot, humid, dry or desert climate, or you just have a few weeks of hot weather each year. Summer Haircare can be tricky to know what your hair needs during the heat, to keep your hair looking and feeling healthy.
There's nothing worse than coming back from vacation with dry, brittle, frizzy hair! So if everything that you used to do doesn't seem to be working. Or you're about to go on a spending spree buying all new hair care products to try and bring your hair back to life. Then this post is for you!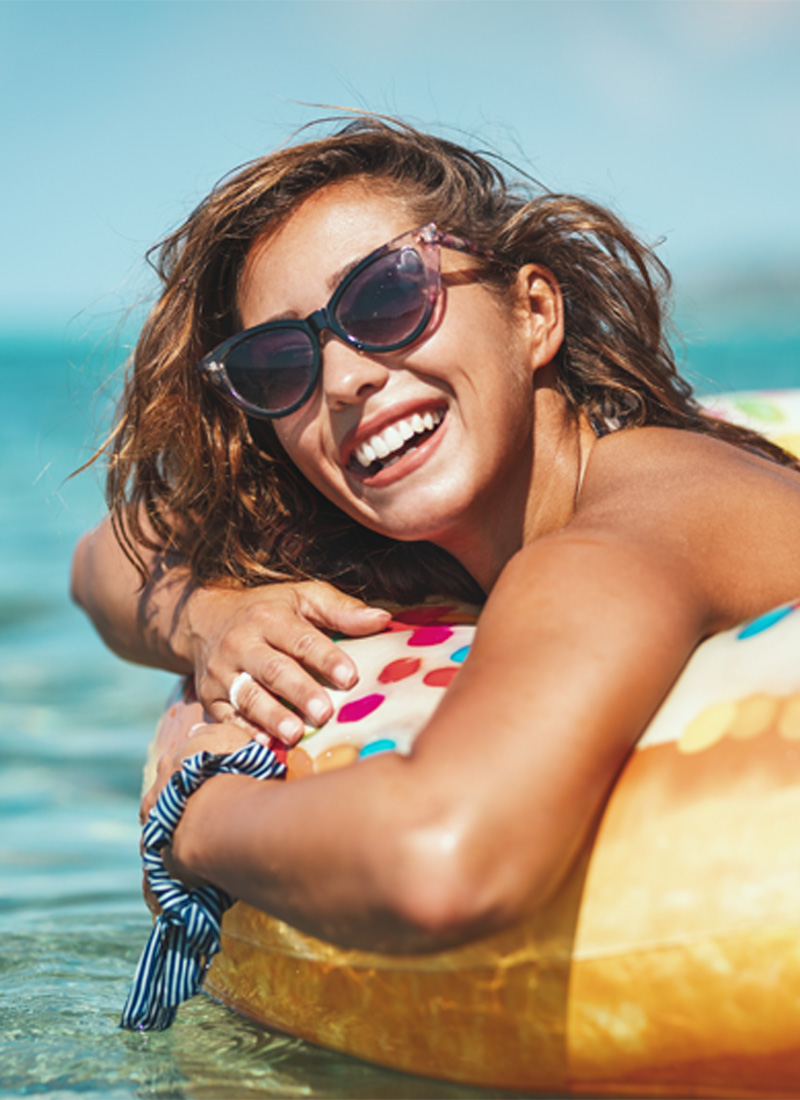 10 Summer Haircare Tips
Here are my top 10 Summer Haircare Tips to show you that with a few adjustments to your hair care products and routine, you can maintain healthy hair throughout the hot Summer months. I've also got my Summer Haircare Routine for when I'm on vacation at the end of the post!
1. Protect Your Hair from the Sun
These quick tips are pretty basic, but basic doesn't mean they don't count. The first of my 10 Summer Haircare Tips is to wear a hat to protect your hair from the sun. And avoid going out in the sun during the hottest time of the day, from midday to 3pm – if you can. There are so many hat options available to suit a variety of styles, sizes and colours.
I wear a massive straw sun hat that protects as much of my hair, face, neck and chest as possible! I wear it in the garden, and I always bring one on vacation with me. Floppy ones are easy to pack in a suitcase, or you can use other items of clothes to pad in and around the hat to protect the shape.
Otherwise just wear it in the airport and store it under your seat on the plane. And if you forget a hat, don't worry – you'll be able to pick one up where you're going. If they've got sunshine, they'll have hats!
Top Tip: Buff USA have UV shield multi functional headwear which are great for the Summer. Super lightweight, breathable and fold up really small. They're ideal for wearing many different ways throughout the day and protecting your hair at night.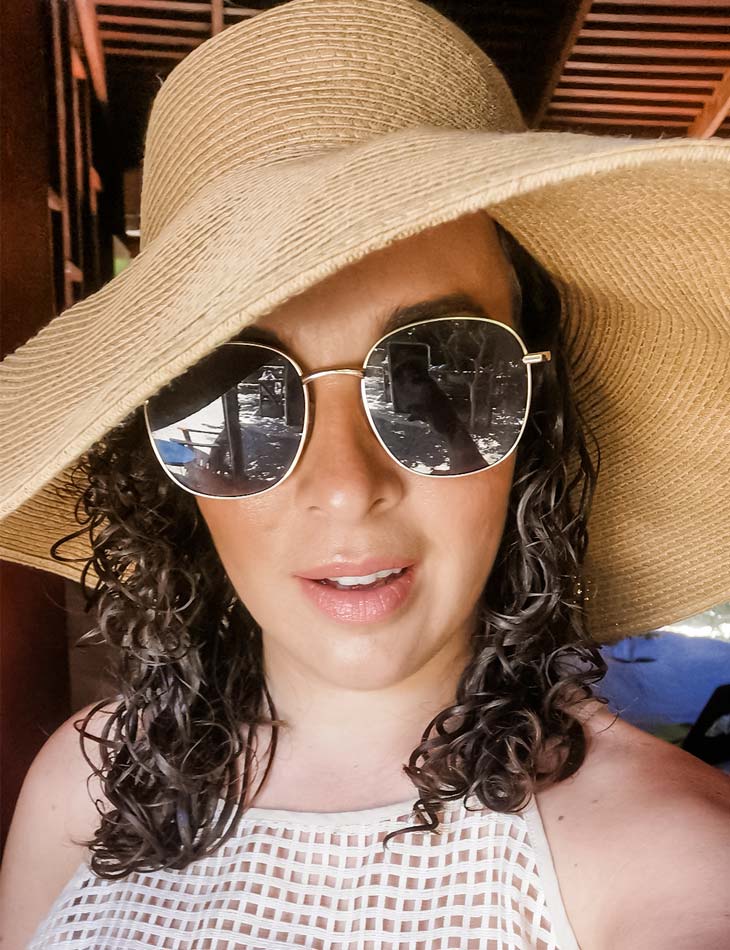 2. Use a Chelating Shampoo
Clarifying your hair with a chelating shampoo is especially important during the Summer months! This is the foundation of a good Summer hair care routine, by removing the limescale, chlorine, calcium and other hard water, metal and mineral deposits found in rivers, lakes, oceans and pools. I recommend that everyone clarify their hair once every four to six weeks, regardless of the season.
But if you're swimming once or twice a week, I recommend using a chelating shampoo once every two weeks. If you're swimming three or four times a week, use it once every 7-10 days. If you're swimming every day, then use it once a week. Here are some recommendations:
Chelating Shampoos have the key ingredient Disodium/Tetrasodium EDTA. Regular Clarifying Shampoos don't contain this necessary ingredient and therefore are not strong enough to remove metal and mineral deposits from the hair.
3. Protect your Colour
Protect your colour by using a chelating shampoo to keep your bleached, highlighted and colour-treated hair clean and bright. A really important Summer Haircare Tip if you have grey or blonde hair, highlights or balayage!
Chelating Shampoos don't just remove limescale, chlorine, calcium and hard water. Which dry out the hair, make it look dull, limp and lifeless and cause split ends. But they also remove the metal deposits from the hair, which are what causes the hair to look brassy or give it a green, yellow, orange or copper hue.
A common mistake people make is over-using blue and purple shampoos, to counter act these hues. But these can also build up on the hair! The key is to clarify regularly with a chelating shampoo to remove the metal deposits – rather than trying to change the colour of them.
But don't use a chelating shampoo more than once a week max, otherwise it will fade the colour. Weekly use is really only for the few weeks or months of Summer, if you're swimming every day.
Colour WOW Dream Filter is a spray treatment that you apply to the hair before washing, and it removes those metal deposits from the hair. It's a great alternative to use between chelating shampoos, as it's not as harsh. Purchase here at LOOKFANTASTIC, who offer FREE worldwide shipping, and use code CURLMAVEN for 20% off.
4. Use a Protein-Rich Conditioner
Did you know that the sun breaks down the protein in the hair?! There's a common misconception that the best thing to do for your hair during the Summer is to focus on moisture.
But I've actually found the opposite to be true for a good Summer hair care routine. Hair tends to need more moisture in Winter, due to the weather, central heating and fires. But in the Summer, hair needs more protein.
Protein is what gives the hair the strength and the structure to not only define a wave and curl, but to hold it. So once a week, I recommend using a hair mask or deep conditioning treatment with products that contain a high amount of protein. You can use a regular conditioner as a leave in conditioner and/or a hair mask to deep condition. Here are some of my favourites:
4. Saturate & Soak Before Swimming
My next Summer hair care tip is if you're going to the beach, or swimming. Saturate your hair using warm water until it's soaking wet, and then apply a leave-in conditioner, conditioner or hair mask to the hair from the ends up. You want to fully saturate and soak the hair, to act as a protective barrier. So it won't absorb the water, chlorine, metal and mineral deposits from the pool, ocean, river or lake.
At the end of the day, or once you're back from the beach or out of the pool, rinse your hair then cleanse*, condition and style as normal. *to prevent the hair from drying out, you don't have to cleanse every day, but you do need to rinse and condition.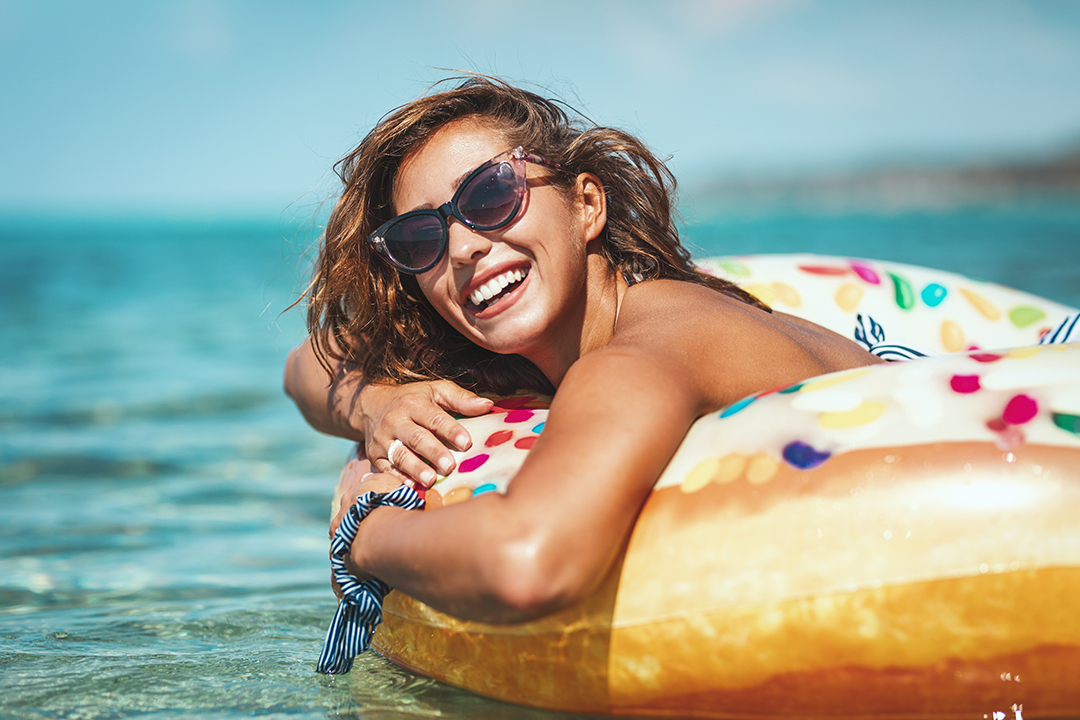 5. Use (the right) Oils Sparingly
Another hare care tip often given during the Summer, is to apply oils to seal and protect the hair. However, to ensure you're sealing hydration and water into the hair instead of out, only apply (the right) oils to wet hair – never dry.
Not all oils are the same though, so make sure you're using a sealing oil instead of a penetrating one. Grapeseed and Jojoba oils are the most popular sealing oils, and very lightweight. So they won't weight the hair down. Just remember, you don't need loads, a few drops will do – you're sealing, not saturating!
Many conditioners contain oils in their formulas already, but if you want extra protection, you can apply a sealing oil, after you've saturated and soaked your hair with water (hydration) and leave in/conditioner (moisture).
I don't use oils often, but The Innate Life Rose Hair Elixir is my favourite, it contains both grapeseed and jojoba oil. Also available at Naturalistic Products in the UK.
6. Regularly Deep Condition
Every time you clarify your hair using a chelating shampoo, you should deep condition. But during the Summer, it's especially important to deep condition regularly, even if you haven't clarified. You can use any of the conditioners mentioned above, but I'd recommend something that has protein high up the ingredients list.
Leave on for a least 10-15 mins, 20-30 mins usually suits most people. But if your hair is particularly dry or damaged, I'd recommended deep conditioning for an hour.
If you find that your hair needs some lightweight, protein-free moisture, then I recommend the Bounce Curl Ayurvedic Deep Conditioner – CURLMAVEN for 10% off. Hydration doesn't have to be heavy, and this is my favourite protein-free deep conditioner. Perfect for the Summer months, as it won't weigh the hair down. Shop it here at The Clean Beauty Edit if you're outside the USA and they ship worldwide, CURLMAVEN for 10% off.
Get 10% off Bounce Curl using code CURLMAVEN at all of the following distributors/online retailers:
No matter what hair type, density, porosity or length, don't leave any treatment in your hair longer than an hour, and never overnight!
7. Use a Thermal Heat Cap
Using a Thermal Heat Cap once a week will really help maximise the benefits of your conditioner, deep conditioner or hair mask and keep your hair looking healthy, hydrated, shiny, frizz-free and defined.
You'll need a microwave and a plastic cap, they're suitable for all hair types, not just wavy and curly. And especially great for low porosity, dry, damaged or colour treated hair. Purchase them on my shop here!
Sun Burnt Scalp?
Bonus Tip: If your scalp gets burnt in the sun, or you have any kind of scalp issues, I highly recommend The Innate Life Scalp Treatment! I have the one for normal scalp, there's also one for a problematic scalp. It's my favourite scalp treatment and works really well, especially if you have a dry, flaky scalp.
You don't need much, warm a little on your finger tips and massage into the scalp and leave in for 15-20 mins before cleansing. The Innate Life is also available at Naturalistic Products in the UK.
Another favourite, and much more lightweight is the Act + Acre Scalp Detox. I absolutely adore this product, especially when you use their Jade Gua Sha to give the most wonderful scalp massage. You can buy the two products in a little kit.
I prefer the Scalp Detox to maintain a healthy scalp, and get rid of any mild scalp issues, dry or flakiness. I can see why it's their stand-out, hero product at Act + Acre. And then use The Innate Life Scalp Treatment when I have more problematic issues that just require a once in a while treatment.
8. Know Your Humectants
A combination of a hot Summer, humidity and humectants is often a recipe for hair that's frizzy, poofy with a lot of volume and not a lot of definition, or hold. But not always, and not everyone is mad at that kind of look.
For some people, the bigger the better when it comes to volume! If you're in a dry, desert climate then humectants can have the opposite effect, and leave the hair feeling quite dry and looking limp and lifeless with loose, undefined curls.
If you want to maintain defined waves and curls with good hold during the Summer. Then check your styling products and make sure they are either humectant-free. Or they're not listed too high up the ingredients list. Here's a list of common humectants:
Glycerin
Honey
Aloe Vera
Propylene Glycol (a lot of ingredients ending in Glycol are humectants)
Flaxseed
Agave
Don't be afraid to break the rules! Two of my favourite styling products to take with me on vacation are Bouclème Curl Defining Gel and Super Hold Styler – and they contain glycerin, agave and aloe vera!
I like them because they're so lightweight and work great as one and done stylers, so less products to pack. Get 20% off Bouclème at LOOKFANTASTIC using code CURLMAVEN at checkout.
9. Avoid Lemon Juice
I'm not sure this is as popular as it was in the 90's, but avoid putting lemon juice in your hair to naturally lighten it in the Summer. Lemon juice has a high acidity level and a low pH of just 2 or 3.
Applying it to the hair deteriorates (aka damages) the cuticle layer. And combined with exposure to the sun, can cause the hair to look dull and become dry, damaged and extremely brittle. So I recommend leaving it to professional stylists and colourists who know what they're doing, to create that perfect, natural-looking, sun-kissed hair.
10. Protect your Hair at Night
After all the sun, sea and sand during the day, make sure you protect your hair at night, preferably with silk. At the very least, tie it up in a pineapple if it's long enough, and sleep on a silk pillowcase.
Or you can use a silk bonnet or turban. This will prevent friction, frizz, dryness and breakage. Silk is also light weight and folds up really small, so perfect for taking on vacation. Here's what I use to protect my hair at night:
Summer Haircare Routine on Vacation
Morning: saturate and soak the hair, apply conditioner or hair mask to the hair from the ends upwards and (optional) finish with a light sealing oil. Then tie up in a ponytail or pineapple, braid or leave your hair down if you want. Wear a hat or UV Buff whenever possible.
Afternoon/Evening: rinse out the hair, cleanse either daily or every other day. Apply conditioner from the ends up, don't rinse out fully, then apply styling products and air dry (or diffuse if preferred).
Night: protect your hair at night using a Buff, silk turban and/or pillowcase.
*Weekly: clarify with a chelating shampoo, then deep condition for no longer than an hour and (optional) use a Thermal Heat Cap. (*clarify once a week if swimming daily)
Hair Care Products: Bumble & Bumble Sunday Shampoo, Bounce Curl Clarifying Shampoo, Innersense Colour Radiance Conditioner (travel size), Innersense Hydrating Hair Masque (perfect size for vacation), Bouclème Super Hold Styler (travel size), Buff USA for the pool/beach, PuffCuff Mini, Silk London Turban for night.
---
I hope you enjoyed my 10 Summer Haircare Tips and found it helpful and informative! Please comment below if you found this helpful or have any questions, and let me know what topic you'd like to see me cover next on Curl Maven.
Make sure to subscribe to my Curl Maven Collective Newsletter, for new content and exclusive giveaways for subscribers only. Subscribers are also the first to know about new events and masterclasses. Check me out on Pinterest and subscribe to my YouTube channel.
Feeling overwhelmed?
But if you're still feeling overwhelmed, or you just want me to put everything together for you in one routine. Designed to suit your hair type, lifestyle, budget or healthy hair goals. Where I tell you what to use, where to buy it and when and how to use it.
Then I highly recommend you book in for a Curl Clinic, which is a 1:1 consultation where I do just that! You can find out more info here, or read lots of reviews and book here.
Also available as a Gift Voucher if you'd like to give the gift of curls to someone else, or drop a hint to a friend, family member or loved one.
Gratitude & Support
I work hard to ensure this site is free from annoying pop ups and Google Ads ruining your experience. If you found this post or any of my content helpful, and would like to show your Gratitude & Support, you can click here to make a donation.
I'm so incredibly thankful and grateful to everyone who supports me, my content and my platform. Thank you so much! Gabriella x
*This post may contain some gifted items and affiliate links. Which means I get paid (a very small) commission on any products you purchase through my links. This in no way affects you, the price you pay or the way in which I write about products featured on this site. My content and opinion is not influenced by advertisers, sponsorships, affiliate partnerships, brands or PRs.